Amazon launched a plan to purchase gaming PCs and expensive PC parts with 'No interest rate 5 times payment'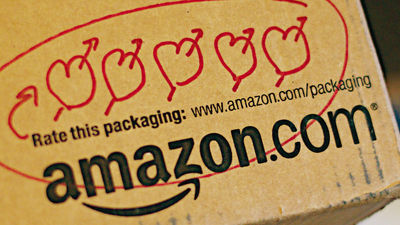 Amazon.com announced that it has prepared a new payment plan that you can purchase in 5 installments without interest rate fee when purchasing a PC or its peripheral devices / parts. Users who meet the conditions can use the new installment payment plan without prior application or credit card review.

Amazon now lets you finance gaming PCs and PC parts at zero interest
https://www.destructoid.com/amazon-now-lets-you-finance-gaming-pcs-and-pc-parts-at-zero-interest-514009.phtml

Amazon is offering some customers five interest-free months to pay for PC parts | PC Gamer
https://www.pcgamer.com/amazon-is-offering-some-customers-five-interest-free-months-to-pay-for-pc-parts/

Normally, when paying by dividing using credit card, interest will be added to monthly payment. Therefore, if you choose installment payment, although the amount paid every month is less, the total amount that you actually need to pay will be higher by the amount of interest than the original price.

The new payment plan prepared by Amazon.com is limited to items belonging to the category of notebook PC · desktop PC · tablet PC · PC monitor · PC part · storage · memory · net equipment · accessories for PC only "payment in 5 months" It can be purchased with. Moreover, there is no interest charge fee for this installment payment. For example, if you purchase a graphic board for 1000 dollars (about 110,000 yen), you will be OK if you pay $ 200 (about 22,000 yen) every month.

However, this split payment plan can not be used by anyone, but "resident in the USA", "registered credit cards or debit cards on Amazon.com", "accounts with purchase history more than one year since registration" Only accounts that meet the conditions can be used. In the account which meets the condition, it is said that Amazon's notice message of "I will use 5 month installment payment - no interest rate - the same monthly month - no credit card review" arrived.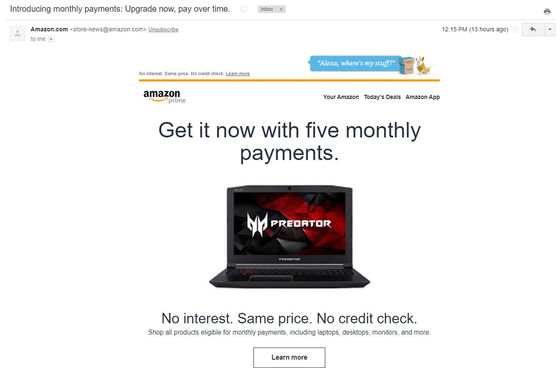 Since gaming PCs and high-performance PC parts are high priced items, the split payment plan without interest rate fee is very attractive. Whether a split payment plan without interest rate fee will be adopted on Amazon.co.jp in Japan is unknown at the time of article creation.