Savor fragrant Kinako ice and rich black mats Solve painting a whirlpool 'Haagen Dazs Mini Cup Black Mitsu & Kinako' is an elegant and refreshing sweetness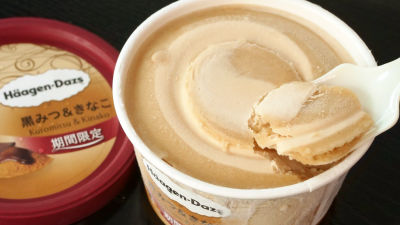 Hagen Dazs' new Japanese mini cup ice " Black Mitsu & Kinako ", which combines a mushroom ice cream and a black mat solver, appeared for a limited time from Tuesday, July 24, 2018. It is said that Haagen Dazs "a new proposal for ice cream that I want to eat in the summer", so I actually bought it and tried it.

Black Mitsu & Kinako | Product Information | Haagen-Dazs Häagen-Dazs
https://www.haagen-dazs.co.jp/kuromitsu_and_kinako/

This is "Haagen Dazs Mini Cup Black Mitsu & Kinoko" (272 yen tax excluded). It is an item combining ice cream that uses roasted stinky flavor and ice cream and black olive sorbet.



The content volume is 110 ml, the type of ice cream is "Ice milk" the second highest proportion of milk solids and milk fat. Many of the mini cups of Haagen-Dazs are "ice creams", but items that have been combined with Solve as "Black Mitsu & Solve" of this time and " Aroma Coffee Vanilla " released in May 2018 become "Ice Milk" is. Raw materials such as cream, sugar, defatted concentrated milk, black mat, and kinako paste are eye-catching. The energy per piece is 184 kcal, the carbohydrate is 24.3 g, the lipid is 8.6 g.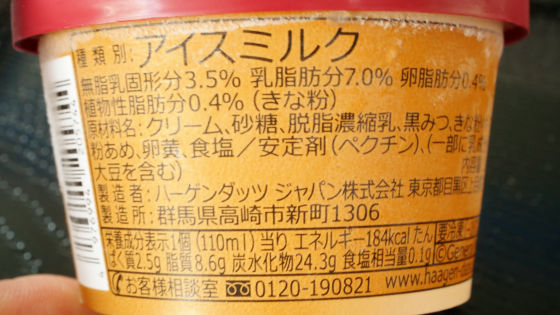 When you remove the lid, there is an inner pig.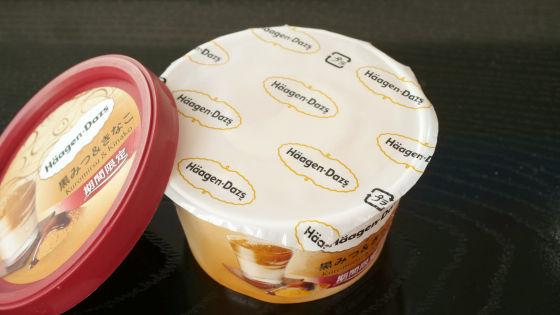 Beginning from that "Haagen Dazs Mini Cup Black Mitsu & Kinoko" main body appeared. A whiteish "Kinako Ice Cream" and a brown "Black Mint Solve" are swirling.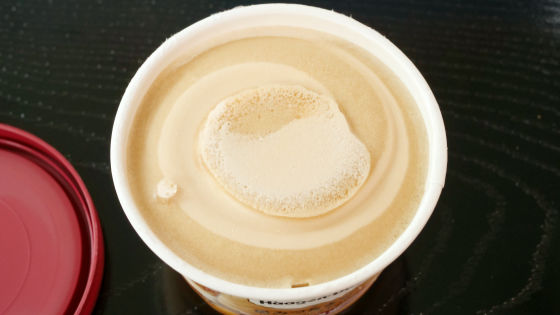 When scooping and eating, the scent of a savory flavor spreads, and you can feel the gentle sweetness with the rich flavor and rich taste of rice flour. "Black Mitsu Solbe" and "Kinako Ice Cream" that "I stuck with the balance of formulation and degree of roasting to finish it in an elegant taste that is not too sweet" melts at the same time with a smooth texture and the flavorful flavor of mushrooms is black The depth is added to the sweetness of.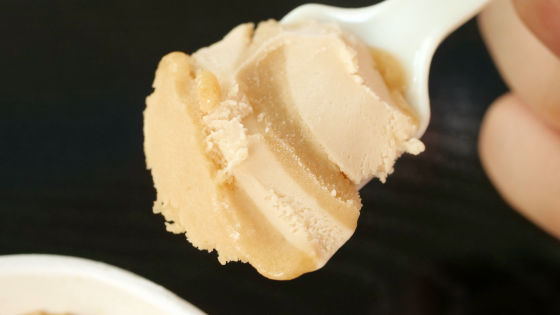 For each person I could taste the change in the balance between "Black Mitsu Solbe" and "Kinako Ice Cream", finished in a Japanese style ice cream with a refreshing aftertaste.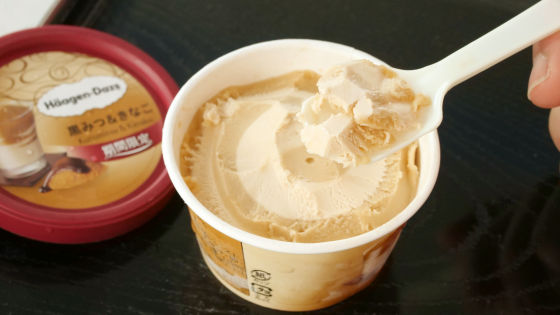 in Posted by darkhorse_log