I tried drinking 'peach pink fruit frappuccino' of calably discreet starba though a lot of fruits though it was Frappuccino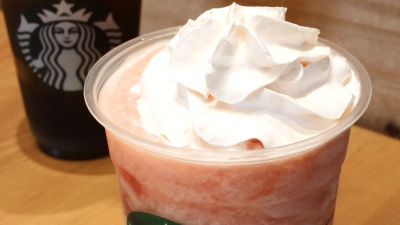 Starbucks' new flapcino " Peach Pink Fruit Frappuccino " in which the peach, strawberry and pink grapefruit pulp has entered into whipped cream where peach concentrated fruit juice is used Appeared from Friday, July 20, 2018 I will. As the whole body pink gradation and the refreshing sweetness of peach are exquisite, I have tasted what kind of frappuccino actually is.

Remix peach for summer! Peach and pink fruit pulp are tightly filled with happiness, plenty of "Peach Pink Fruit Frappuccino®" released Released ARV camera application "SNOW" collaboration with "SNOW Peach Stamp" can be enjoyed!
http://www.starbucks.co.jp/press_release/pr2018-2754.php

[New Item Information] Peach Pink Fruit Frappuccino® | Starbucks Coffee Japan | Starbucks Coffee Japan
http://www.starbucks.co.jp/cafe/peachpink/index.html

I came to Starbucks.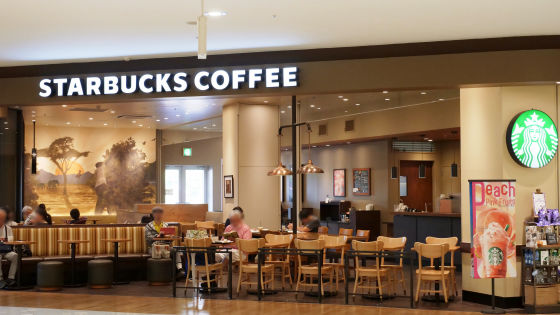 There is a banner in front of the store to announce the new "Peach Pink Fruit Frappuccino". I will place an order immediately.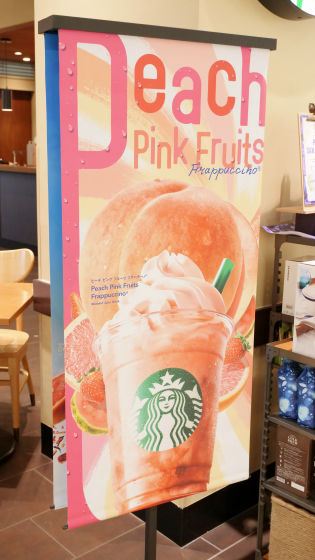 "Peach pink fruit frappuccino" (Tall size only: 620 yen tax) has been completed in a few minutes after ordering.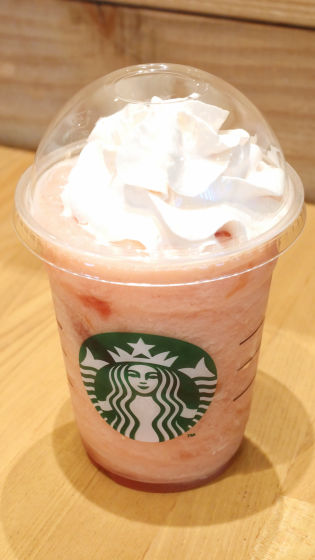 The height of the "Tall" size cup is slightly higher than the traffic type IC card (long side 85 mm), but there is a sense of volume as whipped cream is packed as much as it says.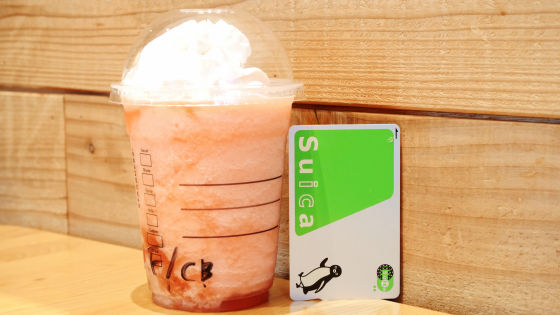 "Peach whipped cream" which is a mixture of syrup and whipped cream using Peach's concentrated fruit juice is put on the top.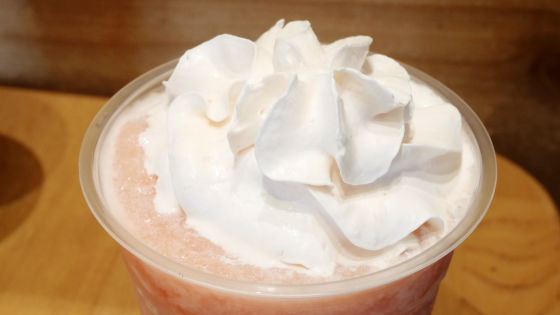 After a creamy milk flavor, cream creates a refreshing scent of fruity peaches through his nose. Peach's gentle sweetness was also felt firmly from the cream.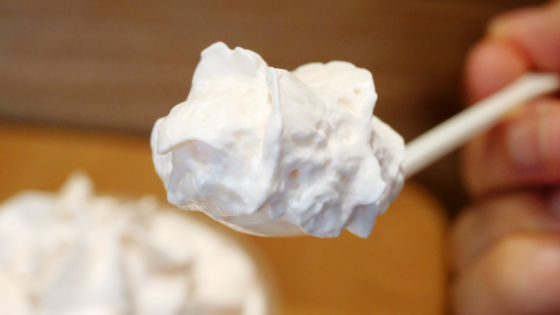 The smoothie part uses plenty of peach, and it matches Guava's puree as a hidden taste. This smoothie seems to be milk-free. Thanks to that, the energy per cup is (PDF)
242 kcal
and it is lower calorie than the standard frappuccino using milk such as caramel frappuccino (322 kcal) and green tea cream frappuccino (342 kcal).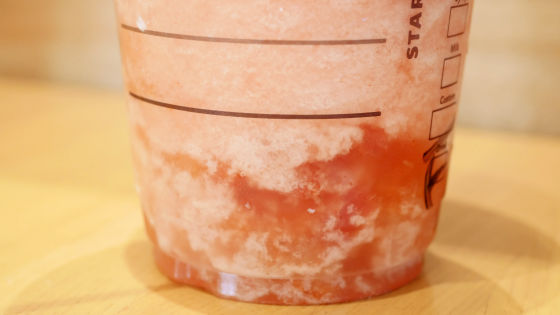 Among the smoothies are pink flesh, such as peach, pink grapefruit, strawberry, etc, which is included in the luxury.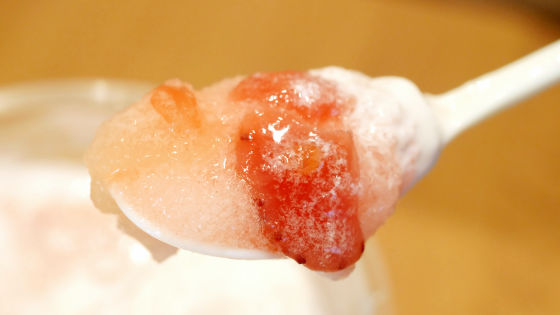 When drinking with a thick straw dedicated to smoothie, peach · pink grapefruit · strawberry pulp flew into the mouth full of flesh and felt happy. Smoothie used plenty of peach is milk-free, thanks to the hidden taste of guava puree sourness, it is thick but the aftertaste is refreshing. The cool and fruity smoothie felt perfect for the summer by drinking with gokgoku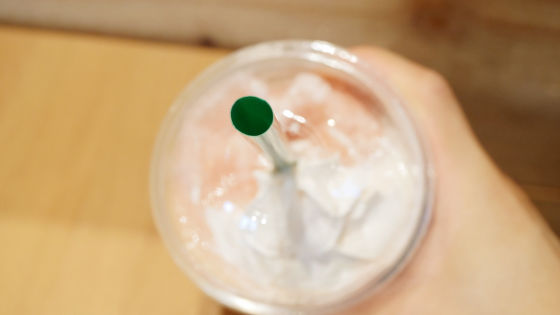 "Peach pink fruit Frappuccino" is a limited-time product until August 30, 2018 (Thurs), but it ends as soon as it is gone.
in Posted by darkhorse_log