I tried swallowing 'Edible bean sanda cream soda' as a soybean flavor called unexpected taste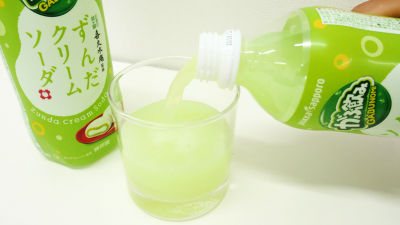 Pokka Sapporo drink " Gaboru drink " series, "Solda" flavor flavored with Tohoku specialty in Tohoku specialties, Pokka " Gaburi Sanda Cream Soda " appeared on Monday, June 25, 2018 from Monday, June 25, 2018 I will. Because it is finished in 'Japanese' cream soda that can be drunk with sweetness and creamy taste with a delicious flavor, I tried drinking as a sweetbread.

That Japanese sweets is soda! What? Newly launched from June 25, 2018, supervised by Ikigada "Kiku Mizuya" of tea "News release" | About Pokka Sapporo | Pokka Sapporo Food & Beverage
https://www.pokkasapporo-fb.jp/company/news/release/180621_01.html

This is "grub drinking solder cream soda" (500 ml: 140 yen tax). It is a cream soda with seasoned flavor. In the edamame color package, the edamame silhouette surrounds the product name.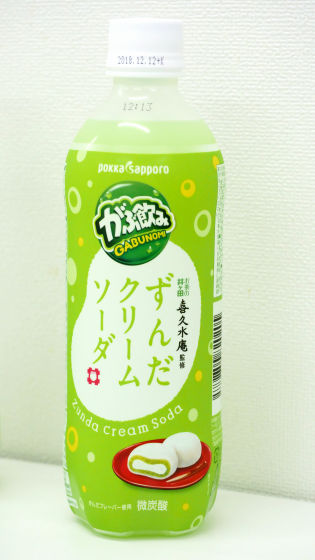 This soda, 1920 (1920) to sell, such as Japanese tea in the founding Iketa of tea " Yoshihisa Mizuan sweets" Yoshihisa Fu Zunda cream of (Kikusui draft). " It has become a flavor that imaged the image. Since "Suda" and "Fresh Cream" are used as the original Japanese sweets, it seems that "Gourd Drinking Solder Cream Soda" expresses the taste with "Cream Soda". In addition, I was under supervision from Tea's Iigada on development.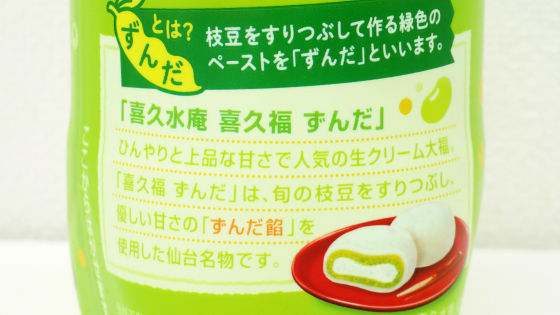 In addition to the package, "Solder flavor use" "Micro carbonic acid" is indicated.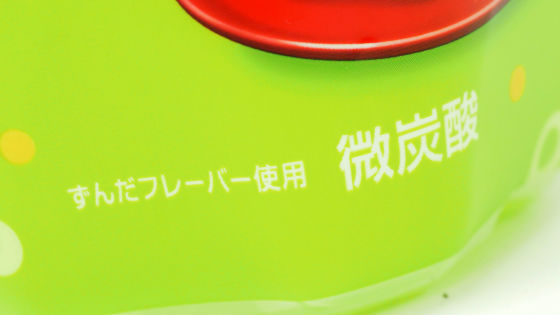 Raw materials such as sugar "fructose corn sugar liquid sugar" "sugar" " soy polysaccharide " etc. line up. Materials such as Edamame beans are not used for raw materials, and the flavor of the solder seems to be reproduced only by the "solder flavor". Since energy is 34 kcal per 100 ml, if it is 500 ml per one, it will be calculated as 170 kcal.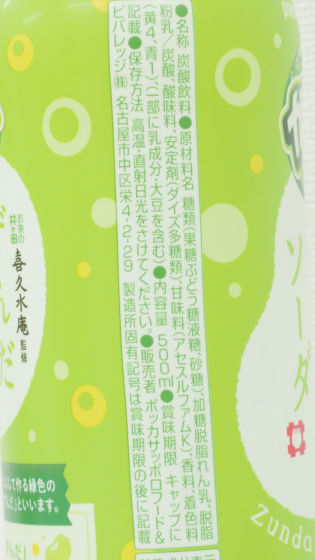 I will move it to a glass.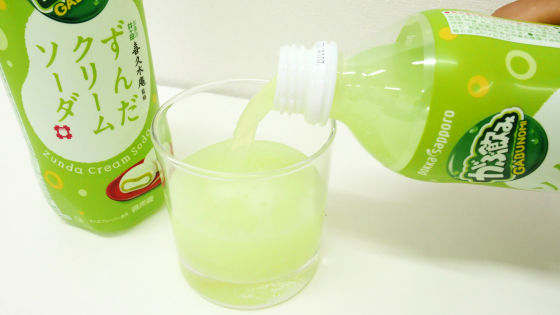 You can see carbonic bubbles in the glass, a slightly whitish bean-colored carbonated drink than melon soda.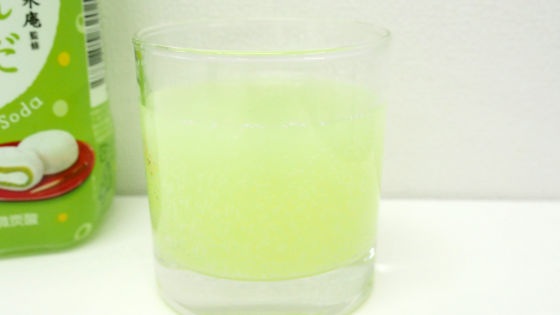 When approaching the glass, a luscious fragrance drifts, this fragrance is exactly the soybean-derived "soda". It is a fragrance that you can imagine soybeans firmly while no green soybeans are contained in the raw material. "Gourd drinking solder cream soda" is a slightly creamy and easy sweetness and sweet and faint micro carbonic acid feeling "I do not smell of edamame ..."? At first the moment when the stimulation of carbonate left, the scent of the solder It appears intensely. Solda and soda are combinations where likes and dislikes are clearly divided. As all the editing members who tried drinking were surprised, it seems that they succeeded in being able to enjoy the unexpected taste which is the development concept. The editorial staff who liked the scent of solder was swallowing with the fragrance of soybeans and the modest sweetness and stimulation of micro carbonic acid.