That John McAfee is assassinated Even a miracle revival, declaring 'revenge' for the enemy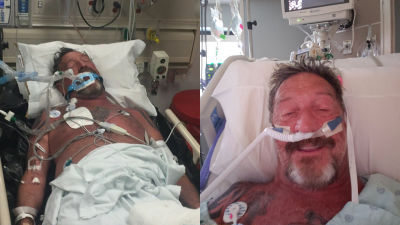 McAfee founder, security countermeasure software Mr. John McAfee is a big talk with something to talk about something like fighting a fugitive drama on charges of murder and declaring to run for the presidential election, but it is said to have suffered the assassination attempted by drugs I insist. Mr. McAfee, showing a miraculous recovery, said, "The culprit is known", declares vengeance.

John McAfee says he has been poisoned, and tells culprits: 'You will soon understand the true meaning of wrath' | The Independent
https://www.independent.co.uk/life-style/gadgets-and-tech/news/john-mcafee-poisoned-hospital-bitcoin-twitter-cryptocurrency-north-carolina-a8412341.html

Mr. McAfee said on his Twitter, "I'm sorry to have been away for three days, but for two days I was unconscious at the Vidant Medical Center.While my consciousness came back, my enemy poisoned I tried, but killing me is much more difficult than I imagined, I returned, "I confessed that I was attempted assassination.

I am more difficult to kill than anything can possibly imagine I am unconscious for two days at the Vidant Medical Center in North Carolina and just woke up. I am back.

- John McAfee (@officialmcafee) June 22, 2018

And we also released ourself receiving treatment in the emergency room. According to Mr. McAfee, although someone was poisoned, it was miraculously preserved. "You will know the true meaning of revenge soon, you know someone clearly, you better not run away", he said, declaring retaliation for the criminal.

For Those Who And Did This -... You Will Soon Understand The True Meaning Of Wrath I Know Exactly Who You Are Youh Had Better Be Gone Pic.Twitter.Com/URgz5BtMLF

- John McAfee (@officialmcafee) June 22, 2018

Mr. McAfee who raises the middle finger with his wife and sends a message to "enemy".

My wife @ theemrsmcafee and I with a message to my incompetent enemies pic.twitter.com/s7rT105OWy

- John McAfee (@officialmcafee) June 22, 2018

"Today, I will leave the hospital, the doctor disagree, you should look at me," McAfee said.

I'm leaving the hospital today. Doctors said no. Watch me. Pic.twitter.com/fyhMrIryJk

- John McAfee (@officialmcafee) June 23, 2018

McAfee recently highlighted the virtual currency business, and in May 2018 it announced that it will release its own virtual currency "McAfee Coin". McAfee Coin has 7 kinds of notes (bonds), and Mr. McAfee is included in the portrait as well.

No hoax. The "McAfee Redemption Unit" is real and coming in 26 days. The graphic is low res - do not want to give a more much more. Printed on currency paper, holographs on both sides, serialized, linked to the blockchain, redeemable, convertible, collectible https://t.co/ySUwkDuW7s pic.twitter.com/75 x Tje 39 X 8

- John McAfee (@officialmcafee) May 29, 2018

"The virtual currency is in a state of war," while saying that government officials are trying to disturb the development of the virtual currency revolution, "Banks and credit card companies should request permission to pay by virtual currency. I should publish a message in the movie "I should take action."

Looming War On The The Horizon. Pic.Twitter.Com/j86e2xEXP8

- John McAfee (@officialmcafee) May 28, 2018

A conspiracy theory has also appeared that Mr. McAfee was responsible for assassination attempts that occurred immediately after the declaration of full-scale entry into the virtual currency business due to the handling of the forbidden fruit, "currency issue right". Although Mr. McAfee seems to have a star on the criminal, attention is likely to draw attention to Mr. McAfee's future action, such as who the criminal is and whether it really truly takes revenge.
in Note, Posted by darkhorse_log