It turns out the influence of China's 'ban import of plastic garbage' on the world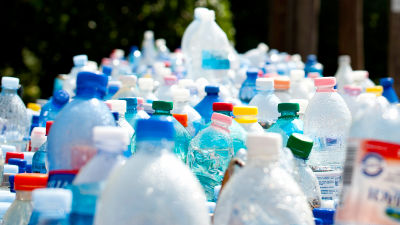 by mali maeder

At the end of 2017, China banned the importation of waste plastics imported from all over the world, and had a major impact on the disposal and recycling circumstances of the world. New research shows how much amount of "plastic garbage that needs to be treated in some way" occurred all over the world accompanying the suspension of import of plastic garbage in China.

The Chinese import ban and its impact on global plastic waste trade | Science Advances
http://advances.sciencemag.org/content/4/6/eaat0131

China's plastic waste ban will leave 111 million tons of trash with nowhere to go - The Verge
https://www.theverge.com/2018/6/20/17484866/chinas-plastic-waste-import-ban-trash

China Just Handed the World a 111-Million-Ton Trash Problem - Bloomberg
https://www.bloomberg.com/news/articles/2018-06-20/china-just-handed-the-world-a-111-million-ton-trash-problem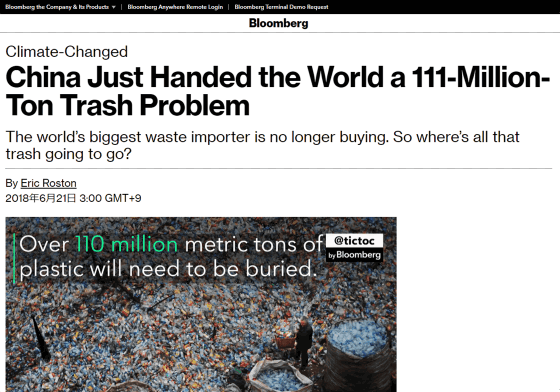 To date, China has purchased and recycled resource waste from foreign countries to supplement domestic manufacturing industry raw materials. Since 1992, when the data was first released, China imported 106 million tons of plastic bags, bottles, containers, etc., and the amount is estimated to amount to 57.6 billion dollars (about 6.3 trillion yen) It is done. However, since the end of 2017 we have prohibited importing some resource waste, and importing countries are forced to find a way to handle new garbage.

Under such circumstances, in a new research published by the University of Georgia, as a result of analyzing data on Chinese garbage imports from 1988 to 2016, the researcher said "Researchers say" Plastics garbage that lost the visit by 2030 is 110100 It will go up to 10 thousand tons. " These garbage must be handled in some way, such as recycling and landfilling.

The University of Georgia is a study conducted in the past and it is estimated that the cumulative plastic garbage as of 2017 is 8.3 billion tons, but it is difficult to concretely imagine such figures. Bloomberg is giving an example that "Tensla Model 3 corresponds to 621 thousand units, 100 million tons is only one tenth of 100 million tons even for iPhone 700 million units".

The amount of trash that China imported from all over the world in 2016 is like the figure below.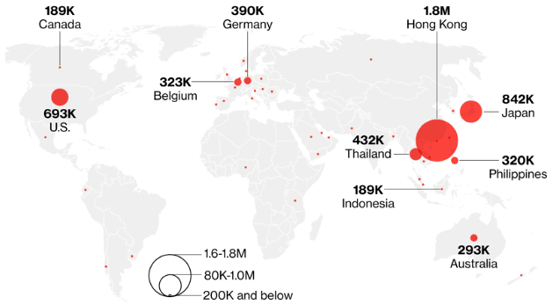 According to the research team, four-fifths of the garbage generated around the world will stay on land, such as a landfill, and a tenth will be incinerated. Millions of tons of garbage will flow out into the ocean, and only 9% of the total will be recycled. China has undertaken more than half of the recycled volume in 2016 in its own country.

As the industry developed and the impact on the environment and public health became clear, China was in the direction of choosing the contents of imported resources. In 2013, if food, metal, pollutants are not classified, they will not be imported, and imports will decrease. This trend continued until 2017, eventually leading to the announcement that imports of 24 kinds of waste such as plastic waste and unclassified paper will be stopped.

In China, measures in the world have an impact, Australia can not afford to recycle recyclable waste to landfill, in the UK the low quality plastic materials are stored in storage facilities and incinerated It is reported that there is .

Amy L. Brooks, who conducted the research, recommends taking a "method not creating garbage", such as not using disposable items such as plastic straws and cups from the beginning, before finding out how to dispose of garbage It is. "This is the easiest thing you can take." People will feel that "such things will not change", but if millions of people take actions, they will definitely make a difference You can do it, "he said.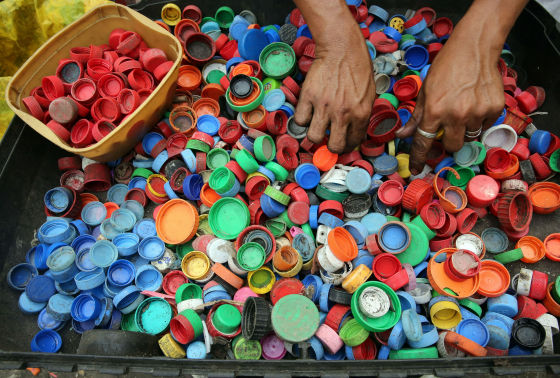 in Note, Posted by darkhorse_log