I have been drinking "Egg Coffee" which sweetly fluffy egg cream is mixed and drink with CAFE GIANG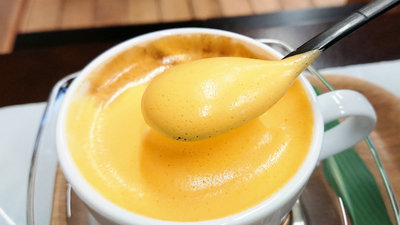 Coffee with exquisite balance of sweetness and bitter taste originating from Vietnam "Egg coffeeThere is a shop in Yokohama's Chinatown that can drink "CAFE GIANG"is. Since I was importing coffee beans from Vietnam, I was able to enjoy the taste of being loved locally for 72 years, so I went drinking.

CAFE GIANG (Cafe Jean) who can drink egg coffee at Yokohama Chinatown
https://cafegiang.co.jp/

Arrived in front of Chaoyang gate at the entrance of Yokohama-Chinatown.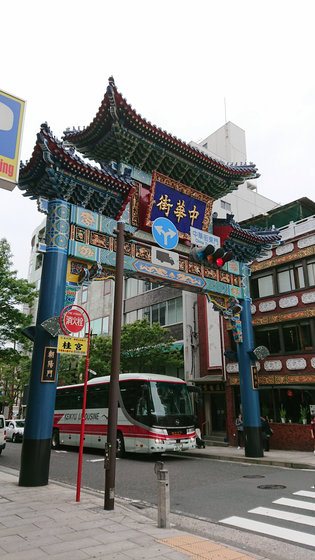 As you cross the Chaoyang gate, the road is divided into right and left, so if you go along the right hand side ... ...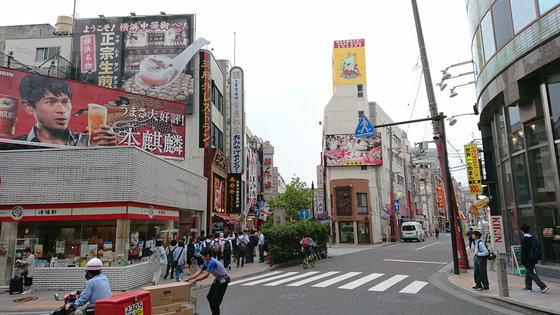 This signboard appeared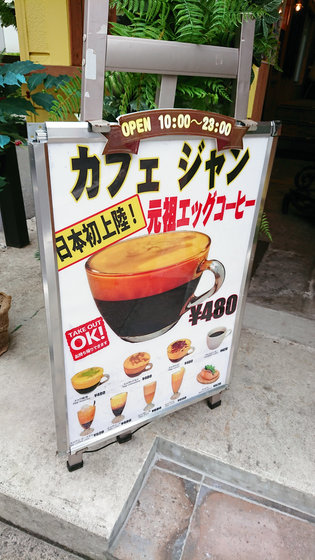 This yellow shop is "CAFE GIANG"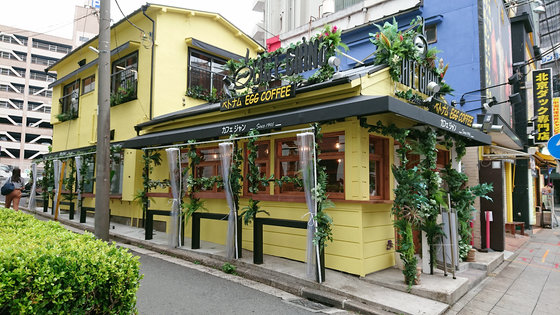 The shop is two stories high, the first floor is like this.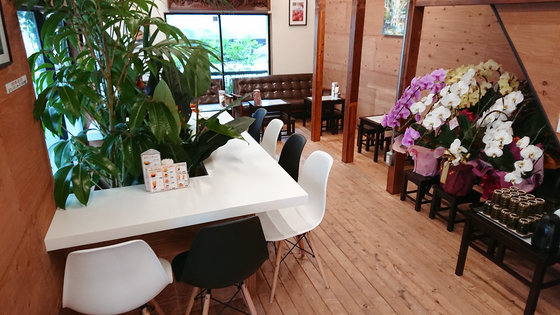 Tea is self-service. It is prepared under the stairs.



In addition to the main "Egg coffee" (hot: 480 yen / ice: 520 yen), "Egg matcha" (480 yen) using green tea instead of coffee, "Egg beer" using beer (680 yen )And so on. The food menu is "Bin me" (520 yen).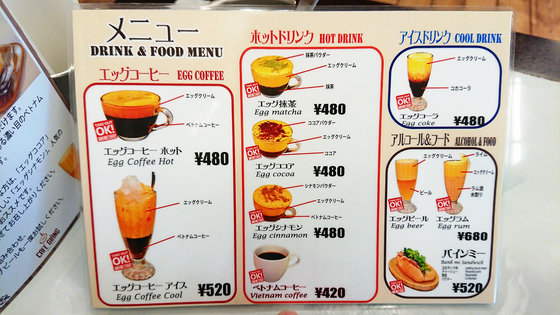 This time I ordered both hot egg coffee and egg's egg coffee.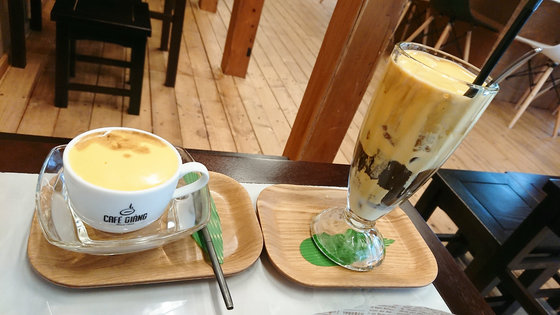 Egg coffee has a two layer structure with a sweet egg cream on the upper side and Vietnamese coffee on the lower side, so mix well and drink with a spoon.



The coffee cup is put in a glass dish different from the coffee saucer, but this dish is filled with hot water and the coffee is made hard to cool down.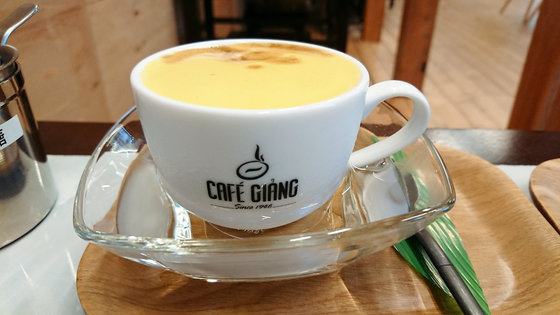 Egg cream is a cream with a very strong flavor and sweetness of eggs. On the other hand, sinking Vietnamese coffee is a solid bitter coffee, so mixing will create an exquisite balance of sweetness and bitter taste. ......, but it is difficult to mix well, if you drink without missing "mixing", mainly drink egg cream first, bitter coffee will remain, so please stir it finely every time you drink.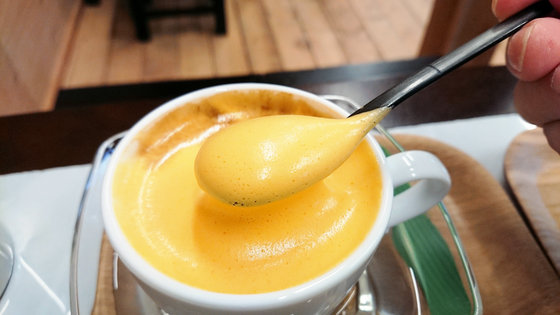 On the other hand, egg coffee ice cream adds condensed milk to the bottom of the coffee. You can see from the side whether or not it is well mixed, you can adjust which part to suck in the position of the straw, so you can drink well in a balanced way. It is an impression that the bitter taste of coffee is intensifying by becoming ice cream.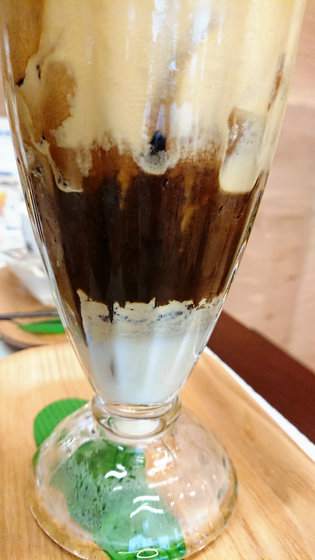 I tried ordering "Bin me" in the food menu. Approximately the same size as iPhone X, I got the impression of surprisingly big.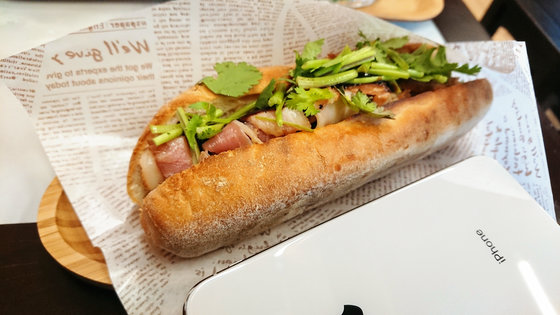 Beijing duck meat, chashued, parchi and vegetables sandwiched items,Sweet bean sauce (tenmen jan)You can choose source and sweet chili sauce. This time I chose the sauce sauce sauce. Sweet mouth like "Beijing duck sand", the volume is pretty. When you order with coffee, you will be full.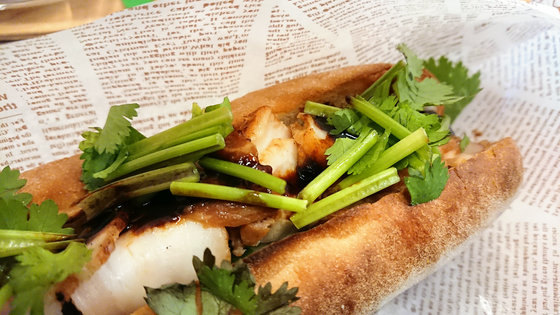 By the way, according to CAFE GIANG, the egg coffee seems to be made by substituting eggs for cappuccino instead of milk, as it was hard to get milk in 1946 after the Second World War . Mr. Nguyen Van Zan who was a bartender of the five-star hotel "Sofitel Legend Metro Ball", then Mr. Zhen's son Nguyen Tri Huang inherited and was beloved for 72 years It is a menu that has come.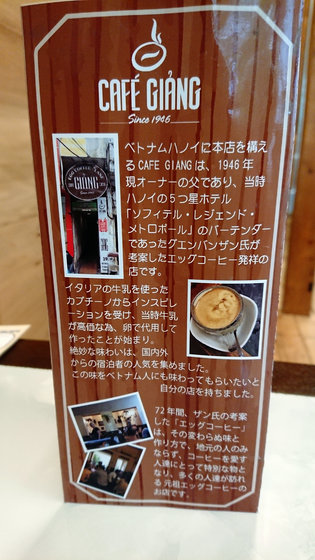 It is quite interesting to see what kind of taste it will be with other combinations such as beer and cocoa.