When I tried the trial version of "Octopath Traveler" on Nintendo Switch, it was "nostalgic new RPG" which dot picture and 3DCG fused together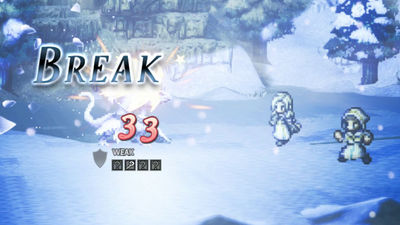 Software for Nintendo Switch scheduled to appear on July 13, 2018Octopath Traveler"Is"Final Fantasy"Romancing Sa SaKnown as role-playing game (RPG)square EnixIt's a completely new RPG. Prior to the official version, delivery of the latest trial version began from June 15, 2018, so I tried to see what kind of game it is.

OCTOPATH TRAVELER (Octopus Traveler) | SQUARE ENIX
http://www.jp.square-enix.com/octopathtraveler/

Nintendo Switch | DLsite to download | OCTOPATH TRAVELER Prologue Demo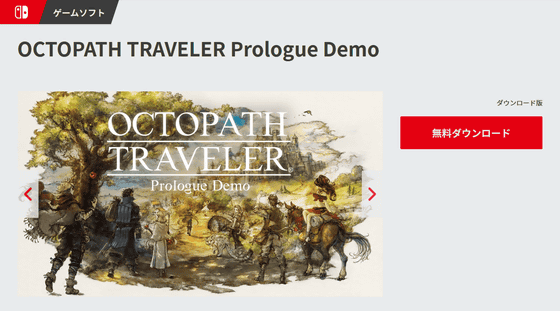 As "Octopath Traveler" has the name of Octo (8) + Path (Road), there are individual scenarios for each of the eight heroes. In the latest trial version, you can select one from eight main characters as well as the product version, and you can play up to the first chapter for up to three hours.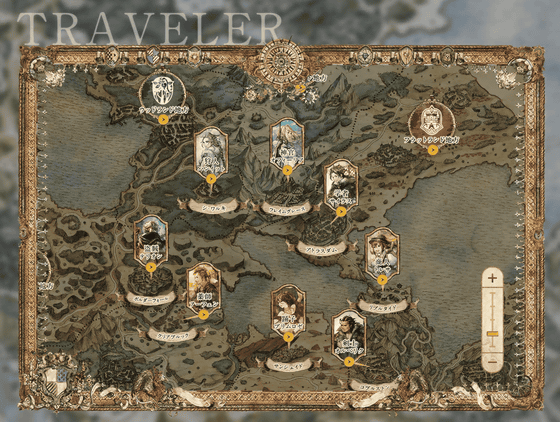 The game title screen looks something like this.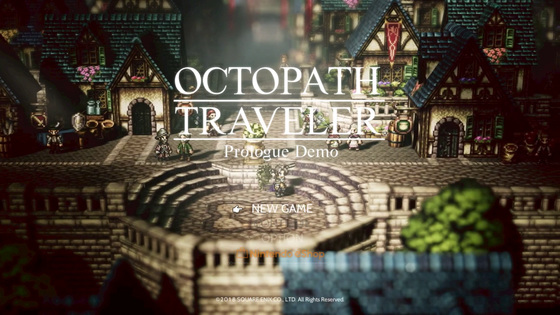 First, select the character you want to play. This timeHunter · HannitI tried playing with.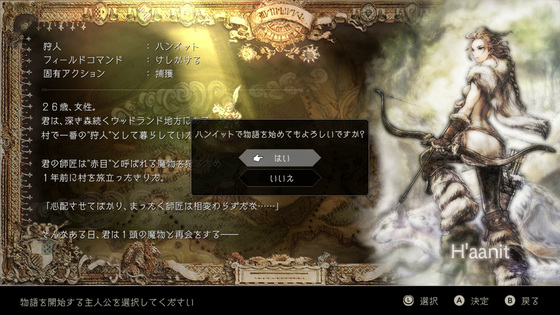 The character is a nostalgic 2D dot design that reminds me of the RPG in the Super Nintendo DS. On the other hand, backgrounds and terrain such as streets and forests are made with 3DCG.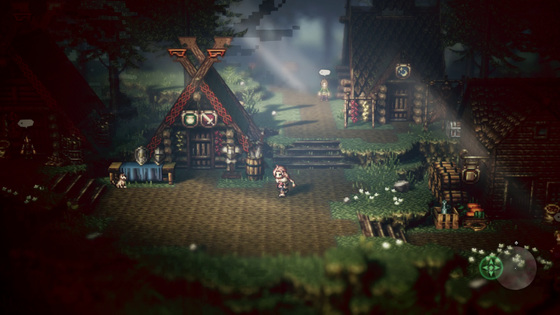 Players talk to residents of the city and gather information ... ...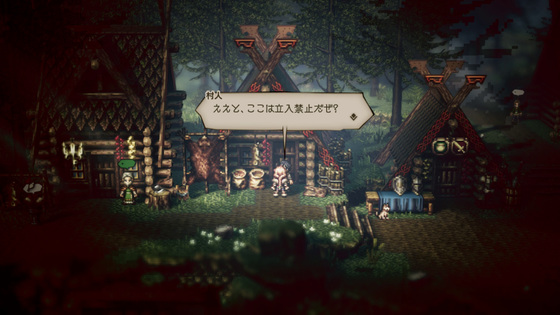 Purchase weapons and armor at the stores in town and equip it. "UP of Octopath Traveler" is as simple as old RPG.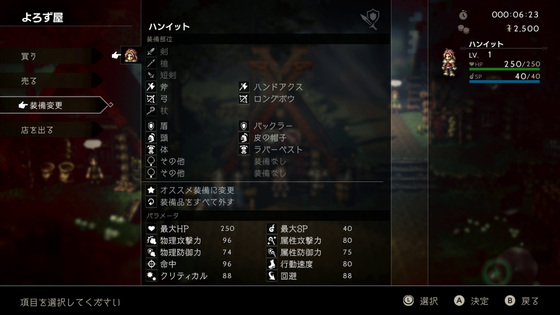 Moreover, "Field command" is set for each hero, and various way of working can be done to people in the city. For example, the field command of Hannit is "kicking".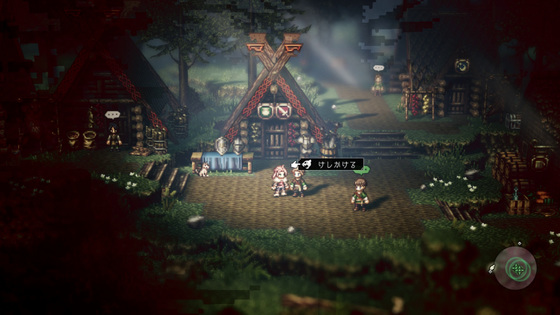 When I tried to kill the villagers, "Battle" battle started. It seems that "kicking" was to "drag captured monster". Fortunately, in the village of the hunter who is the hometown of Hannit, we received it as "it is training?!" As it sounds good, but what kind of reaction will you do if the game advances and gives a demon to a person in the city that has no relation at all It is a place to worry about being messed up.



I am leaving the town and walking through the forest. The front and back are adopted a slightly out-of-focus presentation, not only the depth of the topography but also fine high and low are expressed. Even though I'm thinking of going to open a treasure box that I glimpsed ......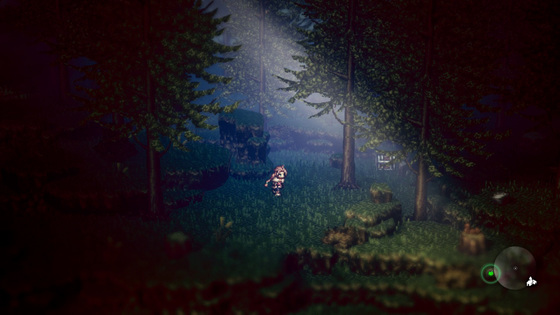 I can not reach it unless I get around the topography properly.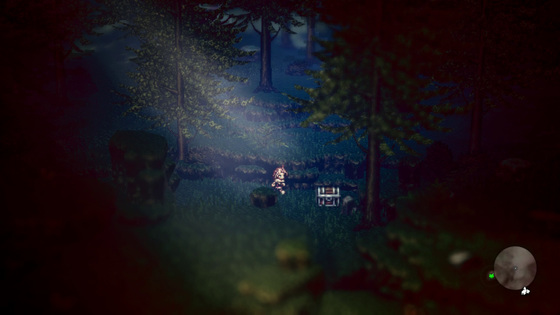 Battle is a random encounter. Even in battle scenes, characters are expressed in 2D dot design as well as field exploration.



Simple battle system with command selection and turn system. In what order the turn will come up at the top of the screen until the next turn. Although there is a display of your own HP gauge, the enemy's HP gauge is not displayed, and the remaining HP is guessed by the color change named white → yellow → red.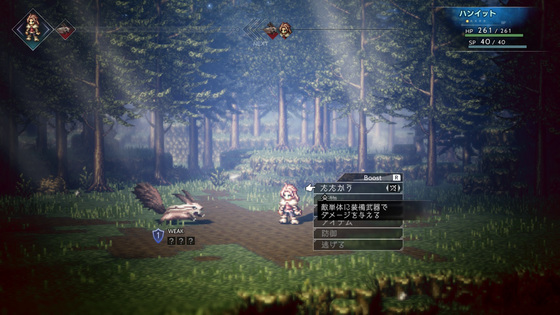 The enemies have weak points determined by weapon types and attributes, and when attacking a certain number with weapons and attribute skills according to weak points, "BREAK" is displayed and the enemies will faint. Furthermore, since enemy turns are skipped only one turn, it is important to consciously target weaknesses. By the way, shadows are created according to the position and strength of light in both enemy characters and ally characters, and shadows are growing longer when BREAK because the light becomes stronger.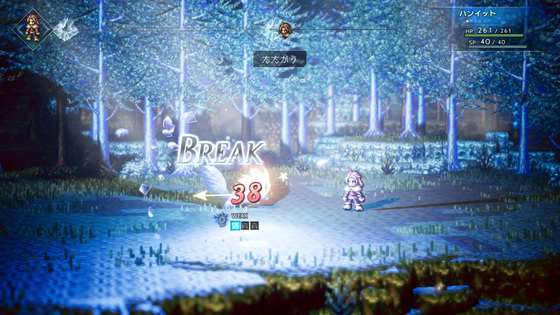 Also, "Ability" has been decided for each hero, you can use skills that consume SP. In the case of a hunter · Hannit, you can use the bow and arrow abilities, such as "Land of a Hunter" and "Arima Arrow" "Arrow of Concert".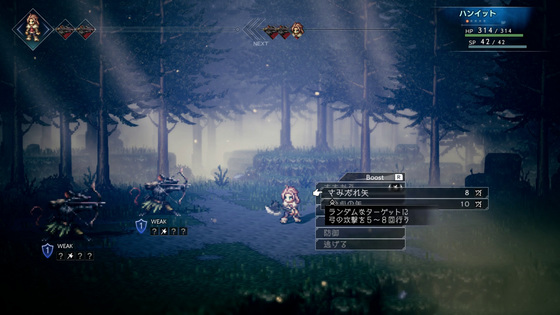 Or "Octopath Traveler" and the manner in which wandering the field of battle really feels you'll find the following movie.

I tried to play "Octopath Traveler" trial version with a hunter · Hannit - YouTube


I tried playing even 7 heroes except hunter · Hannit, so I roughly tried to summarize it.

Thief · TerionYou can "steal" belongings from people and enemies in the city.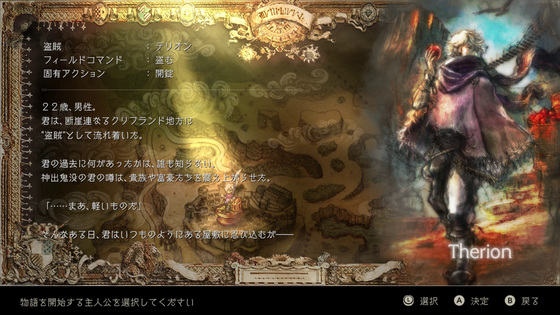 You can see the state of playing with Terion in the following movie.

Nintendo Switch "Octopath Traveler" When you play Thief / Terion with trial version like this - YouTube


Pharmacist · ア フ ェ ンBy combining medicine during battle, you can recover and treat condition abnormalities. Moreover, it seems that he has excelled in communication skills from the experience that he has been engaged in medical care and examination all the time in the village, and "information can be heard" from people.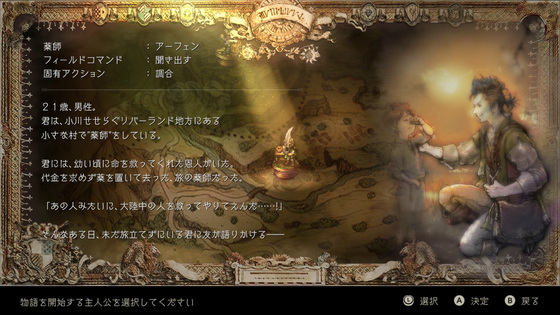 In the following movies you can see where you are actually playing with arhafen.

Nintendo Switch "Octopath Traveler" When you play pharmacist · arhafen with trial version like this - YouTube


I am working at a bar in my early daysOduko · primroseI am acquiring skills to seduce regardless of age and sex. It is possible to seduce people in the city and bring them around and participate in battle. Also, the attribute attack by dancing is an ability unique to Odori.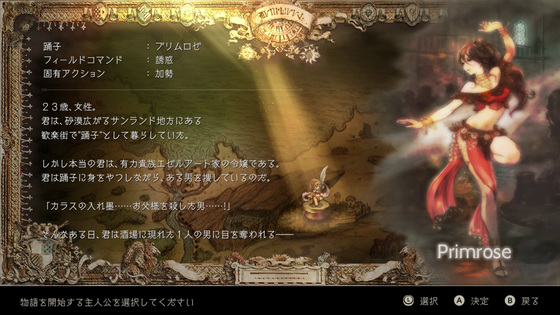 You can see how Primroze seduces the old man in the city and participates in battle from the following movie.

Nintendo Switch "Octopath Traveler" When you play Oduko · Primroze on trial version like this, YouTube


Swordsman · Orberberk is a knight who once supported the kingdom, but now the country is destroyed and now I am working as a bouncer in a small village and I spend my days teaching swords to the young people of the village. Olberik, who studied the sword as a martial arts, can apply for anyone. You can use sword skill as an ability, and it has become a character with high defense and attack power.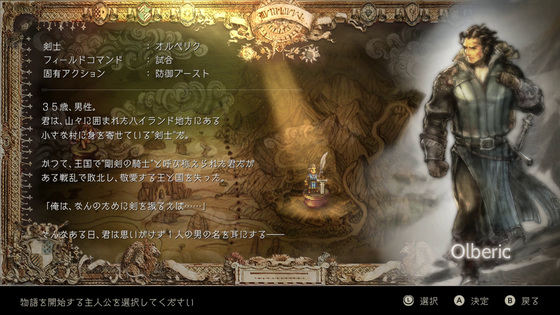 You can watch Oberlik at the movie below to see the villagers apply for the game and beat them.

Nintendo Switch "Octopath Traveler" When you play Fencer · Orberique with trial version like this - YouTube


Born and raised in a merchant house, he is a promising future to show her a young ageMerchant · Tresa. She can buy the belongings of people in the city. Also, it is possible to collect money from enemies, so it seems that you will not be bothered by items or weapons.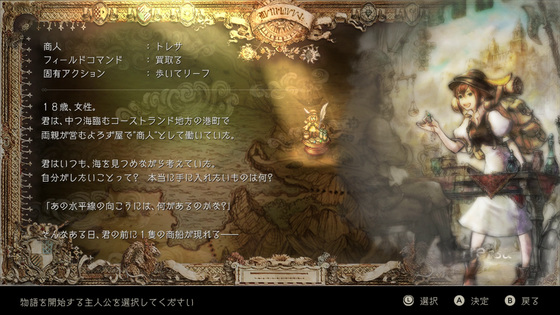 You can actually see how Tollesa winds up money from monsters in the following movie.

When you play a merchant · Tresa on trial version of Nintendo Switch "Octopath Traveler" trial like this - YouTube


Extremely excellentScholar · CyrusHe is also a popular teacher. Cyrus can take advantage of the hobby of "solving a mystery", explore information from inhabitants, and make inference. Also, through the intrinsic action of preliminary training, weak points can be found even by unknown enemies, and strong attack magic can be drawn out.



The following movie actually tried playing Cyrus.

When you play a scholar / cyrus with trial version of Nintendo Switch "Octopath Traveler", it feels like this - YouTube


It is loved by people in the cityShinto priest Ophelia. If you call out to people in the city, you can "guide" people who are led by Ophelia, whether there are forests or caverns, will come up and will also join the battle.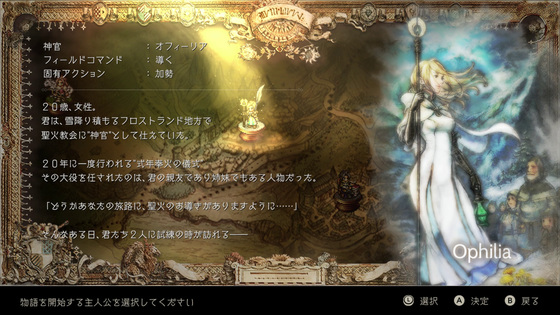 You can actually watch Ophelia guide people in the following movies.

Nintendo Switch "Octopath Traveler" Playing the priest Ophelia on trial version Like this - YouTube


Actually playing "Octopath Traveler", the character was displayed as 2D dot picture, or it was a simple command selection type turn battle screen, it certainly became a nostalgic design reminiscent of Super Nintendo Age It was. However, the battle is simple, but the tempo is getting better with the existence of a break system and weak points, the eight heroes are rich in personality and can be selected according to the taste of players and play style, such as game ability is better than old RPG Impression that polish is considerably polished.

Events of each protagonist are drawn carefully, but unlike the old RPG, you can also skip and cancel an event, so you have to clear it and you want to play again or you have gone over and you have to watch the same event repeatedly Convenient when not. "Octopath Traveler" is a work that felt built-in to fine parts, and finished in RPG feeling refined newness even if it looks nostalgic.

"Octopath Traveler" will be released on 7th July 2018, 7344 yen including tax.

Nintendo Switch | DLsite to download | OCTOPATH TRAVELER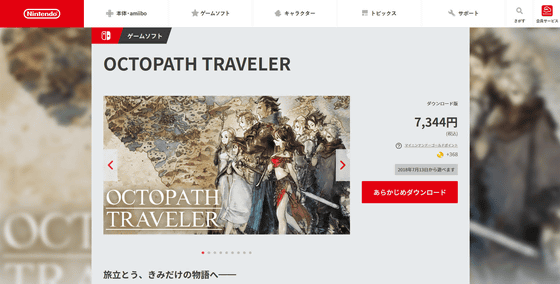 On Amazon.co, jp, limited package version can be reserved at 7344 yen including tax.

Amazon | Octopus Traveler [with Amazon.co.jp Limited] With Sticker Seal Set - Switch | Game