An application "rainy" that analyzes whether you are a rain guy / rain girl or not based on position information and JMA data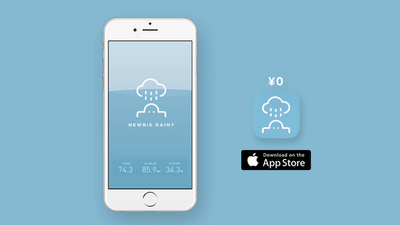 Every year in Japan, the rainy season begins in the end of May and around June. This season with a lot of rain, when it is going to go out, it is always raining, when it comes to traveling, it is raining, "Who am I thinking is rain man / rain girl?" There should also be one. An application that analyzes the existence of such a rain man / rain woman who is not scientifically proved based on the position information and the data of the Meteorological Agency is "rainy"is.

rainy | Rain guy · raindrop judgment app
https://rainyapp.jp/

rainy is an application that calculates "rain man / rain girl level" based on individual user's position information and weather data and makes judgment. When a certain time passes after installation, it evaluates whether you are "sunny man / woman" or "demon rain man / woman" as follows.



rainy can be installed from the App Store.

"Rainy" on the App Store
https://itunes.apple.com/jp/app/rainy/id1386644344

Tap "Get".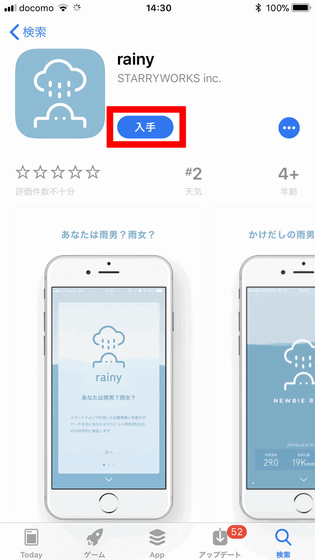 Tap "Install".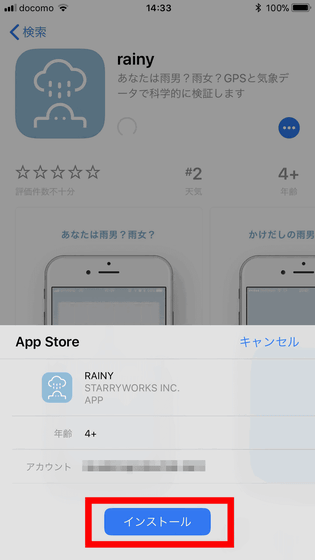 When installation is completed, tap "Open".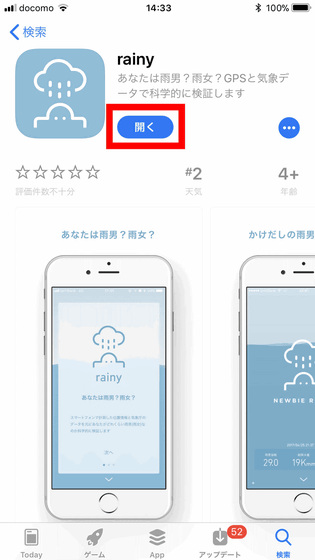 You are asked to allow sending notifications, so tap "Allow".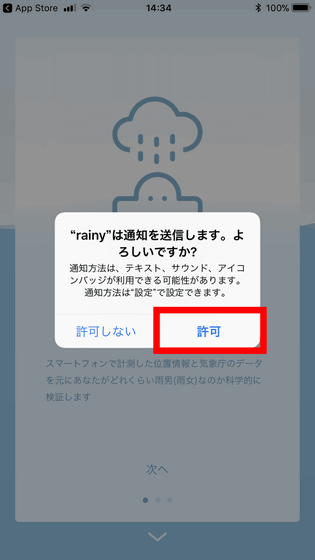 rainy is an application that scientifically verifies how rainy / rainy women the user is based on location information measured by smartphones and precipitation data released by the Meteorological Agency. Tap "Next".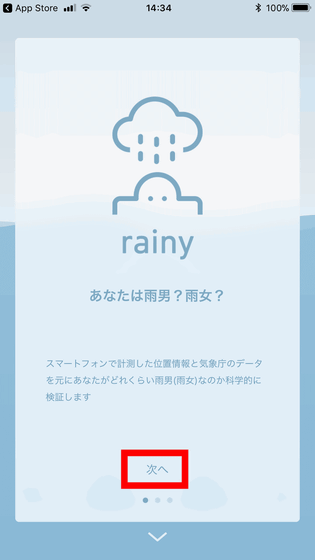 To judge rain / rain girls, it is necessary to compare the position information of the smartphone with the precipitation data of the Japan Meteorological Agency and to calculate "individual rainfall amount". Tap "Allow access to location information" at the bottom.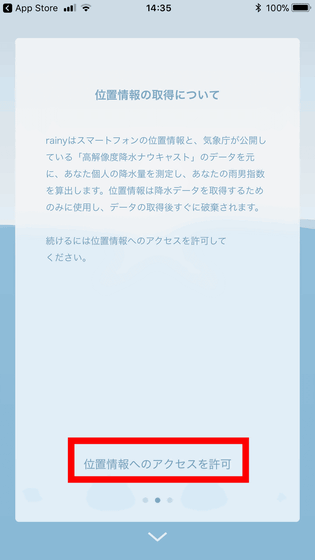 Position information can not be acquired accurately, not only during the launch of the application, but also when the smartphone is always carried around while it is carried around. Tap "Always allow".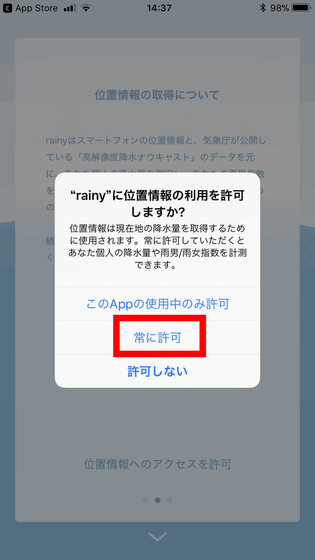 Next, register the user. You can enter user name, gender, date of birth, occupation, prefecture, but you can also select "Do not specify" except for user name and birth date. When input is completed, tap "Please agree to the terms of service and register after" at the bottom. This completes the rainy setup.



On the home screen of rainy, "stage icon" will be displayed, informing the user of the degree of rain girl / rain female from seven stages. The icon is displayed as "UNKNOWN" until sufficient data is gathered after installation.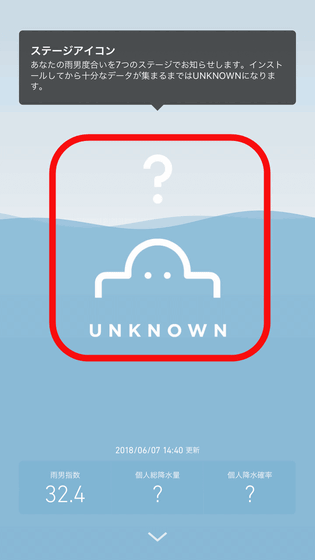 Rain Man / Rain The stage showing women's degree is determined by how far away from the average of all users is, and in addition to the initial state of "UNKNOWN", "SUNNY SAINT" ("sunny saint") "super sunny / Fine sunny woman) "" SUNNY (sunny man / sunny woman) "" FAIR (ordinary) "" NEWBIE (new rain man / new rain girl) "" RAINY (rain man / rain woman) "" PRO RAINY Rain Man / Professional Raingirl) "and" RAINY DEVIL (Rain Devil) ".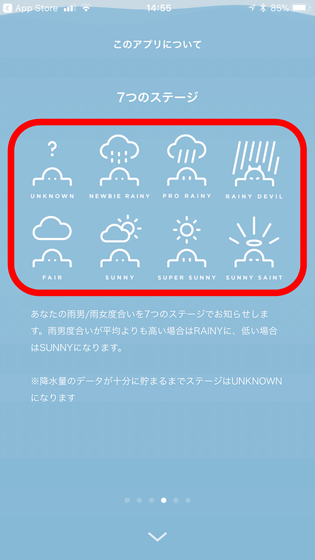 rainy is a unique equation that calculates how much the user is rain / rain girl. Apparently, even with the same amount of rainfall, by changing the weighting by "rain swayed while moving" and "rain swayed while not moving", it is said that rain falls when raining "/ rain femininity The analysis seems to reflect firmly and analyze.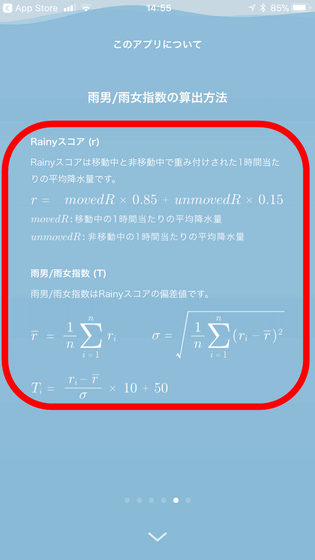 At the lower part of the home screen "rain man / rain female index" is a numerical value that represents the degree of rain / rain in terms of 0 to 100, calculated based on all the data measured since rainy was installed It shows.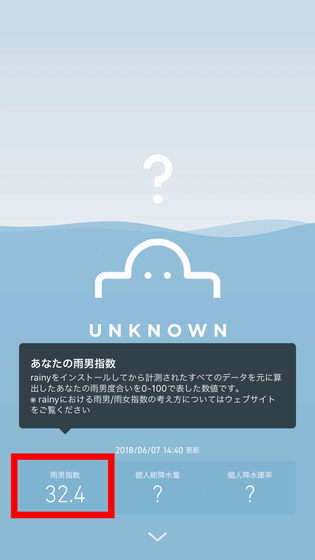 "Individual total precipitation" on the right is designed to show how much it actually rained since installing rainy.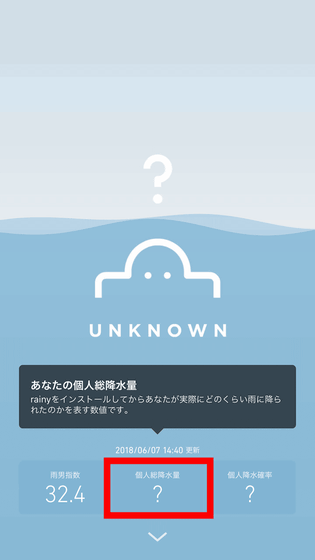 The "Personal Precipitation Probability" on the right side shows the precipitation probability calculated based on the time it has been raining. Swipe home screen up ... ....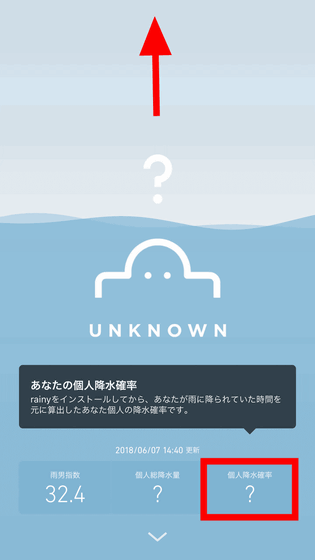 We can see the average weekly precipitation of all users.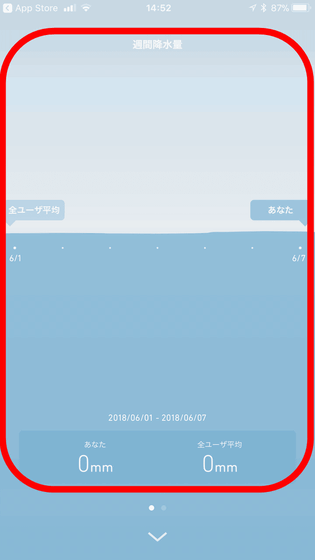 It is also possible to see monthly rainfall. Swipe up on this screen ... ...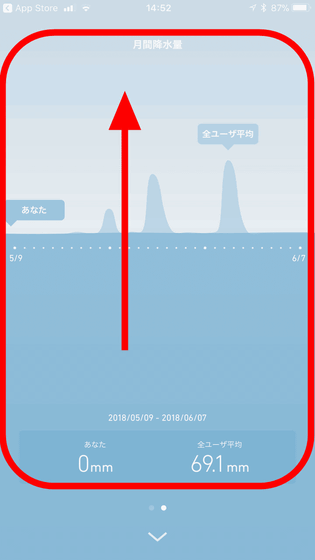 Weekly rain guy / rain girl rankings are to be displayed.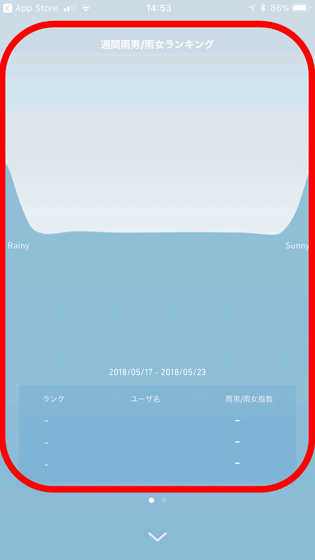 There was a month for rain man / rain girl ranking.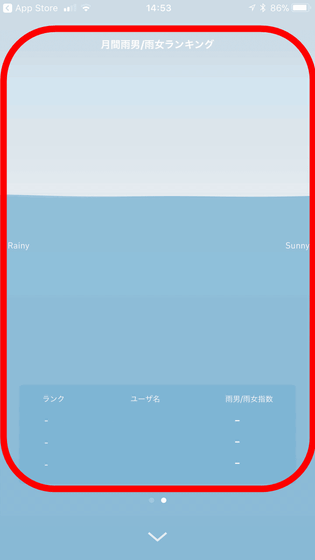 rainy needs time to accumulate data, but because it analyzes whether it is raindrop / rain girl or not based on a firm numerical value correspondingly, it is not influenced by some impression theory Rain man / rain Perfect for those who want to name a woman. People who are confident that "myself is the best rain man in Japan / rain woman", it might be a good idea to aim for the first place in the ranking.