We tried all three kinds such as moist and creamy ice cream "Concrete" limited item "Strawberry Sunset" at NY's popular shops at Shake Shack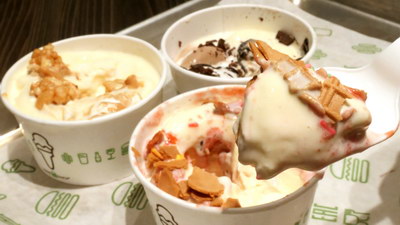 American casual restaurantShake Shack(Shake Shack) Umeda Hanshin store which will be the first advance in Kansai opened on June 1, 2018 (Friday). Shake shack is known for the moist and creamy ice cream "Concrete", and at Umeda Hanshin store stores only concrete "Strawberry Sunset(Strawberry Sunset) ""Tsu-Ten Shack(Tsuten shack) ""Sesame Oshacka(Sesame Oshaka) ", so I actually ate a store limited ice cream.

SHAKE_SHACK
http://www.shakeshack.jp/

Shake Shack Umeda Hanshin store is a 6 minute walk from Osaka station, 8 minutes walk from Hankyu Umeda station, 1 minute walk from Hanshin Umeda station, the location is Hanshin Umeda main store 1st floor. The address is "530-0001 Osaka-shi Kita-ku Umeda 1-13-13 Hanshin Umeda main store 1st floor".


It is to Shake Shack Umeda Hanshin store is the shortest path to go up on the ground in the "F34" exit.



Arrived at Shake Shack Umeda Hanshin store.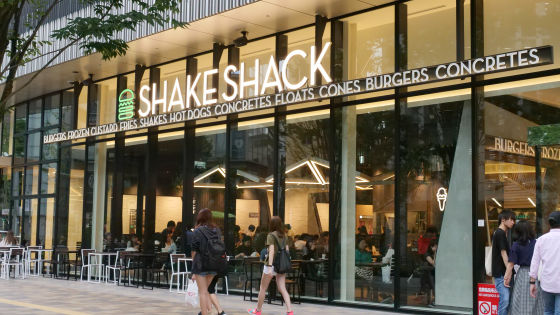 It was a weekday, but the shop was full and there were about 15 rows in front of the store.



While waiting in line, a store clerk handed me a menu. One of the specialty of Shake Shack is a hamburger ... ...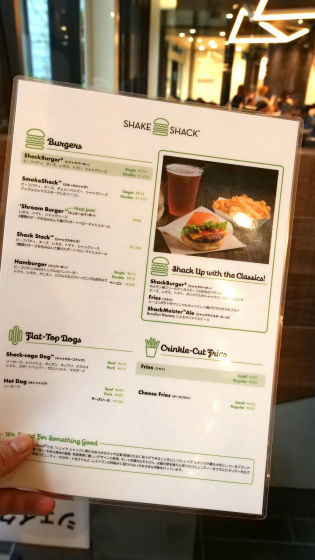 The target for this time is another special ice cream concrete. Concrete is an original dessert that mixed fresh ice and topping with high speed, called "frozen custard" which puts a large amount of egg yolk to reduce air content. It is more creamy and more moist than ordinary ice cream.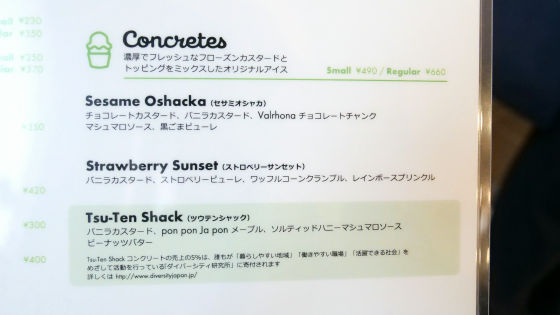 About 15 people were lined up in the row, but because of the large number of seats, the rotation was fast and the order came around in about 10 minutes. We will order concrete "Strawberry Sunset", "Tsu Ten Shack" and "Sesame Oshaka" at "cash register" in "Small" size.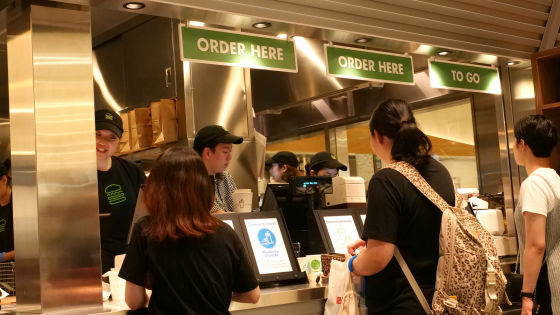 Wait until the passed buzzer sounds.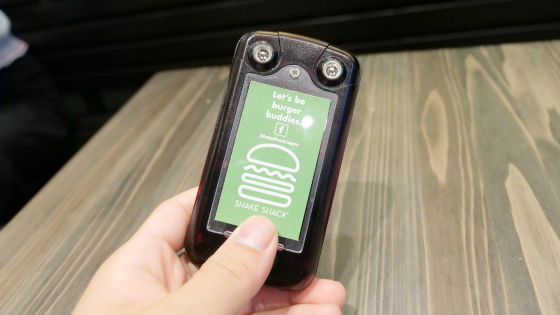 In about 5 minutes, "Strawberry Sunset" in front, "Sesami Oshaka" in the left back, "Tuten Shack" in the back right (529 yen including tax) was completed.



The height of the "Small" size cup is about 5 cm, and it is about the same as the traffic IC (short side 54 mm).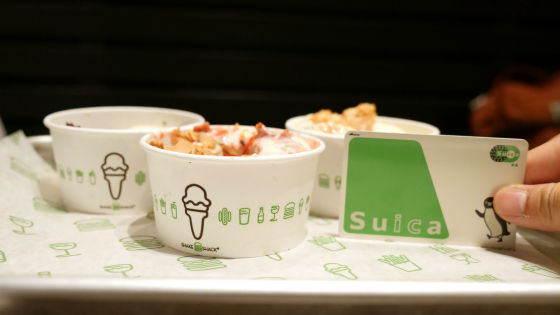 · Strawberry Sunset
"Strawberry Sunset" (529 yen including tax) is an ice cream sprinkled with crushed waffle corn and rainbow sprinkle, mixing vanilla custard and strawberry puree.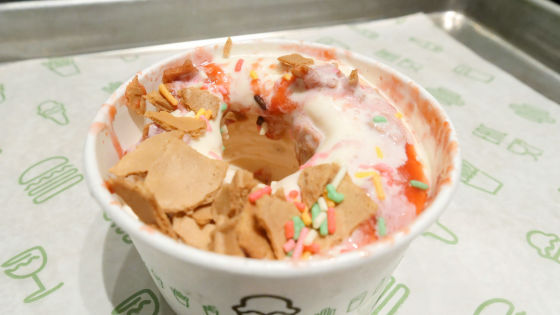 Beautiful fluffy texture of ice cream is characteristic, and before eating, we expected that the flavor of strawberry puree will exceed the scent of vanilla ice, but vanilla ice is thick and strawberry puree supports vanilla I will. The crushed waffle corn is crispy and you can enjoy changing to a moist texture over time. Since concrete is easy to melt, it is recommended to order by timing or to eat as soon as possible.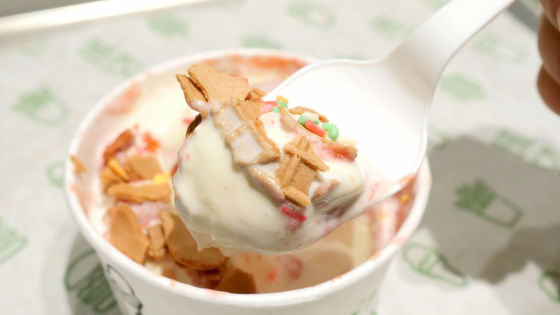 · Tauten Shack
"Tuten shack" (529 yen including tax) is a mixture of vanilla custard and soluted honey marshmallow sauce, peanut butter.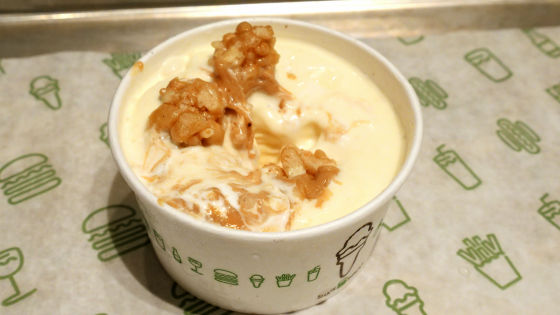 And as a topping, continue to make Osaka specialty "Rock Oshii" for over 200 yearsAmidai pond Daikoku"Made from rice"pon-pon-japonWe are putting on.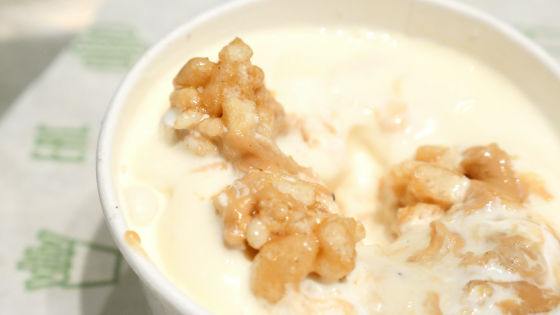 The gentle sweetness of rich vanilla ice and maple are combined, peanut butter adds rich flavor, tasteful smell tickles nose. pon-pon-japon adds an accent of crispy texture to the ice cream that was made into a toro.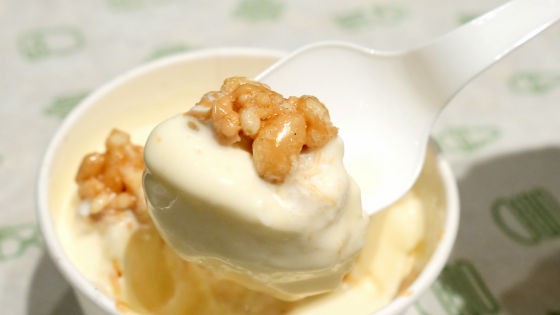 · Sesame Oshaka
Finally "Sesame Oshaka" (529 yen including tax). Mix the two kinds of frozen custard, vanilla and chocolate, with marshmallow sauce, chocolate chunks of Valrhona (varona), puree of black sesame.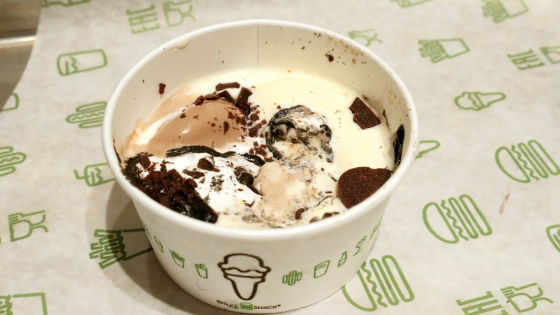 The pure black sesame puree, white one is vanilla, the frozen custard with brown color is frozen custard, the brown one that looks like dots is chocolate chunk of Valona.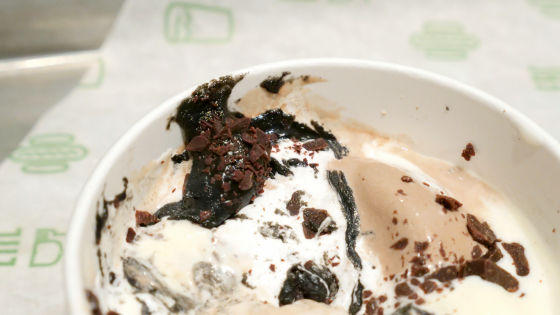 The rich vanilla and the bitter chocolate frozen custard are merged and it has a sharp taste, a little more adult taste than the other two kinds of concrete. Black sesame puree adds aroma to concrete and changes smell. Because vanilla, chocolate, black sesame puree are not completely mixed, you can enjoy the change of bittersweet and scent every time you eat, of course you can mix three as well.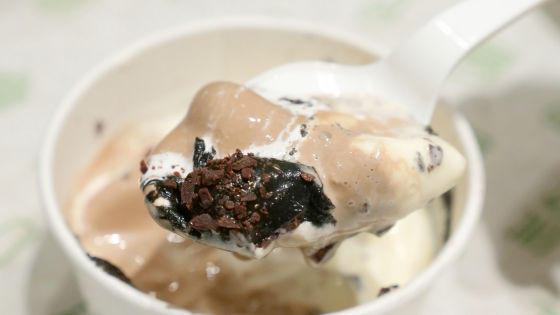 The chocolate chunk of Valona which is included is a bitter chocolate with a moderately sweetness, some of which were coarse and heavily cut, and I felt a crunchy crunch.