The new iPhone is cut down and all three models are expected to appear at the same time in September and a prominent analyst expects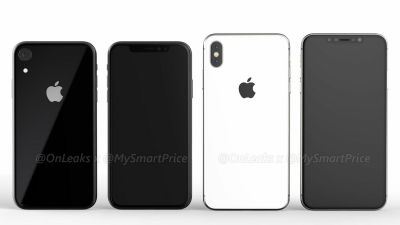 Mr. Minchi Kuo, a renowned analyst known for high precision prediction of Apple-related products, predicts that the new iPhone will be "cut down compared to the current model" and "all three models will appear at the same time in September 2018" We showed off.

Ming-Chi Kuo predicts ~ $ 100 price cuts for 2018 iPhones, all models available in September | 9to5Mac
https://9to5mac.com/2018/06/04/ming-chi-kuo-iphone-2018-pricing/

From KGI Securities to TF International SecuritiesTransferMr. Quo who issued a report on Apple's new iPhone for investors. Mr. Kuo, who expected that three types of iPhones with different screen sizes will appear on the new iPhone at first, updated the information of the new iPhone.

Does iPhone in 2018 appear as inexpensive terminals with the same bezelless design as "iPhone X"? - GIGAZINE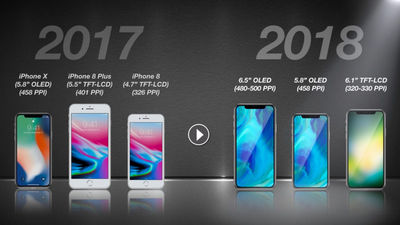 According to Mr. Quo, Apple announces the new iPhone as usual in September, 2018, but "It adopts a more aggressive price strategy". Apple is concerned about the adverse effect on high pricing as the smartphone market matures, Apple is concerned about reducing adverse effects on high pricing, starting to reform the cost structure by reducing component costs and increasing yields, and lowering the price of the iPhone.

Specifically, "iPhone X Plus" adopted 6.5-inch organic EL display adopts the same model as the current iPhone X entry model 900 to 1000 dollars (about 90,000 yen to 110,000 yen), 5.8 inch organic EL display We anticipate that the iPhone will cost between 800 and 900 dollars (about 88,000 yen to 90,000 yen) and the low price iPhone adopting the 6.1-inch liquid crystal display will be 600 to 700 dollars (about 66,000 yen to 77,000 yen) It is.

Apple is aiming to increase the number of Face ID users, and both models should be notch design with notches at the top of the display.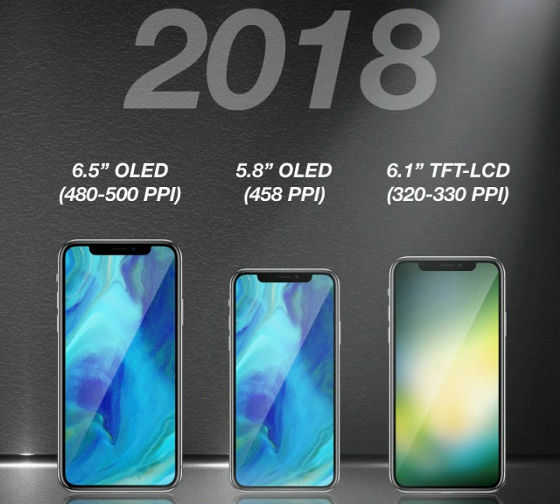 In addition, the 6.1-inch LCD model iPhone that was reportedly reported to be delayed by about two months due to circumstances of production or sales strategy due to part is also released simultaneously with other two models in September 2018, Mr. Ku I anticipate it.

Mr. Kuo who had leave KGI Securities and stopped analyzing Apple related issues, but it seems that TF International Securities will produce high-precision product forecasts as ever.

·bonus
The rendering image and the image that I thought about the iPhone X Plus equipped with 6.5 inch organic EL display leaked.

[EXCLUSIVE] Apple iPhone 2018 6.5-inch screen variant has a dual-camera: Images, Video Render - MySmartPrice News
https://www.mysmartprice.com/gear/2018/06/02/apple-iphone-x-plus-2018-6-5-inch-image-video-exclusive/

This is a movie based on the rendered image.

Apple iPhone 2018 6.5-inch: Exclusive First Look - YouTube


The design follows the iPhone X.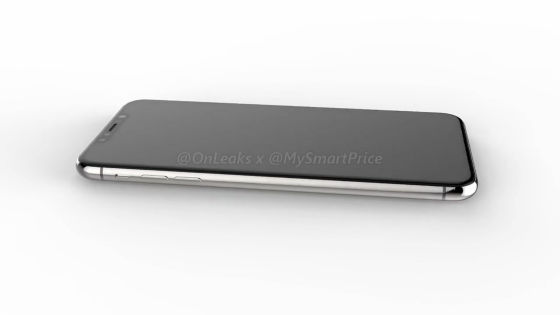 There is also a white model. I adopt a dual camera instead of a triple camera on the rear.



The size of the iPhone X Plus is 157.5 × 77.4 × 7.7 mm. Compared with the 6.1-inch LCD model (left), the iPhone X Plus seems to have a sense of size that the width does not change much and it extends in the vertical direction. Of course, there is a possibility that the design has been changed at the time of product appearance.