"A bright company that makes bright fireworks" We visited the fireworks company "Hoshiya Omagari Fireworks" in the city of fireworks, Omagari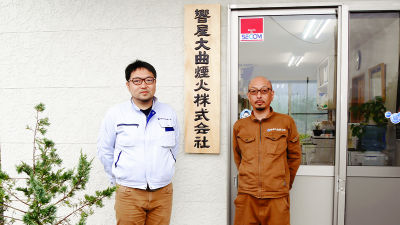 National Fireworks GamesYaOmaki no Hanabi Spring ChapterFireworks events such as fireworks are held in the city of Daisen, Akita Prefecture, there are a number of fireworks vendors. The previousNorthern Japan Fireworks Entertainment CorporationFollowing on, this timeHoshiya Omagari Fireworks Co., Ltd.I have been interviewing fireworks and visiting factories, etc.

◆ Yoshiya Omagari Fireworks Co., Ltd.
http://www.hibikiya.co.jp/
Facebook:https://www.facebook.com/hibikiya/
Twitter:@hibikiyahanabi

Hoshiya Omagari Fireworks is a fireworks company engaged in the production of fireworks for signal lightning and appreciation · launches at fireworks festivals and special effects for events. Works are awarded at competitions in various places in Japan, including nationwide fireworks games. Currently President and Representative Director is Kentaro Saito 6th generation.

March of 2017New Fireworks CollectionWhen I asked in, it was a holiday, so this time a new visit. The picture was taken when I visited in March 2017.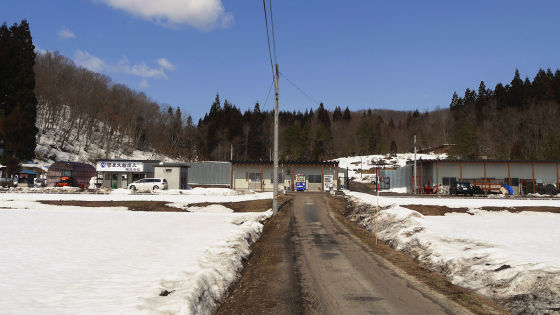 Mr. Kentaro Saito, President and Representative Director, Mr. Yoshihiro Shinyama, Director of the right is Mr. Saito's brother.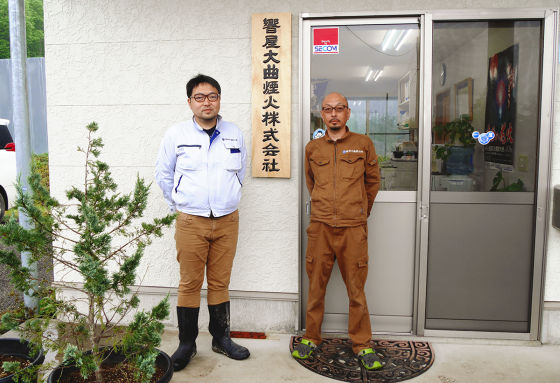 About Yoshiya Omagari Fireworks Co., Ltd.

GIGAZINE (hereinafter referred to as G):
Can you tell me the history of the company?

Kentaro Saito, President and Representative Director, Hoshiya Omagari Fireworks Co., Ltd. (Saito)
It is the beginning of my high grandfather made fireworks with agriculture in the Meiji 27 year. I set up a company that specializes in signal lightning "Hoshiya" and independently, but after merging in 2017 with "Omagari fireworks chemistry industry" which my brother succeeded as the fifth generation, "Yoshiya Omagari Fireworks shares Company "has become a company.

G:
Signal thunder is that firework sounding "Ban Bang Bang" that flies up before the fireworks festival and before the beginning of the athletic meet?

Saito:
Signal thunder was powerful because the power of gunpowder was so strong that it was difficult to handle, so any fireworks company was apt to shy away. If so, I started "Yoshiya" to make a safe and high quality signal lightning.

G:
Could you tell me the circumstances that resulted in the company merger in 2017?

Saito:
While doing 1 year and 2 years, with only signal lightning, there were few opportunities to feel rewarding as a fireworksman "Where are you willing to please customers?" And fireworks for viewing can also be made Such a story is often came from a customer who knows that "not only lightning, but make such kind of stuff", and since about 3 years I began making fireworks for a bit of appreciation as well. From that point spread spread at the word, orders came to come one after another, the factory grew bigger. At that time, the factory of the parents' house (Omagari fireworks chemistry industry) was old, so my older brother was almost to make fireworks here.

G:
Even though the company was divided, we were making fireworks together.

Yoshiya Omagari Hiroyuki Co., Ltd. Director Yoshihiro Shinyama (hereafter, Shinzan):
Yes, it was what we were doing together, and we decided in charge at Okago 's competition.

Saito:
In Okago 's competition, my father was in charge of day fireworks, brother fireworks was my older brother, creative fireworks were sharing with me. Eventually I decided to merger and my brother and father accepted, but it was not decided when to merge. However, my father passed away in February 2016, then my brother and two people talked and merged in 2017 and it became "Yoshiya Omagari Fireworks".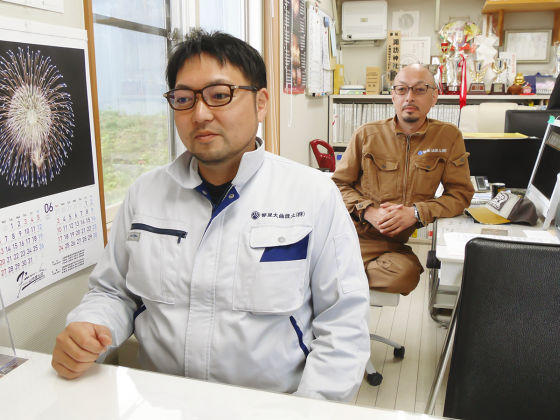 ◆ Focus on easy-to-say environment and teamwork
G:
Recently, I heard the information that we were recruited for fireworks, but if you say fireworks, there is an image that you must have some connection with yourself or from fireworks craftworkers.

Saito:
Since there is a plan to expand the work place from now on, one person is recruited for "I will increase one or two people before creating a new workplace". Especially connection and experience are irrelevant. At our company, there are almost no people who have experienced fireworks for many years.

G:
I have to teach skills from 1, right?

Saito:
Well, "I think that you can do various interesting fireworks on the contrary," so I dare not veteran say "Fireworks should not be this".

Shinyama:
Because the way the fireworks are made by the company is also different, it is troubled even if it is made with the other way of making it.

Saito:
Moreover, since I am putting efforts into creating an environment that makes it easy to say when a new person comes, I am not saying "Oh it is a koda", but I am making an environment that everyone can say easily I will.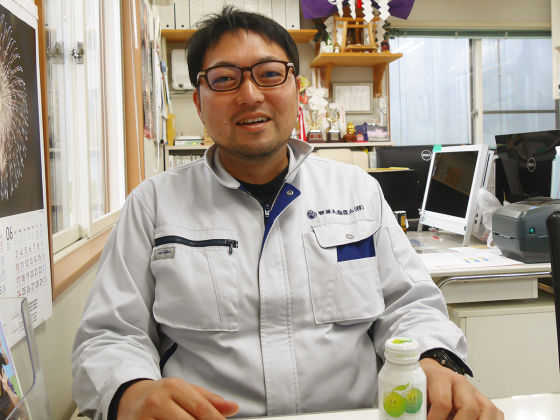 G:
Do you like meeting?

Saito:
Every morning I am doing morning assembly and I always have a meeting twice a month. I have many opinions free to say. "Working, I want this."

G:
Does opinion and ideas actually come true?

Saito:
Every year from October to the end of the year, have each of you present "I want to raise the season next season". "People who got first place will see that fireworks go up next year".

Shinyama:
There was also Kimichi seal at the president's award (laugh)

G:
We recruit ideas from employees and are also challenged for new balls and directing. Is there a company policy regarding fireworks?

Saito:
I want to do something that nobody tries to do. I did because it does not make any signal lightning either. For example, it has a lot of windows in multiple cores (a method of packing explosives from the skylight of fireworks balls, better balance of open fireworks than a method of stuffing half pieces at a time, but it takes time and labor), beautiful thousand rings of windows The fireworks that are troublesome, however, are only used when the company that they produce launches themselves, and normally they do not circulate. I think that we will do it.

The picture shows the work of the packing method that combines the half filled fireworks balls together to make one firework sphere.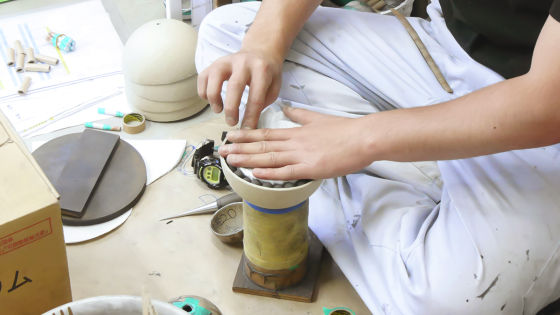 Saito:
Many companies have multiple cores and troublesome fireworks, but they can make it only by the president or the representative of the company such as the plant manager. However, we are really getting into making multiple cores even in the first year and the second year. I think that our strength is there. A handsome person is early. There are things that it is not suitable for technology, and since it has been done for years, it is not possible to do it, and there are people who can not insert multiple core for many years, but even if that person performs another process Because I will carry other things absolutely beyond loss.

G:
How do you actually create a new work?

Saito:
While talking with everyone, watching YouTube etc. "I can not do more than how" more than anything else has come up from ideas that nobody did anything, "Oh, that's funny I thought of it as a challenge. Regarding the color, it is good because it only mixes chemicals, but starting with "whether the star can be made in fact or not", then those who put stars in the ball can say "it is possible to put stars in that arrangement Thinking about ", if you have ball beads finish the finished balls well balanced. I'm consulting with the team on how this product can be made. Such teamwork is important, so I concentrate on it.

"It is fun!"
Here, we invited Mr. Akihito Kanayama, an employee who has just joined the company.

G:
Thank you. How long have you been hired?

Hoshiya Omagari Fireworks Co., Ltd. Akihito Kanayama (hereinafter, Kanayama):
Yes, it will be about half a year in May 2018.

G:
Is there a reason for choosing this company?

Kanayama:
I wonder if I can listen to the principle of Okae and the president's policy.

Saito:
When I interviewed "Do you have a favorite fireworks store?" When you heard that "Margaux", I thought that I do not care (lol)

Kanayama:
I wanted to work on fireworks, but I felt that it was different from just having to do it.

G:
How was it actually to enter?

Kanayama:
"It's fun!In this industry, we do not teach information to the persons below, but this company is not all but you can teach me various things. There are environments where such environments are easy for them to do, it is fun to be fun and workable.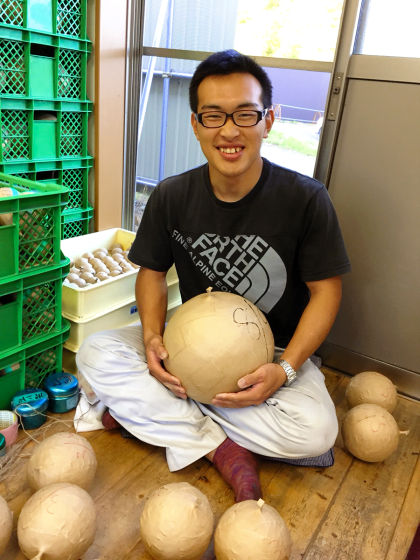 Saito:
At first, when I came to interview, I brought a picture story to "I would like to make such a fireworks." When I saw it I could not get out for about an hour and "If this is it, I like this" or two people say "Ah, Kota" ... "Why did you get to such a hot person with a man who came to interview? I wonder what it is "and adopt it with it! (Lol)

G:
In what department are you working now?

Kanayama:
I am doing a ball paste. It's still a stage of entering half a year since I entered.

Shinyama:
Among them, I think that you will ask the various departments to find the best department.

G:
Thank you very much.

◆ Factory tour
On the day, MC · lyricist ·Akita beauty projectleader·Great Akita Tokyo Performance 2018Executive Vice Chairperson · Under active work,Fireworks viewerIt is alsoRyoko SuzumoriI was going to visit the factory, so I decided to accompany it.

First of all, the two days before the interview "Omaki no Hanabi Spring ChapterI showed you what is happening to the fireworks cylinder used in the exhibition. Although I brought home and did not do anything yet, it was a surprisingly beautiful state. Wash and dry the cylinder after launch every time. Mr. Suzumori who is reflected together is the hiding coat of Hoshiya Omagari Fireworks Co., Ltd.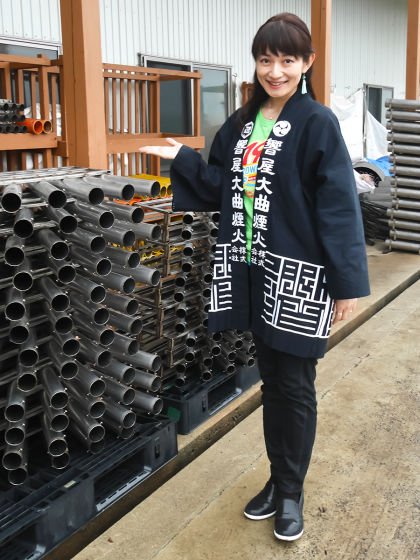 The first thing I watched was from a workshop that puts "glue" on kraft paper that is attached to a firework sphere. Every day, I will prepare it for use.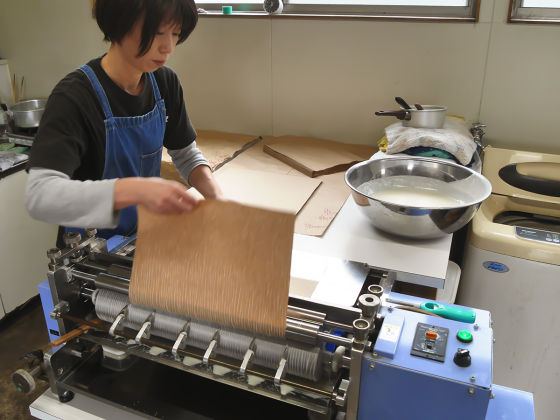 Glue is a homemade rice glue made by boiling rice made into powder. Of course rice is Akitakomachi.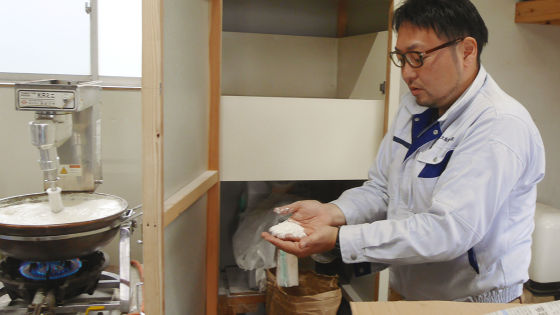 A workshop which is blending explosive.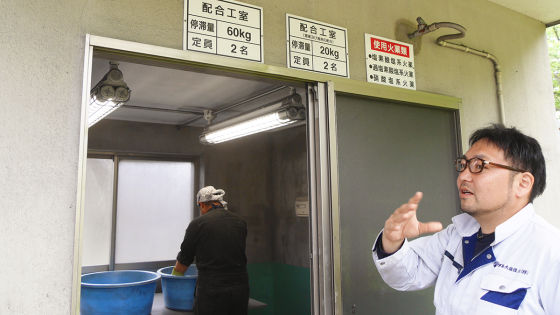 By mixing various chemicals, the color and brightness of fireworks change. It is a trade secret how much proportion of chemicals to mix.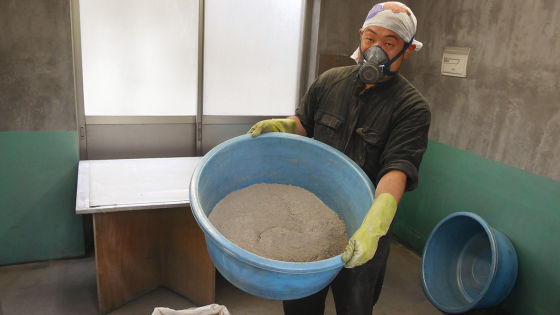 Next, the workplace is divided into workshops where fireworks stars are made, for each process.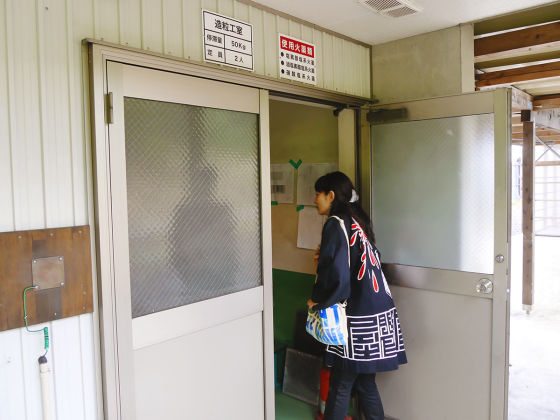 A star of fireworks pours a gunpowder dissolved in water into a rotating kettle, paints it, and repeats drying to grow it.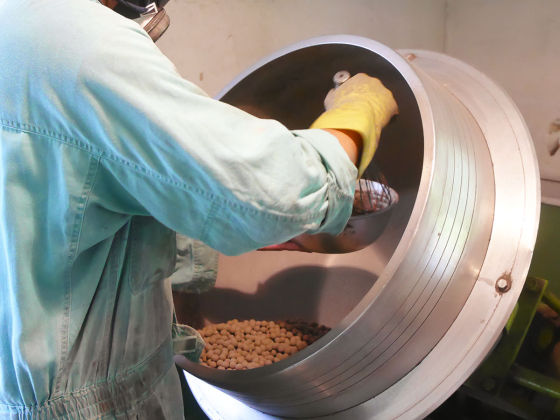 You can check the state of actually doing the starring work with the following movie.

Work scenery of "Star hang" making stars of fireworks 【Making fireworks】 - YouTube


It took about 10 days to make it the size of the star on the left side. The white grain on the right side is the "core" of the star and its size is about 1 mm, the material is ceramic.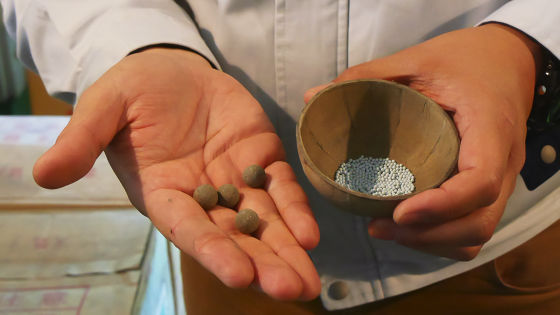 Just because it is not necessary to repeatedly paint gunpowder, but because it is necessary to make it consistent to a certain size, small ones are screened by sieving.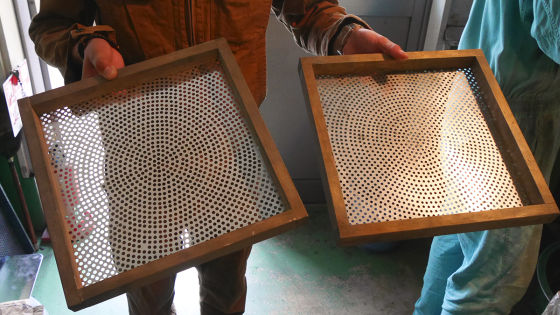 When it becomes a certain size, it is based on how many stars are lined up in the cell. The long side is 1 scale 2 dimensions (about 36 cm), the short side is 6 sizes (18 cm).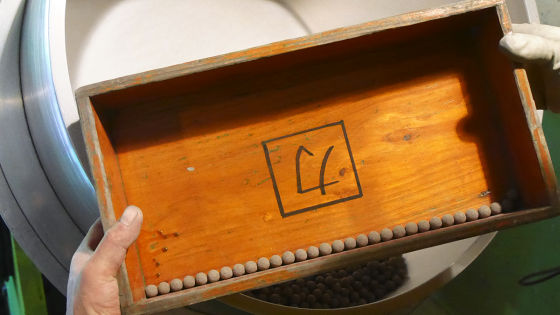 Various stars were kept in the drying room. Labels are written with omission of stars that change. Mr. Saito "From the top right" 3 "means star for No. 3 ball, but what does" Give Kasumi "stand for?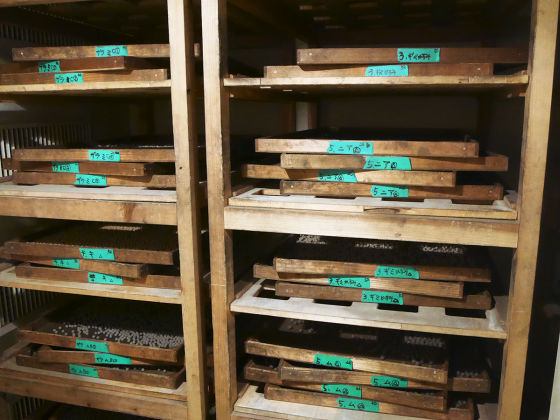 The answer is "Silver colored redhead haze". After igniting with silver color and changing to red, it will be a star of directing where a fine spark will come out with a Schwashwa sound at once.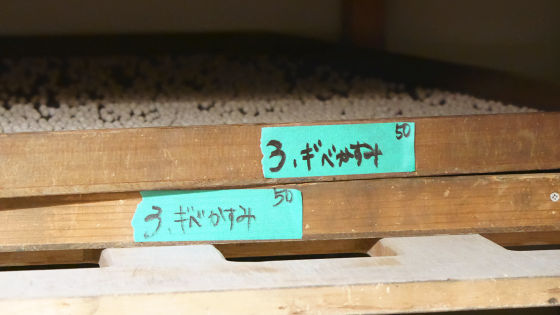 In the drying room, there was also a two-size ball (diameter about 60 cm). The ball on the upper right is the ball for water fireworks that throws to the surface of the water after putting on fire.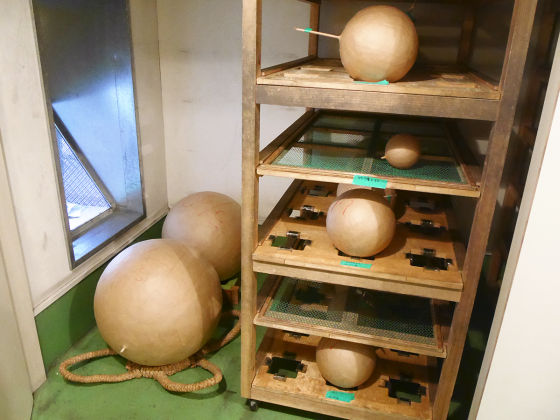 Working on "Yugome" which packs stars of fireworks side by side with semicircular beads to the workshop of Yuzome.



Since it is not strong enough if it is only a tampon, I will put the craft paper over and over again to increase the strength. The number of sheets to paste and how to paste also differ depending on the size and content of the ball.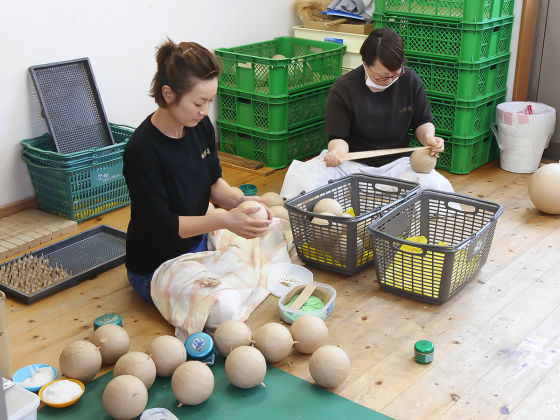 Warehouse keeping the tube used for launch. This is only a part.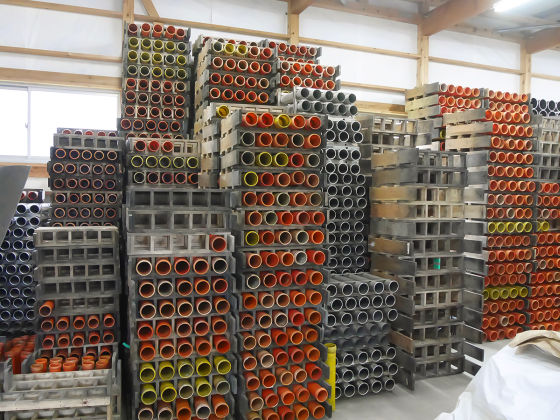 Although it is capable of hitting fireworks in a fan shape, this is the original equipment of Yoshiya Omagari Fireworks incorporating ingenuity that can increase the efficiency of the work and the variation of the production, and that it is under test.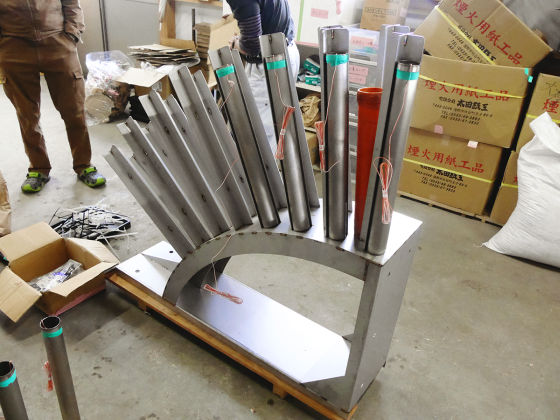 On the premises there was also a land planned to have a new workshop.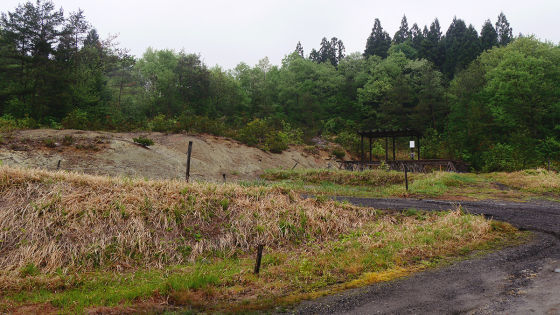 I returned to my office. Fireworks company has "Shinto rack" so that you can say "always safe and good fireworks" as we ask for protection.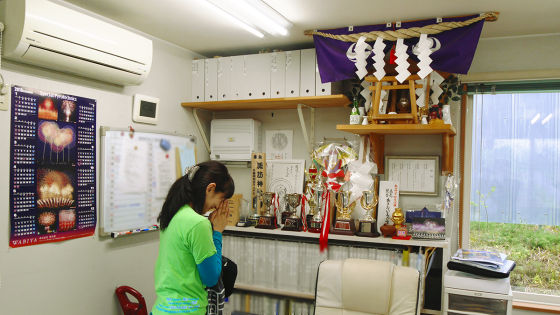 Daikoku usually looks straight ahead, but when saying "When launching fireworks at Omaki, it is pointing towards the venue." Since I just launched it two days ago, I am facing the direction of the Kamigawa where there is a launch site yet.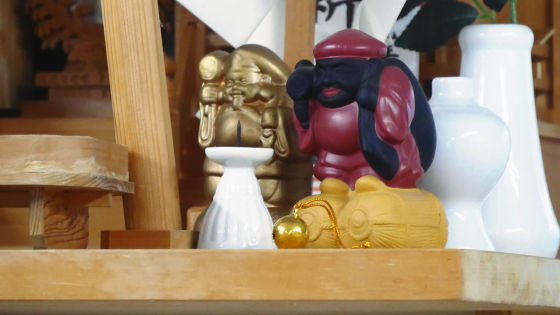 ◆ Great Fire's Fireworks From the Spring Chapter
It took place on May 12, 2018Omaki no Hanabi Spring ChapterWe introduce a part of the fireworks involved by Hoshiya Omagari Fireworks Co., Ltd.

"Hikari's Neverland" A bright intermediate-color star was an impressive program.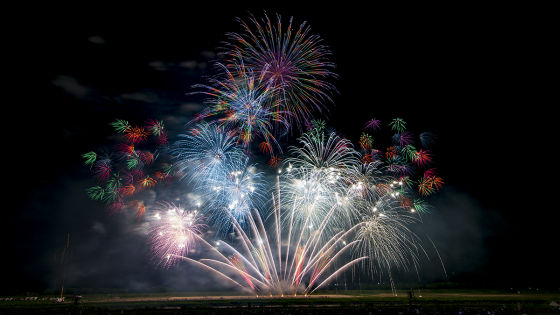 "Quadruple core change chrysanthemum with elevation"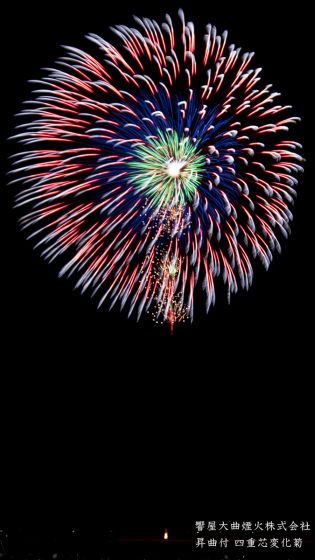 "Light Poo Cafe Style", Cocktail'sPooce CafeAs though it is imagining a fireworks that seems to be divided into many layers, like this one, but this time it is sideways. Whether or not the fireworks whose design direction is decided will succeed depends on luck, "It is a success even if you just appear in a direction that you can see the layer this time." "It is almost time for the stock of stars for this fireworks to be out of stock" so that we can see the fireworks of great success that looks like real cocktails next time.



The finale "Aiming at the Oriental visit" Aiming for the "Golden Country Zipangu", Oguni's fireworks company jointly said "What kind of form of fireworks in Japan would be the best and produce directing according to the theme I spent a considerable amount of time aiming for the best mind. "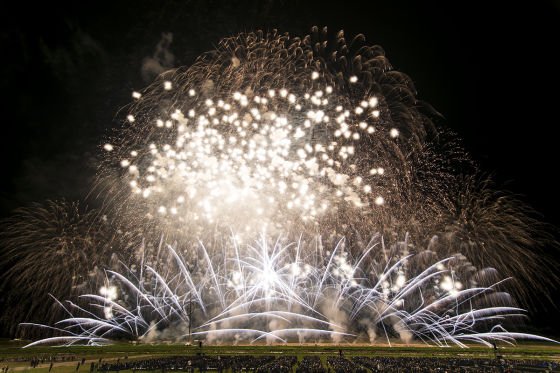 The actual appearance of the finale fireworks can be confirmed with the following movie.

【4K】 Fireworks of Omagari Spring Chapter 2018 "Finale Fireworks" Omagari Fireworks Spring Chapter - YouTube


◆ I want people in Japan to become fireworks viewers
Finally, a question about the fireworks viewer to be tested at the local Daisen city Omagari in October every year will be held on May 30, 2018Kyoto Art Fireworks 2018I asked about.

G:
October 2017Fireworks Appreciation ExaminationHe was a teacher as a lecturer. It will be a job in a different field from making fireworks, is not it difficult for lecturers?

Saito:
No no, more and more people like fireworks increasingly "I want people in Japan to become fireworks viewers"I think.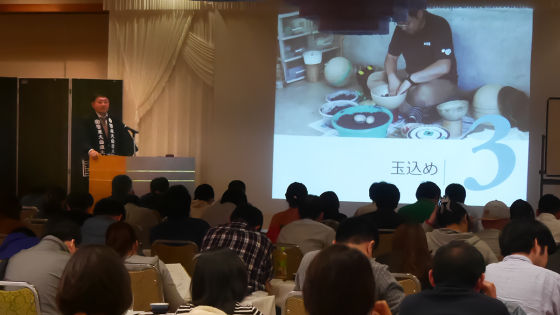 G:
Do you have anything you would like to tell the fireworks viewer about something?

Saito:
I am very grateful to the audience as well as the customers. Because there are people who are talking about fireworks at the core, I am working because I think that there is a challenge for us. Thanks to the information being sent, I think that some people come, so I think that I must take care of fireworks viewers.

G:
Is there anything you would like Hibiki Omagari Fireworks fireworks to see like this?

Saito:
We are trying not to fire fireworks by deciding that this is the case. I think that the manner in which fireworks are seen is completely different depending on the feelings and the place of people watching fireworks. It may be said that it is cranky, but with an abstract title, those who are looking at it are raising with the stance of "you can accept our fireworks well enough". So it seems that it is fine whether ordinary customers or fireworks viewers also watch them.

G:
To be held at Kyoto Racecourse on May 30, 2018Kyoto Art Fireworks 2018In the fireworks company to participate in, there was the name of Hoshiya Omagari Fireworks Co., Ltd. Do you know where in the program it will rise?

Saito:
I will be in charge of directingPyrosmithFrom Mr. Ryo Oya, we will have an order to make fireworks designed to fit this music, but I do not know when and where it will be used.

G:
Mr. Oya decides all the launch programs, is not it? I will look forward to seeing it, so I am looking forward to it. Thank you for today.

In the president's office, there is a turtle "thunder (Rai)-kun" kept kept from Mr. Saito's independence and the establishment of the signal lightning company "Yoshiya".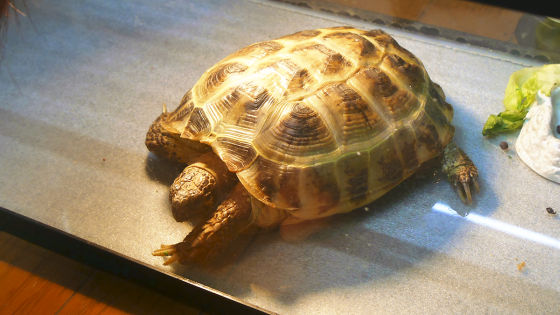 Although making fireworks requires severity from the treatment of gunpowder, in order to make a new fireworks, it is necessary to create a friendly environment for opinion, and it is important that the relationship of trust between employees including the president is important understood. It was a bright fireworks company where both the serious face and smile of employees were seen everywhere.