I have eaten 100% shaved ice "Azagori" that has frozen the whole of Fukuoka's famous azalea and scraped gorigoro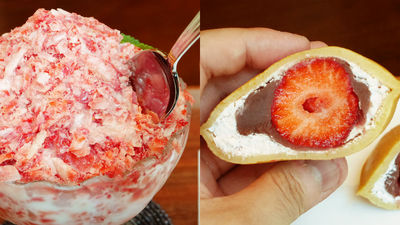 "Aomoyou" is a variety of strawberries developed in Fukuoka prefecture, characterized by large sweetness and strong sweetness. In the café where Ishiguna processing shop specializing in strawberries in Fukuoka prefecture is operating, it offers a variety of sweets as raw materials, one of which has been frozen as it is cut into shaved ice "YumogoriI caught the story that it is issuing "I actually went to eat.

Ito Kinku | Fukuoka prefecture Itoshima production Ah Maouoo strawberry processing sales office
http://www.itoking.jp/

Ito Ginjin Tenjin store is in front of Nishitetsu Fukuoka (Tenjin) station about 10 minutes on foot from Tenjin station on the Fukuoka airport subway line. addressFukuoka Prefecture Fukuoka city Chuo-ku Imaizumi 1 - chome 22 - 21


I came to the Itin Kin Tenjin store. To the goodwill of the shop front, "We are a professional of strawberry processing, especially powerful strawberries, we are not defeated by anyone! We are doing with that kind of feeling!" Powerful words were written.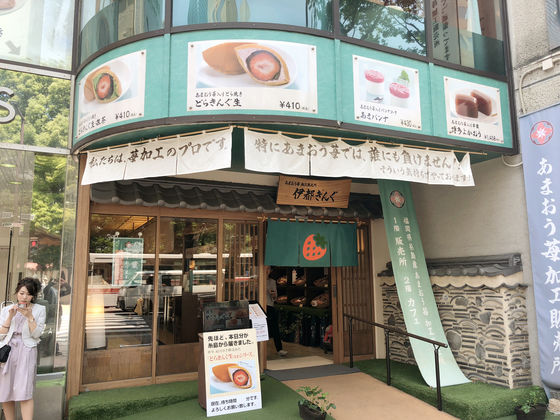 The first floor of the Ito Kinki Tenjin store was a sales office, and various Aya famous sweets were sold. Also, along with the word "I love strawberries and made strawberry gorilla animation!", The original animation "Teacher Ikorori a hot-blood gorilla teacherIt was also screened.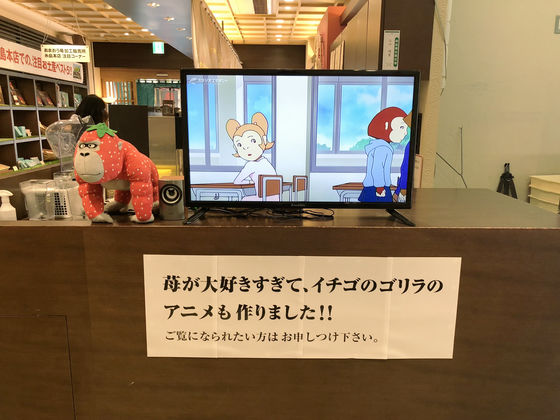 The cafe is in the 2nd floor of the store. When I climbed the stairs, I jumped into my eyes, a powerful hanging scroll with Koi drawn on the whole wall "I'm in love with strawberries that power to you".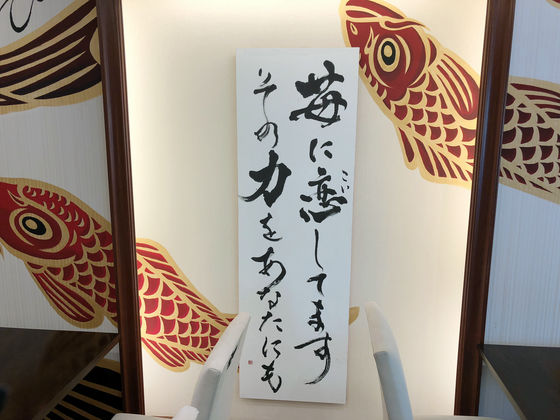 On the other side wall there was a pretty illustration of the word "Ichigo I love you" on a mural painting of a powerful red tiger.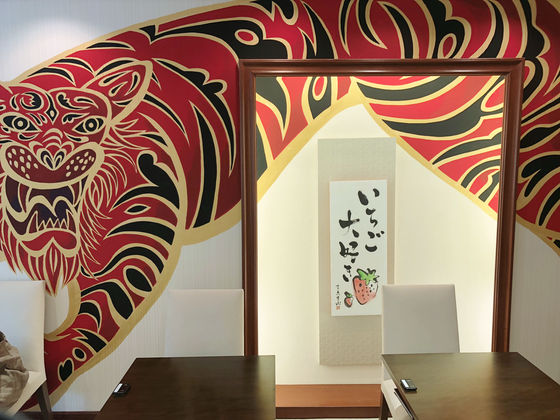 Arrived at the guided seat, ordered "Azagori". Furthermore, Ito Kinugo owns its own farm in Itoshima City, Fukuoka Prefecture, and the sweets provided by Ito Kinpu including "Amagori", Hajime Fushihara who is the creator of AmuOle are thoroughly cultivated · I did a researchOriginal AomoriIt is made with.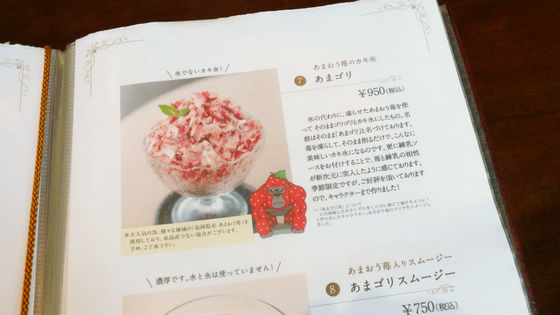 Tamago (950 yen including tax) came in the seat in about 5 minutes.



Ice was crowded with cups and leaves of strawberries were decorated with one. All of this mountain of ice froze and it dries.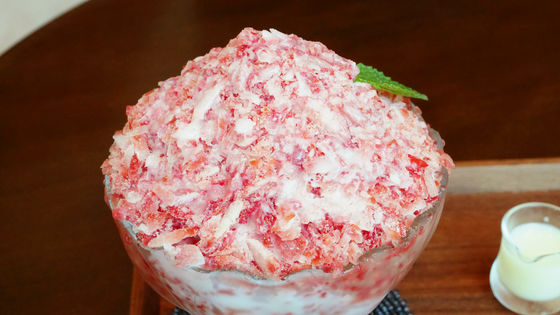 An additional amount of condensed milk was also followed.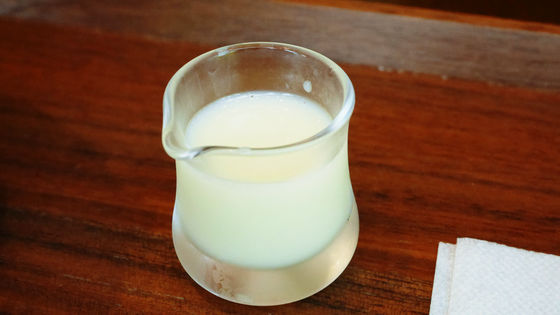 Let's try to eat without condensed milk and put a spoon. Because Asamuu 100% of the dumplings do not use any water, the ice is not sticky and fluffy and it is soft enough to collapse with hala if it does not scoop with a spoon.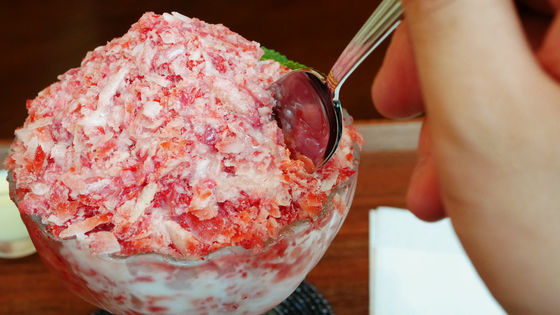 When I try to eat a bite, it looks crispy with a crispy texture but it is shaved ice, but the taste of the bamboo is strawberry itself. When the biscuits melt quickly on the tongue, the fresh sour taste peculiar to strawberry expands and emphasizes the original elegant sweetness. There was also a part with a little condensed milk on the bottom, but it is not too sweet.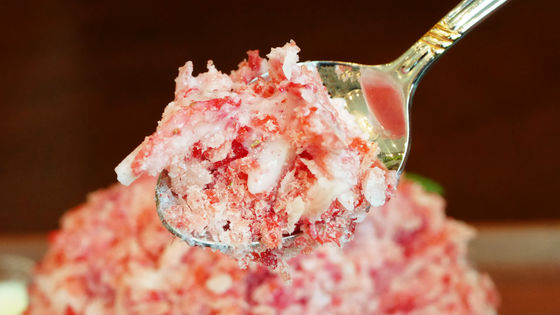 According to the store clerk, I tried condensed condensed milk and it gave me another different taste, I tried on the condensed milk from above.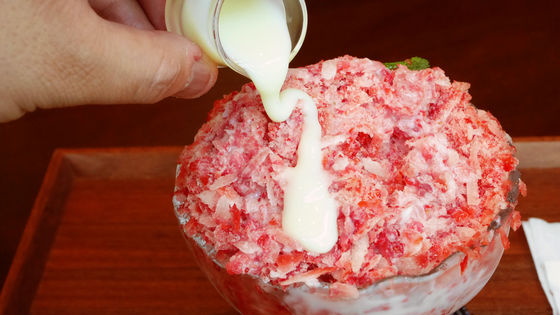 When you eat, the sweetness of condensed milk suppresses acidity and you can feel sweetness of Amaou firmly. By not using water, you can enjoy collaboration of thick strawberries and condensed milk forever without melting quickly as shaved ice and becoming thin as a shabby. Azagori is dying for strawberries lovers, it was finished in a cool sweet perfect for the hot season.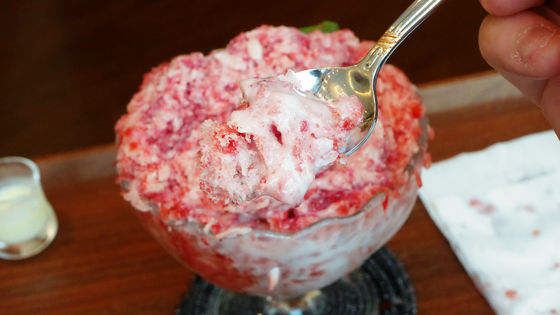 This is "Drunkin Raw" (560 yen including tax) I ordered together, it is the most popular menu in Ito Kinpu. Although it is possible to have the drag all as it is, it is possible to have it cut out and to be taken out, and when the clerk cuts it, you can see that there is one whole bean sprout.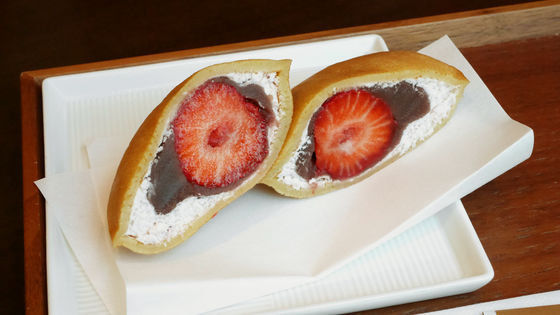 Trying to eat it in the hand, the durable fabric is not a generous fluffy sponge fabric, it is rich and thin cloth. Elegant rice and sweet and sour milk, compatibility of smooth and rich cream was relaxing, elegant and elegant taste in western style. It is said that the dragon kimono can take home, and it can be said that it is a perfect fresh-food sweet for souvenirs.



Although it was not yet offered at the time of coming to the store, there are also new menus and limited-time menus such as "Ichigo coffee" and "Hakata Arambi" with strawberry and strawberry with other stuff at Ito Kinpu It was that it was.