Apple's iPhone accounts for 86% of the profit in the smartphone market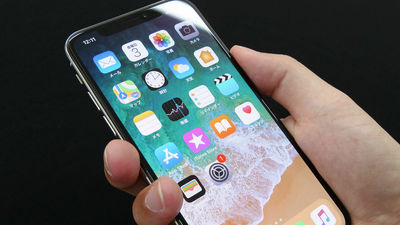 Data surveyed by research firm Counterpoint Research, which summarizes the results of smartphone manufacturers in the fourth quarter of 2017 and others, shows the startling fact that Apple's iPhone accounts for 86% of the smartphone market's profits It is.

Apple grabs 86% of global smartphone profits, iPhone X alone seizes 35%
https://appleinsider.com/articles/18/04/17/apple-grabs-86-of-smartphone-profits-globally-iphone-x-alone-seizes-35

According to Counterpoint Research, Apple gained 1% on the smartphone market in the fourth quarter of 2017 compared with the same period last year. Also,"iPhone X ends in 1 yearIt was rumored to beiPhone XActually, in the fourth quarter of 2017, it seems that it produced more than five times more profit than 600 Android smartphone makers.

"The share of iPhone X is likely to expand over time," said Karn Chauhan, an analyst at Counterpoint Research. Also, looking at the top ten devices that generate the most profits in the smartphone market, the product lifecycle of the iPhone series has been getting longer, so surprising results have appeared that the iPhone series accounts for 8 terminals out of 10 terminals. IPhone X, which was shrinking in production scale due to sluggish sales, has become the most profitable smartphone in the fourth quarter of 2017, and it is surprising that it accounts for 35% of the total. In addition, the iPhone series is much more profitable than other smartphones, resulting in 86% of the market's overall profit as a whole.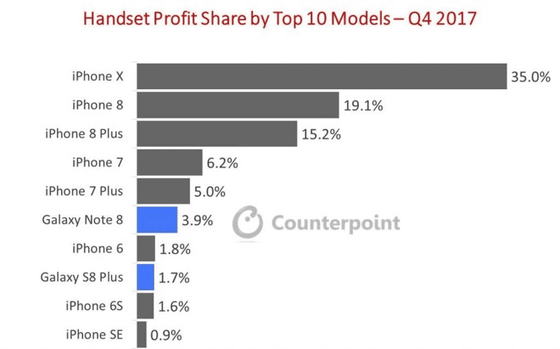 The following data is a graph of iPhone's sales data for each quarter. The blue bar shows the iPhone sales volume, and the green line shows its turnover. Looking at this, there have been no major changes in iPhone sales volume and income for a while. This also means that the iPhone series is spreading all around the world, and in actual business results announcement in the first quarter of 2018Number of active terminals reached 1.3 billion units on installed basisI also announced what I did.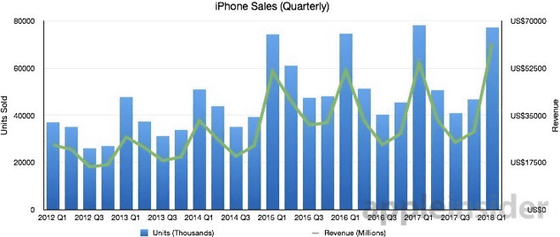 Although the iPhone series and iPhone X are expected to make good progress from these data, when Apple reserves iPhone XDemand for iPhone X is stunned worldwideIt is revealed that it is in November and December after the releaseWe shone on the top selling device every weekIt is also revealing that as expected by Mr. Chauhan's words the market share of iPhone X is expected to further expand from now.