Chocolate banana as a motif ripe Sandwich a sweet cream of banana and chocolate sauce "Silanoir full ripe chocobana" at Komeda coffee shop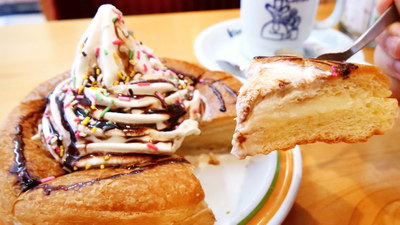 Dessert of Kommeda coffee shop,Siroonoire"Chocolate banana" was imaged as "Silo wool ripe chocolate bana"Has been added for a limited time from April 16 (Monday), 2018. Sandoir with sandwiching banana cream on warm Danish fabric and chocolate sauce on cold soft cream. I tried to eat it because I was concerned about the royal road combination "banana & chocolate".

Limited time "Silanoir ripe chocobana" is the emergence! | New Products · Campaign | Coffeehouse Komeda Coffee Shop
http://www.komeda.co.jp/info/campaign.php

Rich sweet ripe banana cream and rich chocolate sauce harmony from April 16 (Mon) Limited release period "Siloirs ripe chocolate bunny" 20180409 - View.aspx
(PDF file)http://v4.eir-parts.net/v4Contents/View.aspx?template=announcement&sid=41644&code=3543

Silo Noir ripe chocolate buna | Dessert | Coffee house Komeda coffee shop
http://www.komeda.co.jp/menu/dessert.html


\ Appears for a limited time from today ?? /
Silanoire "ripe chocolate banana" started selling ??

A smooth banana cream that makes you feel the flavor of banana firmly, sand to other Danish bread. From the top of the soft cream, made a chocolate sauce served ??

Learn more ??https://t.co/b1m8WVyFWopic.twitter.com/FsXGq9bfbe

- Comeda coffee shop (@ KomedaOfficial)April 16, 2018

That's why I came to the Komeda coffee shop to eat a new siloir.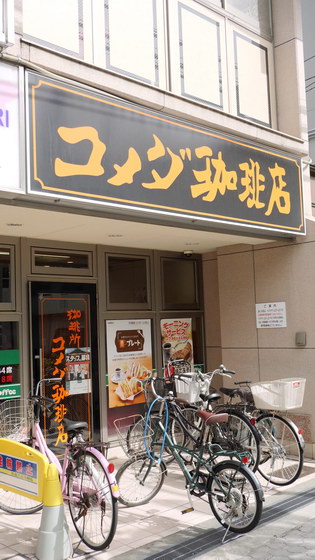 In the seat that was brought to the store clerk, this time I will order a new work of silo wool and blended coffee.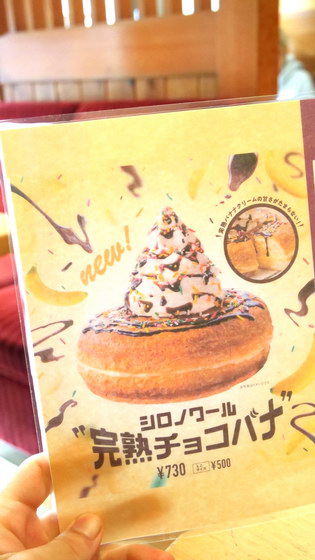 "Silo wool ripe chocolate bun" (730 yen including tax) and dish dishes, and blended coffee (420 yen including tax) arrived in about 4 minutes.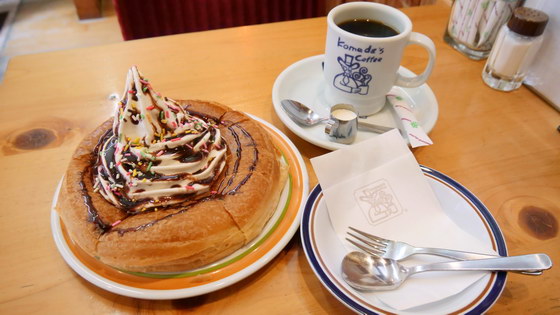 Silo noir ripe chocolate buna alone is like this.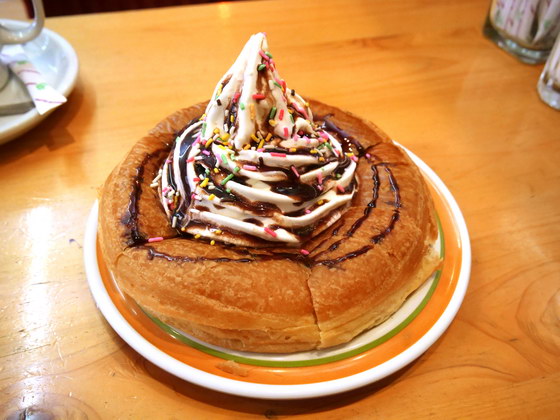 Siroonoire series Silo wool ripe chocolate burner is about 17 cm in diameter and slightly larger to eat alone. It is a good size even if you can share it with multiple people. Compared with the iPhone 7 with a long side of 13.8 cm, it looks like this.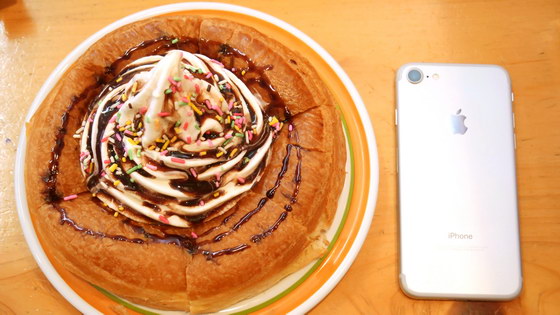 The height including the soft cream is like this. In addition, "Mini Silenoir ripe chocolate bun" (500 yen including tax) is prepared for those who say "Silonoir ripe chocolate banana is too big."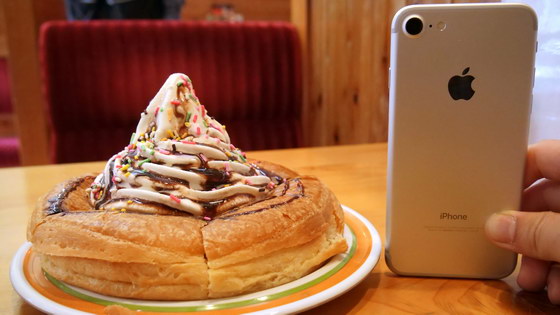 For soft cream which is put as a topping, chocolate sauce made from Belgian made couverture chocolate is thrown out from above. Colorful Tsubuzubu is a mixed chocolate.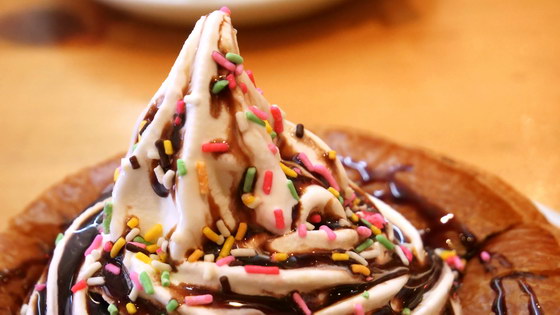 When I try to eat it is a cool, creamy soft ice cream. Crispy mix chocolate and a crisp texture. Chocolate sauce spreads a fragrant sweet aroma in your mouth.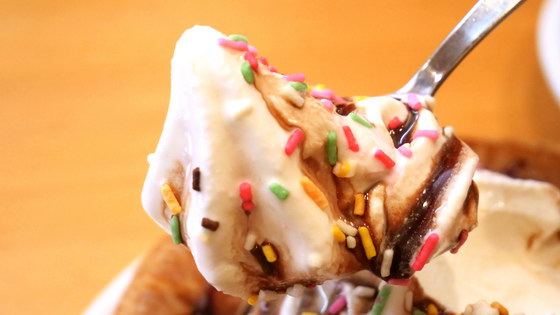 Banana cream using ripe banana is sandwiched in Danish bread cut into six equal parts.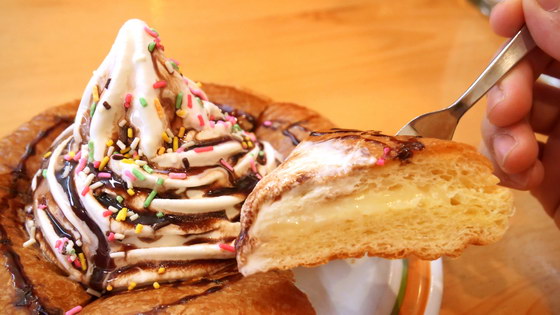 When I try Danish bread, the banana cream fragrant slightly bananas rich fragrance, gentle sweetness. It is warm, compatible with Danish bread with a crispy outside and soft fluffy texture.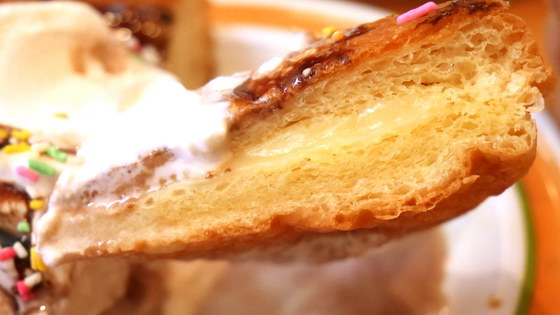 Putting soft cream on Danish bread, the combination of chocolate sauce and banana cream, and colorful mix chocolate is just chocolate banana. Warm crisp danish bread with cold soft cream and banana cream to taste the sharp taste and texture, and temperature variations at once.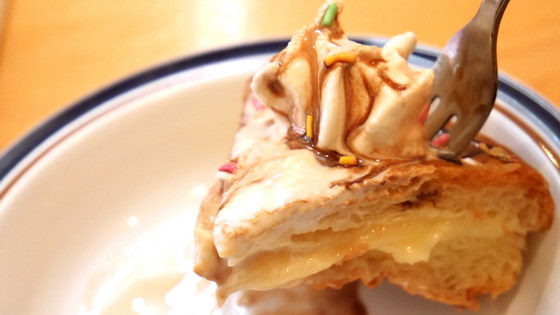 Siroonoal ripe chocolate banana is recommended to eat with blended coffee. When the mouth becomes cold with soft cream and the inside of the mouth becomes sweet with banana cream, reset the mouth with warm blended coffee. It is perfectly compatible with the siro noir ripe chocolate burner and blended coffee, and you can finish eating a volumey siroonoal with a fresh sense of the first mouth until the end.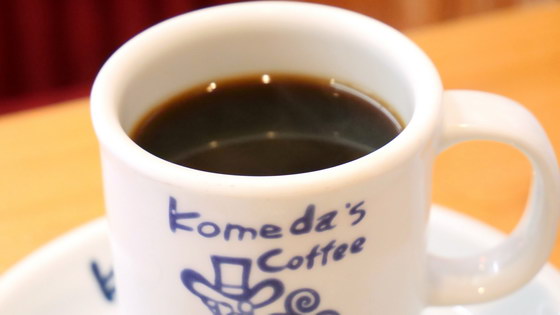 Silonoir ripe mature chocolate (730 yen including tax) and mini siloirs ripe mature chocolate (500 yen including tax) are scheduled to be available until May 31, 2018 for a limited time only menu. Although it is possible to order at the Komeda coffee shop nationwide except for some stores, please be aware that the prices may differ at some stores.