Gion Tsuzuri's "Pickling the Uji of the Uji" Misudo's "Green Tea Suites Premium" using Matcha 8 kinds of foods ate ahead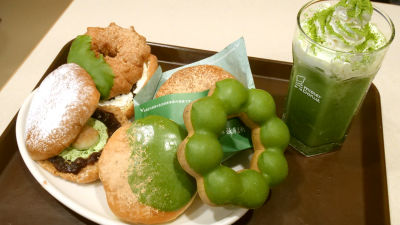 Kyoto's long-established tea specialty store "Uji tea Gion Tsuzuri"Misudo's new menu" Miyoshi Gion Tsuyuri Green Tea Suites Premium "jointly developed by Mr. Donuts, Matcha Donut 's"Pon de Double Uji Matcha"Uji Green Tea Whip"Brown sugar donuts Uji green tea white spot"And six items including drinks"Uji Matcha"Appeared on April 6, 2018 (Fri). Matcha used in the menu of the green tea sweet premium is sticking thing which only 40 grams can be bought per hour by the stone mill. Prior sales had been done at some stores, so I tried to eat matched green tea sweets ahead of time.

misdo meets Gion Tsujiro Matcha Suites Premium | New Items | Mister Donuts
https://www.misterdonut.jp/m_menu/new/180406_001/

Arrived at Mr. Donut.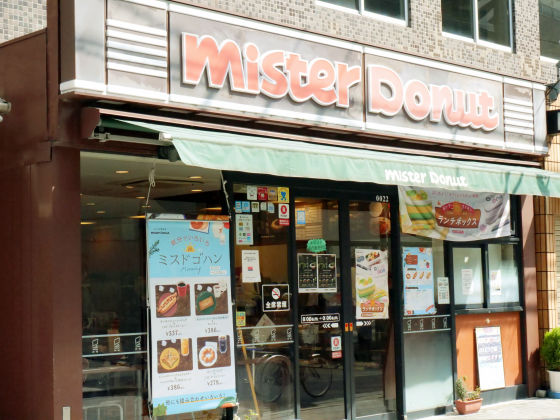 In front of the shop a banner with a phrase "Deep, Matcha" was written to inform you of the appearance of Green Tea Suites Premium.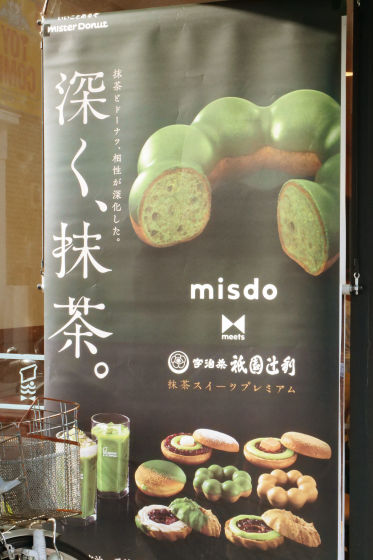 There was a sticky note at the entrance to let you know that the sale is ongoing. As soon as we ordered all 8 new items of "Matcha Suites Premium".



A new menu has arrived. Most of the donuts are wrapped in green paper to prevent Matcha from discoloring with light.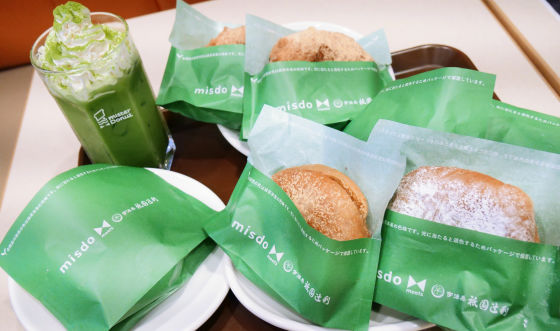 When all the donut paper is removed, it looks like this. This time, I ordered Matcha Donut 's "Donutsu Sho Uji Matcha Black Honey" "Donutsu Shu Uji Green Tea Azuki" "Black sugar Donuts Uji Green Tea White Ball" "Black sugar Donuts Uji Matcha Warabimichi" Matcha "Uji Matcha Ore Whip" "Pon · De · Uji Green Tea Kinako "and" Pon de Double Uji Matcha ". The green color of the donut and the drink is that the coloring agent is not used and it is "the color of the green tea." Collaboration with Mr. Donuts and Gion Tsuyoshi's donutsSince April 2017It will be the second time.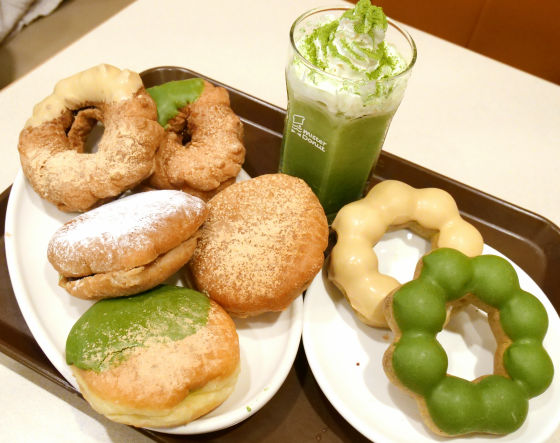 I will try to eat from Pon de Ring's "Pon de dubu Ujiji matcha" and "Pon de · Uji green tea kinako" (151 yen each tax included), where Uji Matcha was used for the fabric itself. Both donuts are coated with chocolate, Uji mataku chocolate for Uji Uchihua green tea, and Kinako chocolate for Uji Mecha kinako are used.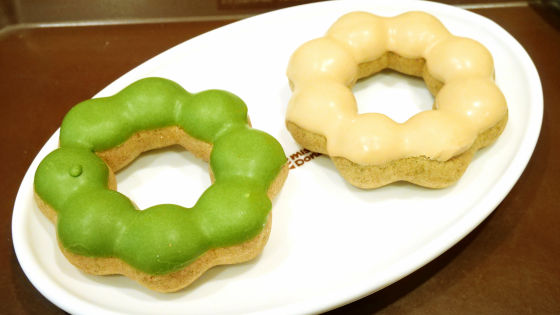 And Uiji green tea is kneaded in the fabric of both donuts, the inside is bright green tea color.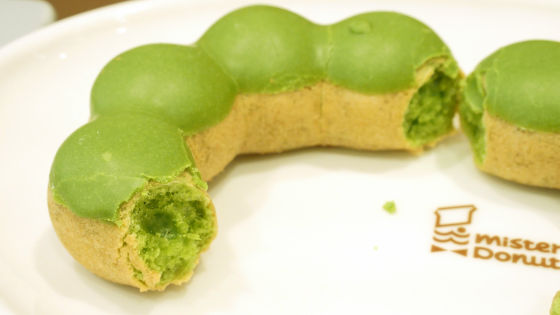 When I eat pon de double Uji matcha, I feel the bitterness of powdered tea in the coating chocolate with the smell and taste and hint of salty taste of powdered tea from the dough that was rich in mochi. Because Matcha is used for both chocolate and dough, I felt the most presence of Matcha in this Matcha Donut. Especially recommended for green tea.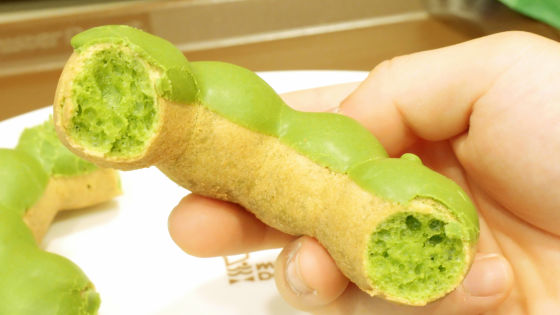 Next, I will eat pon de · ichi green tea kinako which is covered with kinako chocolate.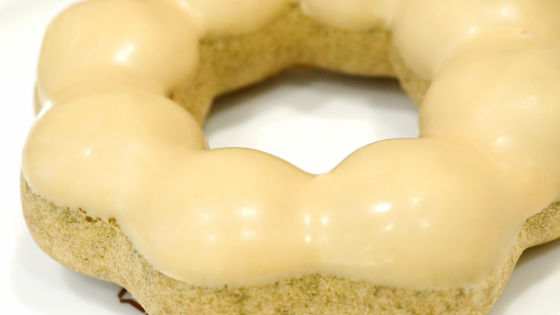 I feel the flavor of Kinako and Matcha. I felt that it is close to the feeling of eating rice cake with Kinako and Matcha because it is Kinako and Matcha in the mochi texture of "Pon de" series.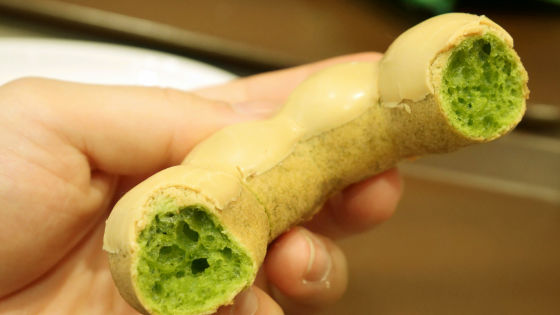 Next, I will eat 'Uji Matcha Shiratama' and 'Uji Mecha Warabichichi' (194 yen each tax included) from the brown sugar donuts. Brown sugar is kneaded in brown dough of both donuts.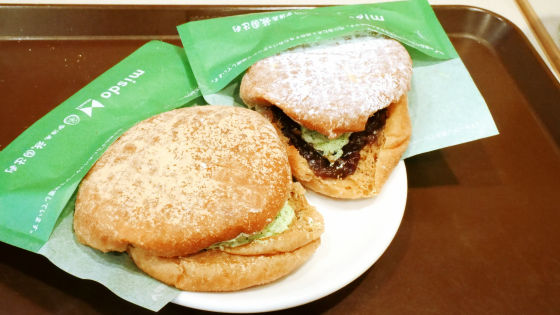 I will try to eat from brown sugar donut Uji curd tea white ball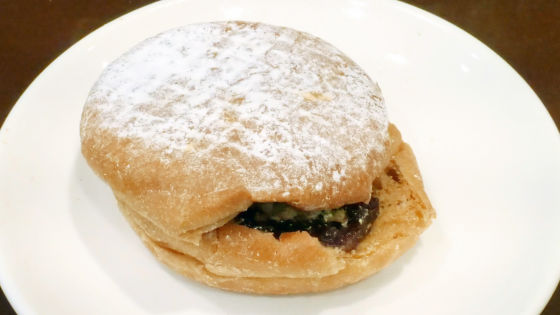 When you open the dough that is cut, inside it is a white ball sitting on the name of "Uji Green Tea White Ball", surrounded by Uji mataka whip and anko. When eating, the fabric flavors brown sugar with soft texture. Of course, the compatibility of bean sprout and white ball is perfect, the white ball is soft and compatibility with the dough of brown sugar is also good. Uji Green Tea Whip has a weak flavor of Matcha, so I felt losing the presence of brown sugar and bean paste in the dough so much.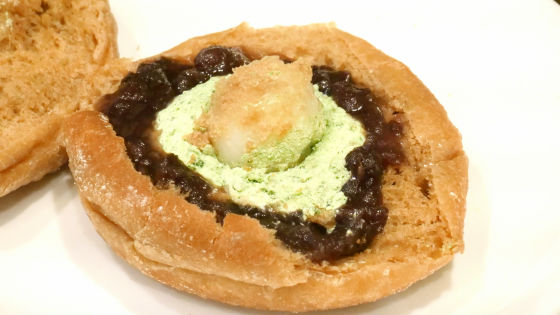 I will eat 'Uji mecha Warabimochi' which is covered with brown sugar.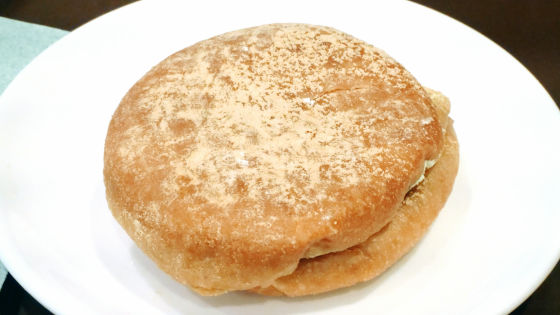 When you open the dough, it is sandwich with rice crackers, black sugar jelly and Uji mecha whipped. Before eating, "I thought it was hard to eat with lavibly mouth," but rather than expected, the rice cake was soft and integrated with the donuts. With julé and brown sugar of dough, you can taste the flavor and depth of brown sugar. However, since brown sugar is strong, the presence of Matcha included in whip is not felt much.



After having tasted several kinds of donuts, next time I will drink the drink 's green tea. Matcha There are two items of "Uji Matcha Ole" (302 yen including tax) and "Uji Matcha Ole Whip" (356 yen including tax) in the Matcha's lineup, but the difference between both drinks when asking a clerk is whether or not there is a topping part So this time we chose "Uji Matcha Ore Whip" where whipped cream was put on. In addition, in Matcha 2017, ToppingSoy milk whipIt was put on.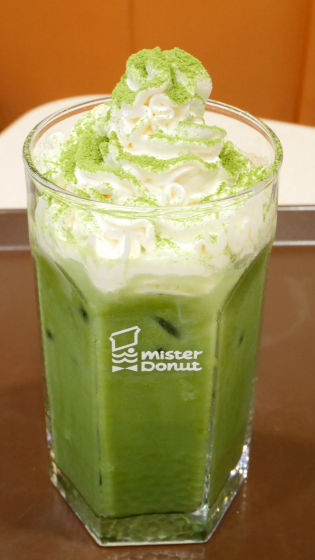 The height of the glass is like this when compared with iPhone 7 with long side 138.3 mm. The glass is filled with green of green tea.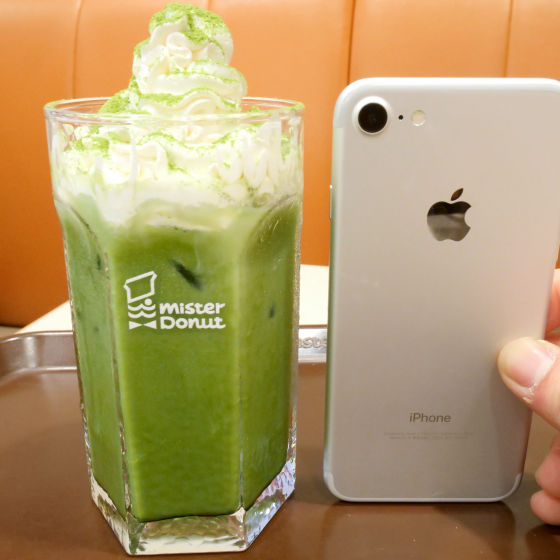 Matcha powder is applied to the whipped cream of the topping. After drinking, it is full-fledged matcha taste. It is faintly creamy and the astringent in green tea flavor is few finished. Mixing whipped cream and drinking will change to a pretty sweet drink.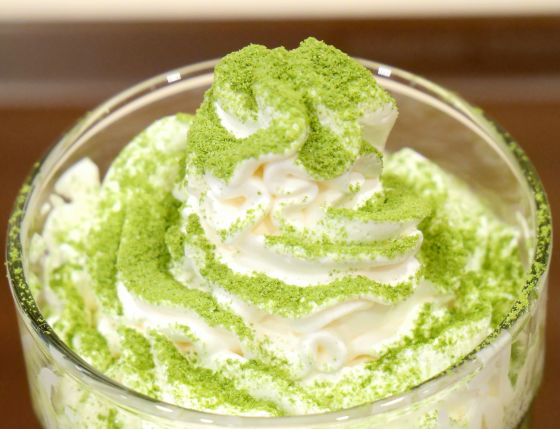 Next, I will try "Danutsu Sho" Uji Green Tea Azuki "and" Uji Matcha Black Honey "(183 yen each tax included). Uji Green Tea Azuki's coating is Uji Green Tea Chocolate, Uji Matcha Black Honey is made with Kinako Chocolate.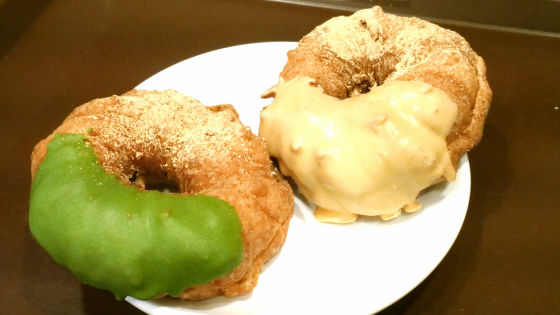 Both donut shoe fabrics are made into bubble-rich fabric like puff cream, and there is a break. Uji Green Tea Azuki contains hop cream and bean paste. According to the president of jointly developed Gion Tsuedori, the fabric of the donut shoe is fluffy and rich and it fits well with Matcha Gion TsujiroRecommendedAnd that.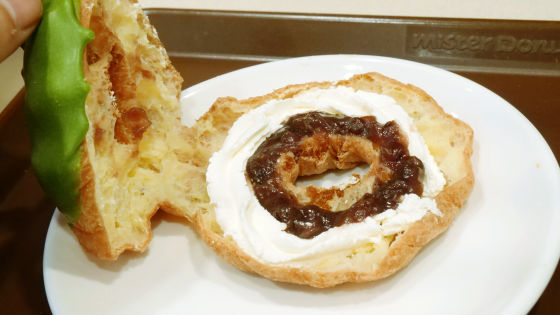 When eating, a light fabric like a cream puff is a sweet finish that wrapped the whipped cream and anko. Since Matcha is only the chocolate part, it seems that there is a faint feeling of existence.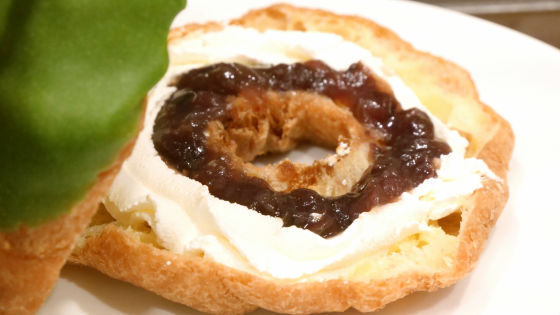 Next I will eat donut shoe ichi Matcha black nectar that is coated with kinako chocolate.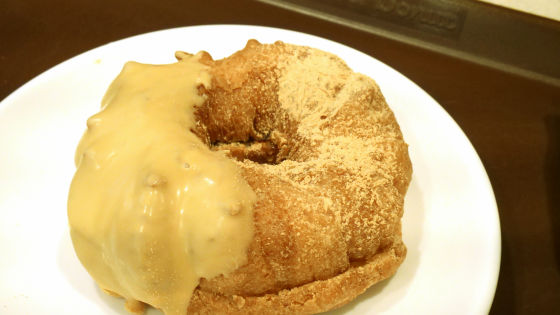 Matcha whip and black honey jelly are sandwiched at the break of the dough, and the same combination as "Brown sugar donut Uji powerchichori mochi". When I tried it, I felt like a donut full of ambiance with sum of Kinako, Uji Green Tea and Black Honey. There are plenty of black honey jelly, and sweetness peculiar to black honey spreads.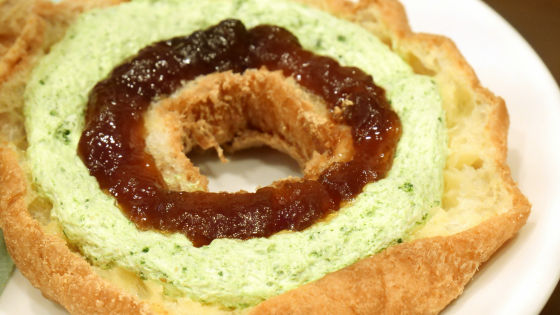 Finally I will try Uji Matcha Whip (151 yen including tax). Uji powdered green tea chocolate is used for coating, and Kinako powder is sprinkled from above from above.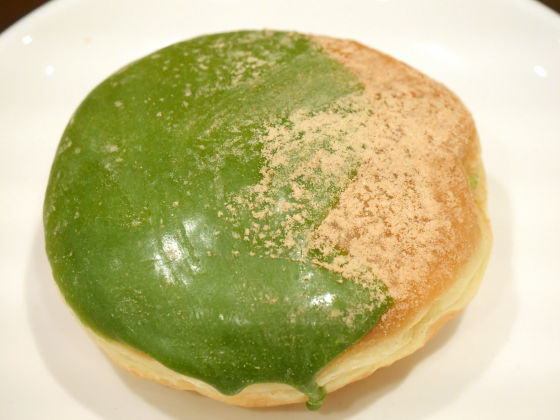 When I tried to break in the inside, plenty of Uji powdered green tea whipped was packed. When I tried it, the fabric was mistyAngel creamIt looks like a texture that is fluffy, but it is plain. Uji Matcha whipped inside is bittersweet, combined with powdered green chocolate, the fabrics are not sweet, and in this donut I felt strongly that Matcha existed next to "Pon de Double Uji Matcha".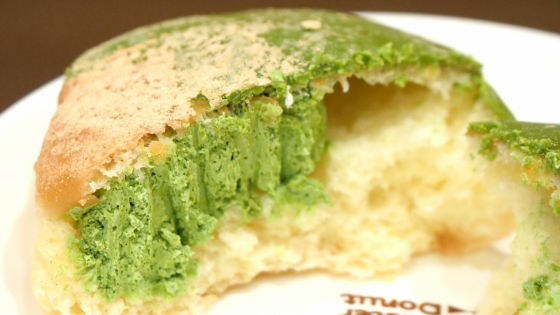 All six items of Matcha donuts of "Matcha Suites Premium" in which Uji Matcha was used and all 2 items of Matcha are available for order from Mr. Donut on April 6, 2018 (Friday). In addition, Matcha Suites Premium Menu is limited in quantity. In addition, Uji Matcha ore Whip is not offered at some stores, so please be careful.