Numerous strict rules stipulated by cheerleaders of NFL team such as "cheerleader should not go out sweat"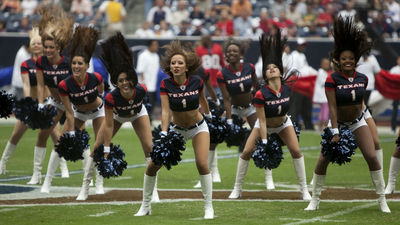 byAJ Guel

The number one popular sports in America "NFLSpeaking of the sights of the top athletes, there are various violent collisions, skillful ball control techniques, skillful tactical development by coaches and others, but there is also a need for a cheerleader to add flourishes to the game on the side line. No. NFL cheerleaders who cheer the players with a smile during the game and boost the venue, but, contrary to its glamorousness, there are a number of more stringent rules than imagined.

No Sweatpants in Public: Inside the Rule Books for N.F.L. Cheerleaders - The New York Times
https://www.nytimes.com/2018/04/02/sports/nfl-cheerleaders.html

Belong to NFLCarolina PanthersOfficial cheerleading team to supportTopCatsIt is necessary to arrive at the venue at least 5 hours before the start of the match, to remove the pierced earrings, to hide the tattoo, and so on. And when the game starts, it is only when Carolina Panthers' athlete commits foul, and that he needs to support at any other timing. And TopCats members must switch to private clothes when leaving the match venue.

Highlights: TopCats Cheerleaders - YouTube


According to the handbook of 2009,Baltimore RavensOfficial cheerleaders are measuring their weight on a regular basis and the reason is "to maintain an ideal weight". recent yearsCincinnati Bengals'S official cheerleader is subject to more stringent weight control, and it seems that only 3 pounds (1.4 kg) increase or decrease is allowed from the ideal weight.

Cincinnati Bengals cheer leaders cheer for their team against the Philadelphia Eagles during the second half of ...https://t.co/nQdX763vSYpic.twitter.com/2OEqKP0K3O

- UPI Photos (@UPIPhotos)December 6, 2016

In addition, some NFL cheerleaders have to pay more than their own wages for uniforms worn during cheering. In addition, NFL cheerleaders sell lottery tickets and calendars and sometimes exhibit in charity events and golf tournaments, but we can not make any profit from these goodies. The NFL cheerleader handbook acquired by the New York Times said that many things related to personal hygiene, such as commentary on shaving technology and proper use of tampons, are included. And some teams prohibit wearing sweat pants in public places.

Of JapaneseMinako MatsuzakiIt became a hot topic for Mr. Career as a cheerleaderNew Orleans SaintsOn the cheerleading team, there are strict rules that are also felt as outdated. New Orleans Saints is trying to control until the women who work as a cheerleader, "Outside hours", they are trying to restrict social media activities and restrict social interaction. Furthermore, the cheerleader is limited to manicure and adornable items to wear.

The@ Sainscheerleaders did the# Mannequin Challengeand they did a great job!

Watch:https://t.co/VMcOUW0hY5pic.twitter.com/df4KOEY5vB

- News Radio 610 WTVN (@ 610wtvnnews)November 14, 2016

Former NFL cheerleader Bailey Davis, who was disgusted with such unreasonable strict rules, went to the Equal Employment Opportunity CommitteeSubmit a complaintWe are seeking a review of the rules imposed on NFL cheerleaders.

In the first place, NFL players are free to promote themselves in some way, whereas cheerleaders are hired as part-time employees and even they can not even send information on SNS and others. There are teams not adopting cheerleaders in NFL, but more than 20 teams organize cheerleading teams, each prepare a contract or handbook for cheerleaders and make their own We have restrictions. And the cheerleaders who complain about rules and regulations are said to be easily replaced by the team, and the relationship between the employee (cheerleader) and the employer (NFL team) is completed and the team side is overwhelming It is said that it has become a composition of having power.

Former cheerleader Leslie Levy who appealed New York Jets and Oakland Raiders in the same way as Davis said, "The intent of the NFL team is to fully control the behavior of women (cheerleaders) even when they are not at work There was a distinctly different treatment among staffs, such as power issues, someone else working for a cheerleader, mascot team, etc. Even at the time that they are not at work, employers at this level It is unthinkable in other workplaces to try to demonstrate, "as Davis is concerned about the over interference with cheerleaders of the NFL team.

According to Levy's appeal, New York Jets is a cheerleading teamFlight CrewWe agreed to pay a settlement amount of about 325,000 dollars (about 34 million yen) against. Auckland Raiders is a cheerleading teamRaiderettesI am paying a settlement fee of $ 1.25 million (about 130 million yen).

New York-Based Dancers Can Be Part of Next Season's New York Jets Flight Crew Cheerleadershttps://t.co/eFg7xt6eujpic.twitter.com/1DsOowfjTY

- Actor Headshots NYC (@ ActorHeadshot)March 16, 2018

Still there are rules that bind cheerleaders. This is because the team does not hire tens of cheerleaders, but there are thousands of women who wish to belong to the cheerleading team. And it is certain that there are more people who feel that they were better than those who actually feel that their experience as an NFL cheerleader was bad.

Flavia Berris, who became a real estate lawyer after experiencing the NFL cheerleader, said, "Cheerleading has changed my life, when I was an NFL cheerleader, from the way I talk with the media, We were able to learn about worship, professionalism, we were taught how to interact with staff, athletes and everything else.There are all reasons for training we received, looking back It seems that there was a right reason for it. " Also, although almost all NFL team owners are men, there are teams where cheerleader programs are managed by female officers.

According to the cheerleader handbook of 2016,San Francisco · 49ersThe cheerleader can not clarify what he has contracted with the team. You also need to turn off the GPS of the mobile phone. Furthermore, cheerleaders as well as San Francisco · 49ers are forbidden to take pictures of themselves dressed in costumes and post them to SNS. These rules are not only for controlling cheerleaders but also as measures against stalking, so not all of the rules governing cheerleaders are bad things.