I tried a seasonal puffy milk vanilla sho of beard papa packed with rich milk cream scented with vanilla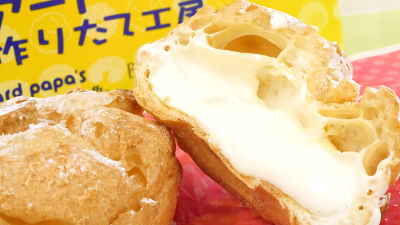 Beer papa specialty shochu cream shopWith a limited time cream puff from April 4, 2018Milk vanilla shoe"Has appeared. I actually bought an item that homemade custard is blended in vanilla fragrant milk cream and tried it.

Seasonal Event Shoe: Milk Vanilla Sho | Shukelemer Specialty Store Beard Papa
https://www.beardpapa.jp/lineup/season.php


【Notice】 Next month's seasonal shoe will release "Milk Vanilla Sho"! From young children to older people, please enjoy the flavor loved by a wide range ♪ The seasonal shoe "March and Sea" is sold until tomorrow. Please eat and do not escape!https://t.co/zdRWhJa65Vpic.twitter.com/RFoRVrCmrc

- Beard Papa (@ beard_papa)March 30, 2018

I bought a cream puff with Beard papa.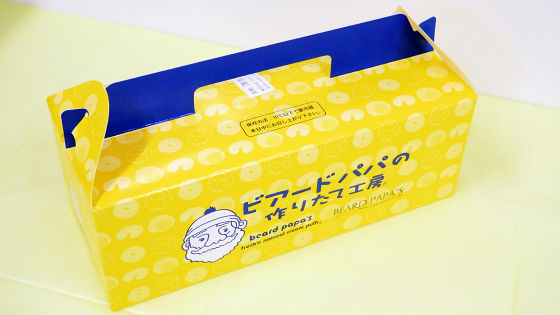 The appearance of a limited-time milk vanilla shoe (230 yen tax included) is like this. It is wrapped in red wrapping paper.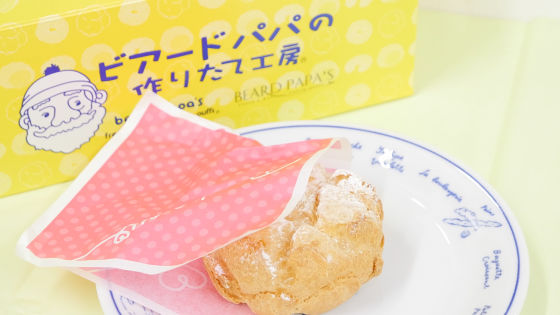 The size is like this when compared with iPhone 7 with long side 138.3 mm.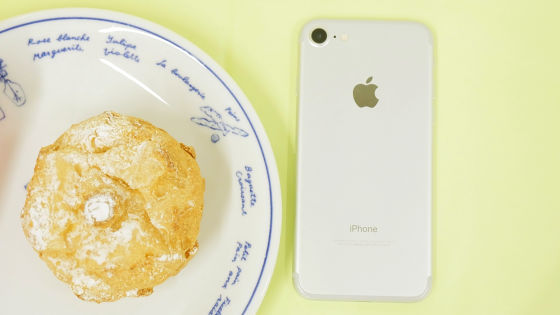 When comparing the milk vanilla shoe (left) and the standard pie shu (right) it is like this. It looks like there is no difference in appearance ... ...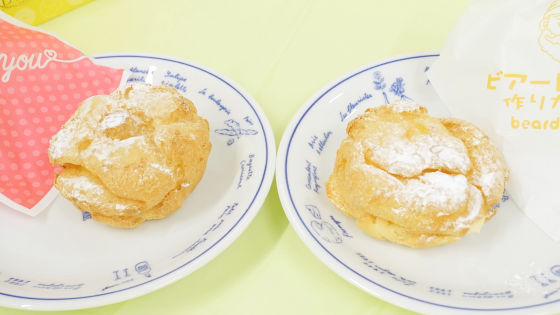 A cross section looked like this sputs cut both cream puffs. You can see that the cream clogged in the milk vanilla shoe (left) is white.



The milk vanilla shoe is full of white milk cream. Black Tsubutubu is "Vanilla" as its name does not understand by just looking, but white cream has homemade custard blended.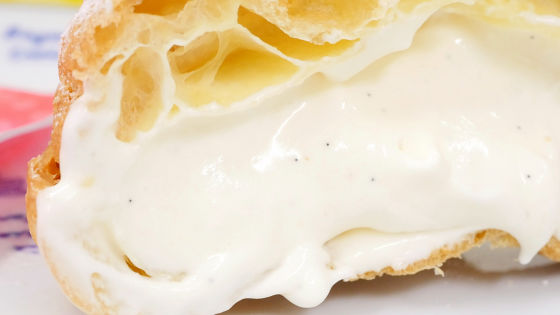 As I eat it, the milk cream is smooth and creamy and sweet. Vanilla and honey smell the custard. Good compatibility with crispy shoe fabrics. It is simple and does not get tired and has finished.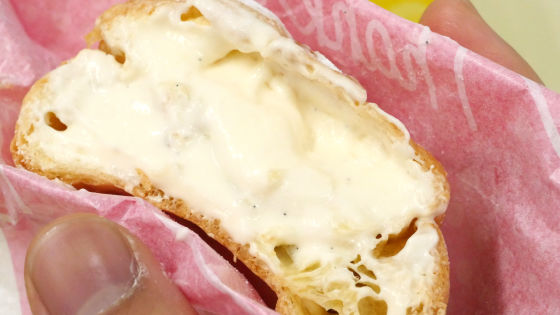 Milk vanilla sho can be ordered at the Beard Papa store across the country, but please note that some stores may not handle it.

Store information | Specialty cream puff shop Beard Papa
https://www.beardpapa.jp/shop/