I've eaten two kinds of new drinks & freshness drinks with Freshness Burger with a new menu "Sakura Roll Cake" using thick rice avocado and fragrant smoked salmon "Salmon avocados sand" & cherry blossom petals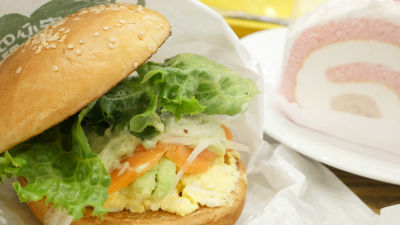 From Freshness Burger on March 14, 2018 (Wednesday), a new hamburger using smoked salmon and avocado and cakes and drinks tailored to spring appeared. A new hamburger's "Salmon avocados sand"Has become a hamburger using 1/2 of raw avocado, the cake"Cherry roll cake"I use a pink moist cloth. New drink "Cherry cranberry soda"Is a cherry tree pickled in a honey"Sakura Royal Milk TeaIt is told that petals are topped. I went to a freshness burger and ate a new menu.

Let's start beautifully with products using avocado, salmon, olive oil, the three biggest ingredients of the topic "Healthy fats (Healthy Fat)" which is the topic overseas! "Salmon avocado sand" launched | Information | Freshness Inc.
http://www.freshnessburger.co.jp/about/Information.html

Arrived at Freshness Burger.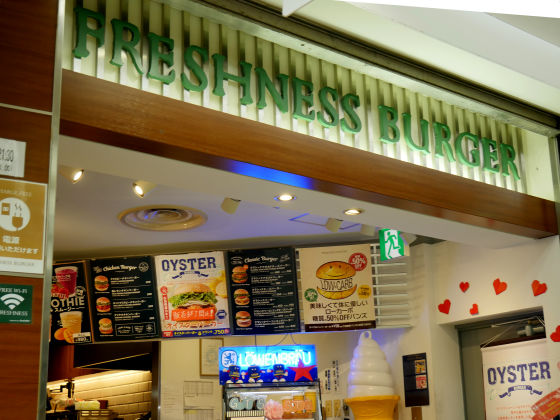 There was a banner in front of the store to inform you of the new menu.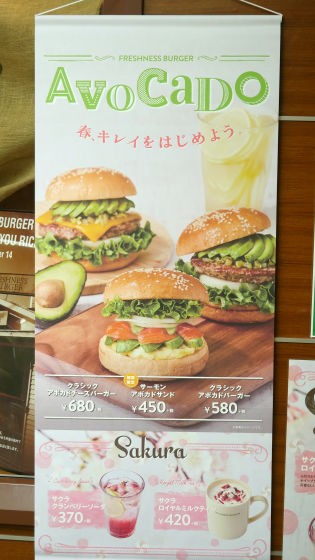 "New salmon avocado sand" and "cherry roll cake" "Sakura cranberry soda" and "Sakura royal milk tea" arrived in about 5 minutes.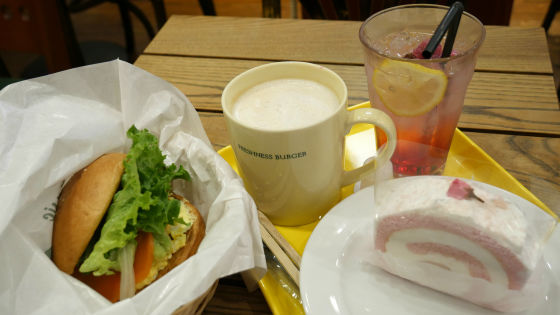 According to the official announcement, the three ingredients used are those worthy of attention as the three great food ingredients of Healthy fats (Healthy Fat) of healthy food ingredients in Europe and America. It is expected that we can expect health benefits such as reducing bad cholesterol and preventing arteriosclerosis.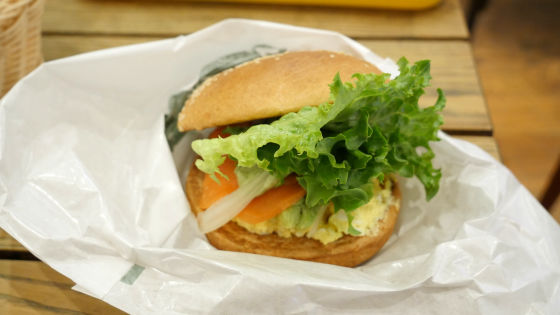 Compared to the long side of the iPhone 7, the size is like this.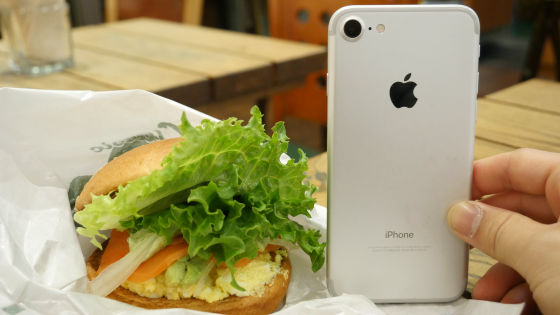 Smoked salmon, egg salad, basil sauce using olive oil, sliced ​​onion, and 1/2 raw avocado and green curl which is kind of lettuce are sandwiched.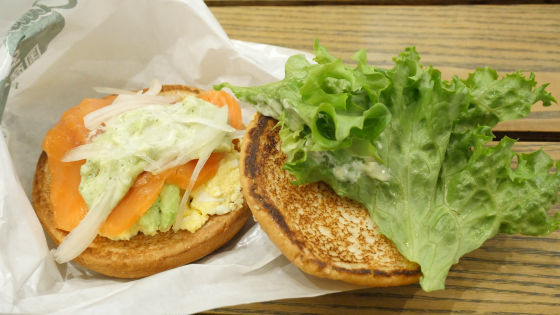 When eating, it is perfect with thick avocado and salty smoked salmon, creamy egg salad, lettuce with shakyaki texture and sliced ​​onion. The stimulation of basil sauce is accented.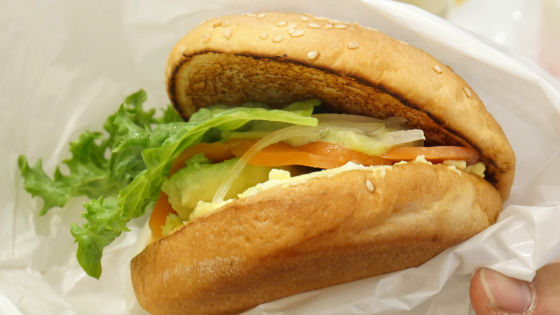 I will eat "cherry roll cake" whose price is 378 yen including tax. The fabric is cherry blossoming, with cherry blossoms wrapped in the center.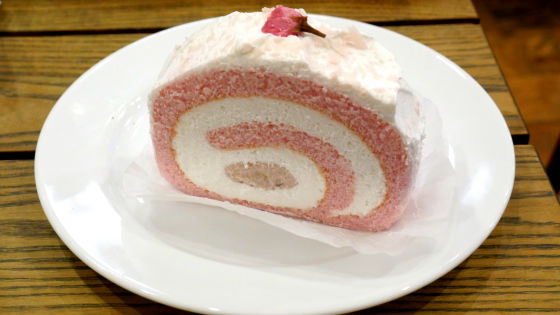 About half the height of iPhone 7.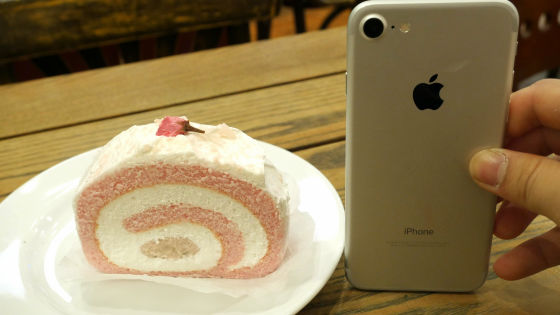 Cherry salted toppings are on top.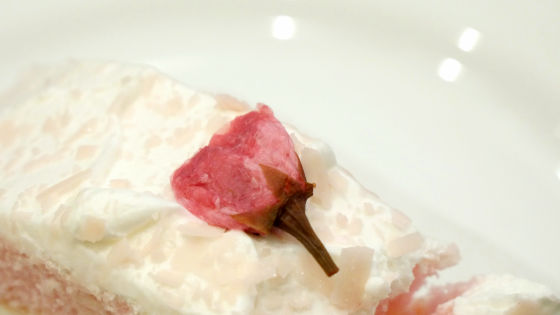 When I tried it, it was sweet and fluffy. Good compatibility with thick, smooth texture cream.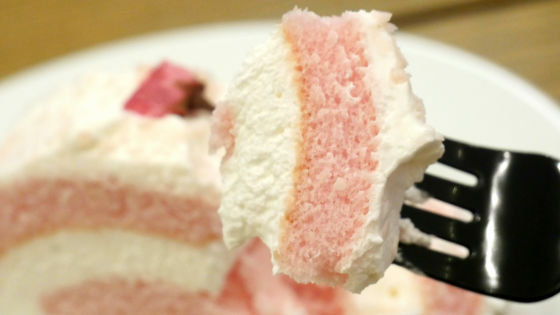 I will drink 'Sakura cranberry soda' of 400 yen including tax. Red cranberry syrup is sinking at the bottom of the soda, lemon slices are stuck ... ...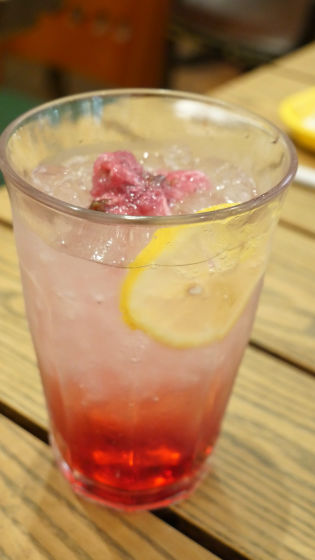 Hakuba 's cherry tree is topping.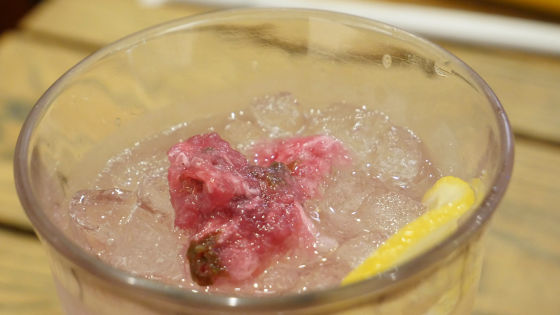 When I drank it, it was sweet and sour cranberry and cherry blossoms scented, finished in clean and refreshing soda.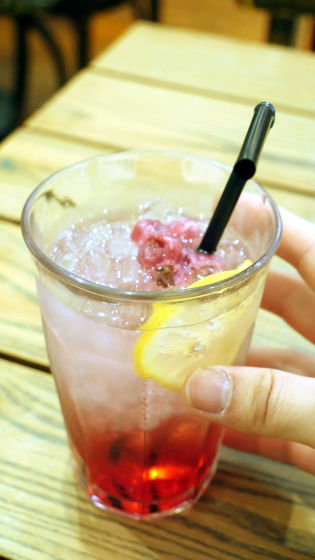 Finally I will try drinking Sakura Royal Milk Tea whose price is 454 yen including tax.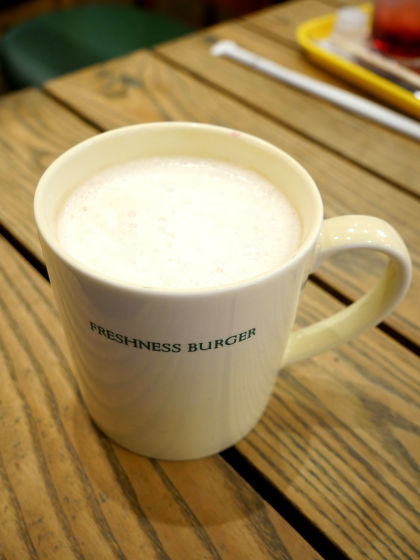 In the official announcement, whipped cream was topped and there were cherry blossoms on it, but the whipped cream melted with warm royal milk tea, the cherry blossom petals were sinking to the bottom.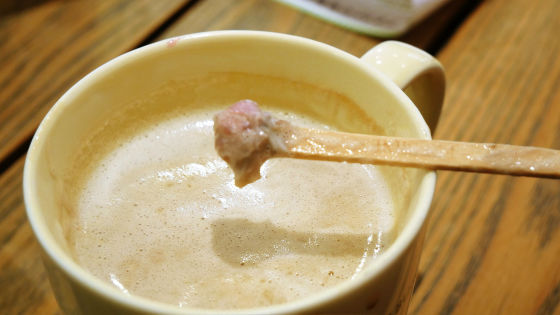 When I drank it, it was a royal milk tea that was warmly smelling tea, and there was a rich whipped cream melted.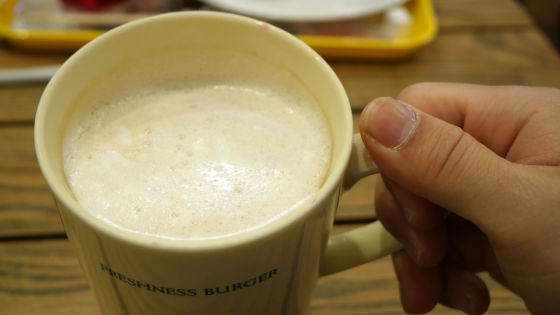 "Salmon avocado sand" and "Sakura roll cake", "Sakura cranberry soda" and "Sakura Royal milk tea" can be ordered at freshness burgers shops nationwide for a limited time, but please note that some stores can not order please.