Experiments in mice show that symptoms of autism, "impairment of social nature", are improved over a long period of time by small doses of anticancer drugs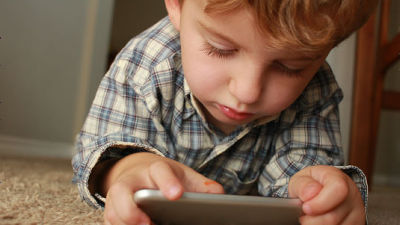 byHal Gatewood

Autistic people are anti-cancer drugsRomidepsinAlthough there was a long-held idea that the main symptoms such as "social disability" will improve if only a small amount is taken, in the new study using mouse, a small amount of anticancer drug self-closing for a long time It has been shown that it exerts its effect on the mouse of the disease.

Social deficits in Shank 3 -deficient mouse models of autism are rescued by histone deacetylase (HDAC) inhibition | Nature Neuroscience
https://www.nature.com/articles/s41593-018-0110-8

Autism's social deficits are reversed by an anti-cancer drug: Using an epigenetic mechanism, romidepsin restored gene expression and alleviated social deficits in animal models of autism - ScienceDaily
https://www.sciencedaily.com/releases/2018/03/180312201647.htm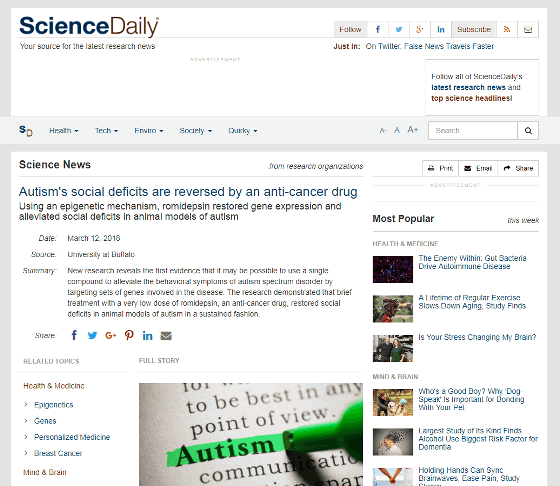 SynapticScaffold proteinIs "SHANK 3Mutation of the SHANK 3 gene, which encodes for this disease, is thought to be related to autism or intellectual disorder. In this study, an experiment to administer a small amount of romidepsin to mice with mutations in the SHANK 3 gene for 3 days was performed, the effect was sustained for 3 weeks. This period was equivalent to the young age for mice to the latter half of adolescence, that is, "developmental stage to develop social skills and communication skills". This experiment demonstrated that the effect lasts for a short administration period suggests the possibility that long-term effects can be expected even in humans.

Zhen Yan, professor of physiology and biophysics at the State University of New York at the State University of New York, who researched, "Many small molecule compounds currently administered in psychiatric treatment are effective for the main symptoms of autism Although it does not do, it was shown that small doses of the compounds we did exert against long-term effects on autism without side effects. "

Mr. Yan said in 2015 "Shank 3's deficiency will control cognition and emotionNMDA type glutamate receptorIt affects the function of the neuron and interferes with neuronal exchange. As a result, studies on the contents of autistic symptoms such as social impairment will occur, etc. This experiment was based on this research. Researchers reported that romidepsinEpigeneticsWe hypothesized that it might affect gene expression by using the mechanism, and said that we performed an experiment to administer only a small amount of romidepsin.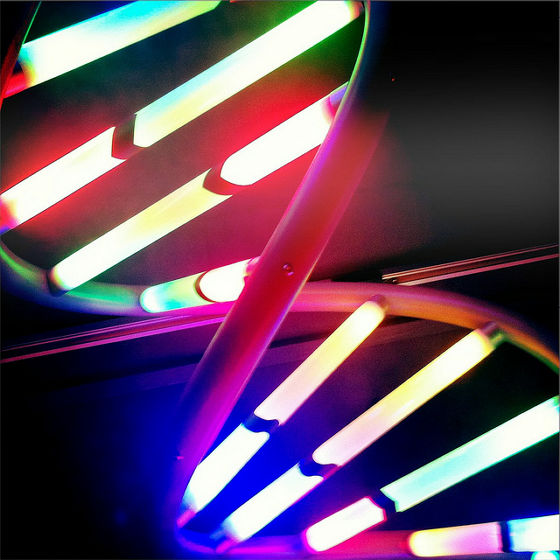 byHein Boekhout

Mr. Yan considers gene mutations in autism to be caused by chromatin remodeling factors. Chromatin remodeling factor is a complex of DNA and protein present in eukaryotic cellsChromatinIt greatly changes the structure of ". Since many of the risk gene duplications in autism and cancer are related to chromatin remodeling factors, Yan said that anticancer drugs might be useful for treating autism. However, since autism includes multiple genetic defects, in order for this therapy to exert its effect on "social disability" it is necessary to influence a number of genes involved in neuronal transmission That was my research theme. Romidepsin has succeeded in restoring 200 repressed genes in autistic mice.

In addition, the startup "ASDDR" established by Mr. Yan in order to conduct research will be in the summer of 2017The National Institutes of HealthIt has succeeded in obtaining a subsidy of 770,000 dollars (about 82 million yen) from the researchers, and researchers will continue to develop therapy for autism in the future.