"Mother-in-toot" is the first movie to be made in the 60th year, super bowls are not allowed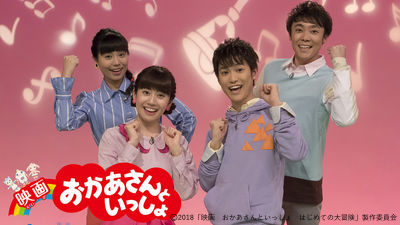 Popular child program that lasts over half a century "Mother-of-piss"The first movie making was announced. Public release is Friday, September 7, 2018, super-special video on YouTube is also lifted.

Movie Otama Toiso First Adventure
http://eiga-okaasan.jp/

"Movie Otama Toiso First Adventure" Super Special - YouTube


"Mother's Daughter" began broadcasting in October 1959 as "Educational Entertainment Program" for 2 to 4 year old children. It has become a longevity program that will celebrate the 60th anniversary of broadcasting in 2018. Many children have been raised watching "mothers and toys" so far and are still loved by parents who watch programs together with children and children with the nickname of "Okaatsu".

Concerts and arena events were also held throughout the country, and during 2013 and 2016 live viewing screenings at movie theaters were also held. Also, in 1990, a puppet show in the program "Smiling"But"It's sea! It's a ship! Smiling"Theatrical animation has been made as. This movie is the first movie to be composed as songs by older brother & sister and a part of gymnastics and animation part, "mother tomorrow".

During normal television broadcasting, Yuichiro Oya brother, Atsuko older sister, Yoshi Oh brother, Risa sister do various singing and playing together with children in the studio, but in the movies they jumped out to various places, and the audience was brother & You can experience adventure with your sister. It is said that "Bumba Born!" Popular in television broadcasting can sing and dance in a movie theater.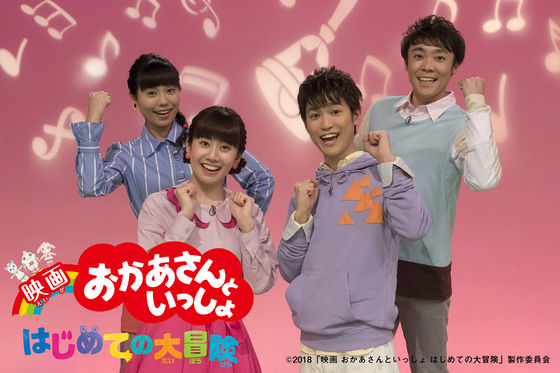 Puppet show 'Garapikopu -' is an animation only in the opening part in television broadcasting, but this time it is an original animation. Choromy, Mu Mu, Galapico jumps out the usual "Shizuku star", and it will unfold the adventure with the star that visited for the first time.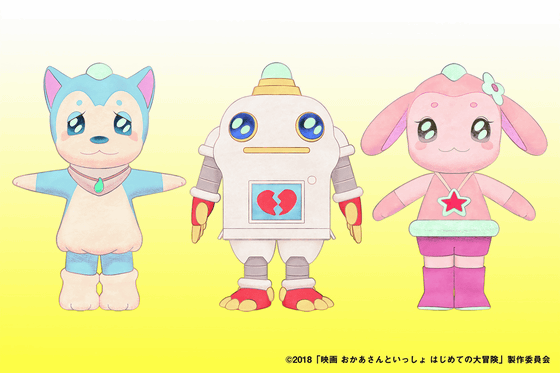 NHK Educational Children's Children's Chief General Manager · Mitsuaki Furuya Producer:
"Mother to Is Ito" began broadcasting in October 1959 and will be in its 60th year in 2018. "Aiay" "Buchuuu" "Nokoniko, Pin" "Daigo 3 Brothers" .... A number of hit songs and popular puppet theater were also born from the program, and children in Japan have been popular beyond the times. When I am a child, when I become a parent, when I got my grandchild again, it is said that "a program that meets three times in my life". Even today, a lot of families have enjoyed the world of "mother to and toy" in various scenes such as program recordings, concerts, events, etc. It is full of gratitude feeling. Next time I am happy if I can meet the smiles of children and the smiling face of the former children at the new stage "movie theater".

Nikkatsu Takahashi Shinichi Producer:
When I thought that my child "What movie will be the first time to watch at a movie theater?", I wanted to create a movie that parents and children enjoy watching. At that time, the daughter who was nailed to the side by the side saw "Mother's Dad". I also want myself to watch parents watch the state that children like to experience the experience that can be a movie theater because it is a cinema-like program that I was absorbed as a child as a movie I will. Most of all, myself, that time is fun and I can not help it.

"Movie Mother's Daughter's First Adventure" is open to the public from Ion Cinema and others nationwide from September 7, 2018 (Friday).

· Staff & Cast
Cast: Yuichiro Hanada, Atsuko Ono, Yoshihisa Kobayashi, Risa Uehara, Choromy, Mu Mu, Garapico, etc.
Production: "Movie Okama Toiso First Adventure" Production Committee
Distribution: Nikkatsu, Live Viewing · Japan
2018 / color / 16: 9 / 5.1 ch / DCP
© 2018 "Movie Mother's Daughter's First Adventure" Production Committee