It turned out that Android 7 "Nougat" released in 2016 was the Android OS that is used most frequently as of January 2018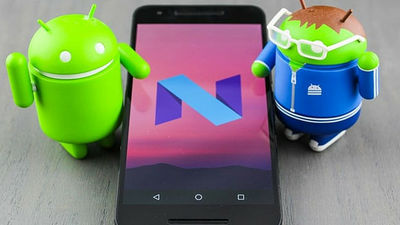 Byiphonedigital

According to Google 's "Dashboard" data that exposes data related to Android devices, Android 7.0 / 7.1 "Nougat" which has been 18 months since the release of 2016 is the most used at the beginning of January 2018 It turned out that it was Android version. On the other hand, the share of Android 8.0 / 8.1 "Oreo" released in 2017 is only 1%

Dashboard | Android Developers
https://developer.android.com/about/dashboards/index.html#Platform

After 18 months, Nougat is the most used version of Android in Feb. distribution numbers | 9to5 Google
https://9to5google.com/2018/02/05/february-18-android-distribution-numbers/

According to the data collected during 7 days until February 5, 2018, Nougat combined versions 7.0 and 7.128.5%It turned out to be the usage share of. This is an increase of 2.2 points from last month's data "26.3%". On the other hand, the number of Android 6.0 Mashmallow which was ranked first in 28.6% last month28.1%, And it has fallen to the second place.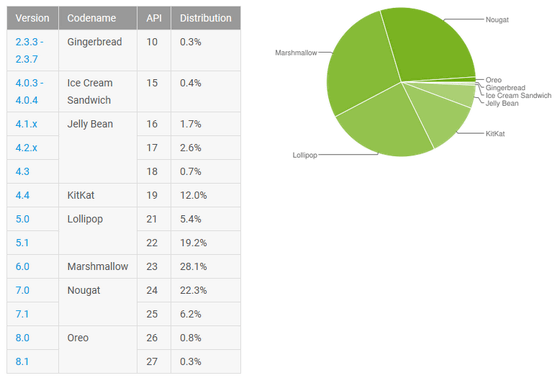 This data shows the situation of the Android terminal that accessed Google's Play Store. It is necessary to take a moment to note that the specific number is not shown, but it seems that Nougat, which has been 18 months since the release, is in the most upward tone.

According to 9to 5 Google summary, Android 8.0 Oreo released in August 2017 was 0.8%, in December the same year released 8.1 was 0.3%, in total1.1%It is a number called. It is Oreo who cut off a considerable slow start, but this trend is also seen in past Android OS. As opposed to Apple's iOS, which is changing at a stretch when new OS is released, it will greatly contribute to the spread of new terminals to expand the share of the latest OS, so sales of terminals equipped with Oreo will advance in the future By doing so, it is expected to gradually increase market share.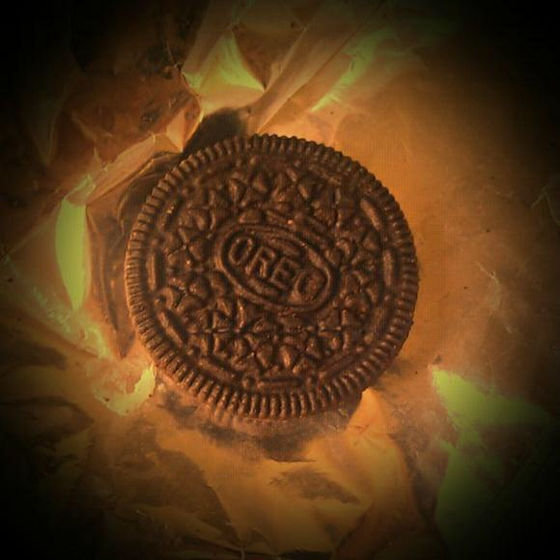 ByKnitSpirit

In addition, Android 5.0 / 5.1 Lollipop total 24.6%. This is followed by 12.0% of Android 4.4 KitKat, followed by Jelly Bean of Android 4.1.x / 4.2.x / 4.3 totaling 5%, Ice Cream Sandwich of Android 4.0.3 / 4.0.4 0.4%, Android 2.3.3 The Gingerbread of ~ 2.3.7 is 0.3%. The OS with less than 0.1% share is omitted, and it seems that Android 3.0 / 3.1 / 3.2 Honeycomb released for tablet has not reached that level