I checked the compatibility of the meat with the beef horn "Yakiniku Megumensen" pursuing "noodles" that complement the grilled meat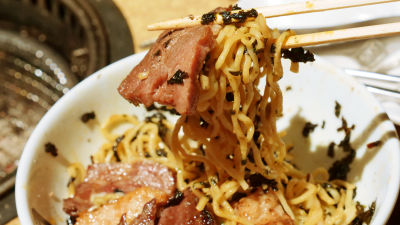 "It is not only" rice "is suitable for the grilled meat", as a period limited menu from 9th February 2018 (Wednesday) 2018 to 28th Wednesday, Wednesday (Wednesday) at the Yakiniku chain beef horn, grilled meat Bring out "Megumin only for Yakiniku"Has appeared. Mu-zen which topped with raw eggs plenty of Korean paste and salt konbu is finished to be eaten even with mu-sen-sun alone, but even if grilled meat is put on it, the compatibility with meat is perfect. Since I was concerned about the identity of "Yakiniku Musenmensen" and the compatibility with yakiniku, I tried to eat them together by combining meat parts such as carvi, tongue salt, hormones and the like at the cow horn.

Kuroge Wagyu beef Half price | If it is grilled meat "Beef horn"
http://www.gyukaku.ne.jp/wagyu/index.html

Arrived at the cow horn.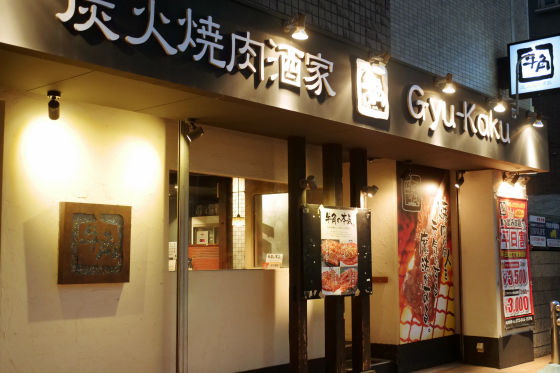 We visited with four editorial staff and asked the store clerk for a seat. When I attempted to order "Yakiniku Musenmensen" at the store that I visited this time, I did not have the information on the menu, but I was able to place an order if I check with the clerk. There seems to be a case that "Mensejin" can not be found in the menu, so in that case it is better to ask the store person.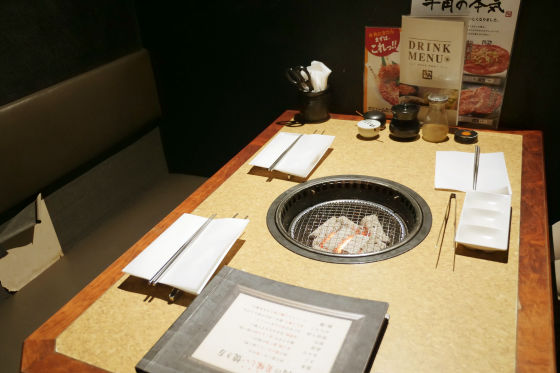 When ordering "Sushi for meat only" (529 yen including tax), arrived in about 4 minutes.



The size of the bun has entered is like this when compared with the long side of iPhone 7.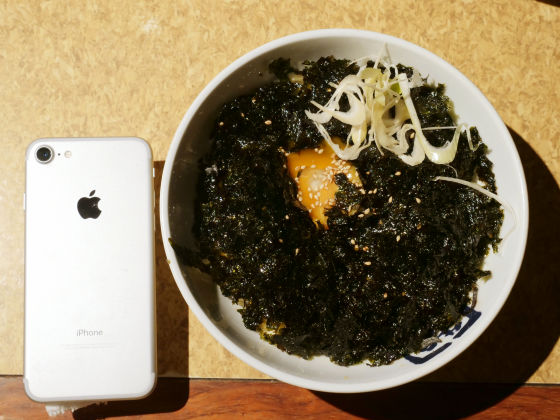 On the noodles of "Yakiniku Musenmen" is a mixture of Korean seaweed and salt kelp, sliced ​​leek, and the egg yolk in the middle is topped.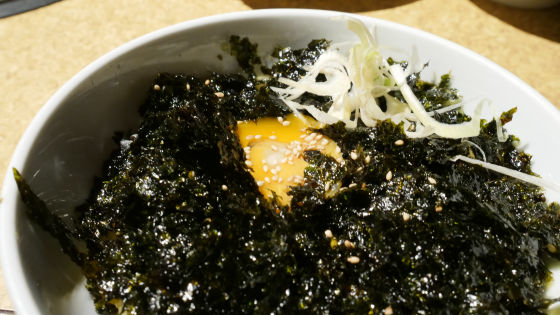 First of all, I will try to eat muskin alone after thoroughly mixing it. The noodles were Chinese noodles, imagining a thin seasoning by saying "go with the grilled meat", but with a Korean seaweed and salt kelp firmly salted. Will it play a role rather than a role of rice in roast meat? Feeling. In addition, another editorial staff who accompanied commented that "Salty of glue is pleasant and it will fit beer even if it is standalone."



In order to ascertain the compatibility of beef horn meat with "Yakiniku Musemensen" we will try to eat together "popular 5 types of prime" (2138 yen including tax) with the first popular part with greasy paddle. In the plate, beef horn kalbi and loin, pig peatro, chicken basil, and king Harami are contained.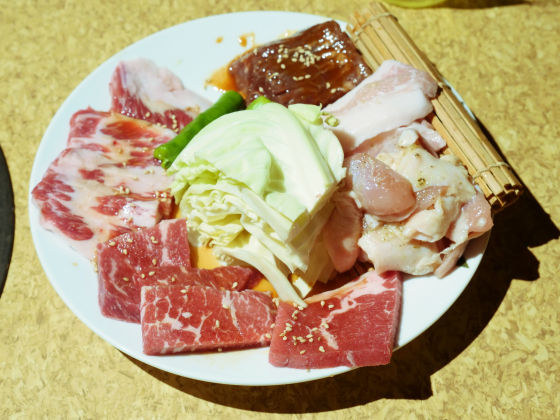 And order additional beef tongue salt (853 yen including tax).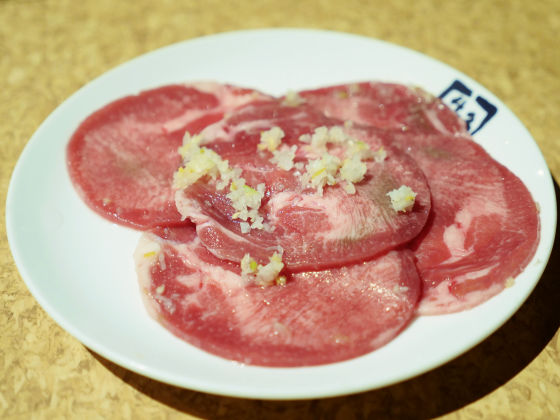 Start cooking each part of meat.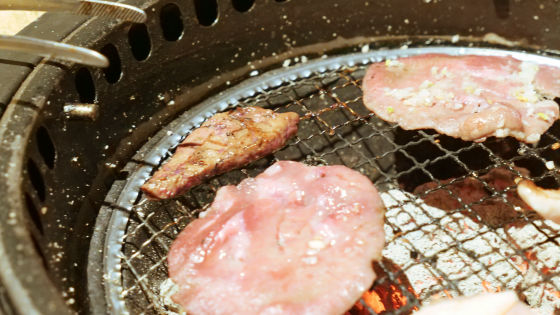 Since the meat that came out has been seasoned from the beginning, put it in noodles with no sauce etc. First of all, when we try to eat beef horn calvi with noodles, the salty with salty and salty "Menzen" are integrated, but since both are similar seasonings, "a new taste of Menzemen is born" I did not go. Nonetheless, if you like seasoned ramen seasoning, there is no mistake.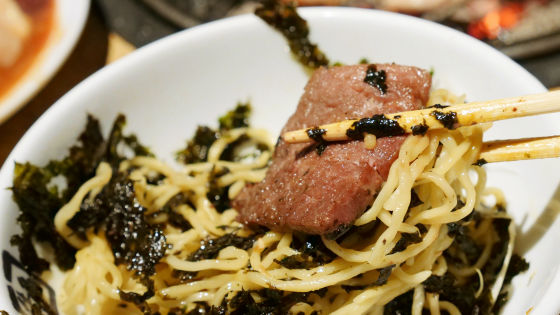 Petro, a part of a pig, is also salty and has a crisp texture. Because this is also the taste of the same strain as mercilibrate, I felt that compatibility is good.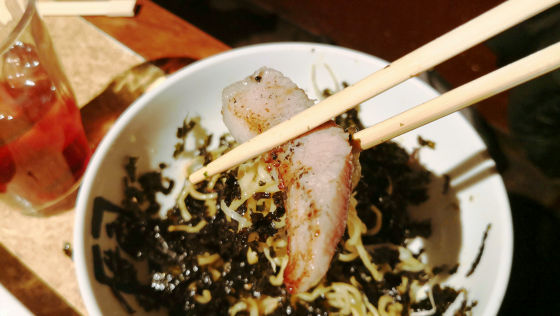 The compatibility with the beef tongue salt which one piece is greatly crunchy felt a little bit easier to eat Chinese noodles. According to another editorial staff, "The texture and flavor of the salt tan disappeared before the noodle texture and dense saltiness ...".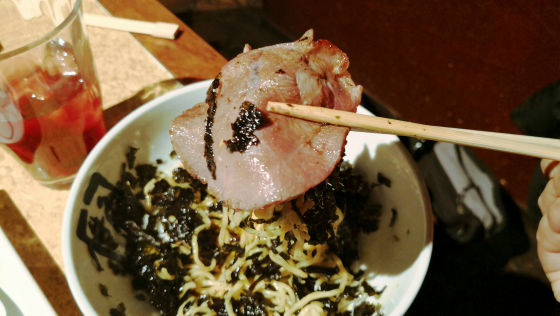 Chicken basil has compatibility enough not to disturb each other, and other editorial staff who accompanied said, "The flavor of chicken is strong and the taste of poultry is not defeated, the chicken is good for ramen soup I was satisfied that there was sometimes used and good compatibility ".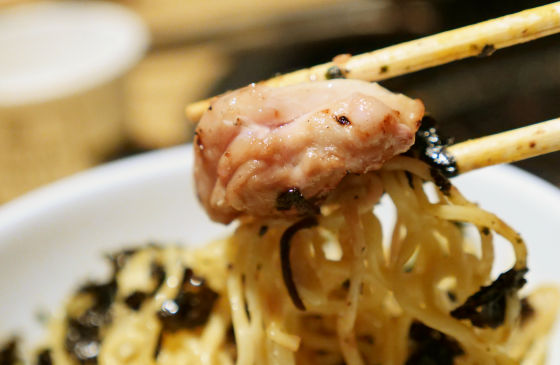 Finally I will check compatibility with one dish "meat & hormone prime" (1382 yen including tax) where parts of visceral system gathered. The parts of meat on the plate are Petoro and Harami, Cow Lever, Beef Hormone, and Addictive Porcine Hormone.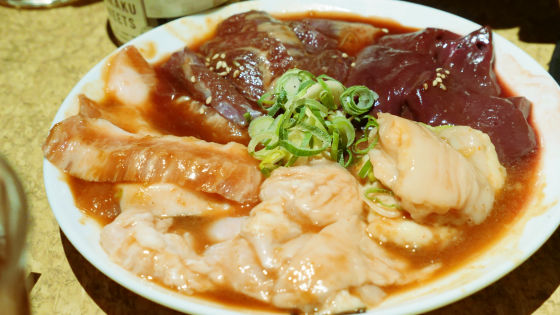 Add meat of "meat & hormone prime" on the net and start cooking.



When you look at the part of the visceral system eating from the lever, the sweet sauce of the liver and the soft texture match the texture of mu-sen with salty taste. An editorial staff who is not good at levers a bit, said "I like the lever 's staggering texture and distinctive flavor are rather mild, I like it more than a combination with rice," also liked this.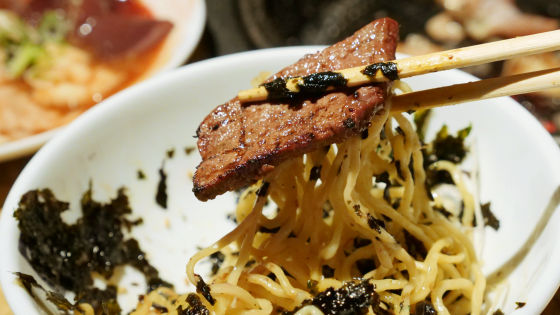 When I tried eating pig zest hormone, I felt a synergistic effect as the umami of sweet hormone lipid dripping in the rice caught in Chinese noodles. "The juicy noodles, the honmon's crunchy texture is good!" "I do not like hormones so much, but I can relax myself, I got chewy and juicy greasy, more chopsticks than usual" Opinion too. Beef hormone was likewise likewise evaluated and many internal organs were comfortable with "grilled meat mimetic" many.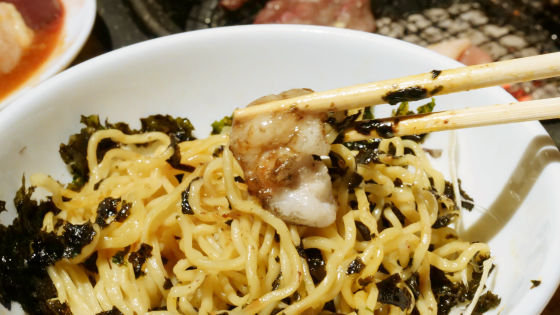 "Yakiniku Musen Menshin" is on sale as "Meat Day Fair" menu until February 28, 2018 (Wednesday). It is sold at cow corner shops nationwide, but caution is necessary for beef angled buffet stores that are not sold. Also during the "Meat Day Sunday Fair" campaigns are being offered such as half-price service for the menu of the black beef meat targeted, and an all-you-can-eat course for weekday students.

Kuroge Wagyu beef Half price | If it is grilled meat "Beef horn"
http://www.gyukaku.ne.jp/wagyu/index.html


\ February 9 Day of meat once a year?
What! What! What!
"Kuroge Wagyu be half price"
Other meat varieties and drinks from 290 yen
Click here for details ↓https://t.co/wC0enEBOYn# Beef horn meat day# Kuroge Wagyu bee half price# University student only 2500 yen all you can eat# Mugen meals onlypic.twitter.com/nTwEKsdUHE

- Bull horn [Official account] (@ gyukaku 29)February 9, 2018
\ February 9 A meat day once a year /
Good news for college students
On arrival at 18 o'clock on weekdays
"Special all-you-can-eat as 2,500 yen"
I have to go to the beef horn of meat todayhttps://t.co/oEw8YlAU7r# Beef horn meat day# Kuroge Wagyu bee half price# University student only 2500 yen all you can eat# Mugen meals onlypic.twitter.com/3 lABaL 5 ​​b V 6

- Bull horn [Official account] (@ gyukaku 29)February 9, 2018