I compare curry udon and ramen with "Ace cook super cup" that reproduced that bon curry and eat it with real bonbon curry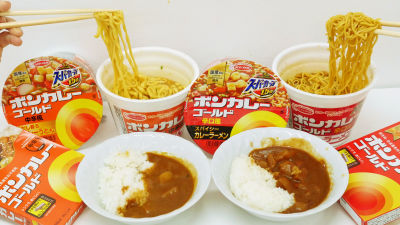 Cup noodles that recreated the taste of "Boncaree" of retort curry from Acecock on Monday, January 22, 2018 "Super cup 1.5 times Bonkarei gold middle spicy curry udon"When"Super cup 1.5 times Boncaree gold Dry curry ramen"Has appeared. According to the official announcement, "Curry noodles with Boncaree gold in hot spicy to soup with soup stocks, curry noodles with dry bonkalle gold to pork bone ramen soup". I was wondering how much cup noodles are reproducing Bon Curry, so I actually tried comparing it with Bon Curry.

<30th anniversary of super cup 1.5 times x bonus curry 50th anniversary> Dream tie-up realized! Ramen and udon match on sweet curry soup with onions!
(PDF file)http://www.acecook.co.jp/news/pdf/1801_LSB.pdf

Completed collaboration article of Bonkare and Super Cup dreams! | Bon Curry Official Site
http://boncurry.jp/anniversary/boncurry-supercup/


A collaboration product with the Super Cup was released today. Everyone please eat.https://t.co/IeAlVdnQbppic.twitter.com/7QVFPIJsjb

- Bon Curry 【Official】 (@boncurry_en)January 22, 2018

I bought "Super cup 1.5 times Bonkare gold middle spicy curry udon" and "Super cup 1.5 times Bonkarei gold Dry curry ramen". The price is 216 yen with tax including both products.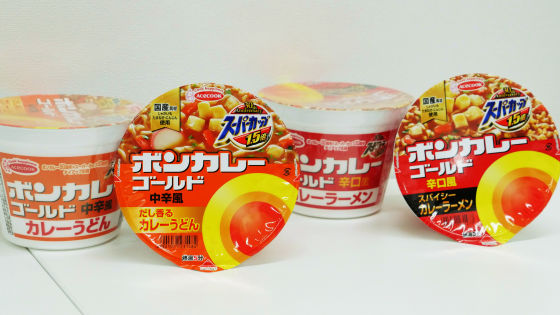 First I will eat curry udon. Size is the same as ordinary Aceco Cock's Super Cup. It looks like the package looks like Boncare gold middle.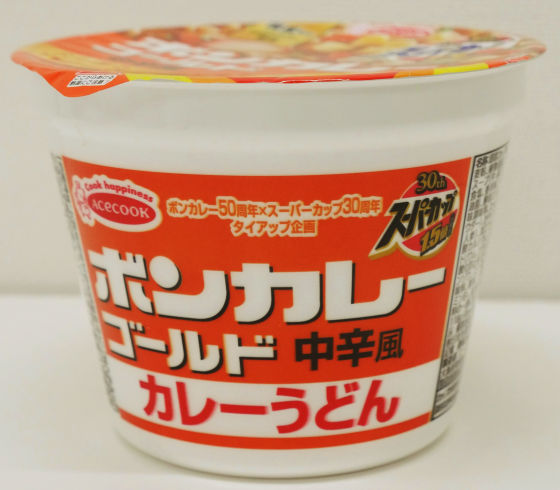 Try it, put real genuine Bonkarei gold meddle next to it, looking exactly like it.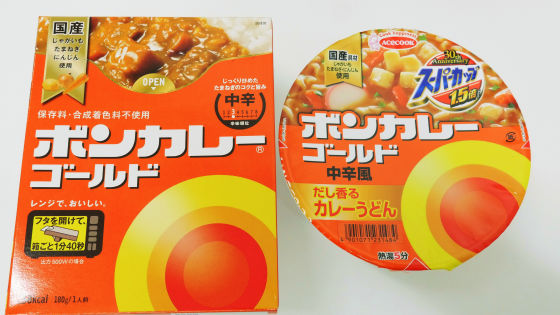 Because of udon, cooking time is somewhat longer for 5 minutes.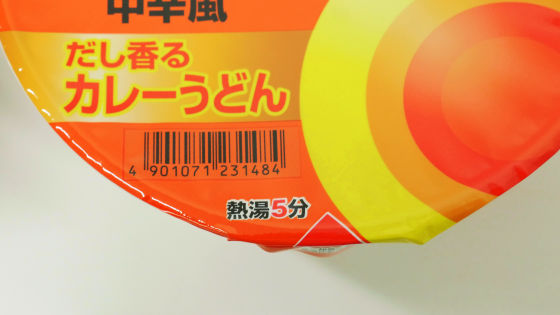 Raw materials are described as "potato" and "onion" which are reminiscent of curry.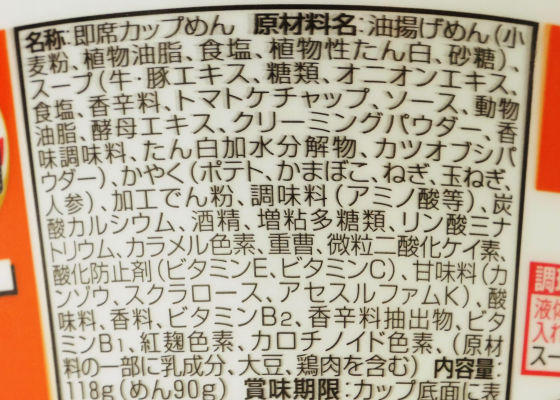 Contents are 118 grams per meal. The calorie is 467 kcal.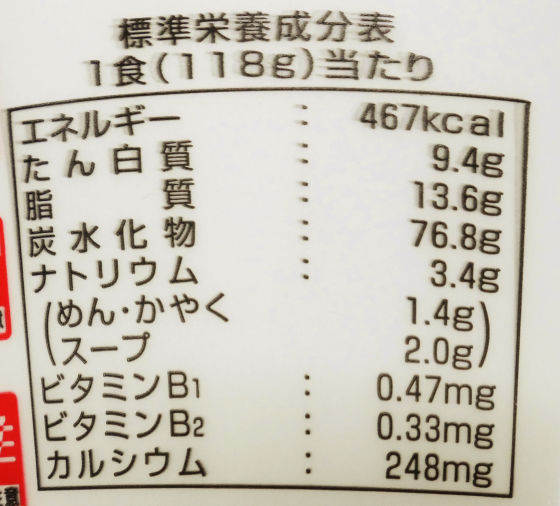 When opening the lid, powder soup and soup, and liquid soup were contained.



Cooking start. Put powder soup and quickly.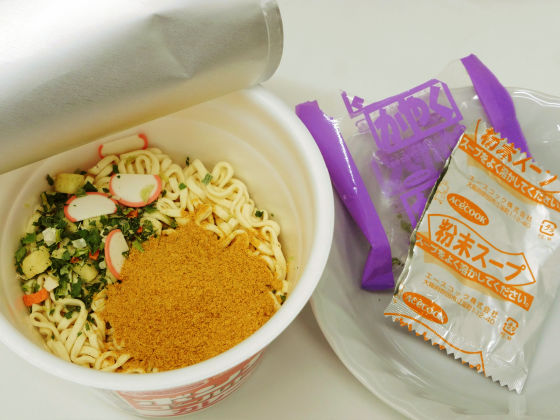 Pour hot water and wait for 5 minutes.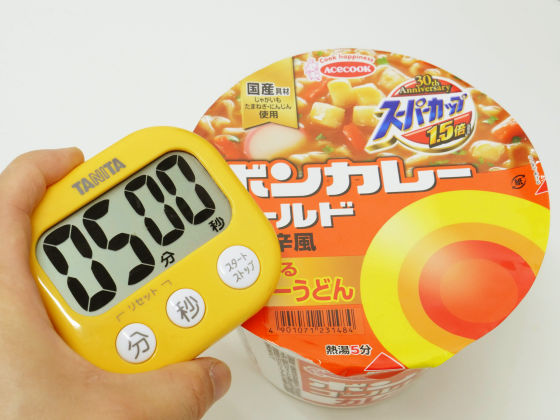 After 5 minutes, put liquid soup.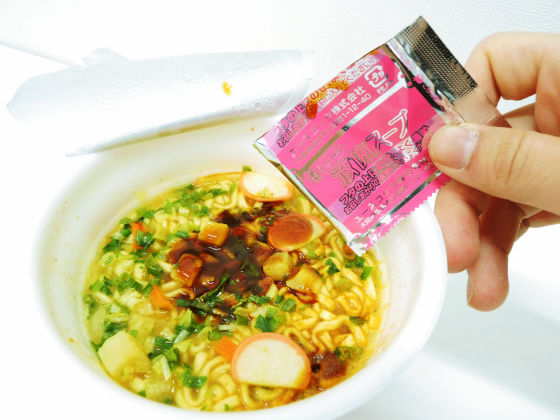 When I ate it, the taste of mild curry udon sushi are working. I felt the hotness rather than sweet rather than medium.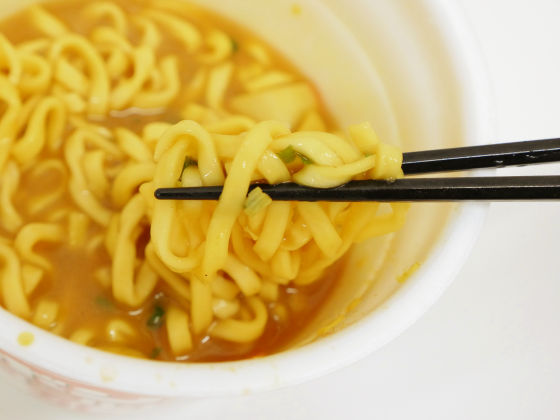 I was wondering how much I reproduced the spicy taste of Bonkalei gold, so I will eat real authentic Bon Curry and compare it.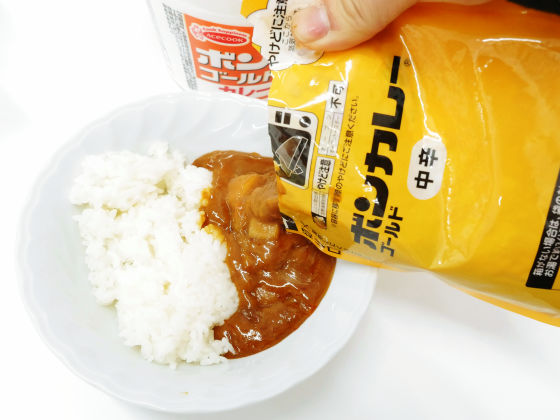 Bonkarei gold When you eat hot spicy, this one feels spicy because spices are working. One of the curry udon was sweet, and I felt the atmosphere called "curry udon sushi is working."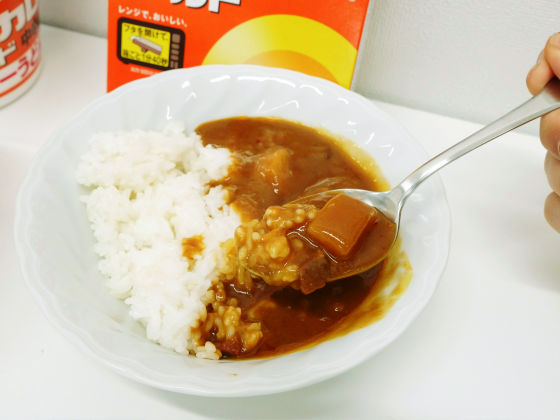 Next time I will eat curry noodles.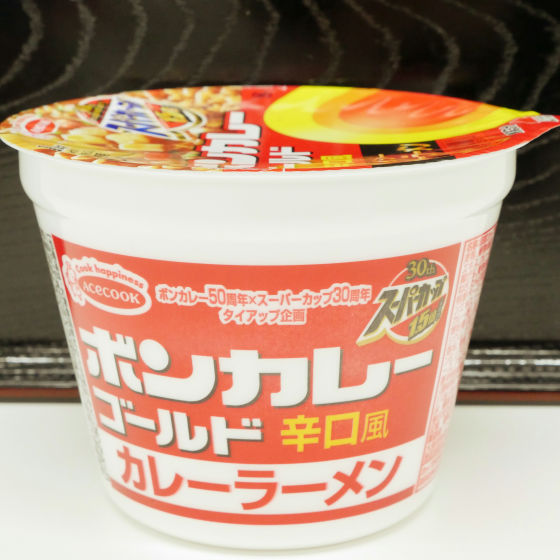 Here is a similar look if you put a dry bottle of real Bonkare gold next to it.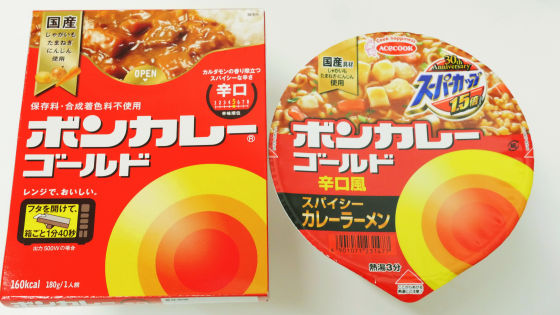 Here also contains "potato" and "onion" of muddiness which reminds curry to raw materials.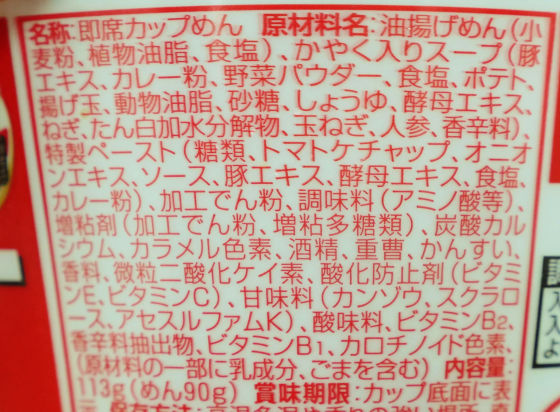 The content is 113 grams per meal. Calories are 474 kcal.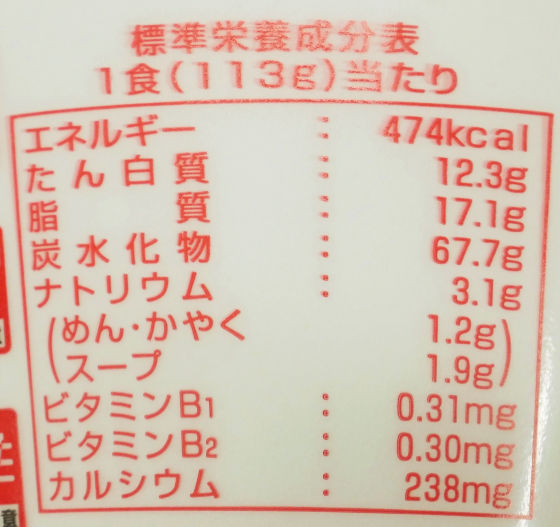 Cooking start. When opening the lid, inside it was quickly entered powder soup and special made paste.



Fine entering powder soup into cup.



Pour hot water and wait 3 minutes.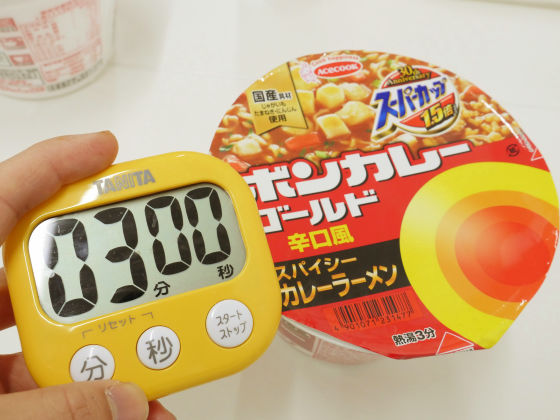 Three minutes later, put special made paste.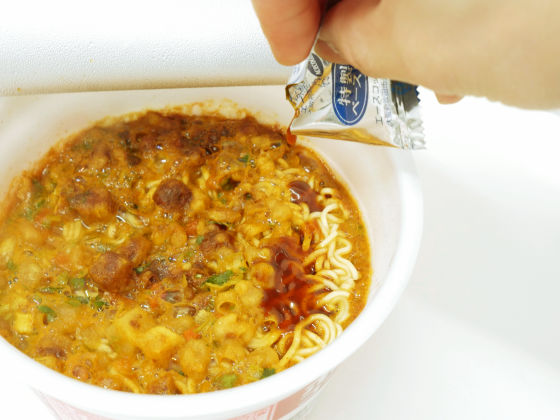 When I tried it, it became a spicy curry ramen with a hint of pork bones, and compared with curry noodles I had eaten before, the taste was spicy and it was spicy.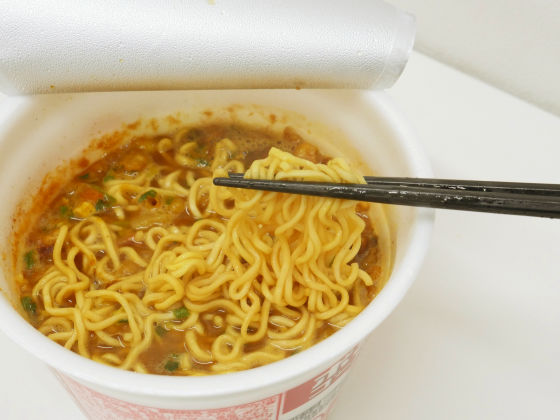 Again, I will try to eat it with Bonkarei gold Dry which became the base.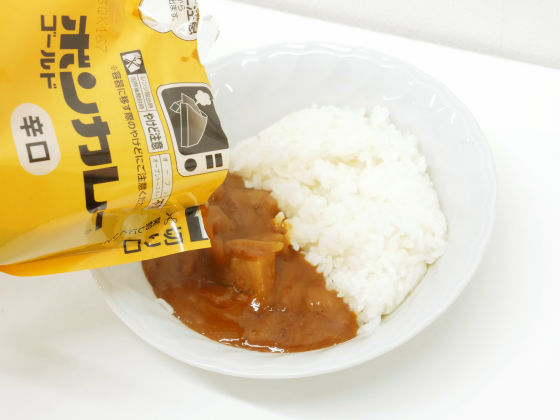 Comparing with eating, Bonkarei gold drunk strongly felt the scent and taste of beef. One curry ramen felt like Bonkarei gold Dry which was based on spicy and spice strength as a base.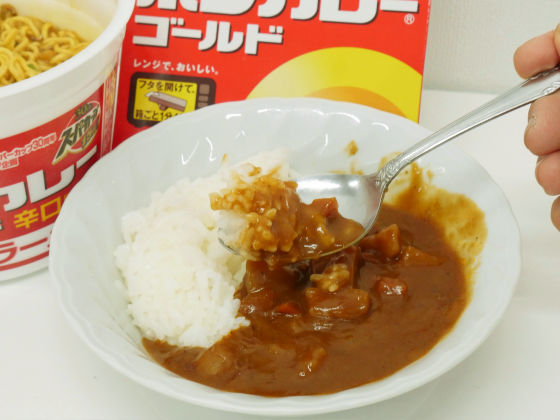 "Super cup 1.5 times Bonkarei gold middle spicy curry udon" and "Super cup 1.5 times Bonkare gold middle spicy curry udon" are on sale at convenience stores nationwide nationwide. On Amazon, both sets are sold in sets of 12 pieces, free shipping and tax included 2592 yen.

Amazon | Ace cock super cup 1.5 times Bonkare gold middle spicy curry noodles 118 g x 12 pcs | Ace cook | udon mail order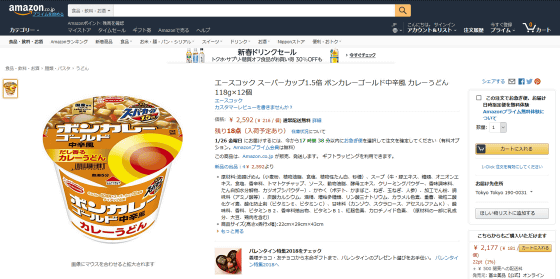 Amazon | Ace cook Super cup 1.5 times Bonkare gold Dry curry ramen 113 g × 12 pieces | Ace cook | Ramen mail order