"Kemono Friends" It is confirmed that Yatsuyorozu of production with Tatsuki who played a part of popularity from the second term will come off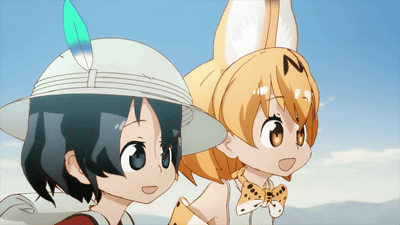 Winter 2017 broadcast animationIn the beginning, although it was not a work never attracted, until the end of the broadcast it was a great breakthrough to the animation that represented the time "Beast friends"As reported in September 2017, it was said that it was one of the reasons for the popularity of Phase 1 since the second stage when production was decidedTatsukiDirector and production company'sYao YorozuIt was decided to leave, and it was decided not to cover it.

Kemono Friends Project | Official Site
http://kemono-friends.jp/

In the first place, "Kemono Friends" is a plan started as a media mix project around 2014, but the game for smartphones released in 2015 was ended at the beginning of animation. However, Mr. Yoshizaki Ms. Yoshizaki who was in charge of the character / world view / concept design of the project is using the concept of "the original is" animal ", animation as animation, utilizing the settings of Park Guide · Mirai who appeared in the game While deploying independently.

There was also a big success of Tatsuki's director who was told that "All but the voice actor is responsible", it was not a work that has been attracted never before before the broadcast, but increasing the number of fans from the broadcasting and finally Immediately after the announcement of the unusual new movie production decision was made. From Fukuhara producer 's tweet, it seems that during this period Yao Yoroz had a second - stage production consultation.

"Kemono Friends" new movie was decided to be created, and the last studio screenshots held by Tatsuki and others including Staff & Cast also held - GIGAZINE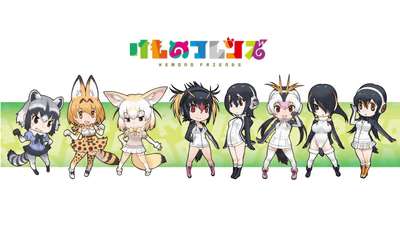 The popularity of the work also spreads to the hit of the opening theme song "Welcome to Japa repark" and the appearance of the music program of "Animal Cross Biscuits x PPP" singing. President Yuichi Takahashi of TV Tokyo called for an echo that revealed that he called to reorganize the formation at the regular interview held in April 2017. Actually, TV TOKYO performed reruns at affiliated stations from August 2017 after this.

Meanwhile, Tatsuki posted 12.1 episode "Betto ni" as an independent production image on April 5, 2017 of the following week of the last episode broadcast. Even after that, distribution of collaboration video "Keiba Jyou" with Tokyo Racecourse was done, and the popularity of "Kemono Friends" was exciting.

"Kamono Friends" Sailors visit Tokyo Racecourse as a special image "Keikyu Jyou" released - GIGAZINE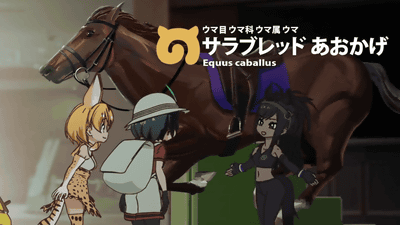 However, on September 25, 2017, Tatsuki reported on Twitter "It is now supposed to be out of anime for Funniko friends". I do not understand the situation at all, and the situation will be that the fans are going out and running.


Suddenly, it was decided to be out of animals of Kamono Friends. Raku Rikka seems to be better than Mr. Kadokawa. I'm sorry I am also very sorry

- Tatsuki / irodori (@ irodori 7)September 25, 2017

On September 27, 2017, on the official website, "We are planning to search the production system from scratch by receiving a story from Yao Yorozu Corporation, an animation production company, that we want to withdraw at the stage of entering in August The current status "is announced. In this announcement, "Yao Yorozu declined", but Fukuhara producer of Yao Yoroz tweeted "I recognize that I've declared the descent," and I see a slight discrepancy.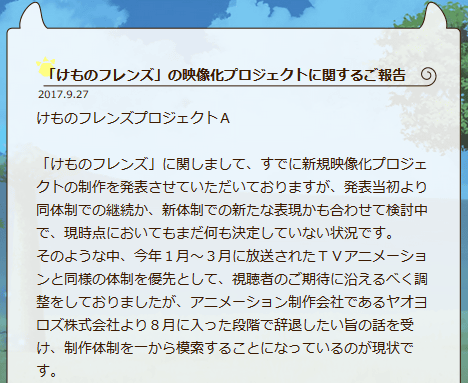 In October 2017, Kadokawa's managing director Shinichiro Inoue, who grasped that the situation is in a state of confusion, reported with Yao Yoroz that he was "in consultation about what to do about the future".

In particular, the circumstances of "supervising desk board" and the difference in recognition regarding the use of copyright,
It is true that the true meaning of remarks made by Director Twitter has accumulated that kind of thing
It turned out to be a cause. As a matter of fact, as a matter of fact, I have consulted with you about how to do about future things with Yao Yorozu. (3/4)

- Shinichiro Inoue (@ HP0128)October 3, 2017

Although the fans were watching over the second phase, the fans were watching over burning, but Fukuhara producer reported that they were not covering the decision that Takesatsuki director and Yao Yoroz will leave from the second stage on December 27 it was done.


I apologize for not being able to make you feel uneasy, sorry to have made a noise in this time. It will be the final report, but I have not covered anything out of the second term. Inoue Managing director and Mr. Inoue in order to respond to everyone's expectations, we have worked on the best effort but we are very sorry.

- Keiko Fukuhara (@ fukuhara_ystd)December 27, 2017
In March there was a request for the second term and had been making actual production, but at the meeting held at the head of the core in the head of August it was declared that there is no continuation against Yaoyoro in the future, recognizing. It is an honest place to say that I was puzzled without getting to the point how I was dissatisfied with what I was suddenly informed.

- Keiko Fukuhara (@ fukuhara_ystd)December 27, 2017
Regarding information sharing which was in the official announcement on 9/27, I made 12.1 talks after reporting to the committee, and made collaboration movies with each company under the formal request from the committee It was.
There was permission from Dr. Yoshizaki about doujinshi at comiket, and it was distributed under the proposal at that time, clearly stated as special license.

- Keiko Fukuhara (@ fukuhara_ystd)December 27, 2017
Especially collaboration movies had strict conditions, but production staff worked hard for fan service. I am very sorry that I became subject to doubt, some of which I could not even mention in the Kamono Friends official.

- Keiko Fukuhara (@ fukuhara_ystd)December 27, 2017
I am deeply appreciative of Inoue Managing Director this time very seriously and I am very grateful for the speedy investigation and adjustment.
Finally, thank you for your continued encouragement during the making of the fans. I am sorry that this is such a regrettable report. It was a while, but I am proud that we could join you.

- Keiko Fukuhara (@ fukuhara_ystd)December 27, 2017

By the way, "Kemono Friends" has won the "Twitter Trend Grand Prize 2017 ANIME of the year" which awards the animation which became the most talked about on Twitter in 2017.


It is an unbelievable prize thought from January 1st this year, I think that this is a prize for customers as it is a miracle caused by customers without multiplication. Congratulations, everyone,
#Twitter Trend Grand Prizepic.twitter.com/MuGUAvKYXn

- Tatsuki / irodori (@ irodori 7)December 23, 2017

It is likely that considerable pressure will be applied to the company and the manager who will be in charge of the production of the 2nd phase when Tatsuki and Yao Yorozu passed out, but forgetting the core "Fun" Animals "which is the core of the Funnomes Friends Project Nevertheless, I hope to have a different work from the first period.
in Anime, Posted by logc_nt