AMD GPU built-in Intel · CPU "Core i7-8709G" spec information leaks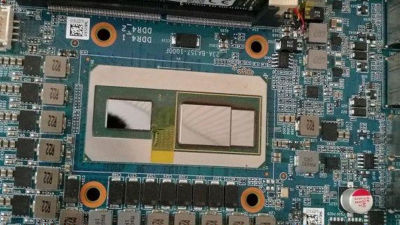 In November 2017Intel CPU with AMD's Radeon GPU built in "8th generation Core H processor" (Code name: Kaby Lake-G) was announced and realization of tags between rivals between Intel and AMD surprised the world. That "AMD comes in" Intel CPU "Core i 7 - 8709 GSpecification information of "YouTube is released on YouTube.

Intelov Core i 7 - 8709 G s Vega M grafikom - Procesori @ bug.hr
https://www.bug.hr/procesori/intelov-core-i7-8709g-s-vega-m-grafikom-2035

The leak movie called "Core i 7 - 8709 G" loaded machine is as follows. Benchmark softwareFuturemarkFrom the notation, the specification information is clarified.

i7-8709G + Vega M Graphics - YouTube


From the desktop screen in the movie, Core i 7 - 8709 G is 4 cores / 8 threads, CPU with base clock 3.1 GHz / boost clock 3.9 GHz, GPU will be equipped with AMD 's Radeon RX Vega M. Radeon RX Vega M (694 C: 00) can confirm that 800 Mhz HBM 2 memory is 4 GB and core clock is 1190 MHz.

Bits And Chips - EngImage of Vega built-in Intel CPU released by. The soldered BGA type 8th generation Core H processor is the same rectangular design as the shape announced in November 2017.

Finally we will have serious gaming ultrabooks!pic.twitter.com/f788pYRqjg

- Bits And Chips - Eng (@ Bits And ChipssEng)November 9, 2017

Please note that the Intel CPU with AMD Vega has a 6 core / 12 thread model for desktop? There is also an expectation.

Prozessorgerüchte: Kaby Lake-G auch mit 6 C / 12 T und Vega-Grafik geplant - ComputerBase
https://www.computerbase.de/2017-12/kaby-lake-g-6c-12t-vega/

The so-called "Kaby Lake-G" is based on a 4-core / 8 thread mobile CPU, but the 8th generation Intel Core processor also has a 6 core / 12 thread "Coffee Lake" based model, so Coffee It is an anticipation that a model should be said to be "Coffee Lake-G" which installed the Vega GPU in the Lake processor. Incidentally, it is rumored that there is also a high-performance model with TDP of 100 W for Vega built-in Intel CPU, and it can be various other than 6-core / 12-thread model, such as high clock model capable of 4.1 GHz turbo boost Although expectations have been issued, the truth is unknown in any case.

The Intel CPU with built-in Vega GPU is an electronics show to be held in Las Vegas, USA in January 2018CES 2018Detailed release was made, and the release time of the product is seen as Q1 (January to March) in 2018.