I tried "Hot Butter Sugar Crepe" which made the best use of "Chocolate mint crepe" and the taste of the material with hysteric jam with 24 different chocolate mint crepes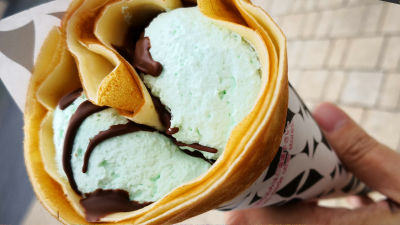 Butter crepe specialty store with only two shops in Kobe and Osaka "Hysteric jam". It is stuck to materials, such as using four-leaf butter from Hokkaido of raw milk 100%, and that more than 100 kinds of crepes can be enjoyed. Among the rich lineup is "Chocolate mint crepeThere are some rare ones in crepes like the one, and it became a hot topic on the net. So, I actually checked what kind of taste I can enjoy and check it.

Kobe Motomachi & Osaka Castle Park crepe shop | Hysteric jam
http://hysteric-jam.com/

Posting on Twitter that became a hot topic is here.

Listen to everyone

The fact that chocolate mint crepe exists in this world ... ...! ! ! !pic.twitter.com/GrhOi7fUJz

- Satoko @ Zelda BOTW Low flying height while playing (@ ABENO 8 _ 9 ITOK)August 16, 2017

Hysteric jam has stores in Kobe Motomachi head office and Osaka Castle Park store. This time I went to Osaka Castle Park store which I just opened in June 2017.


Get off at Osaka Castle Park Station on the JR Osaka Circular Line and walk 3 minutes. Arrived at "Hysteric Jam".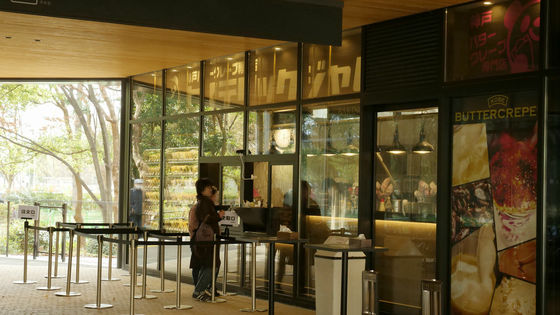 There are lots of sample items in the showcase in front of the shop.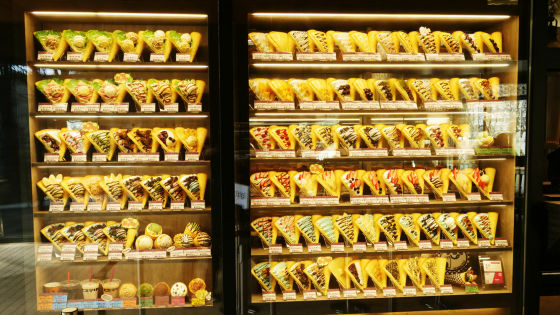 Eight chocolate mint base items, such as "Ichigo Chocolate Mint", "Chocolate Mint Cream", "Banana Chocolate Mint", "Flake Oreo Chocolate Mint", etc., which changed the topping, when changing from over chocolate to white chocolate 16 kinds of sample items were displayed. Apart from being exhibited,menuThere are 8 kinds such as "Vanilla Ice Oreo Chocolate Mint" and "Cookie Ice Oreo Choco Mint Cream", so there are 24 kinds of menus with just the chocolate mint base crepe, and the lineup is very substantial.




"Chocolate mint crepe" (490 yen including tax) is completed in about 3 minutes after ordering to a clerk. Among the crepes, the finest couvertur chocolate is applied on top of the mint cream in chocolate. The size is not much different from ordinary crepe.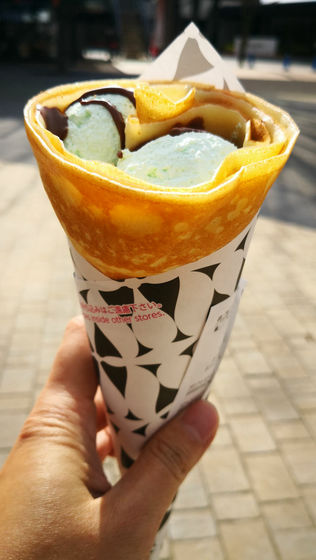 I will eat a bite. There are plenty of mint cream in the crepe, but the cuver tulle chocolate which is being applied from above is thick and rich, so it is pushed by chocolate and the mint feeling is considerably modest. It may be unsatisfactory for those who want a strong sense of mint in chocolate mint, but still the taste balance is solid, so you can enjoy the sense of eating elegant sweets. In addition, crepe fabric is rich in mochi, outside is crispy, coupled with good texture and fragrance, it faded away in a blink of an eye.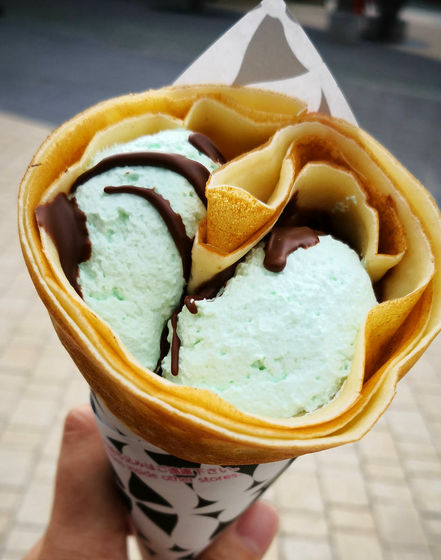 In the hysterical jam, such as using sterile eggs and proprietary blend the flour and cream in four-leaf butter of Hokkaido, there is extraordinary in food commitment are using. Therefore, the taste of the material stands out more "Hot butter sugar crepe"(450 yen including tax) ordered. Although it looks just crepe fabric, it is a sober impression ... ...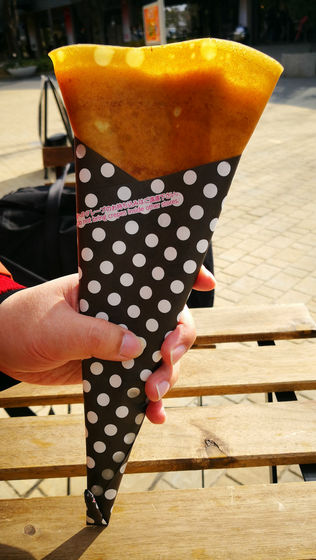 Looking into the inside, you can see sugar in the back.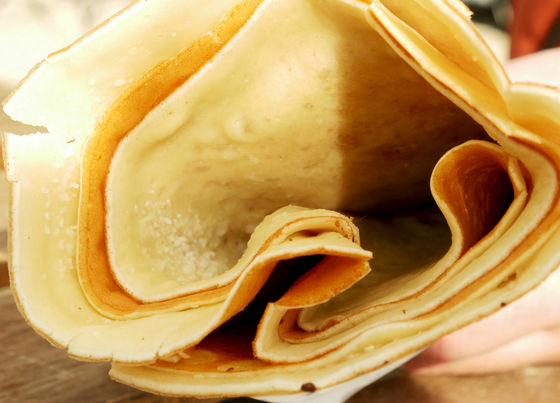 When you put it in your mouth, the flavor of butter is thick and the fragrance of the crispy fabric and the sweetness of the sugar become accent, and you can continue to eat steadily. This was also gone quickly.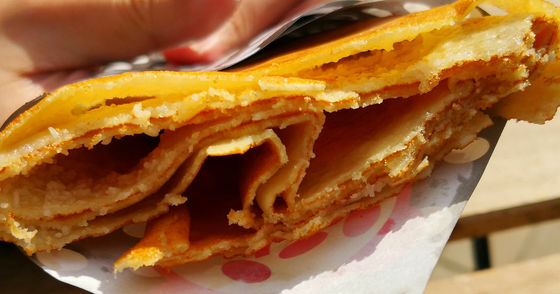 The hysteric jam Kobe Motomachi store opening hours are from 12 o'clock to 18 o'clock and the Osaka Castle Park store's opening hours are from 12 o'clock to 19 o'clock. Because there are occasions when you are temporarily closed,Official pageIt is recommended to go from checking with.