An accident occurred in which a person playing with the VR headset accidentally thrusts into the glass table and dies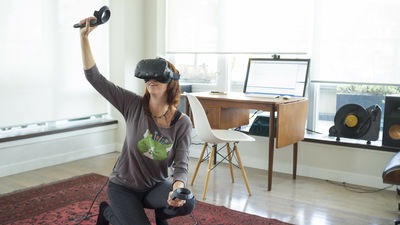 byColin and Sarah Northway

VR headset (VR goggles) appeared in succession in 2016 is called "the first year of VR", and there is an impression that 2017 is also continuing its momentum, while on the other hand, a tragedy due to a high immersion sense Has been reported.

TASS: Society & Culture - VR glasses blur reality leading to death blow for Moscow resident
http://tass.com/society/982465



According to Russian communications company Tass Communications, a 44-year-old man died of an accident while using a VR headset in an apartment located in Marshal Zhukov Avenue in Moscow.

Authority official Yulia Ivanova said, the man crashed while using the VR headset and crashed into a glass table. She seems to have been wounded by broken glass and dead blood loss.

Since the VR headset is made to be able to immerse in the VR world, there is no doubt that it is difficult to notice even if dangers are coming around in the vicinity.

Every time you use the VR headset, please check in advance to see if there is any dangerous thing around and try to choose a safe place as wide as possible.