The scene where the mountain fires approaching the expressway taken in Los Angeles is too shaky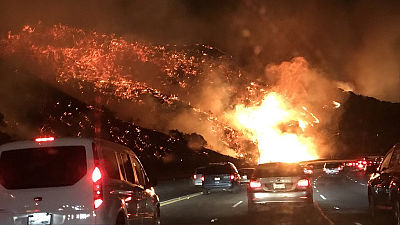 The momentum of forest fires occurring in the southern part of California continues to expand and new fire is coming to the outskirts of Los Angeles. The fire is coming up to the immediate vicinity of the expressway where many cars coming home were running, and the image containing the appearance is exactly as if hell appeared on the ground.

Several homes burn in exclusive Bel-Air as fire forces evacuations - LA Times
http://www.latimes.com/local/lanow/la-me-ln-brentwood-fire-20171206-story.html

Hellish photos and videos show wildfires burning next to Los Angeles freeways
http://mashable.com/2017/12/06/west-los-angeles-wildfire-bel-air-santa-ana-winds/#fWpCZzSIOiqW

A new wildfire is occurring at a point about 5 km west of Los Angeles center. It is spreading along the highway No. 405, and the highway is blocked by this influence. Nearby there is UCLA (University of California Los Angeles), famous museum "Getty Center", etc. There is concern about the damage.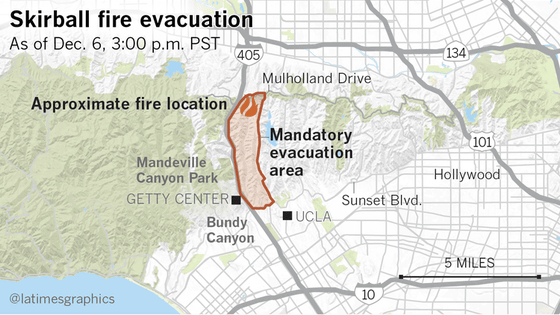 The state of the wildfire caught from a car running on a highway is this. It was taken in the nighttime, the appearance of an eerie flame floating in the dark, as if the fire of hell was attacking.

Not the typical morning commute ...pic.twitter.com/kJIOQeqsIK

- A. Mutzabaugh CMT (@ WLV_investor)December 6, 2017

It seems that it caught from the sky approaching the expressway. You can see that the fire is approaching soon to the head light of many cars.

Flames Burning Just Off Interstate 405 In Southern California.pic.twitter.com/EDEhEOQMZj

- Breaking 911 Nature (@ B 911 Nature)December 6, 2017

Another movie caught from the car. The fire is approaching just to the bank of the side of the road.

Apocalyptic Scene In Southern California As Wildfires Continuepic.twitter.com/PPFmO9HTo2

- Breaking 911 (@ Breaking 911)December 6, 2017

Tweeted that "Today's commuting was the most horrible thing in my life."

Today was scariest morning commute of my life:#gettycenter#skirballfirepic.twitter.com/aECWhnJ 26I

- Rick Patrick (@ 70sspacepunk)December 6, 2017

Originally, it was a mountain fire that occurred in another place, but the spreading area is expanding by the strong wind from the fold. The newly spread wildfire is called "Skirball", and it has been in the range of 60 hectares so farThings that it is spreading. More than 200,000 people are evacuated, and the fire is approaching to the Bel Air area where the mansions lined up.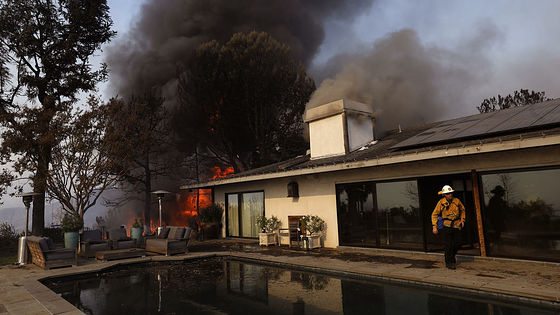 A luxurious mansion filled with fire without making it ......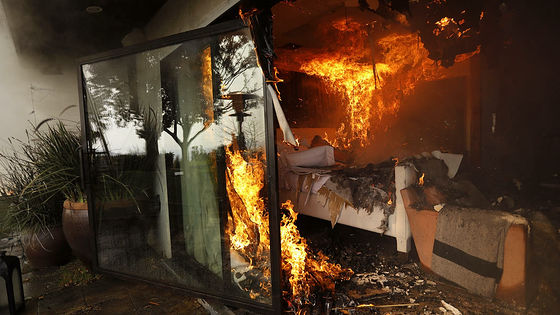 Fire fighters can continue fire fighting activities.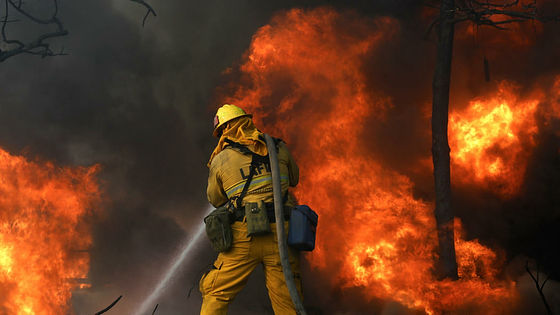 Looking to the front is the highway 405 that will be blocked. Even as technology develops, I feel that it is still a long way to win the power of nature.