Interview with Director Hiroyuki Sakashita of "Godzilla monster planet" which the characters of 3 races are also sticking to stick to display graphics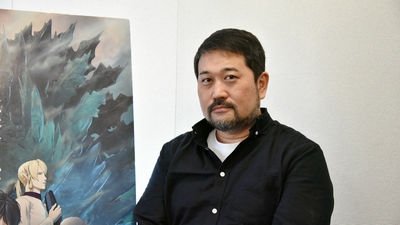 From Friday, November 17, 2017 Godzilla's first animated film "GODZILLA Monster Planet"Has been published. His supervisor was in charge of Mr. Toshinori Shizuno who is known for the movie series of "Detective Conan", and has produced "Amata", "BLAME!"Hiroyuki SakashitaMr. From the basic point of how we created Godzilla this time, I have asked various things, such as what kind of concept the director Sega made about the movie of this work. In addition to this, it was installed for a limited time in ShinjukuInformation on "Godzilla gate" is also posteddoing.

Animated movie "GODZILLA Monster Planet" OFFICIAL SITE
http://godzilla-anime.com/

Q:
First of all, the frank idea that I first held when I heard "Godzilla is animated with 3DCG".

Director Hiroyuki Sakashita (hereinafter Sensei):
Three years ago I got a story, but as a frank comment I said "Godzilla is animated with animation? ... ... absolutely impossible" (haha)

(All lol)

Mr. Sega
That's right, I answered "I think absolutely impossible."TohoSays, "I never saw Godzilla, but for those who like animation, it's OK to make it with a free idea" strategy. However, I am still "impossible" (laugh)

(All lol)

Mr. Sega
In addition, when I listen to the story, I am also a good coach who is also a private person, a hit maker such as "Detective Conan"Shizuno HitomiAlso joined, "Magical Girl Madoka ☆ Magica"ofFictitious sourceHow about if you are in charge of the story draft? It was said, "I think we can challenge ... ...". If it is possible to hide behind the talented two people, if they serve quietly, perhaps something new Godzilla may be formed. And that was such an impression.

Q:
First I thought "impossible" is the image "Godzilla" in size?

Mr. Sega
Godzilla is a character named in the world and is also representative of the style born in Japan called "special effects". So, I thought that "Godzilla should be made in a style that will be an extension of special effects ...".

Q:
You mean you got stuck in the part of animating it.

Mr. Sega
However, Mr. Toho still said "Some people have never seen Godzilla." If this is to say, "Please make an animation that convinces Godzilla fans from long ago" if you say "Please make Godzilla fans anime", I think that it was impossible. Actually, while I was developing stories and designs, I was always worried. "Is not it going to get a tough word from the old Godzilla fans?" However, in the process of development "Shin · Godzilla"Has been released and I was able to see Mr. Shizuno and Ms. Kagiuchi for seeing that it was better to refer from Toho-san.

Q:
Oh, you saw it.

Mr. Sega
So, with that outstanding degree of completeness, "I am relieved that" Shin Godzilla "inherited the mainstream mainstream. Even though new expressions are used everywhere, it also inherits the style and style of Japanese traditional special effects, because it was a masterpiece that was outstanding anyway. With this, we thought that it would be good for us to devote ourselves to Godzilla's world view and unique character character as a tributary of one of the Godzilla brands, for those who like animation who have never seen Godzilla . Thanks to Shin Godzilla, we felt that we could not do it without fear, to be honest, I strolled down my chest. (Lol)

Q:
Did you feel like "Shin Godzilla"?

Mr. Sega
There is absolutely not!

(All lol)

Mr. Sega
Because it is a tremendous masterpiece, I do not feel that way. The concept is completely different, I respect from the bottom of my heart. Rather, "Thank you for making us feel secure" (laugh)

Q:
That kind of relationship.

Mr. Sega
I think that it is not an exaggeration to say thanks to Shin Godzilla who took over the signboard of 'Honkei', so that it seems to me to think hard to let the power of the shoulder freely freely.

Q:
"Fellow"During the animation of Mr. Segushi," Spatiality is a place where 3DCG is good at, and by editing and editing cuts conscious of the composition emphasizing the perspective, realism and dynamism can be obtained " Although I mentioned that it is a field that 3DCG is good at also the work which giant monsters like Godzilla come out.

Mr. Sega
I always think that I will move space dynamically, that everyone in the audience will be more likely to immerse in the story, I will not feel the edge of the screen while watching. For that reason, I am sticking to the "scene" rather than the "screen". First of all, make a "scene" firmly. If the "scene" is interesting, no matter where and how the actual occurrence is cut out as a composition and made "screen", it will be somehow. And a huge set of scenes is all present in the 3DCG virtual studio. That is, it is an advantage of 3DCG. We will make it by taking full advantage of it and conscious of camera work and cutting that can give the customer an immersive feeling.

Q:
When I was watching a movie, when Haruo arrived at the ground, there was a feeling that it would get caught up in the situation together, but it was said that it was made to do so.

Mr. Sega
I am glad if you feel so.

Q:
Regarding the modeling of Godzilla, it was quite a hot topic since the presentation, but what kind of concept did you make up?

Mr. Sega
I and the modeling directorOne-sidedness law, Yutaka Kasama of Market Sculptor, Eiji Kawada in charge of Concept Art, 4 people joined the design team and built it up. I draw a draft and create a concept sheet that summarizes how Godzilla should be in the world view of this work and draws a rough sketch from there. Next, I will carry out the sculpting of the mask. This is the task of using software that can be shaped to knead clay with 3DCG, and to make draft of the solid which will become the starting platform.

The standing point is "existence like Kiki." Godzilla of this work was the setting that it is "the vertex of life evolution" at the draft stage of Mr. Kagayama, so it was "tree" that was associated as a motif from the long life and enormity anyhow. Although it seems that it stops on the human time axis, when you grasp it with time lapse shooting, the plant moves tremendously. The roots break through asphalt and concrete and are moving forcefully. It is also a body organization supporting massive volume and mass.

Q:
When I hear such a story, there are things I can appreciate very much. It is called "tree feeling".

Mr. Sega
Happy.

Q:
After the preview, with the other people excited with the story "What color did Godzilla look like this time?", Was Godzilla's coloring conscious of trees?

Mr. Sega
The ground color is deep blue. Even if a motif enters into a tree, it is a super evolved plant whose body tissue contains a large amount of mysterious metal elements. And the surface is hard like a metal. It is such a fiber structure that countless metal wires like huge wire supporting suspension bridge are knitted. It looks like a little greenery, because it lives in units of thousands of years, it is an image that moss is clustered on the body surface. The place where the body does not rub and the top face are especially large moss.

Q:
It seems that you can enjoy shaping deeper when you look while conscious of the color of Godzilla.

Mr. Sega
I think so. Various plant features are put in and the back is made with images like holly leaves. And it is "divineness" that is awe-inspiring. As us, we thought that Godzilla of this time wanted to be a kind of natural disaster, transcendent existence such as earthquake and volcano, exceeding living things. While it is frightening, it is also the object of faith.

Q:
Godzilla modeling leader, released to the movie on November 17 (Friday) will be released "The biggest lottery GODZILLA Monster Planet ~ Monster King evolves ~I was also in charge of figure modelingYuji SakaiSaw the expression of Godzilla and said, "This Godzilla is very gentle and looks like a very gentle look".

Mr. Sega
I am happy. Although it is a terrible existence, I dare notice the impression like a ferocious and ferocious predator. I thought that my eyes are smaller than my past Godzilla and I try to make it gentle so that I feel intelligence. It is aimed to make it existence of "divine thing" and "awe." Like T-Rex, if the head becomes huge with respect to the size of the body and the mouth becomes too big, "sense of dialogue" is still said, since the carnivore feeling comes out, the head ratio in the whole body is also small doing.

Q:
There was a story that there was advice on how to open the mouth during molding production. Again you should not open the jaw wide.

Mr. Sega
Yes. Please do not put out predator or intimidating facial expressions. When asked Mr. Sakai to mold it, there was also an opera singer in a sample of a standing pose called "This stood out like this" from the one-sided coach (laugh). It is not such a feeling as to intimidate or frighteningly "eat it from now", it is such an image that when you are screaming you feel a certain kind of dignity, that you want something beautiful presence.

Q:
This time it is said that Mr. Kagiya is in charge of the draft, but how did you decide the role sharing among the three people was it?

Mr. Sega
It is not clear. We made a wonderful draft for Mr. Kakubuchi, and we did a place to flesh out the story from there and make a world view with everyone. However, there was a thing that focused on the part which raised the entertainment nature of the whole movie such as editing and story composition, SF making and the world view setting I carried out relatively thickly. Also, I'm happy that the three of us are friendly and I do not remember meeting at the meeting, right?

Q:
Is not it! (Lol)

Mr. Sega
Is it wonderful of Toho's stuffing? I and Mr. Shino are originally friends personally, but this time for the first time with Mr. Kabuchi. But, Mr. Shizuno and the two of us talking often, "Mr. Fubuchi is really good".

Q:
(Lol)

Mr. Sega
Even though both of us have their own style, commitment and idea in each, there may not be sticking "Because it is my own idea". Even Mr. Kagiuchi's idea is three people of the type that can be taken in by Shizuno-san and my idea "I hope it's interesting". Mr. Kamiuchi is very writer-natured and may be thought that somehow my world exists strictly, but as Mr. Shizuno and my honest impression, anyway it is extremely flexible, Team work is also very easy to do.

Q:
Mr. Kamiuchi also spun off various works, but perhaps there is flexibility around that, perhaps because of that. Can we get inside each work world?

Mr. Sega
I agree. Also, it is those who can balance well by listening to people's opinions. This is also true for Mr. Shizuno. I like comparatively, listening to various opinions and enjoying while making lots of fun, so I think that it was good for these three people to do it.

(All lol)

Mr. Sega
Toho producers Mr. Furusawa and Yoshizawa who are doing together take in even more what they said "How about this" (laugh) So both of you got so many ideas. It really feels like "I made it with a team."

Q:
Mr. Fumiyoshi who worked for the first time this time and felt "also flexible", but what do you think is the charm as his artistic nature?

Mr. Sega
After all it is that there is a strong style such as "Serifs and developments unique to Mr. Ukifumi." As I and Mr. Shizuno say, "It is good to develop a bit like this as a movie," she says, "Well then, how about this" is an idea. There are so many "drawers" there. And whichever variation of "drawer" comes out, there is "likeness of imaginary". It's amazing that there are lots of variations, flexibility and individuality is right. I am already easy to work and there is no help for it.

Q:
It is easy to say opinions and various alternatives come out.

Mr. Sega
It's fun, I appreciate it. What do you mean by words? "How about this phrase?" "How about such a thing" comes out a lot. In the point that there are a lot of "drawers", Mr. Shizuno is also the same, so there are cases that "a lot of ideas come out and it is hard to choose." I think these three people would seem to be able to make many movies. From the scene it seems to get angry to say "What are you saying?" (Laugh)

(All lol)

Mr. Sega
I thought that I could make as much as you want, I was fun and stimulated anyway and I got a lot of my own ideas.

Q:
This "Godzilla" is a trilogy, so we will continue with the second and third part after this.

Mr. Sega
The story and the screenplay have already been completedPrescoIt is the stage where we are finished and now we are just making it.

GIGAZINE (hereinafter referred to as G):
Again, I would like to ask about the relationship between the director and the "Godzilla" series, but what kind of encounter was it?

Mr. Sega
I think that it was around 4 years old in kindergarten, but the first time I saw it was "Godzilla vs Dora"was. After that Toho-san was doing every year brought by parents "Toho Champion FestivalIt seems like to watch it with others. Also, when I was a kid I was watching a Godzilla rebroadcast on TV as the video deck was few in my home. "Star WarsStarting with the Hollywood movie all the way, all the way was basic movies. And while I was watching a movie using special shooting techniques, it seems like "There are Godzilla in Japan," I went back home. Of course, compared to everyone who prides themselves on Godzilla Mania, I am an absolutely fans of light, not so detailed.

G:
The encounter with CG is "TRONAre you around?

Mr. Sega
Strictly speaking, it is not CG, but I came across the CG coming out around "Star Wars" Death Star Capture and it was "What's this!" Of course, the subsequent "TRON" was also great. So, I stillWire frameI like it (laugh)

G:
(Lol)

Mr. Sega
John CarpenterDirector's "New York 1997Although there is a work called "display graphics" that appears in that movie, it is actually not CG but paint painted on the model made from wire, it seems to be CG style, but I like quite a lot. "2001 Space JourneyBut display graphics is not actually CG. But, it is stylish and affected. The feeling of "what this cool" for "CG-like" things is the origin is the origin (laugh)

G:
"I love you! I love you!" (Laugh)

Mr. Sega
I still like it (laugh) "Knight of SydneyFrom the early days of the display graphic wireframe is overpowder but it is "I like it" (laughs) There is a great deal of pretty good way to put out a wire frame (laugh)

G:
Even in this work, there are so many scenes of display graphics appearance. All the characters are watching the display, the display is here and there in the first place.

Mr. Sega
In terms of the amount of display, it's a little funny amount (laugh)

G:
I thought that I wanted to do it as well, and it was necessary as an expression.

Mr. Sega
I also like display graphics ... which is coolly visual, has persuasive power, and can play the role of explaining the development of the story properly.

G:
In creating display graphics, is there a goal?

Mr. Sega
For almost anything, we decide the basic concept. Rules and styles of things made up, are not they? As for the display graphics of this work, I am designing with the idea of ​​"time difference cubic". If it says something, it will display overlapping fragments that cut off one moment of "the depth, the way things change and move". In other words, "to express a solid by time difference". There is also the effect that the situation that it is fragmentary, that it can not capture the whole picture, excites the story, and it is in a style. Well, after all I still like wireframe expression (laugh)

G:
It can be said that it combines hobbies and profits (laugh)

Mr. Sega
"All my hobbies", but (laugh)

G:
In Godzilla in the play, there was an expression like "Godzilla's section view", is that ... ....?

Mr. Sega
I agree. We had a lot of so-called metaphor, meaningful on later stories, so we have become a graphic emphasizing "time difference". Speaking of preparation, various characters appear on the display, but the letters used by Earth humans and Vilsard, Exif are each properly corresponding to the alphabet.

G:
That means that you can read Bursald and Exif letters as well!

Mr. Sega
You can read it if you work hard enough. (Laugh) That is using fonts for three races, and we are hitting meaningful sentences in places. I think that it will require considerable effort to decipher it.

G:
Even on the image side there is a concept for each work, "BLAME!"In the video" vertical emphasis is the highlight ", but is there any concept on the image side in this work?

Mr. Sega
Is it still "I want to raise empathy and feelings of circumstances"? For example, the design inside an immigrant ship where three races, human race, Birsaldo and Exif are riding, is made slightly smaller, making it narrower. It is structured to constantly provide physical sense of oppression and psychological repression. On the contrary, the one after it got off to the earth was more spacious.

G:
On the ground that comes out in the works, although it is quite severe as an environment, (laugh)

Mr. Sega
When it was "BLAME!", I was doing just up and down exercise anyway (laugh). It was a mechanism to dazzle the audience, to embrace, to empathize with the circumstances of characters and to immerse in the space of the world of the story, but this time, I was concerned with "oppression and liberation" Become.

G:
In "Shin · Godzilla", a person (motion actor) in GodzillaNomura MansaiAlthough it became a topic with being thing called, is there someone in Godzilla of this work? If so, I was watching that motion thinking it would not be difficult.

Mr. Sega
There are no people inside (laugh), the animator is setting motion. Godzilla itself is made up of a fibrous body tissue which probably contains a mysterious metal element, so silhouette is also a muscle massKaneishoI am conscious of things like something like walking with dignity and dressing. Rather than being anatomical correctness, when symbolizing powerfulness or braveness as an image, it is an example of being interpreted ah. Actually, the statue of Kim Jong Il is taken care of in various ways.

G:
It is a good physique. Godzilla is different in each face from face to body, but when I saw Godzilla's appearance for the first time in the movie, I was surprised that "This is a massive body with a triangle physique and a small head."

Mr. Sega
Also, the legs are long.

G:
Is it long? (Laugh) It is surprising.

Mr. Sega
It is an image that can also dash if it comes with a long leg (laugh). In fact, the movement also looks relaxed but ...... For example, a large eruption plume of the volcano, there may seem to be moving slowly, far away, only be seen so too large, per hour number approach to buckwheat It is spreading at the violent speed of 100 kilometers. Godzilla also, but it has seen slow too large, is moving at a go and tremendous speed to buckwheat. I am doing such a way of drawing.

G:
It was because of the image of a camera placed at a distance.

Mr. Sega
That's what it is. It's awesome, so when you shake the tail, you can see it slowly from a distance, but in fact the tip of the tail exceeds the speed of sound.

G:
This time, the music flowed brave BGM that seems "Haruo is" defense army ". Is that a song with that meaning?

Mr. Sega
Well, indeed, as a brave BGM of the human race who advances to consult with him that he wants to emphasize "braveness"Takayuki HattoriI got it in.

G:
Although the story will fly to production,Polygon · PicturesSpeaking of Mr. Mr., I heard that the management of production is very solid, and in "Sydney's Knight," two months before the start of the broadcast, the whole story delivery was completed.

Mr. Sega
(Laugh) Basic is always the case.

G:
On the other hand, when I work with a computer, I hear that there is something to be done all the time because the redoing is effective as much as possible ... ...

Mr. Sega
No, there is not such a thing at all.

G:
Oh, is not it? I was convinced that it would be done until the end, but that is the reason that production management is done firmly.

Mr. Sega
Rather, I think that "I can reduce the number of redoing times" is a game. It is not necessarily the case that our 3DCG studio like animation making animation and so-called animation company using CG is actually nothing like it. The nature of our process is rather close to "architecture".

G:
Is "architecture"?

Mr. Sega
We will design and prototype what kind of building, how to build, how to build, based on planning and budget. We prepare the materials on that and bring it to the site and proceed with enforcement. On the way "When you are going to build a 30-story building, only prepared materials for 20th floor" or "There was no door to turn on the stairs", in the case of architecture, I guess it is impossible to imagine that it is indeed a condition that can not be recovered. 3DCG is close to that, and it is a real game where designing, prototyping and material preparation are done.

G:
Ooo, I see.

Mr. Sega
To put it another way, "Things that can not be done with guts is 3DCG" (laugh). With 3DCG, it is hard to say "I will handle it later" against fatal ones. On the contrary, if the work is routinely quantified, that is, if it can be commercialized, it will be easier to schedule and quality control.

G:
That is why the preparation of the first material is a game.

Mr. Sega
That's right. MaterialsAssetHow much to prepare and how to make it.

G:
That means that the second and third part already have assets and that Presco is over, so only to "just build" ....

Mr. Sega
Basically it will. However, it is hard to build even "just to build" (laugh)

G:
(Lol)

Mr. Sega
So far I have done works of Celluk CG with Polygon · Pictures, "Knight of Sidnia" "Anonymous" "BLAME!", But this work is the most difficult. A story space with a large scale range from micro to macro, many characters embroidered, things occurred simultaneously and many times .... Even if it is "Sydney", even if it is "BLAME!", The world was a boxy garden ... ... it is serious.

G:
Is it like a culmination of what has been accumulated over the works that have been handled over the past five years?

Mr. Sega
Culmination ... ... is a bit bigger, but that's true, it might be one "milestone" that has come to this point.

G:
I see. Thank you very much.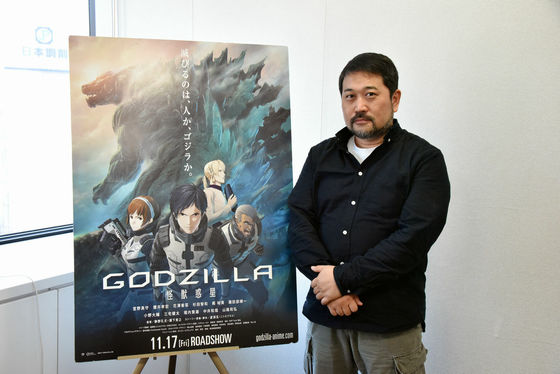 NHK's camera is in close contact with the production site of "GODZILLA Monster Planet" this time, how the new Godzilla was created, what kind of promotion was done, Toho's "Godzilla Project" one of the wings The program to clarify "Anime Godzilla" as existence playing a role is created, and it is decided that it will be broadcast on NHK - BS 1 from 22 o'clock on Sunday, December 3.

BS1 Special "Evolution of Godzilla! ~ Challenge for the Nippon Animation World" - NHK
http://www4.nhk.or.jp/bs1sp/x/2017-12-03/11/15750/2393147/

◆ Godzilla gate
As part of promotion, Shinjuku station east exit is limited for a limited timeGodzilla gate"Was set up.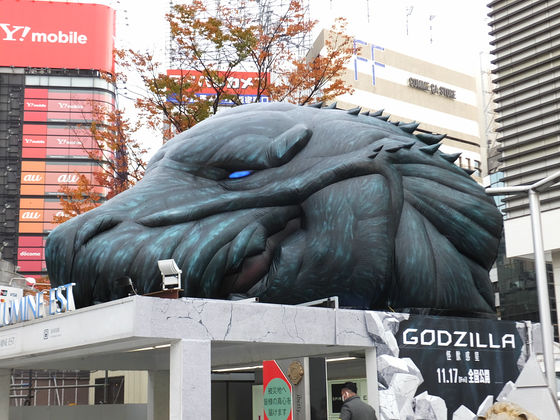 Behind Godzilla's head was the letter "From Shin · Godzilla to Angorge".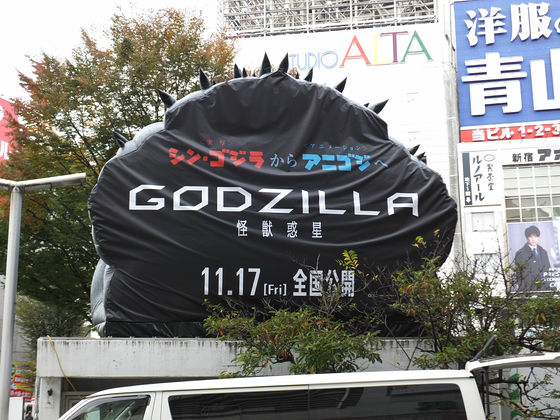 This Godzilla is made of balloon. The figure in the middle of the work was like this and it was white.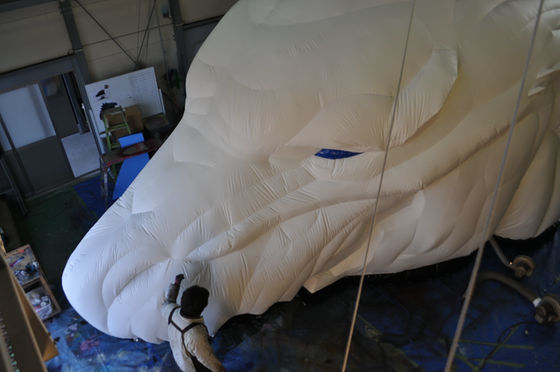 From the top of the head to the back are projections like thorns.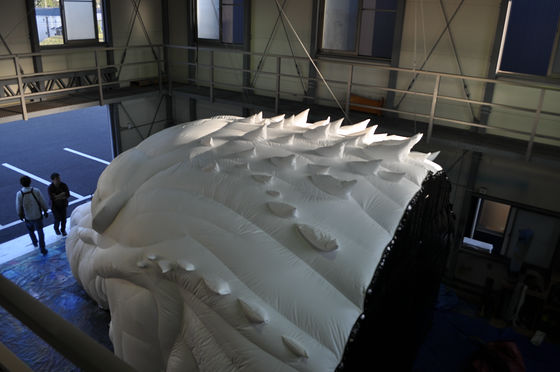 Of course the painting is done, but at this point it is very similar to Anisogi but it is a color that does not look alike.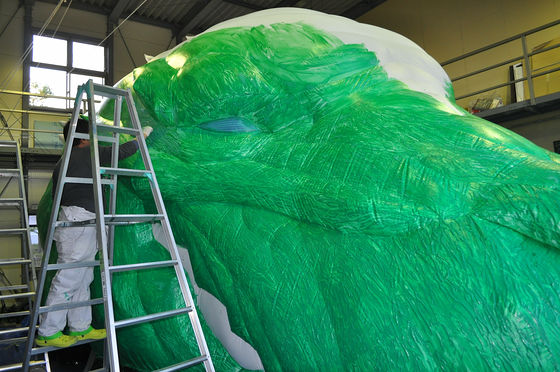 I will overlay the colors there and bring it closer to Ani Giji.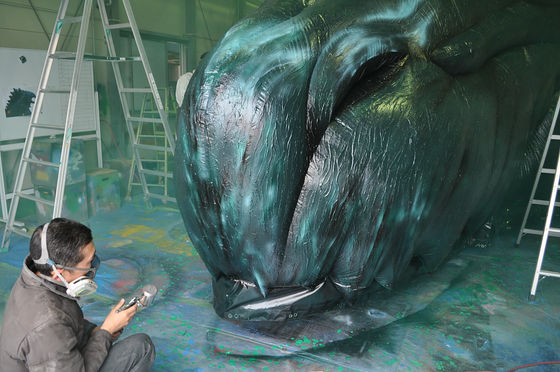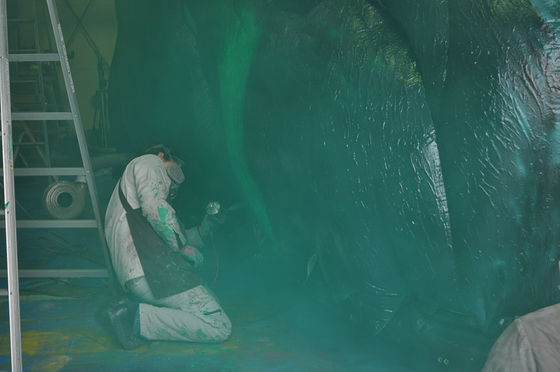 As Director Seki says, "The color of the earth is blue" and "The moss grows green" has become the impression. The head is still bright green ... ....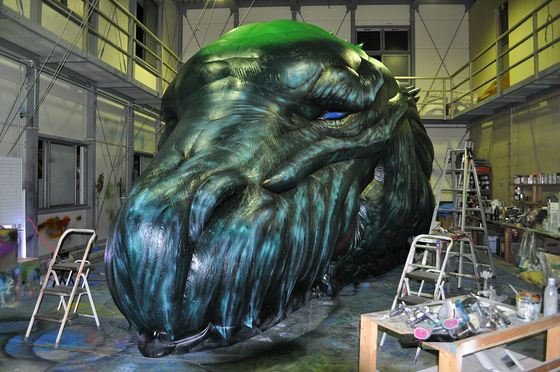 I will finish it in the same way.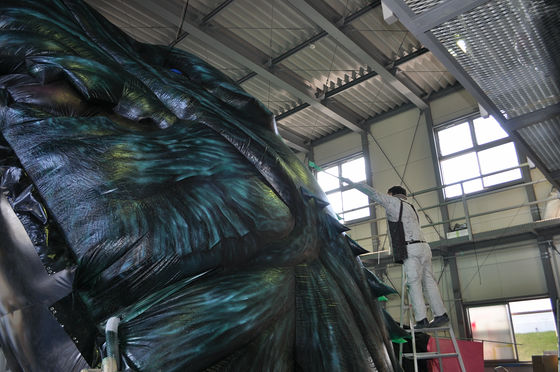 This is almost complete.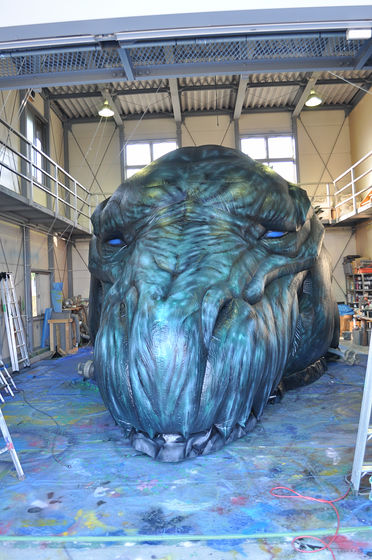 The eyes have a gleaming gimmick.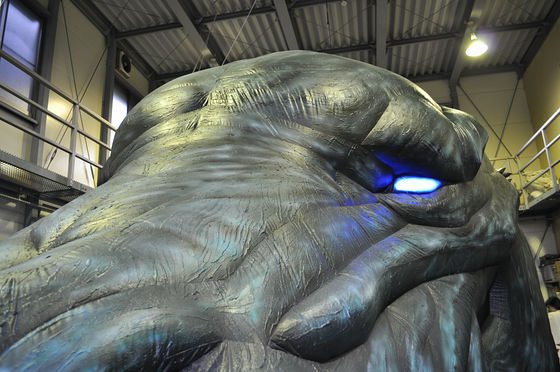 Gate installation was done quickly in the evening. First of all, lift the steel frame which becomes the foundation with a crane ......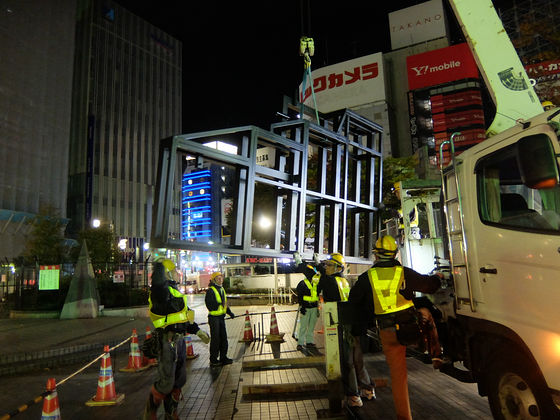 It is installed on the ceiling of the stairway entrance.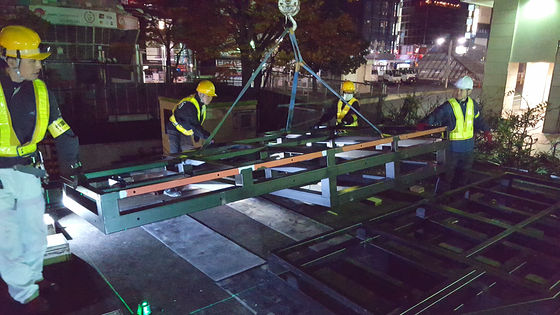 Inflate the balloon on it.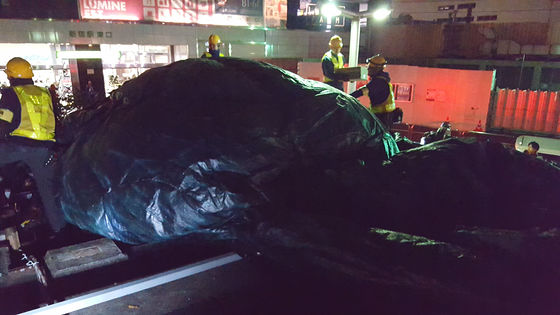 It seems that work has been completed in about 3 hours.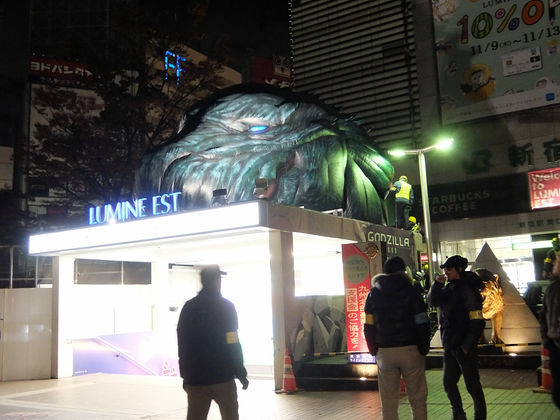 At the same time, the stairs themselves were decorated. A huge illustration with a message saying "The greatest Godzilla appearing in history" utilizing the side of the column.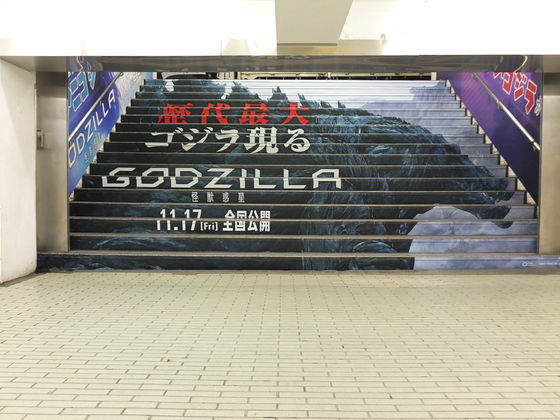 "Shin · Godzilla " on the side wall of the staircase ... ...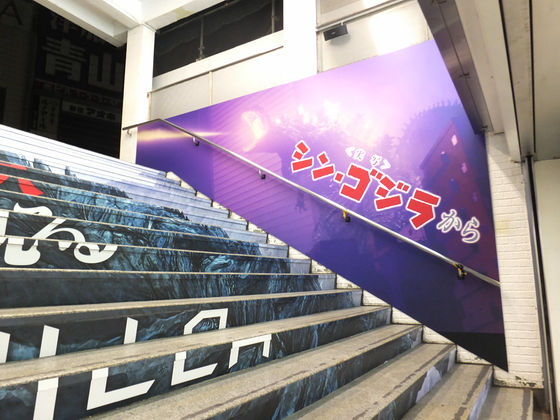 There is a picture of Baton relay named "To Anijiji ". Either Godzilla is under full attack.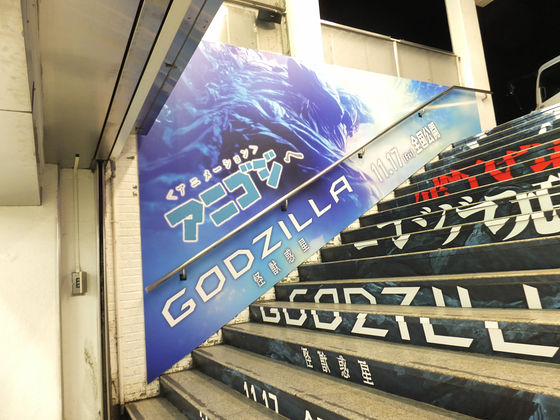 The impression that during the day, together with the color "Godzilla head with a sense of weight appeared" ... ...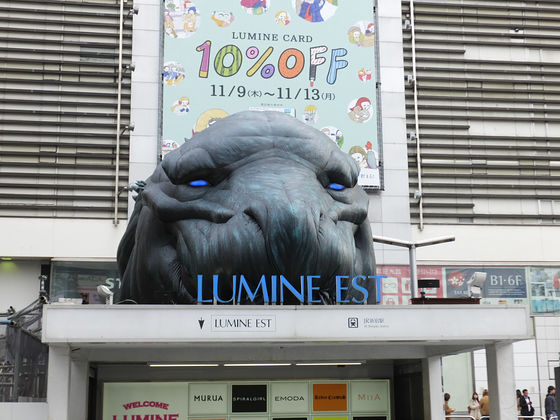 The eyes shine at night and somewhat scary. It is designed as a subject of "awe", so it may be wrong with that.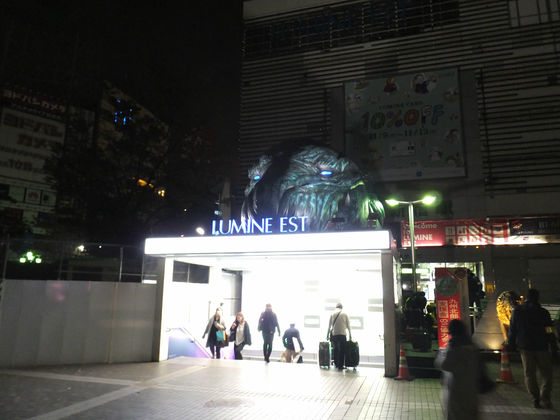 The movie "GODZILLA Monster Planet" is now publishing acclaim. In the opening week of the opening, the screening hall is not so many but a lot of big fight that dig into the third place.

Weekend box office results, few libraries but a great fight ... Thank you very much for everyone who is supporting me (T_T)# Anisogie# Monster Planet# GODZILLA#Godzillahttps://t.co/qInlRmtuzT

- Hiroyuki Sakashita Hiroyuki Seshita (@ HS Sohita)November 20, 2017