What is the reason why old addons not compatible with WebExtensions API are truncated in "Firefox Quantum"?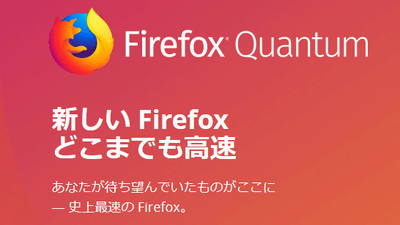 We have evolved dramatically with the next generation web engineThe official version of "Firefox Quantum"Has appeared. From people who use Firefox for a long time, you should have worried that "it's my favorite but that extension (add-ons) will not be available for a long time", but as Firefox, that old add-on It seems that the decision to truncate was absolutely necessary.

Why Firefox Had to Kill Your Favorite Extension
https://www.howtogeek.com/333230/why-firefox-had-to-kill-your-favorite-extension/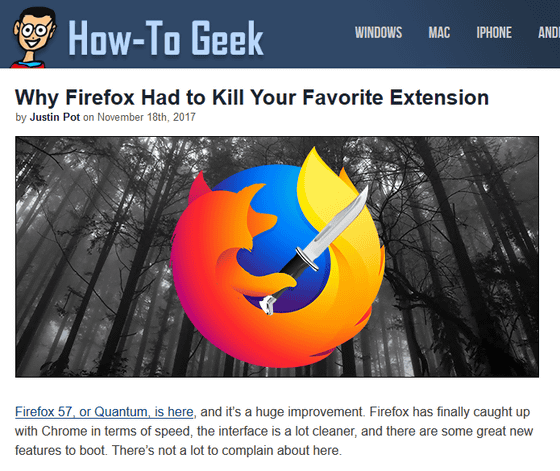 Firefox addon for a long timeXML User Interface Language (XUL)It has been written in. Since the Firefox user interface was also written in XML, add-ons can change the interface directly, and component technologies used by Firefox ·XPCOMThe fact that it was almost fully accessible also supported the power of the Firefox add - on.

However, Justin Pot of How-To Geek wrote, "This point is also the reason why old addons can not be used in Firefox Quantum". This is because there was a case that what the user had conceived as "Firefox is defective" is a problem caused by the add-on until now. It's easy to imagine that the development pace of Firefox will be slow if you proceed with development while verifying that the popular add-on will work without problems even in the new version.

Chrome and Safari also have an "extended function" mechanism, but "a specific API that extension developers can use" is provided, and strong authority is not given like Firefox's traditional add-on . So, in Firefox as well, by adopting the WebExtensions API which clearly defines "what can addon do" and "how it works", we decided to manage add-on development similar to Chrome etc. Instead of steering in a direction to eliminate the situation that "Firefox is broken due to addon". In the long term, instead of reducing the situation of "why add-ons will not work", we decided to abandon the mechanism around the old add-ons.

According to Mr. Pot, there was also a problem of "cross-platform compatibility" as a reason for switching Firefox's "add-on ecosystem". Simply comparing only the number of addons, Firefox, which has been developed for a long time, has many numbers, but there are also many aspects that are no longer being updated, such as "grave ground of add-ons". Meanwhile, the WebExtensions API offers Chrome extensions and development languages ​​that are close, with the added benefit of being able to port to Firefox add-ons by slightly changing Chrome's extensions.

There are some people who say that there is such a movement "When you truncate the old add-on, the number of users will decrease", but Pot said that Pot also said that "Firefox has already taken away users to Chrome, The solution is Firefox Quantum. "

Also, since it has been notified two years ago that Firefox can only use add-ons using the WebExtensions API since it has been notified two years ago, if it still does not correspond, developers just lose their mind to develop or just do not update There seems to be a reason for that, there seems to be a judgment that there is no use in Firefox Quantum even if it can not be used.