Does iPhone in 2018 appear as inexpensive terminals with the same bezelless design as "iPhone X"?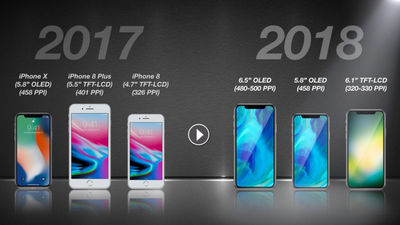 Everything is newly born changed "iPhone X"However, the price has become a considerably expensive model starting from 112,800 yen tax. About this priceLow-priced version "iPhone X" appeared in 2018Although it was also reported, new analysts of KGI Securities predicts that in 2018 an inexpensive iPhone with Face ID will appear in bezelless design.

KGI: Apple to Launch 6.5-Inch 'iPhone X Plus' and Lower-Priced 6.1-Inch Full-Screen LCD Model Next Year - Mac Rumors
https://www.macrumors.com/2017/11/13/kuo-three-new-iphones-2018/

KGI: Apple adding 6.5-inch OLED and 6.1-inch LCD bezel-less iPhone to lineup in 2018 | 9to5Mac
https://9to5mac.com/2017/11/13/kgi-6-5-inch-oled-6-1-inch-lcd-iphone-2018/

Mr. Ming Qi Kuo, an analyst of KGI Securities and well-established by Apple-related forecasts, predicts the 2018 iPhone 3 model. Mr. Kuo predicts that in 2018 Apple will add two terminals with new display sizes, while one is the conventional LCD (liquid crystal display) model, while the display size has expanded to 6.1 inches, the bezelless design Evolved terminal. The other is a 6.5-inch OLED (organic EL display) model, which is said to be a large version of iPhone X as a standing position. I predicted that 3 added with the same 5.8 inch model as iPhone X will be the iPhone released by Apple in 2018. All three models are bezelless design, it means that you will have a TrueDepth camera on top of the display.

The three models that are expected to appear in 2018 are as follows. The center is the same model as the iPhone X, the pixel density of the 6.5 inch model is 480 to 500 ppi, the 6.1 inch model is expected to be about 320 to 330 ppi as it is the liquid crystal display.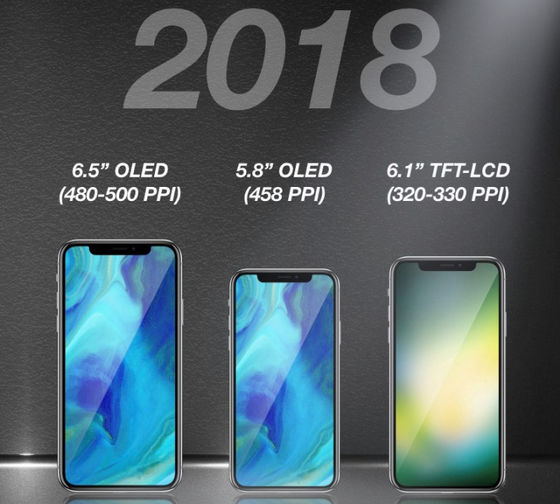 With these three models, KGI Securities analyzes iPhone shipments in the second half of 2018 exceeding 120 million units. In addition, the iPhone shipped in the second half of 2017 is 80 million units, and it sees that it can be expected to exceed the value much in 2018. IPhone X that appeared in 2017Production problemsHowever, the problem was solved, and furthermore, the 6.1-inch model as a cheaper intermediate model than iPhone X appears, so we expect that demand will rise further. KGI Securities predicts that the price will be reduced to between $ 649 (about 74,000 yen) and $ 749 (about 85,000 yen) because the 6.1-inch model is equipped with Face ID but adopted liquid crystal display It is. In addition, the selling price of iPhone X is 999 dollars (118200 yen excluding tax).

Apple's current mainstay products are 4.7 inch iPhone 8, 5.5 inch iPhone 8 Plus, 5.8 inch iPhone X 3, but the iPhone 8/8 Plus remains the same front design as iPhone 6 and later, TrueDepth camera You can not use face ID, animation character, portrait mode etc. with in camera. On the other hand, if three models appearing in 2018 become the predictions of KGI Securities, everything becomes a model equipped with a bezelless design TrueDepth camera, so whichever model you purchase you can use Face ID, Anni, In At this moment such functions as portrait mode with camera will be able to use functions which can only be used with iPhone X.