A 17-year-old boy succeeds in photographing aimed at the timing of less than 1 second overlapping the International Space Station and the moon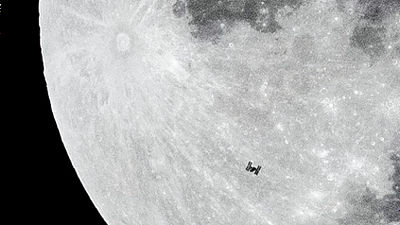 John Klaus, a 17-year-old boy living in Florida successfully photographed photos capturing the moment when the moon overlaps the International Space Station (ISS), which fly at about 28,000 km per hour.

Home | John Kraus
http://johnkrausphotos.com/

I Photographed the ISS Crossing the Full Moon at 17,500 mph
https://petapixel.com/2017/11/06/photographed-iss-crossing-full-moon/

The moon taken by Mr. Klaus and the photos of ISS are Kore. Although it is a splendid work just as a photograph that captures the expression of the moon as thoughtful, it is an excellent photograph that the ISS is small reflected in the lower left.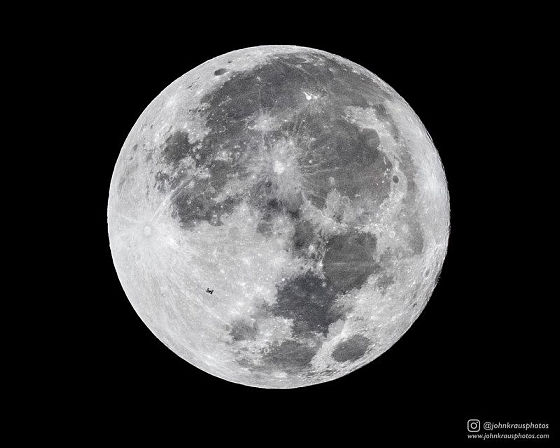 The time when the photograph was taken is 4:19 am on November 4, 2017, and the place is near the Kennedy Space Center Titus building in Florida. It is only 0.9 seconds that the ISS can fly together with the moon to fly at a tremendous speed of about 400 km above the ground at a speed of 7.7 km / sec.

It is impossible to capture such timing by chance. Therefore, Mr. Klaus seems to have taken a picture by using the site "ISS Transit Finder" which can check the timing when ISS passes through, and finding the time of the very moment ISS crosses the moon in front of the moon.

International Space Station Transit Finder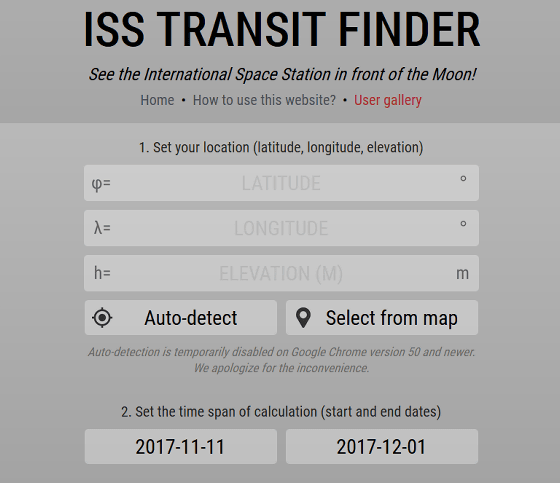 The equipment used for shooting was Nikon D 500 and Nikkor 200-500 mm f / 5.6 lens. The setting of the camera is as follows and it seems that I have paid close attention to the fact that ISS which fly at high speed does not shake anyhow. Although the shooting mode is unknown, it should probably be in manual.

·shutter speed:1/3200
· Aperture value:f / 7.1
· ISO:640

In addition, Mr. Klaus set up so that the camera accurately catches the moon using 'Equatorial Mount'. The one actually used was a Sky-Watcher motor driven equatorial mountStar Adventurer S20510It seems to have added an option to track the moon.



Furthermore, in order not to miss shooting timingTime.isBy using the minute to accurately grasp the time in seconds, I did not miss the passage time I checked in advance. Nevertheless, Kaws saw 20 or 24 seconds It is said that we shot at both timings.

Finally, at the moment of passing, when shooting with five consecutive shots for a second, I successfully shot the moon and ISS pictures. Pictures that can not be photographed simply by simply aiming were those shot in this way.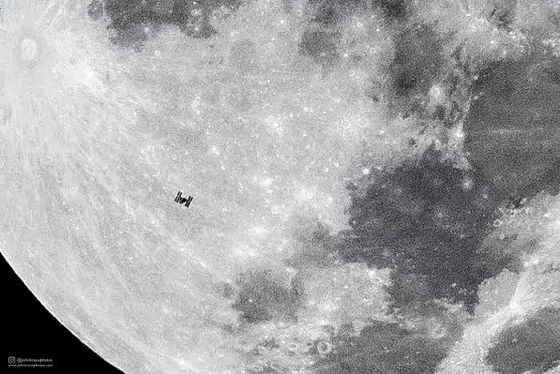 Klaus is 17 years old who is demonstrating professional skills with photographs of heavenly bodies and rockets and aerial photographs using drone. Works other than photos taken this time can be seen on Instagram as well as Klaus' s site.

John Kraus (@ johnkrausphotos) • Instagram photos and videos
https://www.instagram.com/johnkrausphotos/
in Note, Posted by darkhorse_log