Tesla pushing manufacturing trouble for Model 3 production announces the worst quarterly financial results of the past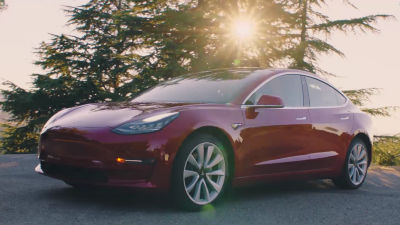 Popular price range EV from 35,000 dollars (about 4 million yen) "Model 3 (Model 3)Although it is Tesla which released Tesla, a big problem has occurred in the production process, and it can not be handed over to most of the users who have made reservations. Tesla announced the worst quarterly settlement of accounts since its establishment, due to the manufacturing problem of Model 3, the key product to make Tesla a big breakthrough.

(PDF file)EX - 99.1 - TSLA_Update_Letter_2017 - 3 Q. pdf

Tesla gives update on Model 3 production problems, delays ramp up by 3 months | Electrek
https://electrek.co/2017/11/01/tesla-model-3-production-delays/

Tesla misses first major model 3 goal in worst financial quarter ever - The Verge
https://www.theverge.com/2017/11/1/16593582/tesla-model-3-production-q3-largest-quarterly-loss

Tesla had set a long-term goal of manufacturing 5000 models 3 per week in 2017, but in reality there are problems with the manufacturing process, the production volume in the third quarter of 2017 was 260, There are only 220 units sold. Tesla announced that "there is a bug in solving the bottleneck problem," but the model 3 production plan was revised to "5000 units per week by the latter half of 2018". This means "a delay of about three months", which is likely to be a major opportunity loss for Tesla with many reserved guests.

The state of manufacture of Model 3 can be confirmed in the following movie.

Model 3 General Assembly - Vimeo


Tesla's third quarter (Q3) settlement accounts for a huge deficit of $ 619 million (about 70 billion yen) since its inception, following the manufacturing problem of Model 3. Stock prices have fallen by more than 5% on overtime transactions.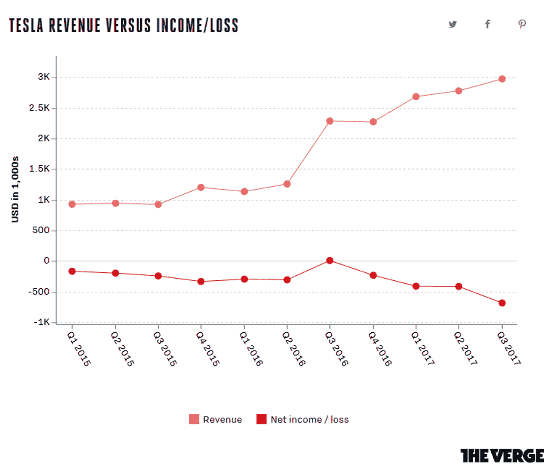 Tesla stated in the settlement statement that "Although the elimination of bottlenecks in Model 3 continues to make major progress every week, it is difficult to predict exactly when new problems will emerge," he says. Model 3 It is uncertain as to when the production will be on track. Furthermore, in order to reinforce the production of Model 3, Tesla plans to reduce the production of Model S · Model X of the existing model by about 10%. Also, the announcement was scheduledEV semi-trackIt is also pointed out that the schedule of postponement will be postponed.

Approximately 700 people including 2 managers of Tesla's employees were dismissed and sued Tesla for unfair dismissalAlso filed a labor lawsuitIt is not only trouble in the manufacturing process but also trouble of labor and management. By stopping the manufacture of Model 3, rivalChevrolet VoltAnd Nissan's new modelReefIt is obvious that you will be deprived of sales opportunities, and Tesla is said to be at a critical moment.