CIA announced the publication of 470,000 documents on Osama bin Laden · 321 GB, the site temporarily stop publishing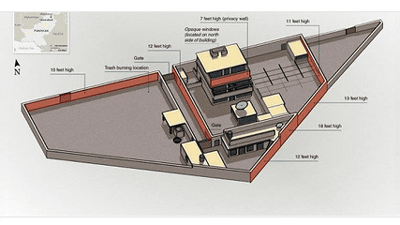 The CIA announced the release of data stored in the computer of Osama bin Laden, one of the leaders of the international terrorist group Al Qaeda and murdered by the US military in Pakistan in 2011. The data is as much as 470,000 · 321 GB and the CIA attached "Attention because it does not completely exclude malware" about data handling, but as of 11 November 2017, " Public pending for solving technical problems "is displayed.

CIA Releases Nearly 470,000 Additional Files Recovered in May 2011 Raid on Usama Bin Ladin's Compound - Central Intelligence Agency
https://www.cia.gov/news-information/press-releases-statements/2017-press-releases-statements/cia-releases-additional-files-recovered-in-ubl-compound-raid.html

CIA releases 321 gigabytes of Bin Laden's digital library, Web cache crap | Ars Technica
https://arstechnica.com/tech-policy/2017/11/cia-releases-321-gigabytes-of-bin-ladens-digital-library-web-cache-crap/

CIA in Japan time on November 2, 2017 at 1:41 am "Today, we released about 470,000 files collected during the surprise of Osama Bin Laden of Pakistan / Abotterbird in 2011 We released data release with tweet "I did it."

Today we released nearly 470,000 files recovered in 2011 raid on Usama Bin Ladin's compound in Abbottabad, Pakistan.https://t.co/QZcoAu3uEwpic.twitter.com/Dn8awV9ndn

- CIA (@ CIA)November 1, 2017

As of 11 am on November 2nd of Japan time, it is described in tweetLinkWhen you click, the publication of the page is postponed as shown below and it is in a state where it is redirected to the CIA's top page.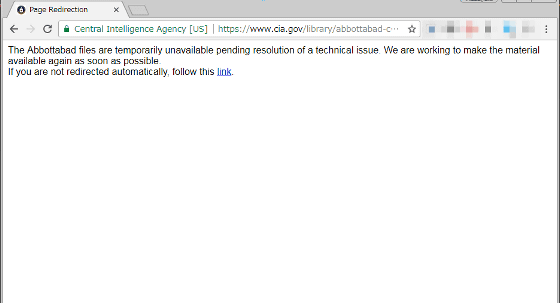 According to the CIA, the included data are documents, images, moving images, voice data, etc. The contents are propaganda material of al-Qaeda (al-Qaeda) and its manuscript, a home photographed by his son Hamza Bin Laden Video etc. It is also announced that many other "garbage files" are included.

· Usama Bin Ladin's personal journal and more than 18,000 document files.
· Approximately 79,000 audio and image files, which include practice reels for public speeches, audio correspondence, and imagery gathered or generated by al-Qa'ida for a variety of purposes.
· More than 10,000 video files, which include a video of Hamza Bin Ladin as a young adult, al-Qa'ida "home videos," draft videos or statements by Usama Bin Ladin, and jihadist propaganda.

(Translation)
· Personal record of Usama · Bin Laden and more than 18,000 document files
· Approximately 79,000 audio and image files. This includes recorded speech practice, voice call records, albums collected by al - Qaeda for various purposes.
· Over 10,000 video files. This includes Mr. Hamza Bin Laden in the latter half of the teens, "home video" by Al Qaeda, a statement by Dr. Mozart and Osama Bin Laden, and jihadist propaganda.

In addition, CIA urges attention to the handling of files as follows.

Please view it with discretion. Prior to accessing this file collection, please understand that this material was wasted from a While the files underwent interagency review, there is no absolute guarantee that all malware has been removed.

(Translation)
Materials contained in this file include offensive and / or emotionally aggressive content. This material is not suitable for all generations of people. Please browse with extreme caution. Before accessing the file, please understand that this file was seized from the terrorist group. Although confirmation by CIA is completed, there is no certain guarantee that all malware was removed.

In addition, it is said that content that conflicts with copyright, such as movie movie files and game files, is not disclosed for protection of rights.

·Antz("ANTS")
· Batman Gotham Knight("Batman · Gotham Night")
· BBC Great Wildlife Moments(BBC program)
· Biography - Osama bin Laden(Book)
· Cars("Cars")
· Chicken Little("Chicken Little")
· CNN Presents: World's Most Wanted(CNN's program)
· Final Fantasy VII("Final Fantasy VII")
· Heroes of Tomorrow("Next Avengers: Future Heroes")
· Home on the Range("Save Home On The Range Lively Farm!")
· Ice Age: Dawn of the Dinosaurs("Ice Age 3 / Tyranno's Big Boss")
· In the Footsteps of bin Laden - CNN(CNN's program)
· National Geographic: Kung Fu Killers(National Geographic program)
· National Geographic: Inside the Green Berets(National Geographic program)
· National Geographic: Predators at War(National Geographic program)
· National Geographic: World's Worst Venom(National Geographic program)
· Peru Civilization(?)
· Resident Evil(Game "Resident Evil"?)
· Storm Rider - Clash of the Evils(Animation "Fuukyuu Storm Riders")
· The Kremlin from Inside(TV program?)
· The Story of India(TV program?)
· The Three Musketeers(Movie "Three Musketeers / Queen's necklace and da Vinci's airship")
· Where in the World is Osama bin Laden(Comedy / documentary film)

Moreover, important files concerning national defense are also not disclosed. I am wondering what kind of files actually are included, but in a state where publishing of the site is stopped, it is hard to find anything wrong. It is said that some of the files contain pornographic works, and there was also one case that the world made noise about its contents.

Reason why Bin Laden 's "AV Collection" is aroused | World | Latest Articles | Newsweek Japan Official Site
http://www.newsweekjapan.jp/stories/world/2017/09/av-1.php

The file to be released this time will be greatly added to the file that was released several times by January 2017.

Bin Laden's Bookshelf
https://www.dni.gov/index.php/features/bin-laden-s-bookshelf