Anker's waterproof Bluetooth earphone pursuing a fit to the ear "SoundBuds Curve" review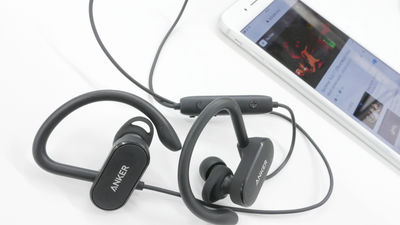 Since the code of the Bluetooth earphone is not connected to the playback equipment, there are many people who feel difficult to put out their hands, feeling "Earphones are likely to come off if they do intense exercise." In order to solve such anxiety, it can be fitted to ears of any shape, it is difficult to come off during exercise,IPX 5Anker's Bluetooth earphone which also corresponds to the waterproof standard "SoundBuds Curve"Has appeared at 10 am on November 2, 2017 (Thursday). In order to realize a powerful and transparent sound, it is possible to transmit voice data with high sound quality and low delayaptXI also tried using earphones early that I also stuck to the sound quality correspondingly.

Anker | SoundBuds Curve Wireless Earbuds (Black)
https://www.anker.com/products/variant/SoundBuds-Curve-Wireless-Earbuds(Black)/A3263011

◆ Appearance check
The "SoundBuds Curve" box is white and blue coloring common to Anker products. Product pictures are printed on the surface of the box.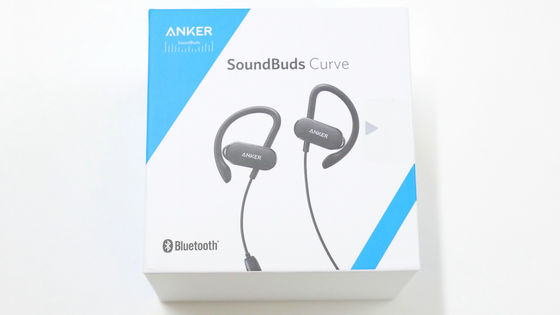 I will open it quickly.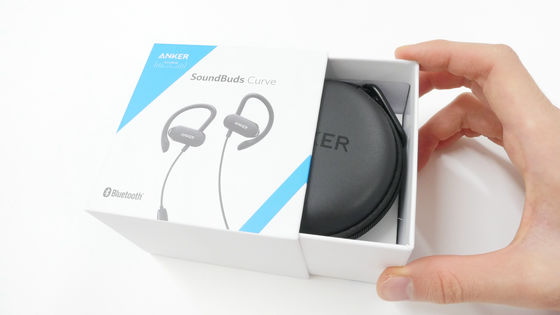 The contents are "SoundBuds Curve" main body which entered into the travel pouch, instructions, 5 kinds of ear tip (XS / S / M / L / XL), three kinds of silicon ear wing (S / M / L), fit clip, shirt clip.



The "SoundBuds Curve" main body was stored like this in the travel pouch like this.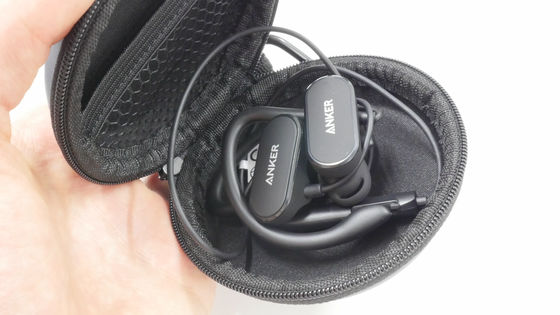 The cable is connected between the left and right earphones, and the controller is attached near the earphone attached to the right ear.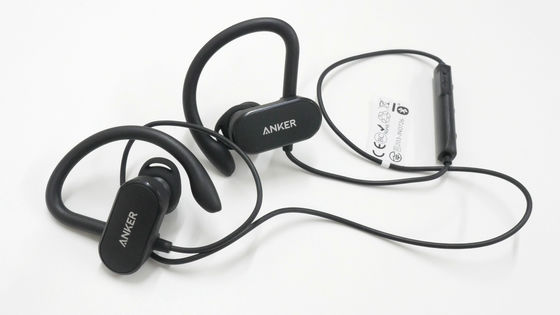 A conspicuous ear hook is made of silicone, soft touch and a feeling made into a honey.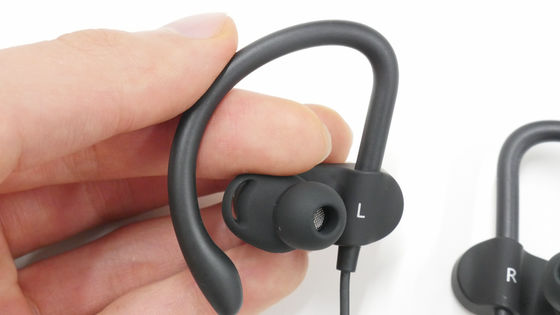 Controllers are "Volume Up", "On / Off" and "Decrease Volume" buttons in order from the left. In addition to the volume control, you can move to the next song / previous song by holding down "LOW VOLUME" or "LOW VOLUME" button for one second. With "ON / OFF" button press and hold for 1 second to power on, press and hold for 3 seconds to power off, play music and pause, answer / end the phone, long press for iOS voice assistant " Siri "and activation of voice recognition software.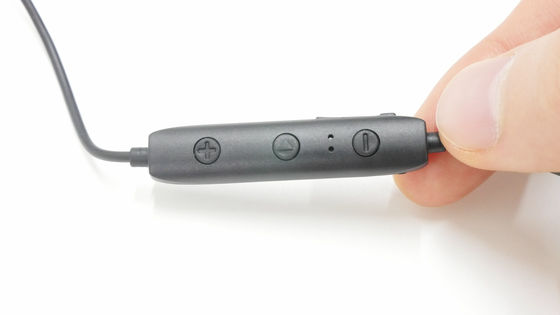 Opening a small rubber pad on the side of the controller ......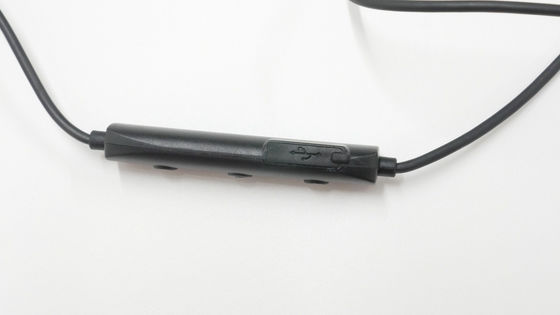 There is Micro - USB port, it can charge by inserting Micro - USB cable. It can charge up to full with charging for about 1.5 hours, music reproduction for about 12.5 hours in a row, and about 14 hours of continuous calling possible. As a Bluetooth earphone, it can be used for quite a long time continuously, and unless you forget to charge it, it seems that music will not be interrupted during exercise.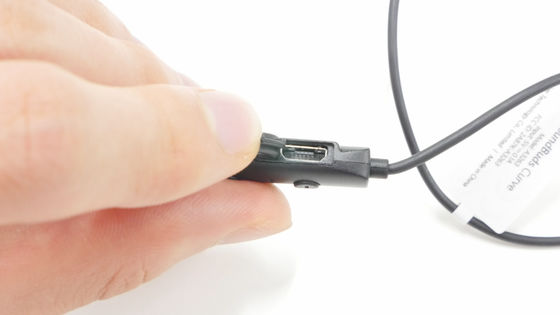 ◆ I tried using
First of all, pairing work with voice terminals. Press and hold the "ON / OFF" button at the center of the controller of "SoundBuds Curve" for 3 seconds. Then you enter pairing mode and the controller's LED light blinks blue.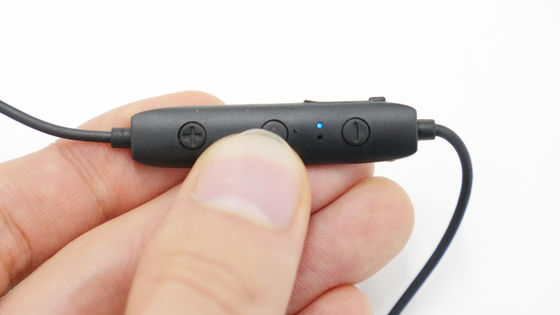 When entering the pairing mode, open the Bluetooth setting screen of the Bluetooth device you want to connect and tap "SoundBuds Curve".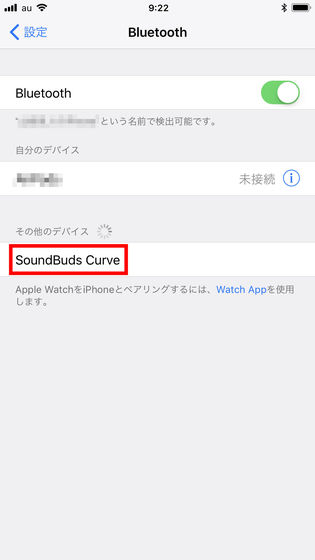 Bluetooth setting is completed when the display becomes "connected". You can check the remaining battery level of "SoundBuds Curve" from the display screen of the connected device.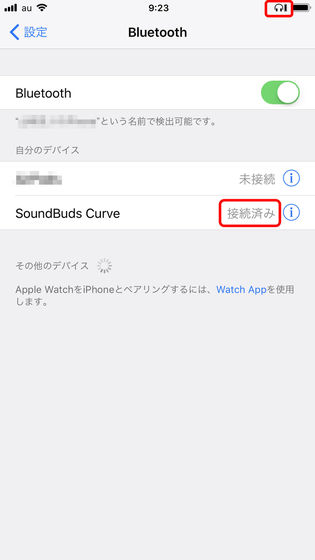 When I actually wear it it looks like this. Because the ear hook on the ear is made of soft silicone, there is almost no discomfort at the time of wearing. The earphone part that fits perfectly in the ear has high sound insulation, and the surrounding sound such as the talking voice was almost shut out in the state where the earphone was worn. When I listened to music, I could hear clearly the sound of each instrument, and it was easy to keep track of the sound of the same instrument all the while in the music. When other editorial staff also listened to the audition, I got an impression that "heavy bass sounds very well".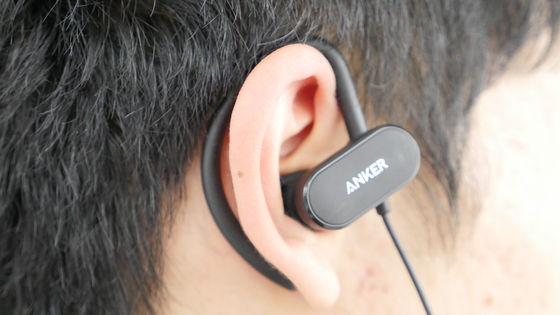 Since the controller is on the right side of the neck at the time of installation, it can be operated by clicking with the right hand with ease.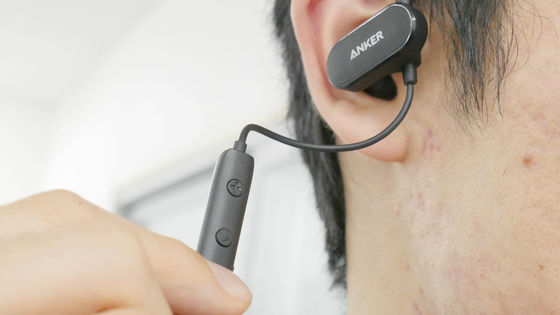 "SoundBuds Curve" has a microphone so you can talk. Since you can also control the call on / off, you do not have to bother to take out the smartphone for a call. Also equipped with "CVC Noise Canceling" function that reduces noise during calls, when used in a place where radio waves are mixed where noises are mixed in ordinary mobile phones, almost noises can not be heard, I was able to hear voices vividly. However, "CVC noise cancellation" merely removes noise from the voice signal and does not make the radio powerful, so it is not possible to make a call even if it is used in places where radio waves do not reach.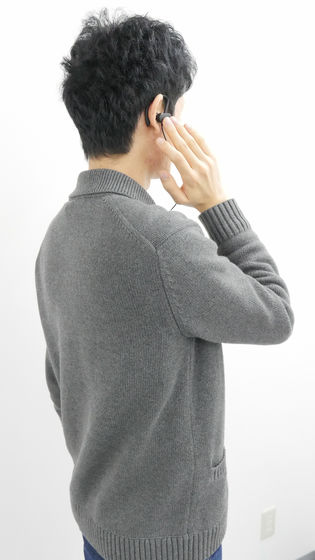 "SoundBuds Curve" can be customized to best fit your ear by replacing the ear tip and ear wing of the earphone. There are five types of ear tips combined with those attached to earphones, and three types of ear wing.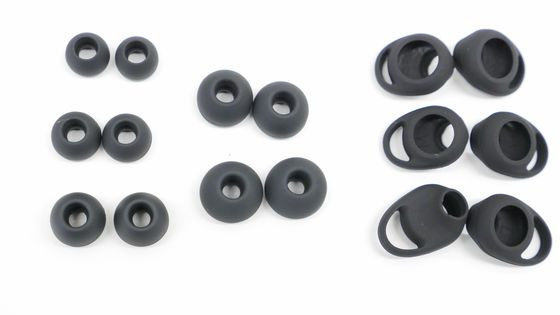 It will be OK if you replace it with ear tip and ear wing that seems to fit perfectly with your ear.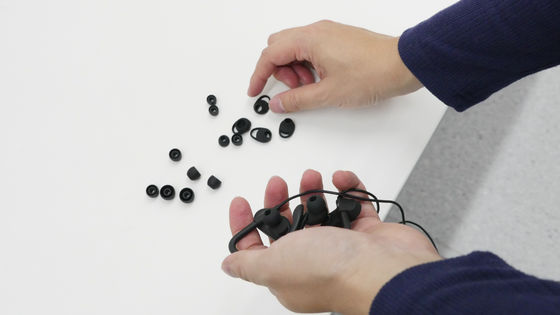 You can freely change the fit condition of the earphone according to the shape of the ears and the situation at the time of wearing.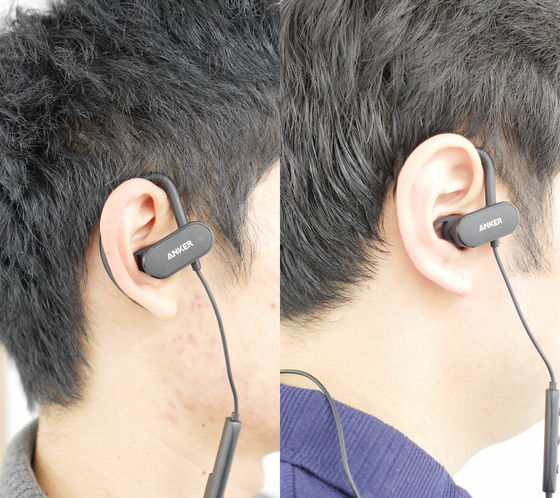 While wearing "SoundBuds Curve" I shook my head or ran, but the earphone fitted firmly in my ear and could not come off. Even during jogging and more intense exercise, it seems that you do not have to worry about earphones getting off. Also, you can hardly feel the sound skipping while you are running, and you do not need to worry that Bluetooth earphones often tend to "be in a situation where the communication condition of the radio waves get worse and you can not hear ..." I thought.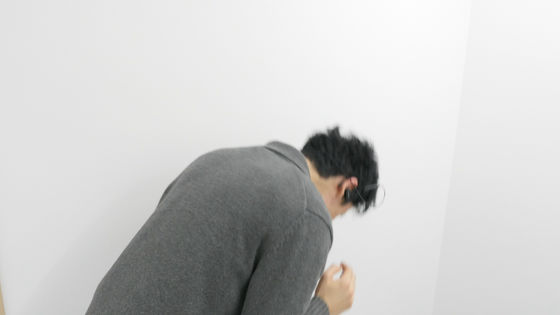 Also, "SoundBuds Curve"IPX 5It is also compatible with the waterproof standard, and it is safe to apply water such as rain and sweat. However, although it is waterproof, it does not correspond to powerful jet water or submergence such as a shower, so be careful.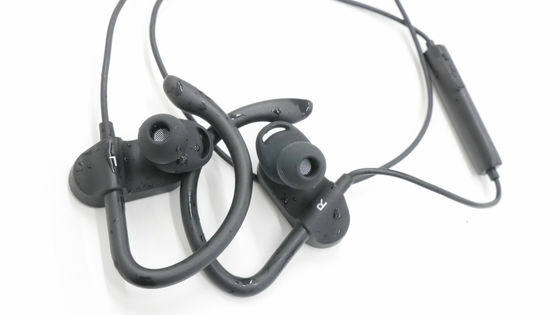 The selling price of "Anker SoundBuds Curve" is 3299 yen (including tax), and it began selling on Amazon and some retail shops from 10 am on November 2, 2017. Amazon has implemented "500 yen off sale" limited to 1,000 units to celebrate its release and can be purchased at 2799 yen (tax included).

Amazon | SoundBuds Curve (Bluetooth earphone) [Bluetooth 4.1 compatible / approximately 14 hours continuous call / IPX 5 waterproof standard / Built-in microphone] | Anker | Earphone / Headphone mail order