Approach mathematical genius who made pitch correction software "Auto-Tune" indispensable for modern recording site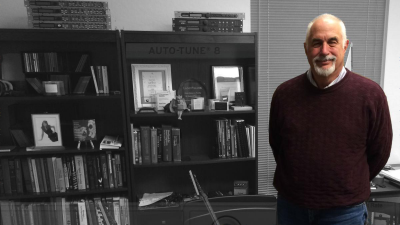 Software that corrects the part where the musical interval shifts a little with the song recorded by the singer, with the computer later "Auto-Tune"Autotune is an essential part of the modern music industry in all ways. Mr. Andy Hildebrand who developed this software was not a person who had advanced in the music field but actually was a "genius of mathematics" who was developing as a software engineer in the oil industry which is grouped in oil money.

The Mathematical Genius of Auto-Tune
https://priceonomics.com/the-inventor-of-auto-tune/

Auto-Tune is software for pitch correction released in 1997. Performance that is more accurate than the previous correction function and is able to obtain natural effects gained popularity, and it quickly penetrated the recording industry in a blink of an eye. However, the name was also known to the general listener as the fun of the mechanical singing voice caused by extreme correction setting was announced as a work.

The representative is the song "Believe" which was released by American singer, Cher in 1998. The singing voice from the beginning of the singing to the chorus is processed by Auto-Tune, and in Japan a finish with a unique atmosphere called "Kerokero Voice" is born. Cher was already in the area of ​​veteran singer at this point there is almost no need to use pitch correction, and Auto - Tune was introduced only for fine modification, but engineers made extreme correction When I tried it, I got an interesting effect, so he seems to have adopted it for the actual work as well.

Cher - Believe Offical Music Video HD - Quality


Besides this, Daft Punk'sOne more timeAnd T-PainI 'm SprungThe Auto - Tune is used as a tool for plusing its own flavor to music, going on the purpose of "correcting missing sounds". Many artists have also introduced in Japan, SEKAI NO OWARI'sRPGAnd the word "Dragenai"Dragon NightAnd others are famous. And it is thought that many people 's ears are thought that Kerokero voice is heard in "Polyrhythm", one of the representative songs of Perfume. "How do you like that singing voice!?" That was a subject, but it was not literally "human work" (a human being).

[MV Perfume "Polyrism"


Mr. Hildebrand who developed this software is a person who has gone through a background that can be said to be a different color in the music industry. Mr. Hildebrand tells himself that he was "different from other children" as a child, he said that he was a "book worm" I love reading. I did not enter anything at all in the classroom of the school, and my teacher says that I was often hit by a ruler with a ruler. Although gradually it will be possible to move the seat to the back of the class as it interferes with other students, I entered the class more and more as "I do not care about the eyes from other children" It is said that it is gone.

And finally it was a Hilde brand boy who was unable to advance to the second grade, but from that gradually the academic performance will rise. By the time I graduate from elementary school I got my third "C" score from the top, I got my first "B" in junior high school. In the high school days it sometimes continued to progress to take "A". And, the Hildebrand youth who woke up to the world of science got a doctorate in electronic engineering from the University of Illinois in 1976.

In his doctoral dissertation, Mr. Hildebrand says he left excellent results in the application of linear estimation theory in signal processing, and after graduating from university, Mr. Hildebrand gains a position in "Exxon Mobil", one of the giant oil conglomerates. So Mr. Hildebrand analyzed the vibration data of the ground and got a job to estimate where the drill tip "drill bit" is located.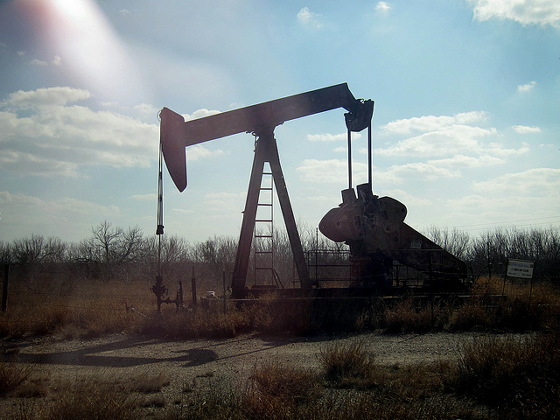 ByLinda Flores

When the work at Exxon Mobile came about 3 years, a major problem occurred at the company. The construction plan of the Alaska pipeline over seven years was coming to an end, but it seems that the actual construction did not proceed as planned. If it is not possible to start transporting crude oil as planned, Exxon Mobil will be unable to receive tax cuts of 500 million dollars (about 100 billion yen at the late 1970's rate), and Exxon Mobil will have a major financial blow You will suffer. Mr. Hildebrand was included in the team to solve the problem.

Hildebrand said Mr. Hirudabura said that "a very large number of advanced mathematics" was required to solve the situation, but it was said that he did the job without fail. At that time Mr. Hildebrand decided to leave Exxon Millville in 1979 and offer software for the oil industry, thinking that "I could do something myself because I was able to save 100 billion yen" We have launched the company "Landmark Graphics".

At that time, the technology to analyze the situation in the ground was still immature, but Landmark Graphics, Mr. Hildebrand who is CTO (Chief Technology Officer), analyzed a very large amount of data, Developed workstation consisting of software and hardware to visualize with. This was a big hit, the company issued IPO (a publicly disclosed stock) in 1989 and listed on NASDAQ. A giant company handling petroleum and military industries, etc. in six years "Halliburton Energy Services(Holdenburton) "for $ 525 million (closing price of yen in 1989: about 756 billion yen in terms of about 144 yen conversion).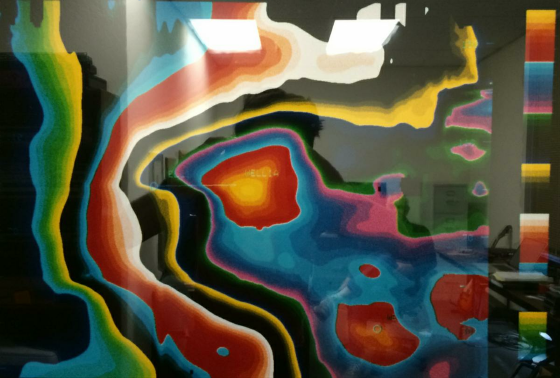 Hildebrand acquired Mr. Hildebrand who has obtained enough wealth to live his life even though he does not work anymore, so he decided to try again the music he was passionate about as a child. Mr. Hildebrand who was good at playing flute since I was young was about to be active at the local recording studio at the age of 16 with a face pass. Mr. Hildebrand, who had become a successful one, went on to university again and this time he was willing to study full-fledged music.

Mr. Hildebrand, who went to Shepard Music School, will be working on composition using "sampler" which was the stage when popularization began. However, the sampler at that time still had a poor performance, and the sounds played were only badly and unnatural. "The sound of the sampling synthesizer was really damnable, even if you extended the sound, it was a strange sound that the same sound looped all the way, the biggest problem is that the used data is very small It was that time. "

Mr. Hildebrand, who had already been released from the spell of work, will begin developing algorithms that can utilize the power of software analysis to play smoother and natural sustain and tone. So developed software "InfinityMr. Hildebrand distributed to acquaintance composers. Then, its realistic sound and expression ability calls a topic, Infinity gathers support in the blink of an eye. In particular, supported by composers who worked on orchestra-related work, gradually composers should produce with Infinity without using real orchestras. Mr. Hildebrand said "Los Angeles PhilharmonicIt is me that made bankruptcy. "While laughing, it is said that the fact that the orchestra actually faced a difficult management situation in the first half of the 1990s is left.

But at this time, Mr. Hildebrand seems to have not strictly managed the software, the sampling sound source gradually made using Infinity gradually began to appear around the world, the time when the uniqueity unique to Infinity is damaged Did. As Mr. Hildebrand recounts that "the market has completely collapsed," Infinity's business will end. However, entrepreneurs' blood is stirring Hildebrand will launch a software company "Antares Audio Technology" that will continue until now. And it was "Auto-Tune" which was said to have changed the music industry that was born here.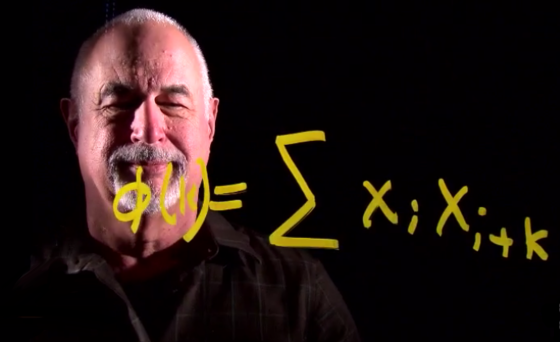 The fact that Auto-Tune was born is that a chat was a chance. In 1995, Mr. Hildebrand who had a booth at Antares Audio Technology to "NAMM show", the world's largest musical instrument trade fair, had lunch with several acquaintances. So, answered that Mr. Hildebrand who asked "What kind of software should I have?", A woman wants a software that can sing well even if I am a tone. But at this time, Mr. Hildebrand said that he did not think it was "a good idea." Rather, it seems that the place for lunch seems to be whitening, "What is bad" and this topic seems to be quickly forgotten.

Although Mr. Hildebrand was proceeding with some projects after the NAMM show, it seems that things that seemed to be going well did not appear. At such time, it seems that it was the idea of ​​"tone correction software" that rose to the head.

However, it is not easy to realize "tone correction" in one word, correctly "pitch correction". So far, software with the same function was developed, but in either case the performance was low, and there were not any practical ones. Mr. Hildebrand has introduced to this industry a method to handle extremely large amounts of data "Auto correlationBy introducing the concept of "a new wind will be blown.

The algorithm is extremely complex, and ordinary people say that it is a level that you can not understand at all what is going on. At the same time, "There is not even one person who could understand what I explained, so it's always like 'magic' because Mr. Hildebrand says," There is nothing complicated in me " I'm replying "Yes".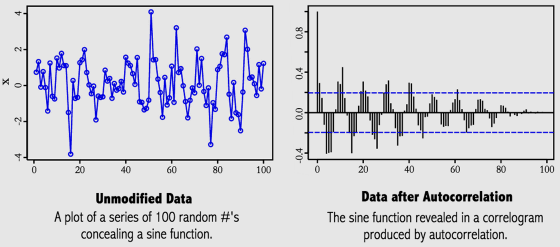 Hilde brand exhibited a booth at the NAMM show in 1996 the following year, honoring "Auto-Tune" developed by stuffing its "magic". Then, as Mr. Hildebrand says, "People came and bought one after another and went home," he said that he called great reactions. In this way, Auto-Tune gained the interest of many people in a blink of an eye and became to be used even in professional sites.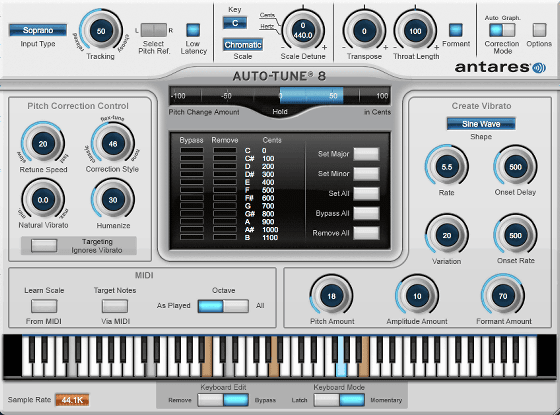 And it was Cher 's "Believe" mentioned at the beginning that made this Auto - Tune widely known. There were many people who were surprised by robot-like voices, and the editorial staff who wrote this article also heard this song for the first time on FM radio's Western music chart heard while driving the car "What's this! It was about to be taken care of, and it seemed to be causing an accident. And gradually "Information seems to be post-machined by computer", "Information that used software is like" Antares Audio Technology's Auto-Tune "is spreading, spreading information spreading quickly to music lovers and creators It went through between.

Auto-Tune'sPatent documentAn example of the diagram shown in the figure is kore. Perhaps you can understand only to the extraordinary person that only the final pitch correction has been made after several analyzes and processing.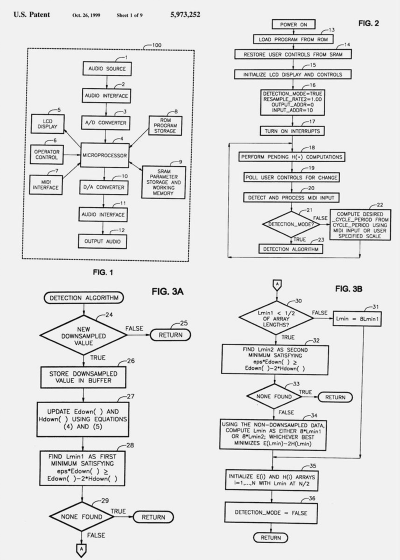 Although it is an Auto-Tune that shocked the music industry, its destructive power has rewritten the composition of the music industry itself as well as the finish of the music. Until pitch correction software such as Auto-Tune comes up, vocalists sing the same part at the time of "singing" the same part, picking up the best singing part at the end from multiple tracks and combining I was working on building one vocal line with. There was also an engineer specializing in the work, so if it was a major labor job it could claim as much as $ 60,000 (about 6 million yen) for one song. Moreover, it took many days for the work, which was a burden both in terms of cost and time.

However, with the advent of Auto-Tune this situation has gone away in an instant. The modification of the vocal line that took days to complete was completed by just working crisply with the mouse and keyboard after recording. Of course, when singing songs, I'm going to re-sing many times in search of the best take, but "this take, the lively atmosphere is the best, but at the end of the chorus it's a bit off the sound Even if there is a minor malfunction called "It's okay," even if there is a problem, it is possible for the performer to correct it like things like "magic" have been realized.

Of course, some artists show the opposite attitude to this correction technology. When Paul Reed Smith, the founder of the famous guitar brand Paul Reed Smith, talked with Mr. Hildebrand, Mr. Smith told Mr. Hildebrand: "You have completely destroyed Western music I told you to blame me halfway. It is natural that adding hands to performance using digital technology is perceived as being invaded by the "sanctuary" for artists who create works by pointing their hearts. Among opponents, alternative rock band "Death Cab For Cutie"People who launched the" anti-Auto-Tune Campaign "as well. Also, even in the world of country music, there are persistent voices that oppose acts like putting a scalpel on the voice of artists.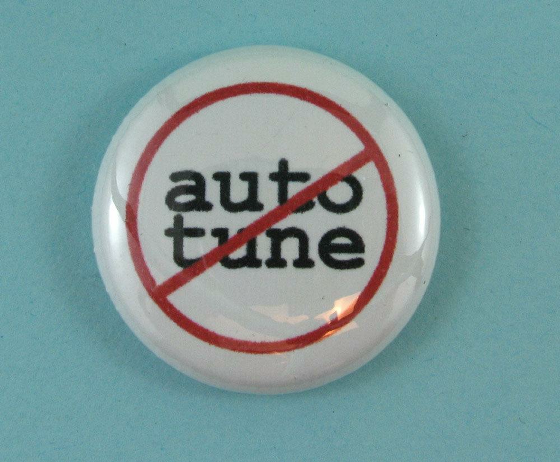 In response to such a voice, Mr. Hildebrand says, "If you criticize Auto-Tune, you should also criticize the device called speaker.In addition, synthesizer and recording studio, itself to record human voice in the first place , It is "unnatural". " However, it seems that he did not care less about such objections. Already from Auto - Tune, Mr. Hildebrand gets a lot of wealth, and in 2018 it seems that the background of the patent of Auto - Tune expiring.

Mr. Hildebrand says with a smile, "Sometimes I tell these people," Although I made a car, I did not run the opposite lane of the highway " But, people who do not like it always complains. "