I made a stew specializing in rice, a house 'Stew on Rice Chicken Fricassee Style' Review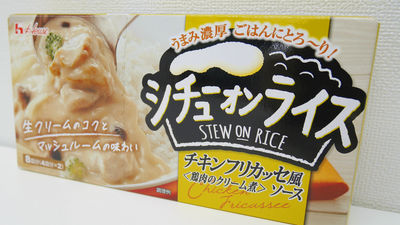 The way of eating 'sprinkle cream stew on rice' has different pros and cons, and even in the editorial department, there are various groups such as 'kake group', 'hidden Christian group that you can use at home but not outside', and 'you don't make it at home in the first place'. It was divided. Meanwhile, the stew 'Stew on Rice', which was developed by the well-established stew house to sprinkle on rice, was released, so actually make and check what kind of taste 'stew that goes well with rice' is. I decided to try it.

Stew on Rice | Brand Site | House Foods

http://housefoods.jp/products/special/stewonrice/index.html
Above the logo are the words that extrude the richness and thickness of the product. The mainstream of white stew is light, so it seems that it is differentiating.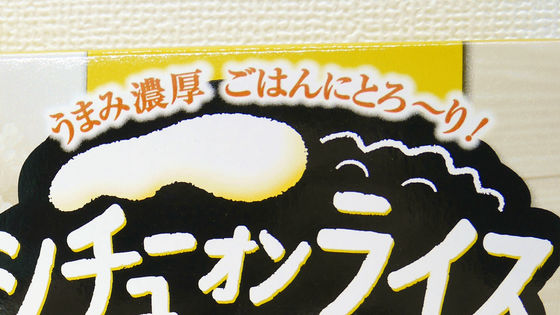 According to the explanation on the back of the package, 'Fricasse' is a French home-cooked dish. It means 'white stew' because it is a dish of stir-fried chicken and mushrooms stewed in white sauce.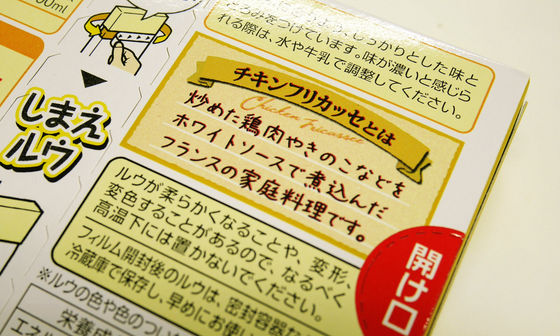 Looking at the raw material names on the bottom of the package, there is an edible oil and fat mixed with animal and vegetable in front, followed by flour, sugar and salt, skim milk powder, fresh cream, and so on. Two types of coconut milk powder and garlic powder, roasted and non-roasted. Curry powder and lees powder were included in the notable place.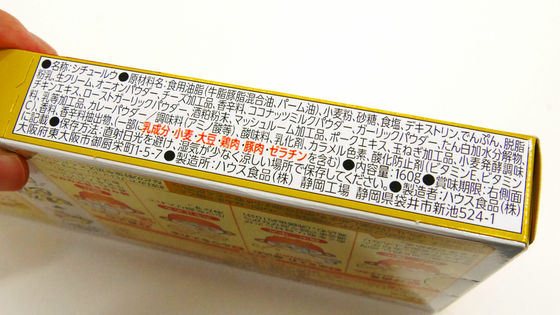 The calories of the roux itself are written on the back of the package. One dish has 109 calories.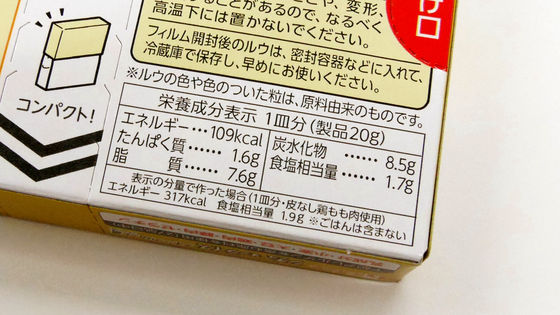 Make it according to the recipe written on the back of the package. It is said that one box of roux can make 8 dishes.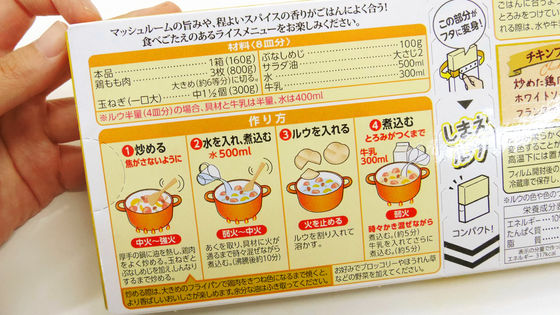 The ingredients you need are chicken thighs, onions, shimeji mushrooms, and milk. At this time, I'm obviously overbought this even though I'm planning to make half of the recipe, that is, 4 dishes.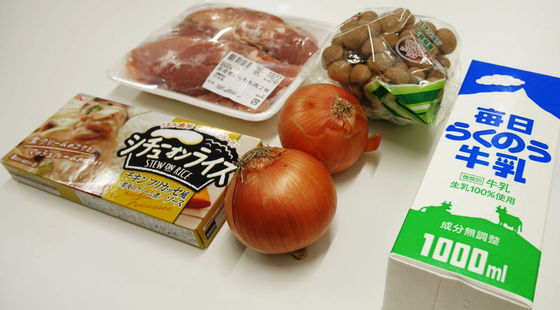 Here are the ingredients for 4 dishes that have been recalculated. Chicken thigh 400g, onion 150g, shimeji mushroom 50g, roux 80g. 400 ml of water and 150 ml of milk are added here.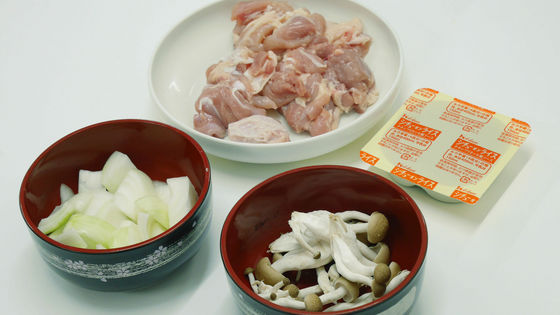 Oil the frying pan and bake the chicken. 'If you bake until it becomes golden brown, you can enjoy a more fragrant taste,' so I will bake it so that it has a grilled texture.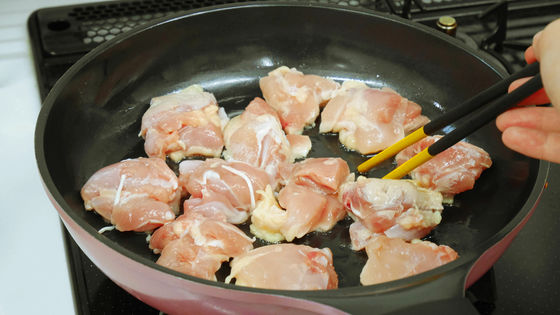 While wiping off too much oil ...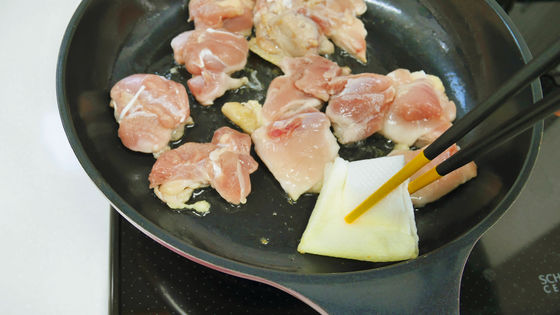 I got a yakimono like this.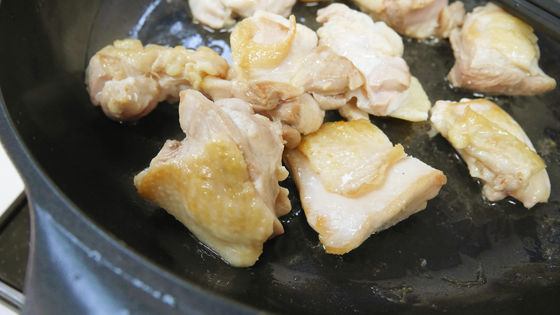 Add the cut onions and shimeji mushrooms.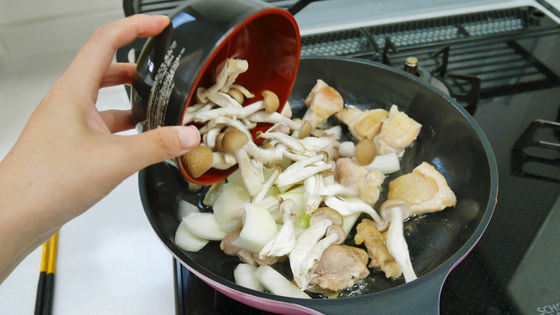 Add 400 ml of water when the onions are soft. It was difficult to cook in a frying pan, so I transferred it to a deep pot.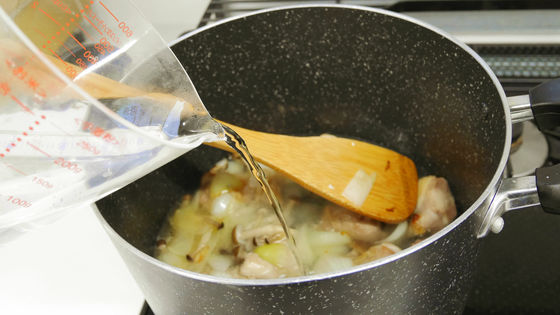 While removing the lye, simmer for 10 minutes when it boils.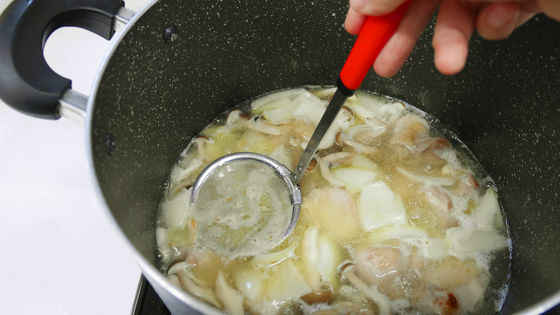 The color of the roux looks like this. The stew roux has a rather dark color, which makes you think it's caramel or peanut butter. The scent is stronger than normal stew, and it feels like a middle ground between curry and stew.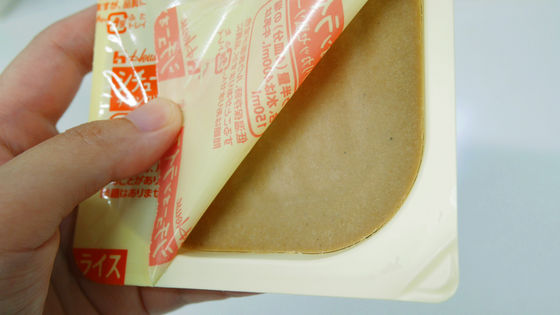 Put the roux in the pot ...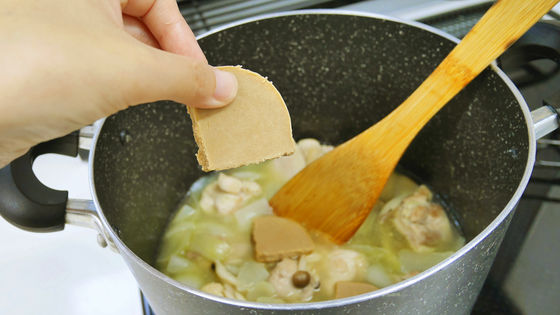 When it was completely melted, I was worried that 'Is this a stew ...?', But I will add milk after this, so I will not think too much about it. Boil for about 5 minutes as it is.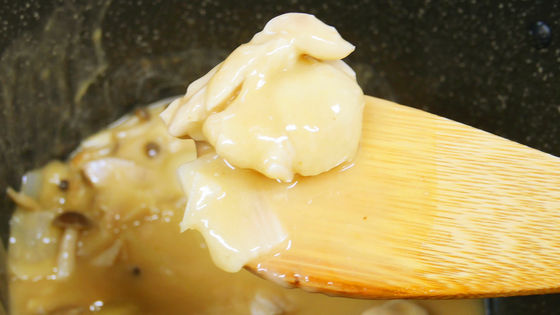 After 5 minutes, add milk ...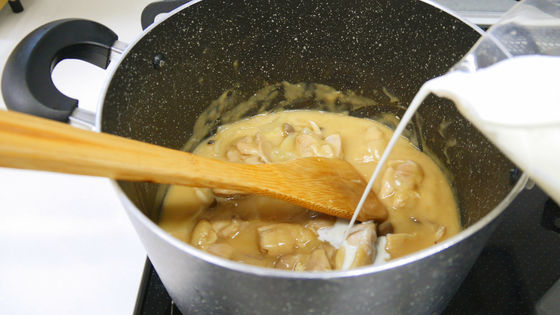 Boil for another 5 minutes and you're done. I imagined something dull from the scent and color of roux, but it was unexpectedly smooth. When you move the wooden spatula on the bottom of the pot, you can see the bottom of the pot for a moment and it feels like it will be restored immediately.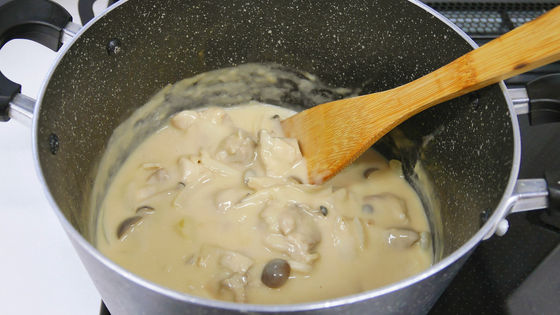 Now, let's stew the rice.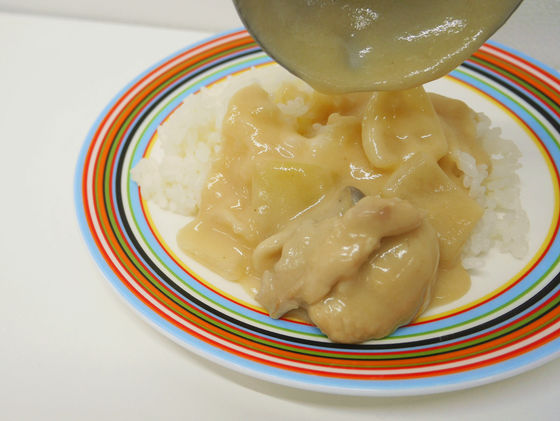 It is a scene where the editorial staff who was watching the moment of calling said 'It's immoral ...'.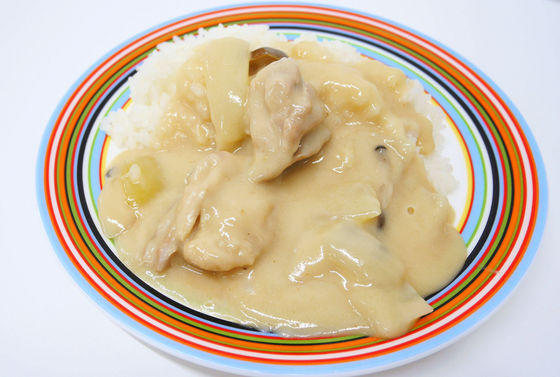 When I try to eat it with roux alone, it is a little surprisingly thick. Especially the impression of cheese is strong, and it seems to be difficult to eat this strength as it is. After all I want rice. I ate it with rice and it tasted just right, nodding 'Yeah.' Since it is supposed to be eaten with rice, it has a taste that is clearly different from the gentle impression of white stew. A taste that goes well with pasta and udon as well as rice.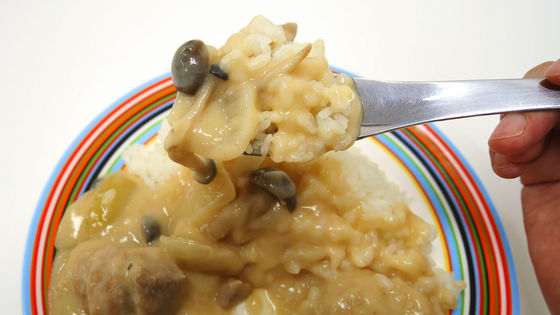 From the editorial staff, 'I don't usually eat stew, but it's an ant to eat it over rice.' 'It's standard to make it thick at home, so the taste doesn't change much. I might choose it. ' 'Stew on Rice Chicken Fricassee Style' is 278 yen including tax and is sold at supermarkets nationwide. Amazon costs 1339 yen for 5 pieces.