A magic device that anyone can easily create a magic team is cool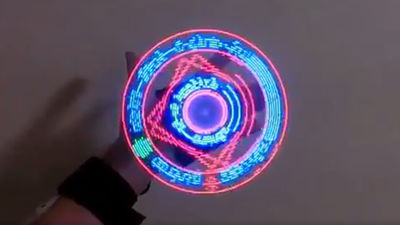 Drawn when using magic and magic "Magic teamSpeaking of it, although it is somewhat unknown, it is a pattern of a mystery that emerges when using magic and makes the operators look cool indeed. It is a magic team that appears in manga, animation, science fiction, etc, but as a citizen who can not use magic can easily put cool magic team out, a magic device that anyone can generate magic team will beFrisk PWithmikeI am making it.

A magic device that artificially creates the magic team made by Frisk P is kore. Things like a fan in the palm of the hand rotate, and it seems that the magic team is drawn.

A magic device that artificially creates magic teams.
Even people who can not use magic can use magic simply by installing this device.
Magic defense shield and others, simple healing magic etc., several types of magic team can be used.
... I made a prototype of the thing. The design of the magic team will do something a bit more.pic.twitter.com/EASDZlDpxp

- Frisk P (@ FRISK_P)September 13, 2017

Regarding this magic device, Mr. Frisk P asked mike to make it to NT Nagoya in 2016, and then told that he made his own product by diverting commercial products.

Magic team Bersaite. Last year at NT Nagoya mike (@ mikekoma) Telling you an idea and saying "Please make it", it made it, but I also wanted to try it all by myself and tried it. But I can not make like mike. As it is at the time of the wristwatch, you can easily redeem the marketed goods for diversion.

- Frisk P (@ FRISK_P)September 13, 2017

Mr. Frisk P asked him to make a magic device, he attached electronic equipment to the wheel of the bicycle and rotated, expressing illustrations and letters with lightANIPOVPeople that they are making their own. Like the ANIPOV, the magic device seems to generate a magic team by rotating the light while controlling it with the board.

The magic device created by mike was held on August 5th and 6th, 2017Maker Faier Tokyo 2017It was exhibited in.

I updated the picture summary (description of) taken at Maker Faier Tokyo 2017.# MakerFaireTokyo2017pic.twitter.com/MMmrKFUrTY

- mike (@ mikekoma)August 8, 2017

You can see how the magic creation is generated by actually moving it. It is considerably larger than the magic device that is attached to the arm made by Frisk P, so it seems to be able to use more powerful magic.

Hooray! It worked. It can be exhibited with this. Suns & Moon Laboratory ANIPOV# MakerFaireTokyo2017pic.twitter.com/saNeKAcEVe

- mike (@ mikekoma)August 2, 2017

mike has published the process of magic device on its own Twitter.

Create a design drawing ... ....

I also feel that it is too much new POV, but I will go with this. Let's do it with implementation Fusionpic.twitter.com/iGic5h4jj7

- mike (@ mikekoma)June 17, 2017

Prepare boards and parts.

MFT progress. Implementation termination, assembly Electrification is about to come.pic.twitter.com/i6TC2A9xgU

- mike (@ mikekoma)July 19, 2017

Wiring each part ......

Today 's progress. Wired. Let's move it tomorrow (· ω ·)pic.twitter.com/zUrbRjs 3 Fx

- mike (@ mikekoma)July 25, 2017

Completed temporary assembly. This rotates to create a magic team.

Current situation temporary assembly. Next time if you do not make a mechanism you will not go on debugging.pic.twitter.com/4aqJ9ZRxnv

- mike (@ mikekoma)July 29, 2017

In addition, mike is creating a new magic device ......

And a new color of autumn! Actually, I felt like I wasted a new board, or wasted revision ...pic.twitter.com/E6WElG9Y7M

- mike (@ mikekoma)September 4, 2017

Such asHachiyuki MikuIt is said that he is making a magic device of a floating version. In addition, it is said that the new magic device by mike will be exhibited at NT Nagoya 2017 on September 17.

Well, next week 9/17 (Sunday) 10: 00-16: 00 is NT Nagoya 2017. I will exhibit the magician device ANIPOVmagic that my hand shines shining!#NT Nagoyapic.twitter.com/AqElcjMzJb

- mike (@ mikekoma)September 10, 2017
September 17 (Sunday) NT Nagoya will expand the spring magic team in Nagoya!#NT Nagoyapic.twitter.com/lSMM7mVyZZ

- mike (@ mikekoma)September 5, 2017