How to earn money by developing products from zero state of money and customers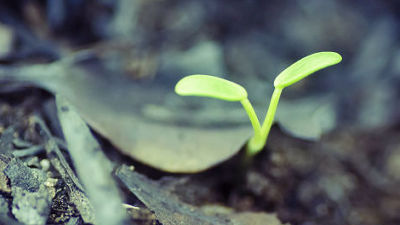 ByJack Skipworth

Mr. Chris Mason who started product development from the state with zero name of zero, zero funds, zero achievement, and zero connection, was able to actually generate profit, and a trap of product development that technicians are apt to fall into, "How Would it be possible to make products that generate revenue if you do? "Based on experience I've been blogged on.

How to Launch a Product With No Money and No Customers - Chris Mason - Indie Hackers
https://www.indiehackers.com/@cmason/how-to-launch-a-product-with-no-money-and-no-customers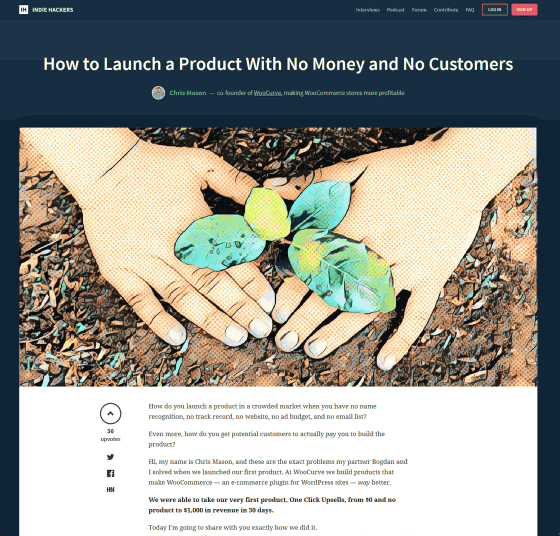 Make e-commerce plug-in "Wordecommcece" for WordPress easier to use "Woo CurveMr. Chris Mason, founder of Mr. Chris Mason and his partner Bogdan, said that at the beginning of the company's establishment, "Without an unnamed, unprecedented, no website, no money, no mail list, Is it possible to release it and ask potential customers to pay money? "

However, Mason and Mr. Bogdan successfully produced sales of $ 1,000 (about 110,000 yen) from the state of zero sales within 30 days by selling the plug-in "One Click Upsells". So, what did the two actually do?



◆ Find the Hungry Market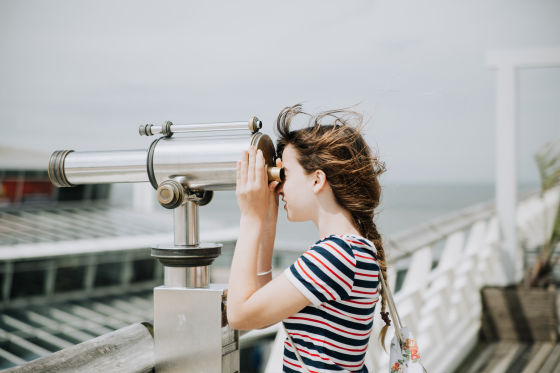 ByNine Köpfer

Mason, who thought "I want to start a business on my own," will abandon a stable corporate life and walk toward a self-sustaining developer. However, although I made four products in 18 months after quitting the company, it all failed and the funds run out.

So Mason temporarily stops product development and starts consulting work while embracing the desire to "create a product". Originally Mr. Mason created a propaganda complaint and was professionally responsible for creating marketing automation until the customer purchased the item. And this consulting work seems to be helpful for linking product development and money.

According to Mason, efficient marketingFunnelThe minimum necessary elements to create the following are as follows.

· Desirable product or sales to sell
· Good promotional phrase
· How to collect payment from purchaser such as checkout page
· One-click purchase of upselling (high-priced item) or downselling (flat-rate item)

At this time, what matters is the last element, the point "with one click" is the point. This is because no one wants to repeatedly input credit card information.

But while consulting a customer with a Woocommerce store Mason knows that there is no upselling and downselling tool that you want to use. Although I could not find a tool by examining WooCommerce's forum, blog, Facebook group, etc., on the other hand, there were many people who are looking for upselling / downselling tools like theirs. According to Mr. Mason who thought that "Making a product for those looking for tools on the forum?" Met Mr. Bogdan who had the same thought through the forum, 2 I decided to do product development with people.

◆ What is "a framework where products become green lights"?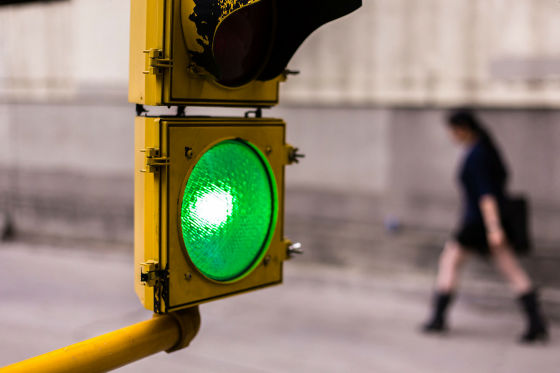 ByKat Northern Lights Man

However, Mason, who had failed to develop four products before then, had the feeling of "will not fail next time?" But during the 18 months development day, Mason said that "the product is a green light framework" was made. This is a framework that can be answered with yes / no, and if you can answer "yes" to all questions, it says it will be a sign that you can proceed with development. The questions are as follows.

· Does the product have demand? How did you know the demand?
· Do you have any competitors?
· Are there any people who will pay the product now?

The first question can not be completely answered with yes / no, but in order to check if there are any people trying to solve the problem by checking whether there is an active forum or not.

Below is actually told how Mr. Mason used the framework and released the product to earn money.

1: Is there a demand for products?
When Mason spent hours looking up WooCommerce's forum and Facebook group, I could not find a tool that many selling upselling / downselling can do with one click as many people want. In other words, I understood that 'demand' exists certainly. However, he did not know how much demand it had.

2: Do you have any competitors?
It is better to answer "yes" to this question. To have competitors means to have room to create money there. However, if there is no competitor, you need to think about why there are no competitors, such as "who tried to make a product in the past but failed?" If you think that your idea is unique, there is little chance that you are the only one who came up with that idea.

As for the tool Mr. wanted, although it did not exist in the market of Woocommerce, similar tools existed on other platforms. In other words, it means that the competitor was "there".

3: Does anyone pay for the product now?
This question is the most important question among the three and even if answers to "Yes" to the other two questions are answered "No" to this question, that idea should give up. It may end up being a waste of time.

However, it is uncomfortable to ask people about money. So in Mr. Mason's case, I wrote that "I'd like to make such a product" in a discussion forum on the issue, "I wish to sign up in order to cooperate with the beta test?" Form I posted a simple landing page. As a result, 35 people signed up during the first week of publishing the page.

But the thing to keep in mind is that there is a big gap between "people who said they would buy a product" and "who actually purchases".

Mason checked out of the 35 people who signed up "who seems to be trying to use the tool for" business use "to generate money". And 10 people who sent immediate feedback in the real world were judged as business purpose. I contacted the ten people directly.

And we listed the functions that we should prepare for "release day 1", and we decided to develop basic products. And it seems that we selled the product to the 10 potential customers at a discount price where the product reached the target. The key here is "user for business purpose", and if you follow the idea "if you use it as a business," you know what to do.

◆ Produce products in larger markets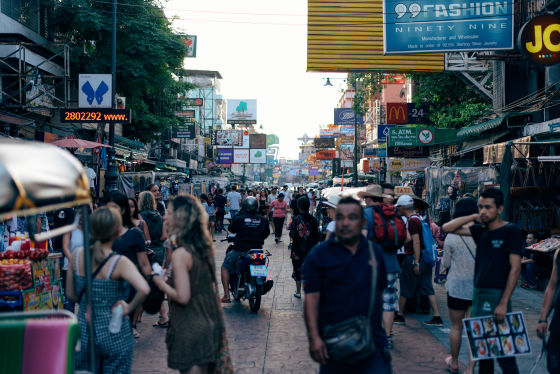 ByRagnar Vorel

And after some people have used the beta version of the product, and finished improving the product using the feedback he got, Mason decides to have more people use the product.

Mason and Bogdan introduced a one - click tool to embed the movie on how the user 's WooCommerce funnel will increase in value on the sales page and display the evaluation of the beta testers on the page.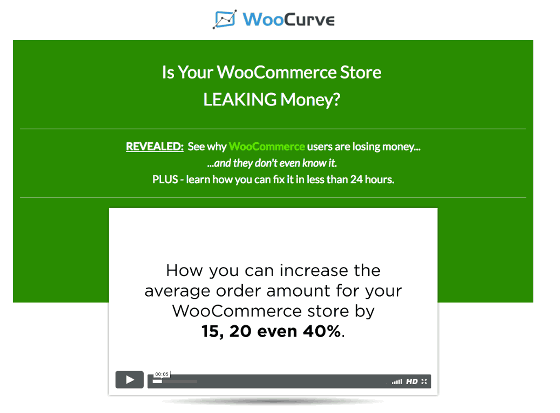 A demo movie was also embedded in the page.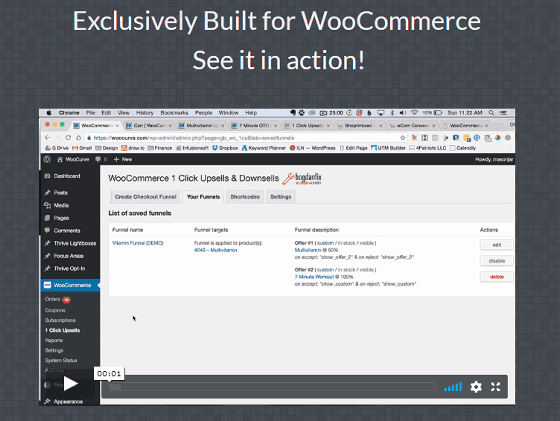 We also implemented a campaign to discount customers for the first 100 customers. In addition, he wrote on forums and Facebook pages to increase traffic to the sales page, and asked the bloggers of the Wordpress community to write a review. It seems to have been paying money to buy advertisements, but it is told that this was not very effective. Meanwhile, Facebook's retargeting advertisement is generating profit both in the past and now.

◆ To make it useful for your business
Mason says, "Many of the readers of this article have the skills and abilities to produce products to market," while on the other hand it is "a possibility that you can spend more time on products than you should spend It means that there is. " Therefore, engineers trying to produce products are encouraged to first consider Mr. Mason's framework to examine the merit of the product. Do not be afraid to throw away ideas, I encourage you to answer questions honestly.

In addition, "potential customers is the faster speed to say" no ", speed is increased to change the activity to be beneficial," also with to remember that. At this time, the most obvious example in showing customers "no" is, the act of "do not pay the money." Repeat the practice to not be afraid to be said that no, avoid from falling to the ideas and love that created your own, please fell to the act and the love that to solve the problem together with the customer, and Mason says.

On the other hand, "company name", "logo", "website", "mail list" and so on are not related to creating money, it was said that when we started business it was not fixed.