A bold trial by a former CIA investigator "BuyTwitter" called "To buy Twitter!" To silence President Trump on Twitter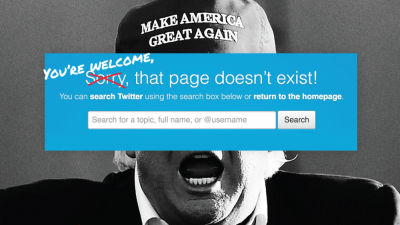 President Donald Trump 's Tweet on Twitter (Tweet), which is controversial with something extreme, has begun a campaign to drive out President Cards from Twitter, thanks to volunteers who think that it is harmful to America and the world. The method is "BuyTwitterIt is a bold thing as the name of buying Twitter.

Fundraiser for Global Zero by Valerie Wilson: Let's #BuyTwitter and #BanTrump
https://www.gofundme.com/buytwitter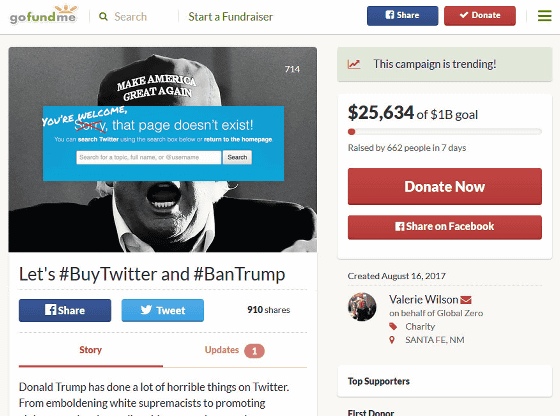 What started out the BuyTwitter campaign was the former CIA Secret AgentValery WilsonMr. "The hostile of Trampe may hurt the nation and endanger the crisis, either hostile against journalists or encouraging white superiorists, threatening North Korea to fight nuclear warfare Making the relationship to North Korea more dangerous, "Mr. Wilson argued that Tweep President's tweet has a big negative impact not only on American citizens but also throughout the world It is.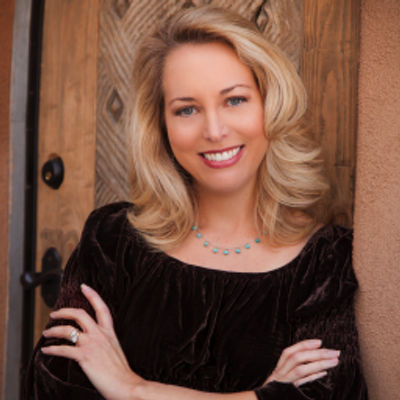 Mr. Wilson said that although Twitter is explicitly forbidden to use "Twitter for violence and threats" in Twitter's terms of service, Twitter does not take any action against President Trump 's tweets I criticize the operation.

Seems pretty clear that you can not threaten mass murder via nuclear war, right@ Twitter? Asking for 7.4 billion friends.Pic.twitter.com/333 QtnECc 4

- Kal Penn (@ kalpenn)11th August 2017

If Twitter is not going to take measures, if it is a brute force, Mr. Wilson aims to raise $ 1 billion (about 110 billion yen) in cloud funding service "GoFundMe" in order to accomplish the exclusion of the trump president from Twitter " BuyTwitter "campaign. In other words, we buy Twitter shares with raised funds, become Twitter's largest shareholder, and have a big influence on service management, we will van (forbid access) President Trump.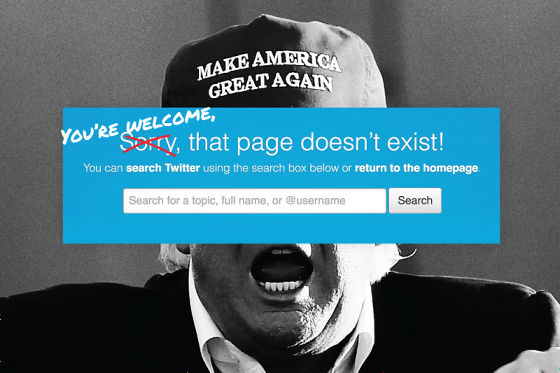 In response to Mr. Wilson 's BuyTwitter campaign, Sarah Sanders' spokesperson is a foolish attempt to infringe the First Amendment of the Constitution of the United States "Freedom of Expression", a symbol of hatred and intoleranceCriticismdoing.

Nonetheless, even though freedom of expression can not be unconstrained, it is subject to restrictions imposed by the human rights of others and the public welfare, and the limitation of freedom of expression on Twitter by a public person known as the President of the United States of America Mr. Wilson 's attempt to question where it is is richly suggested as a constitutional issue and has been drawing attention.

I do not know how serious Mr. Wilson is about raising $ 1 billion (about 110 billion yen) of money, but donation to the BuyTwitter campaign reflects the will of the people, as much as influence the administration of President Trump It is likely to give.

At the time of writing the article, the BuyTwitter campaign has attracted more than $ 25,000 (about 2.7 million yen).