Intel announces "8th generation Core processor", 3 versions in the same generation and confusion is inevitable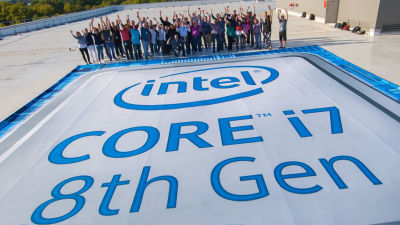 Intel announced the 8th generation Core processor on August 21, 2017. For the 8th generation Core processor appearing from CPUs for mobile such as notebook PC, "Kaby Lake Refresh"Coffee Lake"Cannon LakeIt is an unusual lineup that there are three types of codename CPUs called "codename", and since process rules are also different, consumer confusion is inevitable.

Intel: "Tune in now to see how the new # 8thGen #Intel Core Processor is designed for today and what comes next."
https://www.pscp.tv/w/1vOxwOgWaPmxB

New 8th Gen Intel Core Processors: Simplifying Today, Opening the Door for What's Next | Intel Newsroom
https://newsroom.intel.com/editorials/new-8th-gen-intel-core-processors-simplifying-today-opening-door-whats-next/

Intel Launches 8th Generation Core CPUs, Starting with Kaby Lake Refresh for 15W Mobile
http://www.anandtech.com/show/11738/intel-launches-8th-generation-cpus-starting-with-kaby-lake-refresh-for-15w-mobile

Intel's 8th Gen Kaby Lake-R Launched, Cannonlake and Coffee Lake in Q4
http://wccftech.com/intel-8th-gen-cpu-launch-kaby-lake-cannonlake-coffee-lake/

The 8th generation Core processor for consumers is a traditional branding called Core i7 / i5 / i3. The larger the number, the better the performance.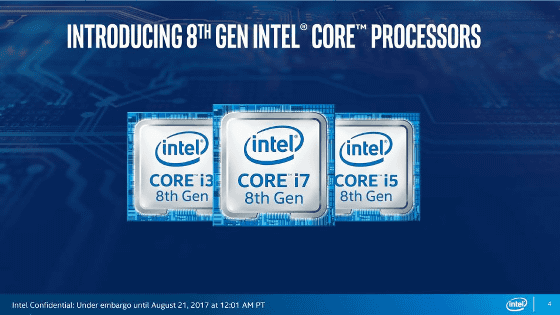 For the 8th generation Core processor, four types of models are planned to range from "S series" for desktop to "Y series" for mobile terminals such as 2 in 1.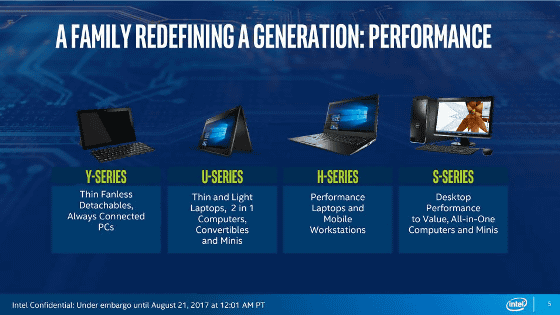 ◆ Kaby Lake Refresh
Only the "U series" for notebook PCs appeared at the recital on 21st August 2017. For those who were expecting to announce the desktop CPU, it became the content of shoulder wear.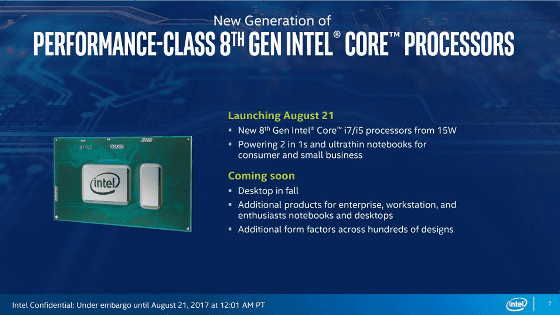 The U series whose TDP is 15 W or less is a 4-core CPU called code name "Kaby Lake Refresh". Even in the conventional U series CPU, even the Core i 7 series was 2 cores / 4 threads, whereas in the 8th generation Core processor U series, the number of core threads both drastically increased to 4 cores / 8 threads Intel claims that it will achieve a performance improvement of up to 40%.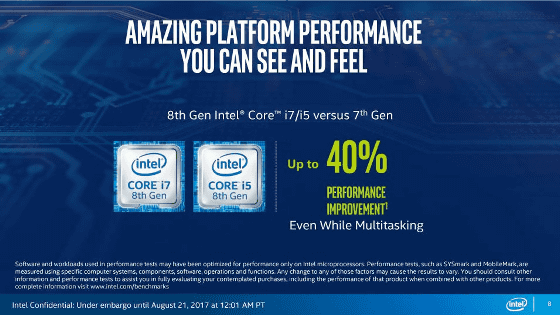 For the breakdown of 40% up, 2 cores → 4 cores accounted for a large percentage, up by 25%.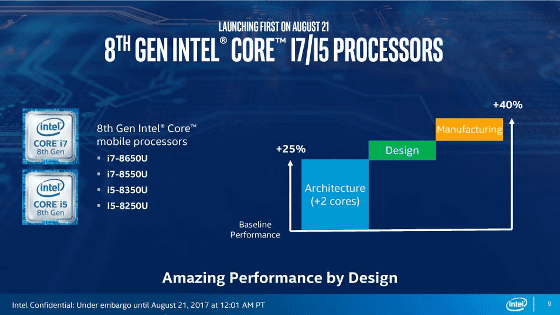 Intel is appealing that it doubles in performance by five years ago CPU ratio such as second generation Core processor "Sandy Bridge" and third generation core processor "Ivy Bridge". Here, since the CPU of 5 years ago, since there is no significant evolution, Intel 's speculation that we want to breach the current situation that user' s replacement does not progress as expected seems transparent.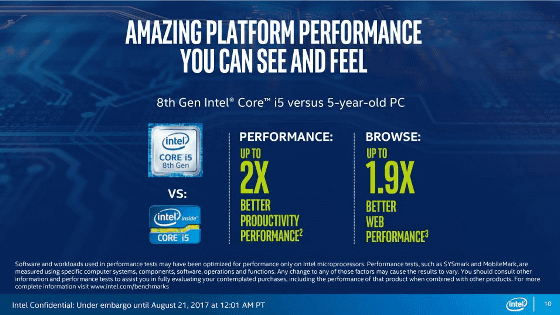 Four types of "Core i 7 - 8650 U", "Core i 7 - 8550 U", "Core i 5 - 8350 U", "Core i 5 - 8250 U" were announced on 21 August 2017.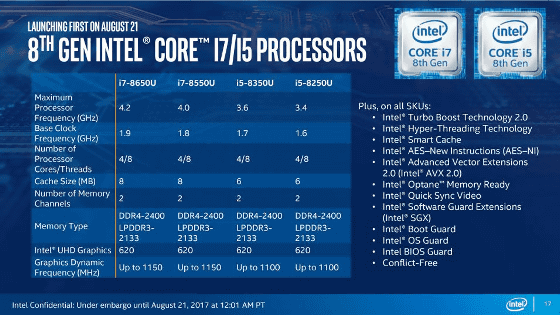 Below is a table to compare with the 7th generation Core processor "Kaby Lake U series" created by AnandTech. As the number of cores doubles, you can see well that the base clock is greatly suppressed to keep TDP within 15 W.




The roles played by the 8th generation Core processor U series can be confirmed in the following official movie for 4K movie support and thin notebook PC.

Introducing 8th Gen Intel Core Processors - YouTube


The CPU announced as the 8th generation Core processor U series is a model called "Kaby Lake Refresh" within Intel, and it is manufactured in the second generation 14 nm process called "14 nm +". This is exactly the same as the seventh-generation Core processor "Kaby Lake", the 8 th generation U series has been created under the request of "TDP 15 W or less" & "the number of cores doubled", TDP of 45 W or less In reality it is only Refresh version of the 7th generation H series.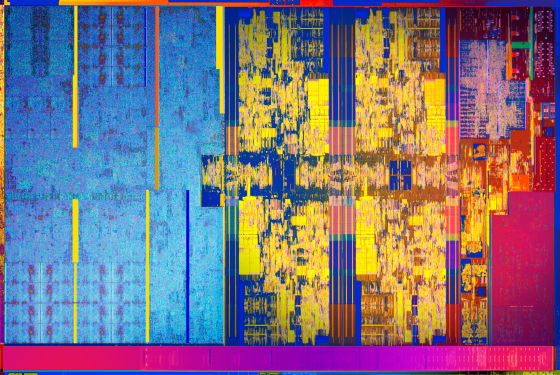 ◆ Coffee Lake
Meanwhile, Coffee Lake is the third generation 14 nm process "14 nm ++" that is manufactured, Coffee Lake's S series will support desktop CPU. The expectation that it will be 6 cores / 12 threads already flies.

The possibility that the 6 core Core i 7 & i 5 will appear in the 8 th generation "Coffee Lake" for the main stream - GIGAZINE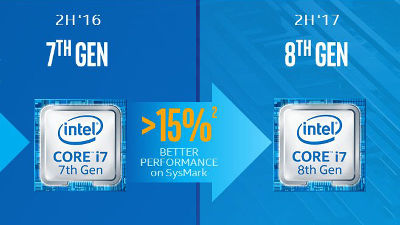 It is S series CPU of coffee lake generation which is expected for homemade PC fan also as a competing horse of AMD Ryzen 7/5 series, but there is no concrete announcement concerning specification. This time only CPU package was announced.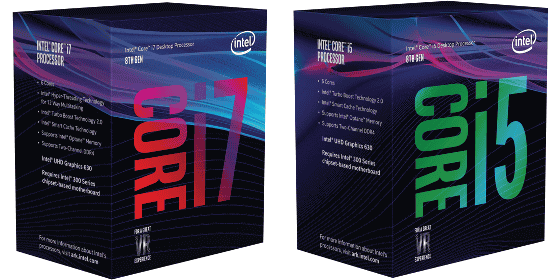 According to the information already leaked, the Coffee Lake generation desktop CPU will respond from "Z370" which will appear in Q4 (October to December) in 2017. However,Kazuaki KasaharaAccording to Mr. Z370 chipset, it is a refresh version of the Intel 200 chipset (Z270) for the S series of the 7th generation Core processor Kaby Lake which has already appeared, and it will be released in 2018 that it becomes a new generation die base It will come from "Z390" and so on. Initially, the corresponding chipset also becomes a refresh version.

◆ Cannon Lake
The 8th generation Core processor "Cannon Lake" was originally planned to appear at the end of 2016 as the first CPU to manufacture the 14 nm process to produce the 6 th generation Skylake series in a miniaturized 10 nm process. However, as a result of manufacturing difficulties in the 10 nm process, time seems to have been earned by the appearance of the seventh generation "Kaby Lake" as a Refresh version of Skylake and "Coffee Lake" as the eighth generation, but it is true Cannon Lake, the 8th generation Core processor, will also appear as "8th Generation" in 2018. Initially, in order to raise the yield, it appeared as a relatively small die size "Y series" and "U series", and the CPU adopting the 10 nm process for desktop PC is to be carried by the ninth generation Core processor "Ice Lake" It is expected that it will become.

Intel is officially registering the ninth-generation Core processor "Ice Lake", what is the contents of the CPU to be launched ahead of schedule? - GIGAZINE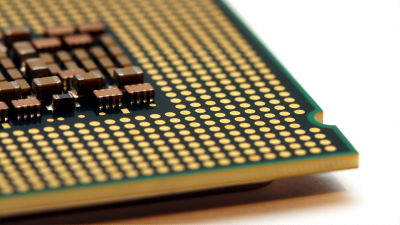 That is why, as far as "Kaby Lake Refresh" appeared, and Intel's roadmap to this point which was supposed to appear as the same "eighth generation" with three CPUs with different codename mixed is tabulated below It is a street. "Lake" series continues, you can understand the current situation that the architecture has not been revamped all the way.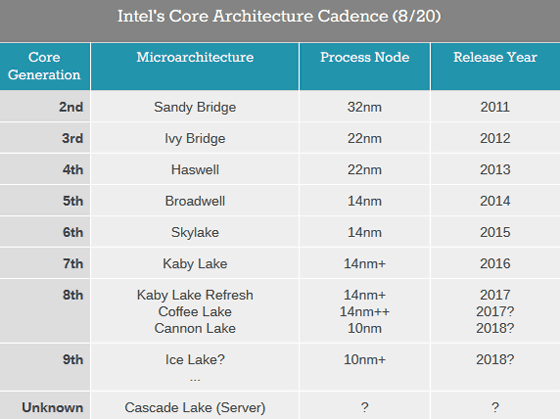 Production delay in the 10 nm process is delayed, so it is unlikely that user confusion will be avoided by mixing three kinds of CPUs with different code names such as Kaby Lake Refresh, Coffee Lake, and Cannon Lake.