Birth of a method to detect tumor-derived DNA from an early stage cancer patient by blood test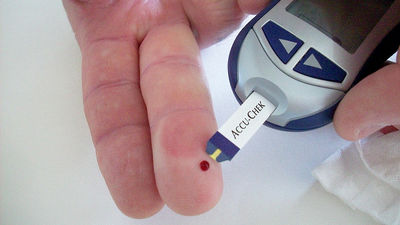 ByAlisha Vargas

A new way to find the early stage cancer by blood test was developed by scientists. This blood test is to discover cancer by detecting tumor-derived DNA from the patient's blood, and "cancer DNA released from the tumor" and "Biomarker of CancerDNA that may be misunderstood "can be distinguished from the existing method is different from the existing method.

Scientists Develop Blood Test That Spots Tumor-Derived DNA in People With Early-Stage Cancers - 08/16/2017
http://www.hopkinsmedicine.org/news/media/releases/scientists_develop_blood_test_that_spots_tumor_derived_dna_in_people_with_early_stage_cancers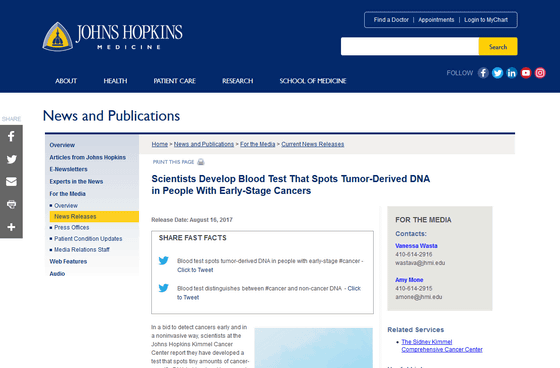 Scientists at Johnson · Hopkins · Kimmel cancer center use a trace amount of cancer-specific NA present in the blood to detect early cancer in a non-invasive way, and blood tests to identify cancer We developed a method. It seems that this blood test method succeeded in finding colorectal cancer, breast cancer, lung cancer, ovarian cancer at relatively early stage.

A research report on blood tests capable of detecting tumor-derived DNA was published on Science Translational Medicine on August 16, 2017. In the study, everything that exists in the three countries of the United States, Denmark, and the NetherlandsstageSamples of blood and tumor tissue are gathered from 200 cancer patients and investigations are conducted. Blood tests seem to have screened patients' blood samples for 58 intragenic mutations that are widely related to various cancers.

Specifically, it seems that we succeeded in detecting 62% of stage I and stage II cancer patients in 200 subjects. When we look at the detection rate by type of cancer and stage, the detection rate of stage I (8 people) out of the colorectal (42 cancer patients) was 50%, but stage II (9 people) It is said that the detection rate was 89%, the stage III (10 people) recorded 90%, and the stage IV (15 people) 93%, the higher detection rate was recorded as the stage proceeded. In the case of lung cancer patients (72 subjects), 45% of stage I (29 people), 72% of stage II (32 people), 75% of stage III (4 people), 83% of stage IV (6 people) It was rate. The detection rate of ovarian cancer patients (42 people) is 75% for stage II (4 people), 75% for stage III (8 people), 83% by stage IV (6 people). The detection rate of breast cancer patients (45 people) is 67% for stage I (3 people), 17% for stage II (29 people), and 46% for stage III (13 people). Also, some of the subjects included blood samples from 44 healthy subjects, but cancer-derived mutations were never detected among them.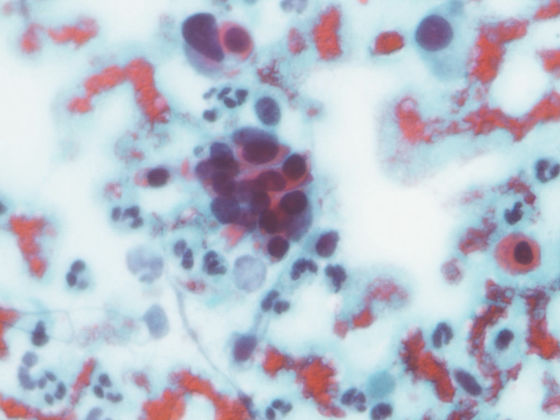 ByManuel Medina

"This study shows that it is possible to identify early cancers using DNA changes in the blood and shows that our high precision sequencing method is a promising approach to achieving our goals." Mr. Victor Belkskluke, professor of oncology at Johnson Hopkins · Kimmel Cancer Center who led the research. Furthermore, Mr. Belkluksk says "It was an issue to develop a blood test that can predict the presence of cancer without knowing the genetic variation existing in the human tumor," he says about the problem of the research .

Mr. Gillian Farren, a graduate student at the school who engaged in the research, the goal of the research is to develop a screening method to accurately detect cancer, and it is necessary to develop a screening method that will lead to unnecessary over- Misdiagnosis "will occur as a result of reducing the risk of occurrence. This blood test explains that it is a very complicated task as it needs to discover anomalies among cancer-derived mutations and genetic variations occurring in blood cells. It is said that germline mutations are eliminated in the newly developed blood test. This is because germline mutations are changes in DNA, but as a result of normal mutations between individuals, it is usually not associated with a particular cancer.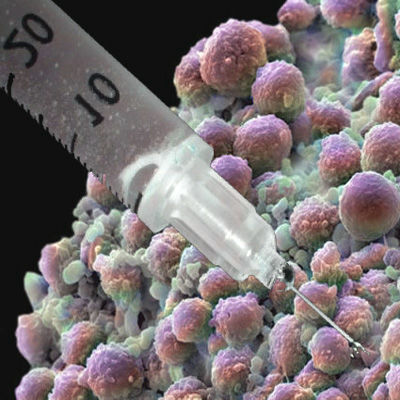 ByAJC 1

The blood test method newly developed by Mr. Belkluksk et al. Showed promising results leading to the early detection of cancer but it is necessary to verify with more people's hands.