Sony and IBM successfully developed a "palm-sized" magnetic tape cartridge "which is as compact as SSD · HDD with an ultra-high capacity of 330 TB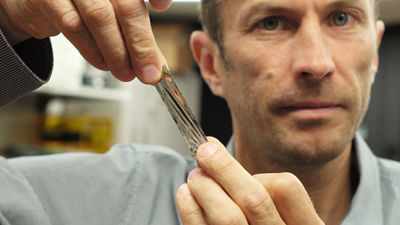 Sony and IBM have developed a new magnetic tape system with a capacity of 201 Gb per square inch. The theoretical capacity is 330 TB with a palm-sized single cartridge, which realizes a larger capacity recording medium than the existing SSD and HDD.

201 Gb / in² Recording Areal Density on Sputtered Magnetic Tape - IEEE Xplore Document
http://ieeexplore.ieee.org/document/7984852/?reload=true

Sony Global - Sony Develops Magnetic Tape Storage Technology with the Industry's Highest * 1 Recording Areal Density of 201 Gb / in 2
https://www.sony.net/SonyInfo/News/Press/201708/17-070E/index.html

IBM and Sony cram up to 330 terabytes into tiny tape cartridge | Ars Technica UK
https://arstechnica.co.uk/information-technology/2017/08/ibm-and-sony-cram-up-to-330tb-into-tiny-tape-cartridge/

IBM has been developing tape-based media for more than 60 years and has developed a magnetic tape cartridge with a capacity of 220 TB as of 2015. IBM has developed a new read / write head with advanced servo control technology, innovative signal processing algorithms, and Sony replaced Sputter Deposition (Barrett Ferrite) instead of the traditional Barium Ferrite We have succeeded in enlarging the capacity of magnetic tape system by developing magnetic tape using.



In the current recording media Seagate's60 TB SSD,and16 TB HDDAre the largest capacities in the world, but magnetic tape media by Sony and IBM are more compact than these recording media and realize the world's largest capacity.