Reservation of the Super Nintendo Mini started in August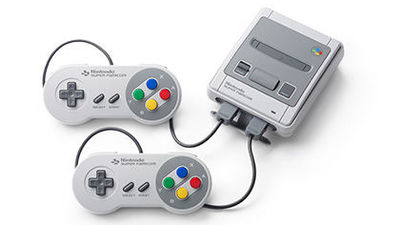 New palm-sized Super Famicom announced in June 2017 is "Nintendo Classic Mini Super Nintendo"is. The scheduled launch date in Japan is October 5, 2017 (Thursday), but it is announced from the Nintendo official that reservation will be started during August.

SNES Classic pre-orders open later this month, Nintendo confirms - Polygon
https://www.polygon.com/2017/8/1/16076114/snes-classic-pre-order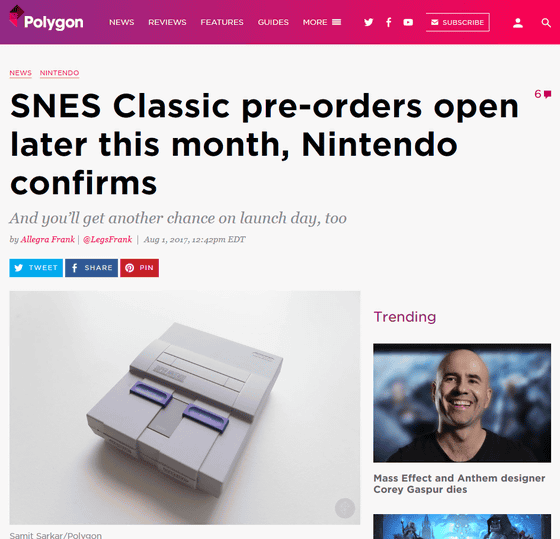 The official name of "North American version of" Nintendo Classic Mini Super Nintendo "is" SNES Classic Edition ", the official name of the European version is" Nintendo Classic mini SNES ", the release date is September 29, 2017 abroad, in Japan in 2017 10 It is 5th of May.

Mini version of Family Computer which will become the model of the previous model of Nintendo Classic Mini Super NintendoNintendo Classic Mini Family Computer"Was sold out both domestically and abroad immediately after the launch, because production announcement was announced with difficult acquisition difficult, so from overseas media"Why?!" "Nintendo is not planning to make money" raises a voiceIt was about.

I think whether there are many people waiting for the release or reservation of the Nintendo Classic Mini Super Nintendo for the last rut or not, but if Nintendo makes a preliminary reservation for the Nintendo Classic Mini Super Nintendo in late AugustOfficial Facebook accountIt announces from.

The contents that Nintendo's official Facebook account posted on August 1, 2017 are as follows.

"We appreciate the astonishing expectation for SNES (North American version of Super Nintendo Entertainment) and SNES Classic Edition.I also think that you can confirm that the pre-order starts at various retail stores later this month. A lot of units will be shipped to stores and this will last a whole year. "

We appreciate the incredible anticipation that exists for the Super Nintendo Entertainment System: Super NES Classic ...

NintendoPosted byAugust 1, 2017

From the sentence of Nintendo's posting it seems that the number of SNES Classic Editions that are aligned at the shop front on the release date is sufficiently secured in addition to the reservation. However, it is unknown at this time whether this also applies to the Nintendo Classic Mini Super Nintendo in Japan. Therefore, if you start pre-order abroad overseas, thinking "in Japan as well ...", you may reduce the possibility of missing booking information.