The next iPhone is reported to have 3D face authentication function instead of Touch ID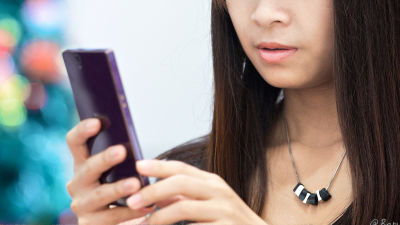 ByBeryl_snw

Apple is developing face recognition technology in February 2017We have acquired an Israeli companyIs face recognition function installed in iPhone? For some time I was rumored. Meanwhile, Bloomberg reports "Apple is testing 3D face recognition function as being a substitute for Touch ID".

Apple Tests 3-D Face Scanning to Unlock Next iPhone - Bloomberg
https://www.bloomberg.com/news/articles/2017-07-03/apple-said-to-test-3-d-face-scanning-to-unlock-next-iphone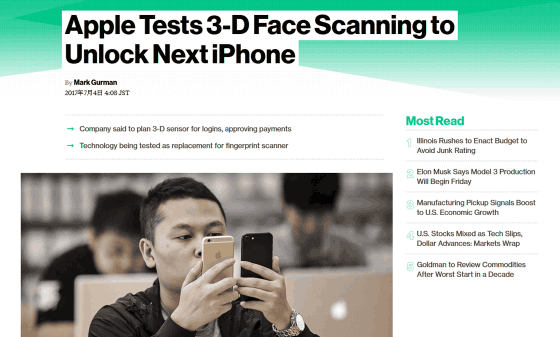 Bloomberg: iPhone 8 will replace Touch ID with 3D facial detection, ProMotion possible | 9to 5Mac
https://9to5mac.com/2017/07/03/iphone-8-touch-id-3d-face-detection/

According to sources, Apple is testing a new security system that allows users to login, payment authentication, launch secure applications, etc. by 3D scanning of users' faces. This function unlocks within just a few hundred milliseconds after using the new 3D sensor to be installed in the iPhone and scanning the face of the user. Apart from this, Apple seems to be testing the eyes to make the system even stronger. For the face authentication system above, Ming-Chi Kuo, an analyst of KGI Securities, also agrees, but Apple's public information refuses to comment.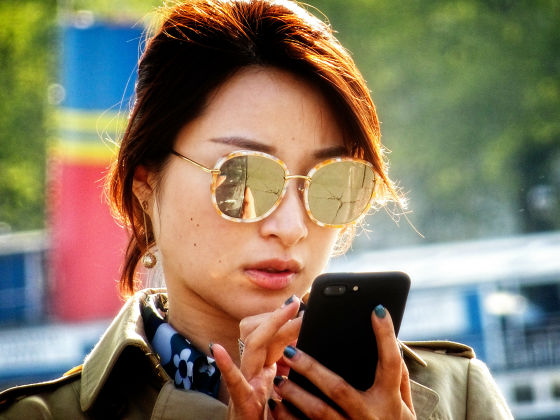 ByGarry Knight

WWDC on June 6, 2017IPod Pro of 10.5 inch and 12.9 inch model announced at the time was equipped with a display utilizing ProMotion technology, but Bloomberg thinks that the new iPhone will also be equipped with ProMotion technology. ProMotion technology increases the refresh rate, blurring when scrolling the screen is dramatically improved, making the screen easier to see.

In addition, Bloomberg's perspective is that it will also be equipped with new chips to support ProMotion technology and artificial intelligence tasks. This chip is "Apple Neural Engine"It is the same as what was reported as a news report, improving battery life by playing the role of predicting image recognition and typing. Besides this, it is expected to be equipped with a chip called "M series" that detects motion, etc.

In addition to the above, the LCD display used in the iPhone 7 / iPhone 7 Plus is upgraded to the display gag OLED screen on the new iPhone, and it is expected to realize more vivid colors. The new 3D sensor also carries out testing using OLED display. In addition to the above, KGI Securities forecasts that "a limited color model using a premium OLED display will appear".