Khan! And spicy curry of irritating to penetrate the cerebrum and umami curry based on sweet shrimp Royal host '35 year curry fair' tasting review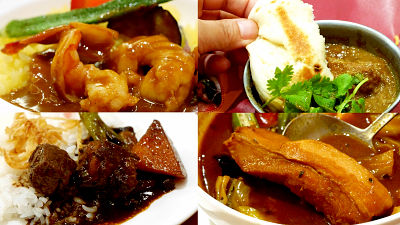 In the Royal host, since the curry fair has been carried out in the summer from 1983, in 2017, the number 1 & 2 curry which was chosen from the 159 kinds of successive curry produced in the 34 years was set as "Royal Thali 2 kinds of curry of 35 yearsIn addition to the new curry "Shrimp with French curry""10 kinds of domestic vegetables" and pork soup curry"Will be offered from Wednesday, July 5, 2017. I went to the tasting sessions that were held for the media, because I want to eat while sprinkling sweaty curry in hot weather.

35 th year curry fair - Royal host - Royal Host
(PDF file)http://www.royalhost.jp/news/images/f3c7276b11bf1e3b64b1de343923333b.pdf

Feel free feeling of a tropical resort feeling with a summer dessert colored with the light of the sun! "Pineapple & coconut dessert" 3 items appeared ~ Sales started on July 5 (Wednesday) at the royal host nationwide ~
(PDF file)http://www.royalhost.jp/news/images/66da1111c7f60fa00d2126bebf7e5266.pdf

Arrived at the Royal host.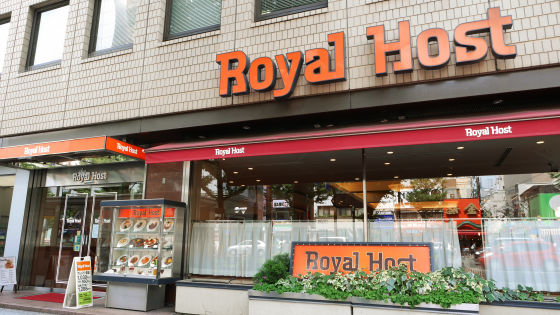 As I went down the stairs that continued to the basement, I found guidance on the "35th year curry fair" tasting party.



I will pass through the seat.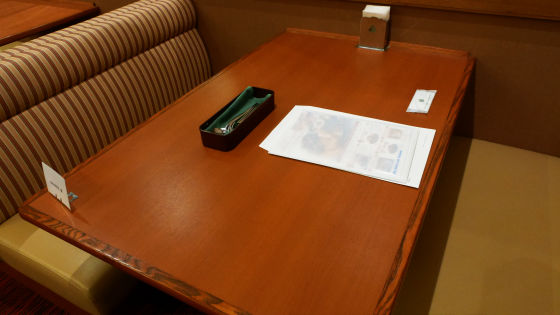 Royal host curry fair has been held almost every year since the beginning of 1983 fair long. Although there is a recognition that "summer is curry" for the time being, at that time it was an image of "summer curry" "camping" "cooking meigo", that there was not much to eat curry at the shop. Since it has been going on for 35 years, it seems that the voice saying "You should do other fairs in the summer soon ...?" Will also be raised, but now there are voices that customers are looking forward to holding a summer curry fair from " It seems that it is becoming a fair that can not be quit easily.

Picture that is lined up in a row is an example of curry that was offered during the 34 years, from the standard European curry "North African style rum curry", "Thai dynasty green beef curry", "colonial style fruit curry" etc. worldwide curry Has been incorporated.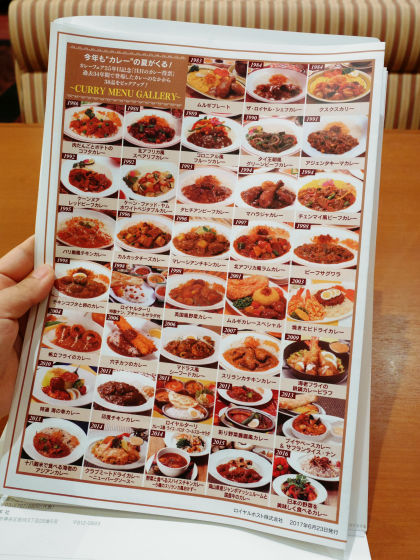 The menu of "35th year curry fair" is like this. Fan voting 1st & 2nd ranked curry was selected as a set of "35th year Royal Thali curry" "Shrimp French Curry" "10 kinds of domestic vegetables" and pork soup curry "Kashmir Beef Curry - With Garam Paste" "Maharaja Chicken Curry" There are 5 kinds in total.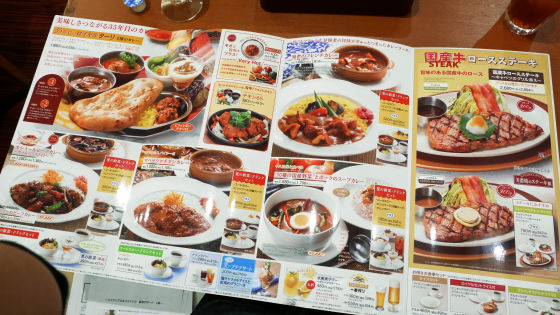 First of all, before meals, what was offered was "Ice fruit sour ~ grapefruit ~"(518 yen including tax)



It is an ice fruit sour made by frozen only the grapefruit fruit, not a sourness like 100% grape on the whole side but a refreshing drink divided by a sparkling grapefruit sweetness and bitterness. Because carbonic acid is not so strong, it seems to be drunk on a hot day.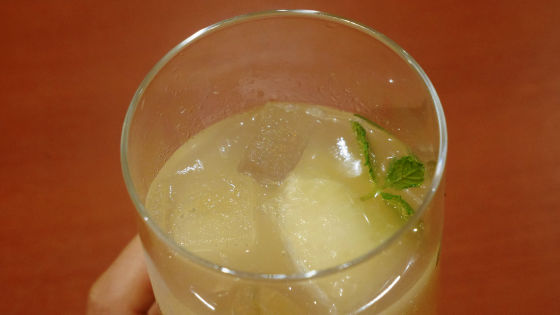 Some frozen grapefruit pulp was coming in.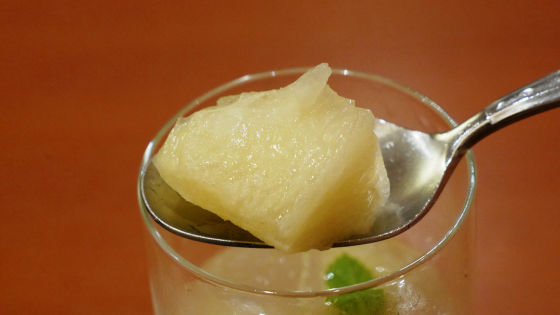 And the first curry was a set of "The Royal Chef Curry" which became popularity vote number 1 and "Curry of" Chicken "KOFTTA" 2nd place "set as"Royal Thali 2 kinds of curry of 35 years"(2030 yen including tax)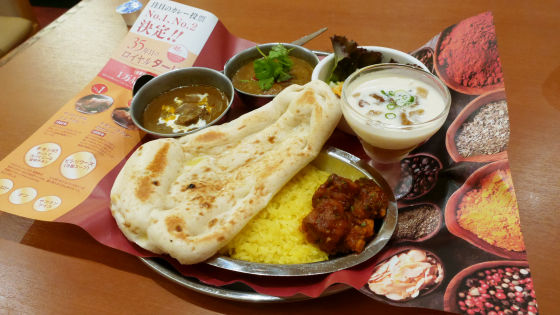 Two curries that entered a smaller size than the iPhone SE with a total length of 123.8 mm, cookslow, Vississoires,Chicken 65, Saffron rice, Nan is a set.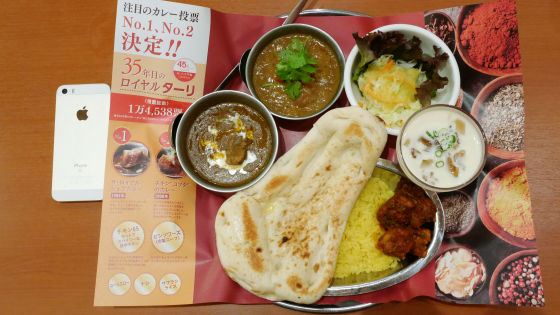 This is about the size of the instrument.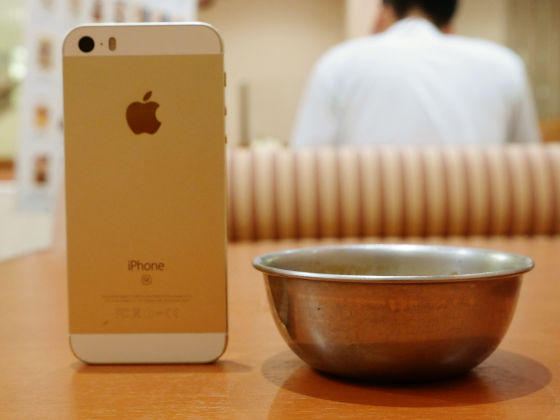 When going to an Indian restaurant, a huge Nan may come out so that it covers curry and side dishes, but "Nan of" 35 years old Royal Tari two kinds "is twice as large as the palm of hand It was about the size.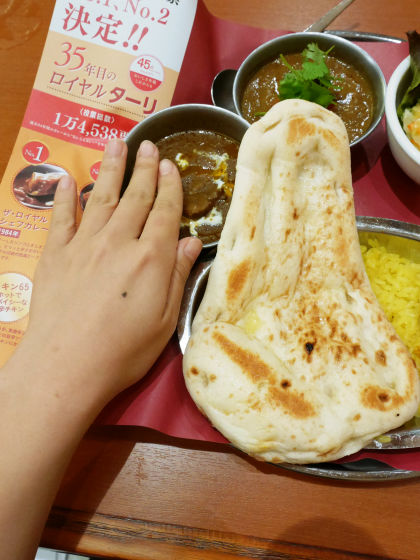 "To curryVichyssoise......? Although it feels a bit strange that the curry of the Royal host originally comes from Asia using fragrances such as coconut milk and coriander while referring to how to use spice in India,Von Do VaudThe style combines various elements such as. The curry used in this Tari is a Western style style, so Vishisoise and Cole Slaw are set.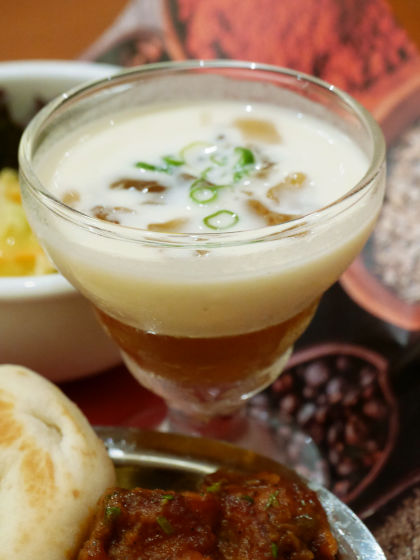 A layer of consommé jelly is laid under the layer of potato's Potage "Vishisonso", a smooth potage spreads out first, and the taste of consommé jelly melted by the time difference is felt gradually. Ideal for summer as it is a cold soup.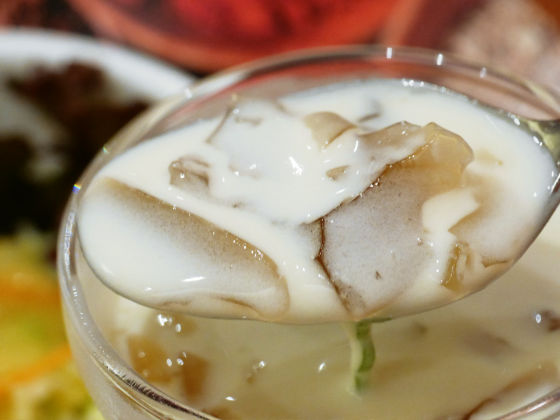 Beef which was cut greatly is contained and the cream on the surface is covered with "The Royal Chef Curry". It's more like a beef stew than curry, but the spicy is mild. It is a mild flavor as it is based on sauteeded apple and onion.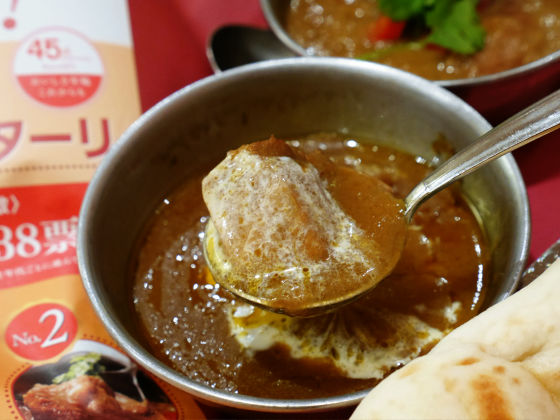 Saffron rice is spread under Nan, so I will eat it with Rice. The beef that is in it is soft enough to melt in your mouth, it's a curry with the feeling "the western food".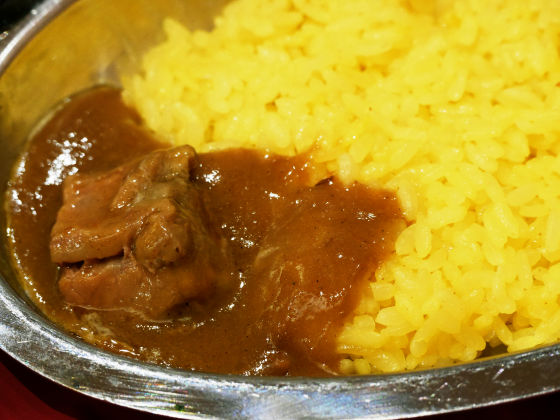 And this is "curry of chicken and" coffee ". It is a curry with coconut milk based on onion on stir-fried egg. Paprika and Pakuchi were listed as toppings. Pakuti can be added at +194 yen (tax included).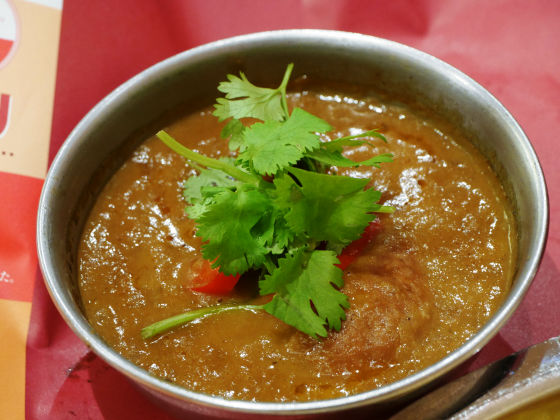 KokutaAnd meatballs made with chicken mince and chickpea powder.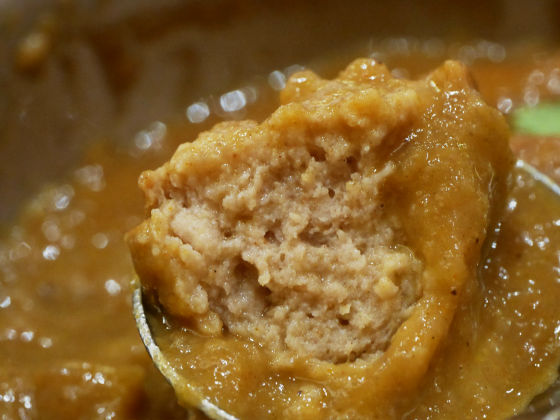 It is a mild spicy curry with the Royal Chef Curry sticking and I feel a rise in the temperature gradually. The fragrance of coconut and bakuchi is quite ethnic atmosphere, of course you can eat it with Nan, of course.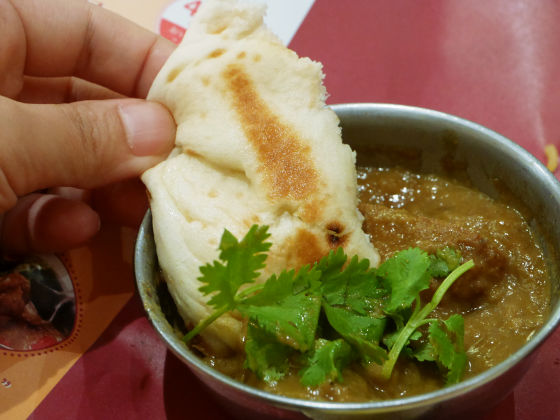 A slightly sweet corn dressing is used for kohlsaw, it is sour and refreshing mouthfeel, so eat it when you feel hot in the mouth with curry.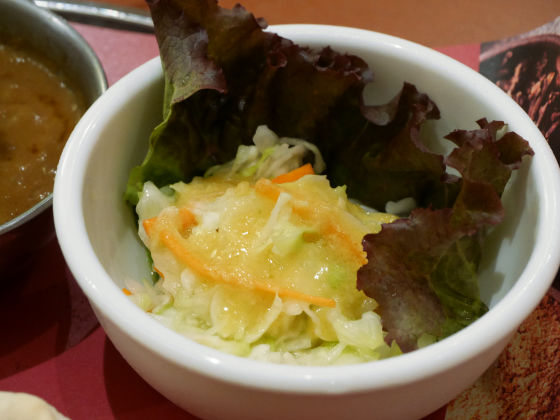 Chicken 65 is fried from spicy & juicy with spices, eaten in South India. Single item can be ordered with 410 yen including tax.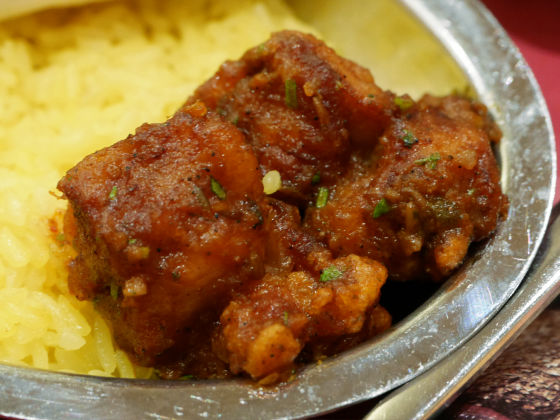 Then I will eat "Shrimp with French curry"(1814 yen including tax). By the way, the rice shown in the picture is half size.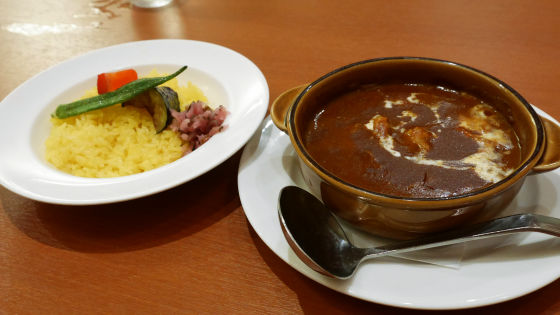 This is the container with curry.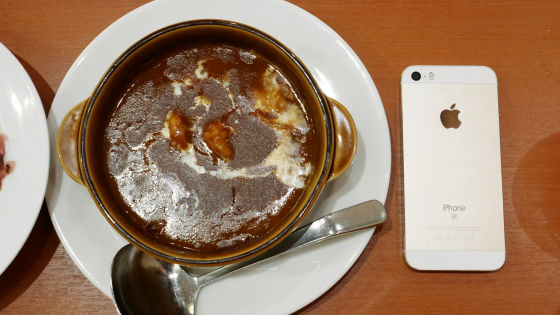 Rice is Saffron rice, Okura paprika, eggplant and Fukudami pickles are topped.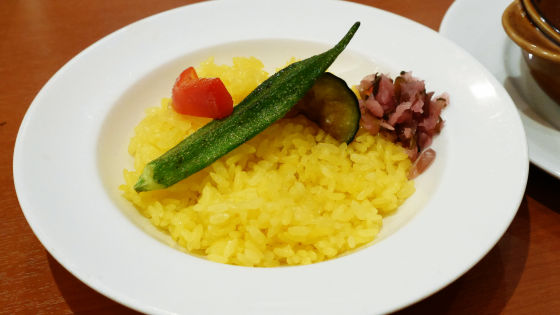 There are four black tigers in the curry.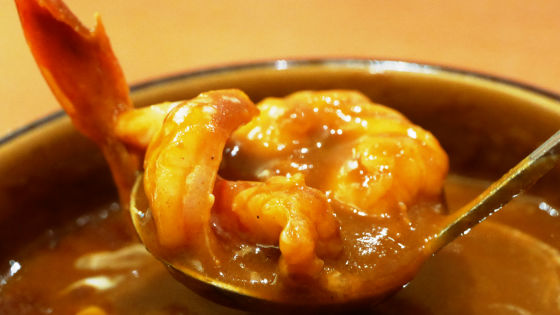 Curry over saffron rice ... ...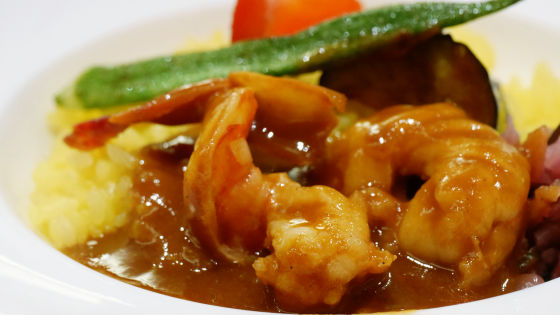 First I tried eating with no shrimp and roux alone,Americene · sourceThe fragrance and taste like that spreads spuriously in the mouth. The base of curry is that it uses butter saute and flavored sweet shrimp with white wine and crushes it and uses it, there is no fragrance etc. Since it is the original fragrance and taste of the shrimp, it is said that it is finished not to be pulled back like a fragrance.Soup Stock Tokyo 'Bisque of Shrimp Shrimp'There is atmosphere like, and it seems that it can be eaten as soup or stew, but adding spice to it makes elegant western food curry.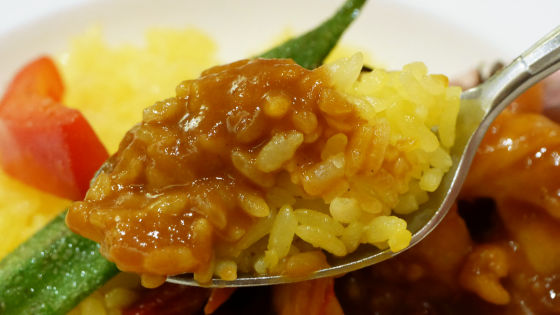 Prepare black tiger as ingredients. There is not much spicy, it is a dish that you can feel the taste of the shrimp firmly because it is mild.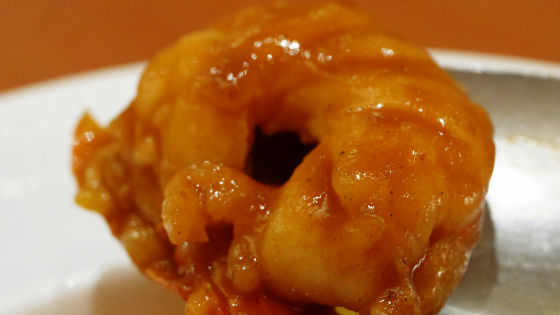 Subsequently, ""10 kinds of domestic vegetables" and pork soup curry"(1706 yen including tax)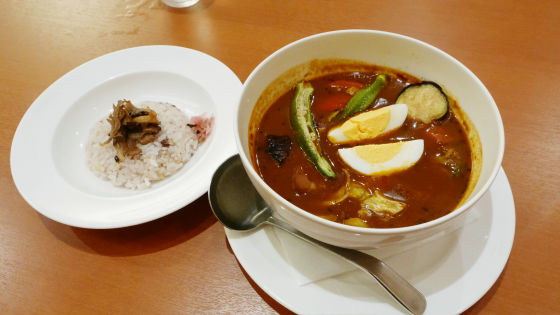 Ten varieties, including cabbage, onion, carrot, eggplant, pumpkin, tomato, red paprika, broccoli, okra, and so on, curry with plenty of 175 g of domestic vegetables, entered boiled egg.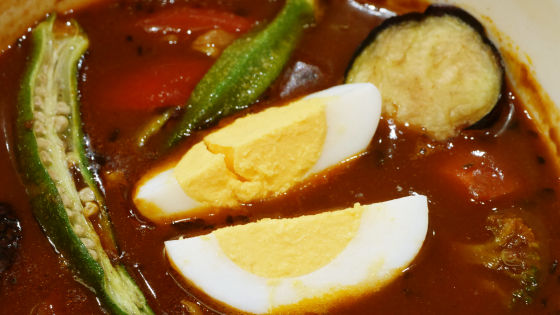 Healthy curry with vegetables used? I thought, but a huge pork chunk came out from inside.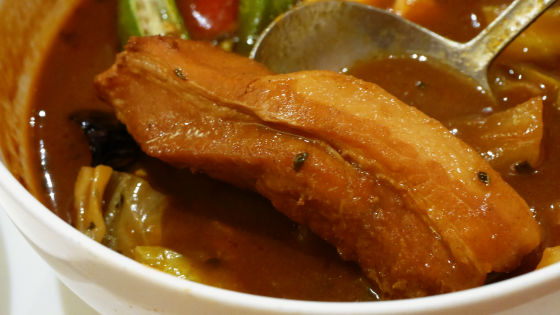 Rice is 18 rice rice. This is also half size.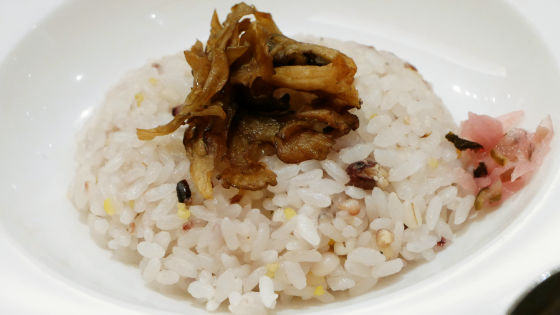 When curry was served in the dish, the pig masses were powerful with Dawn.



A mild curry was continuing, so when I put it in my mouth sweetly without thinking anything, a stimulus of spice like thrusting up "Khan!" Hits directly. Of course, it seems that ginger and ginger are used a lot, too, the more you eat, the sweat swells and pours up from the pores. However, it is not just food that is "spicy", but the sweetness of vegetables, the chicken bouillon that is the base, the taste of swine and the like are creating depth, so we will eat one after another with a bite or bite .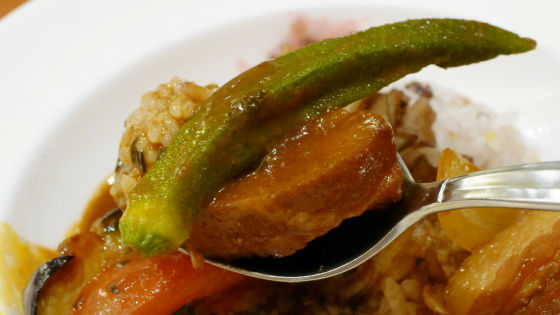 And the fourth curry is a traditional curry which continues from the 1st curry fair in 1983Kashmir beef curry (with garam paste)"(1382 yen including tax)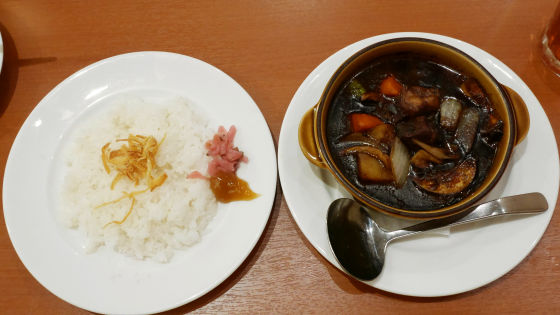 This is a rice with fried onion being topped, with Fukujin pickled and mango chutney.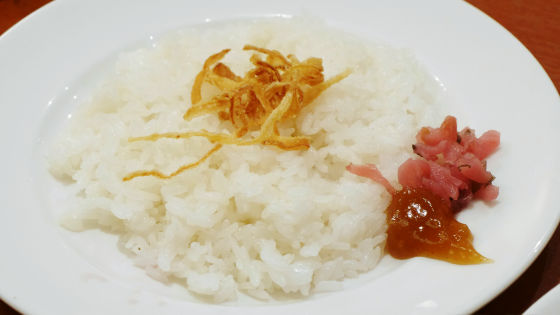 Kashmir beef curry has a huge black appearance, but the taste is very delicate, the first mouth is a mild beef taste, the spice flavor is felt, but if you eat it you will notice enough spicy and spicy Iki, "10 kinds of domestic vegetables" and unlike pork soup curry, it has become a spicy after-going type. The biteful mouth is supposed to be not so painful, but if you keep eating it for some reason the nose sweat is amazing.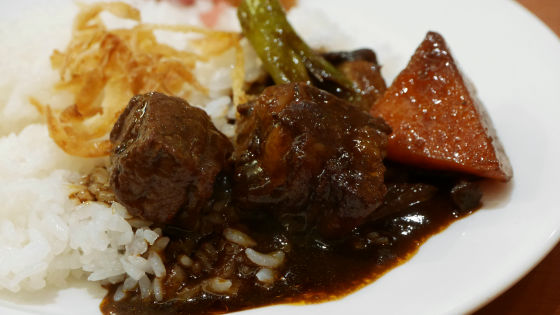 If you add sweet and sour mango chutney, the taste will give more depth.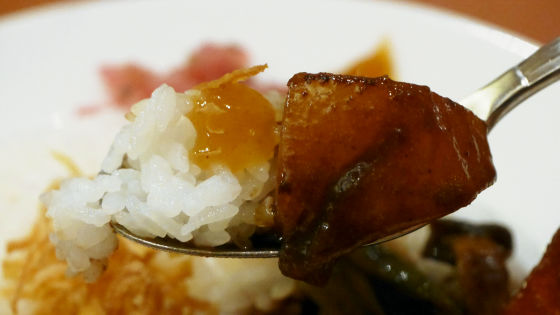 And, with the attachment comes the sauce that entered a small instrument called "Garam paste" ......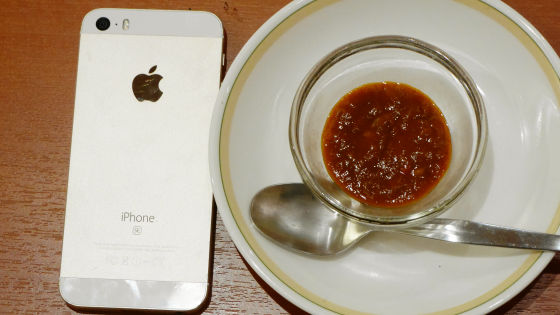 The pain that stimulates Keen and the brains just by licking this as a perot. However, it seems that it is addictive, not only because it is painful but also contains the sweetness of onions, tomatoes and capsicum. In addition, garam paste is 108 yen including tax and can be ordered separately.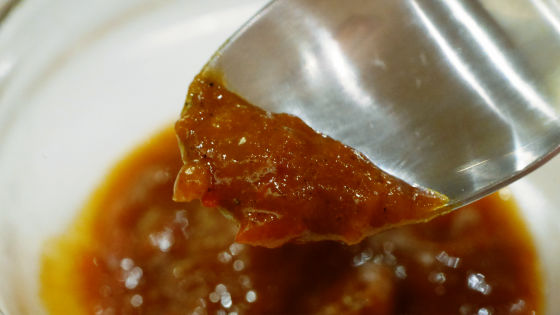 If you eat curry so far, the sweat that blows out will be amazing, but in the end a cold dessert "Petit · parfait ~ mint pineapple & panna cotta ~"(518 yen including tax) appeared.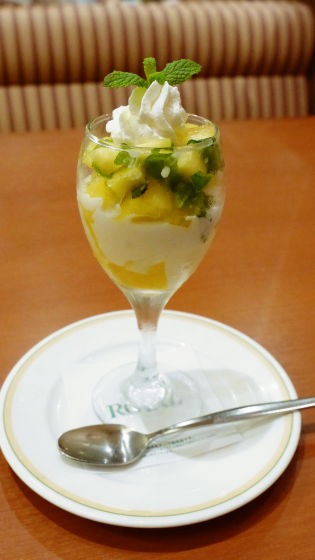 Looking from the side like this. Whipped cream, a mixture of pineapple and fresh mint, coconut solve, panna cotta, sauce of pineapple are included.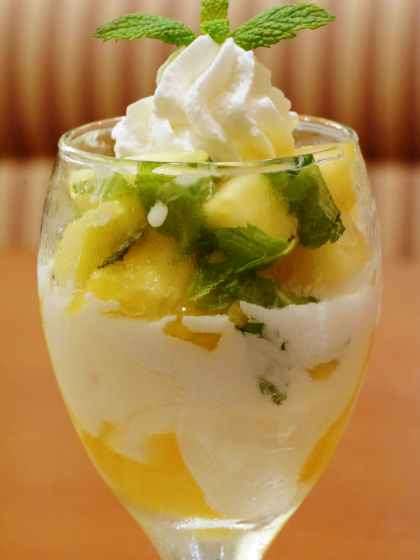 Mint is mixed with plenty of pineapple as well as topping, very refreshing. The acidity and sweetness of pineapple will spread through the body after eating curry.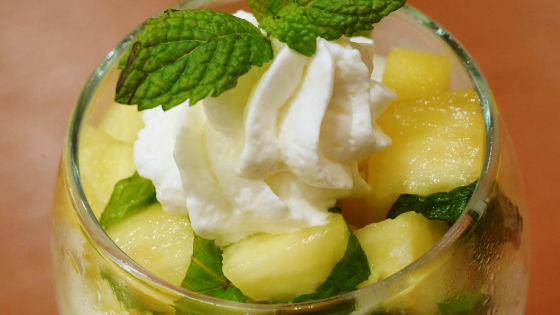 Cool and cold coconut solve, mellow panna cotta are very compatible with pineapple, perfect for desserts after eating curry.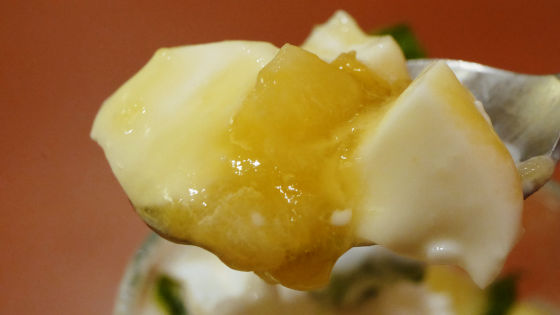 The "35th year curry fair", "pineapple & coconut dessert" starts from Wednesday, July 5, 2017, the 35th year curry fair in late August, the pineapple & coconut dessert in early September It is offered up to. First of all, if you want to feel summer from meals, please go there.