I ate a cold sweet "Brulee Greeded Ice" which combines cold ice cream with cool and creamy donut like crème brulee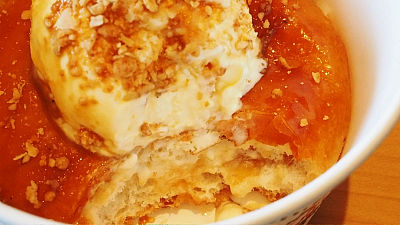 Crispy cream · donut toyed ice, strawberry sauce, caramel sauce to "Brulee Greed" which caramelised the surface of the donut from June 21, 2017 (Wednesday), and confined the cream inside "Brulee Grated IceWe are now offering. It is said that the dessert has become a new texture dessert that cold ice cream melts, so I actually went to a shop and ate it.

Krispy Kreme Donuts | WHAT'S NEW
http://krispykreme.jp/news/index.html#wn170621

Arrived at Crispy Cream · Donut.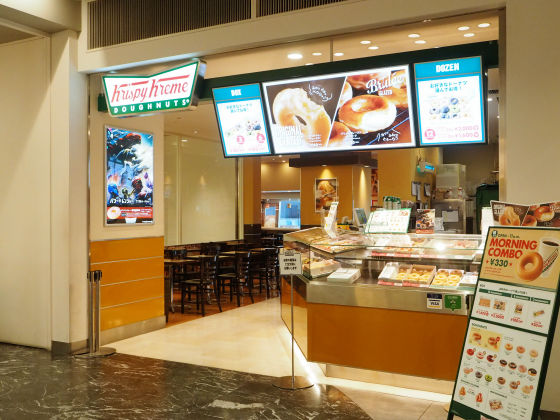 Things like those that are not in line with showcase ......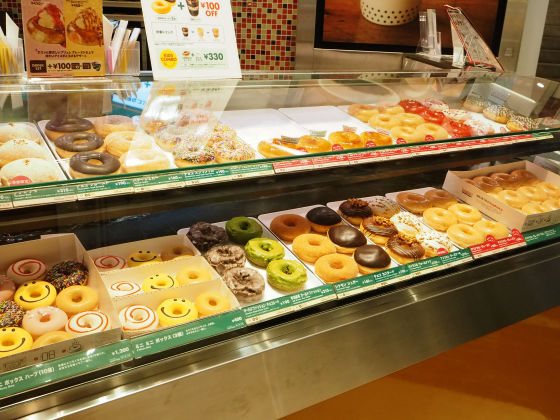 There was a photo on the showcase. It seems that it is made after order because warm donut and cold ice are combined.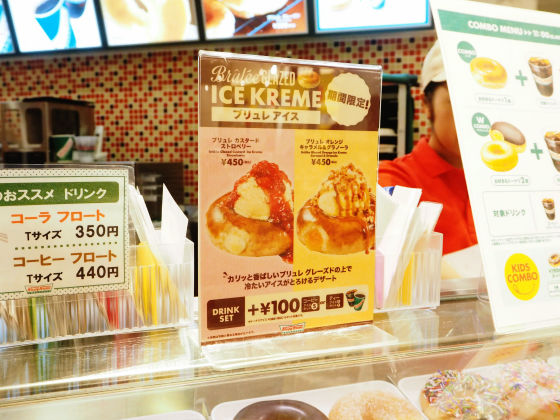 So, after the order, goods arrived in about 10 minutes. Brulee glazed ice is not a plate, it is in something like a huge ice cream cup. Since Ice or hot coffee / tea can be set at +100 yen, I ordered a set.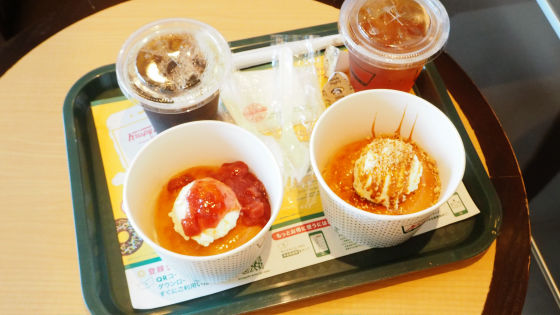 Compared to the iPhone SE with a total length of 123.8 mm, this is about the size.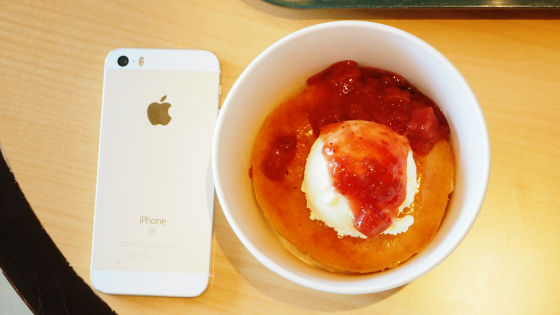 The height of the cup looks like this.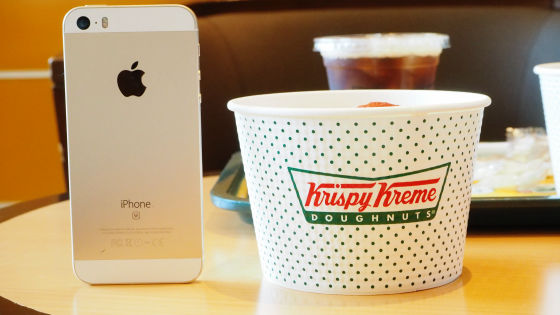 Brulee Glazed ice "Brulee custard strawberry" is strawberry sauce that contains fruit pulp on top of vanilla ice caught in a donut.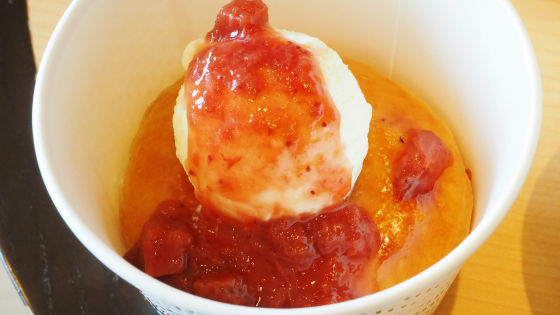 Another Brulee Glazed Ice "Brulee Orange Caramel & Granola" is topped with bitter caramel sauce and granola.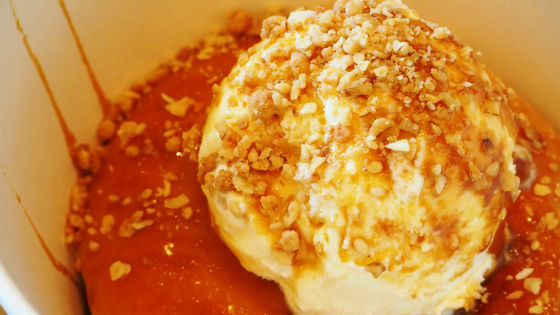 When trying to eat with a cracked spoon, the surface was deeply caramelized enough to make a sound "rugged".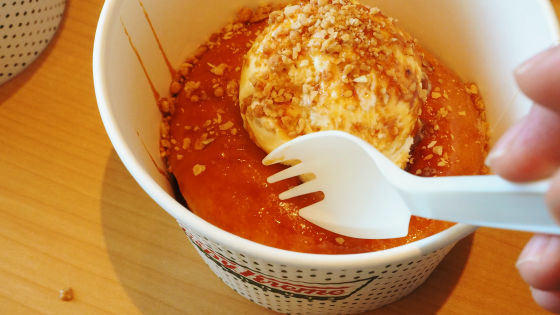 CARAMERISE is a crispy texture of crispy, slightly warm donuts are fluffy as opposed to it, granola is mixed with various kinds of textures. I would like coffee or tea with pretty firm sweetness, is not it like the taste of caramel? And thinking carefully at the donut ... ...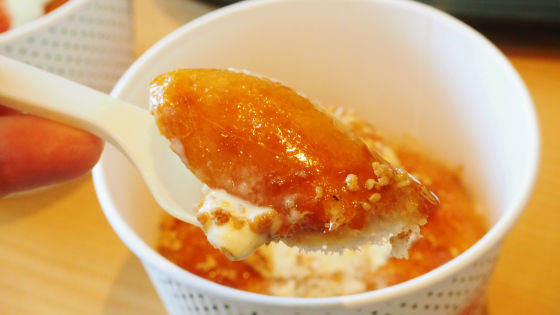 Orange sauce was flowing out of the fabric. Although I did not know from outside, the orange filling is hidden plentifully in the dough, and it is surprised to think that it is surprised to think that it is "caramel flavor". I am overwhelming with caramel sauce.



Another tasting "Brulee custard strawberry" also. Again, when you insert a spearful spoon, a crisp and tasty feel is transmitted from the spoon.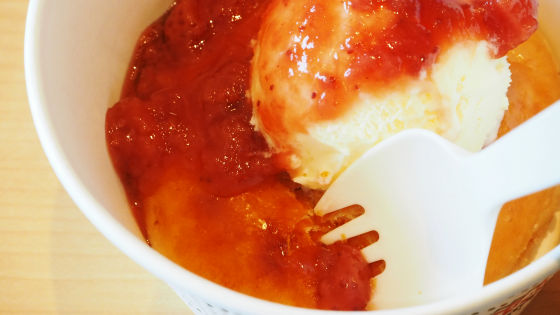 The custard sauce instead of the orange filling is contained in the fabric.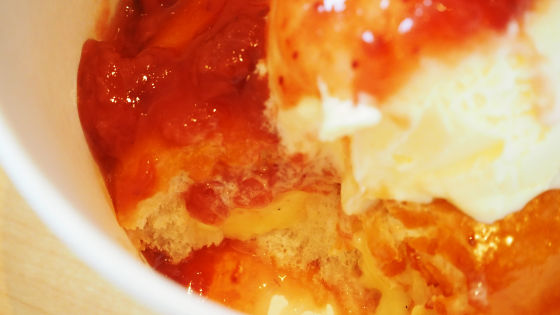 The strawberry sauce with plenty flesh is sweet and sour, with a little nostalgic atmosphere like homemade strawberry jam, the combination with custard is outstanding compatibility. It is a standard mistake finish. It was perfect for a snack at 15 o'clock when sweetness wanted to replenish, as we are adding sweetness more and more to sweet donuts that were caramelized as well as + custard + ice + strawberry sauce.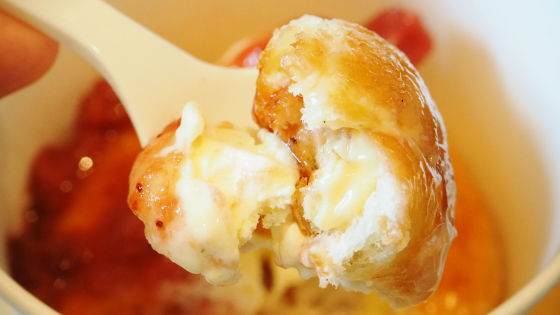 Brulee glazed ice is 450 yen including tax, it is possible to set coffee or tea with +100 yen. The following stores do not offer, so let's check in advance.

Aeon Mall Kawaguchi Maekawa West Mall Store, Atre Urawa Shop, Sakaekicha Store, Aeon Town Eucalyptus Hill Store,
Yokohama Joinus Store, Cubic Plaza Shinyokohama Store, Aeon Mall Nagoyadome Place Store,
JR Kagasaki Station premises store, Tokyu Plaza Kamata shop, Maihama Ikspiari store,
Mercedes me Tokyo HANEDA, Shin-Osaka station shop, Namba CITY main building North, Rukua Osaka store, Shapo Ichikawa store,
Dea Mall Osaka store, other events · event stores.