Amazon bought a luxury supermarket "Whole Foods" with the largest ever 1.5 trillion yen, to enter full-scale participation in the offline retail market


Amazon's leading online retailer, Amazon, has decided to acquire America's luxury food supermarket "Whole Foods" for a huge sum of $ 13.7 billion (about 1.5 trillion yen). Following the report by Amazon to enter the off-line food market, food-related company shares including Wal-Mart plummeted sharply.

Amazon to Acquire Whole Foods for $ 13.7 Billion - Bloomberg
https://www.bloomberg.com/news/articles/2017-06-16/amazon-to-acquire-whole-foods-in-13-7-billion-bet-on-groceries

SuperValu and Kroger stocks sink on news Amazon Amazon is buying Whole Foods - The Washington Post
https://www.washingtonpost.com/news/get-there/wp/2017/06/16/grocery-stocks-tank-on-news-that-amazon-is-buying-whole-foods/

Amazon's Whole Foods acquisition should terrify Walmart, Kroger - Business Insider
http://www.businessinsider.com/amazons-whole-foods-acquisition-should-terrify-walmart-kroger-2017-6

Amazon purchased Whole Foods of a luxury supermarket that sells mainly natural foods. It is a large chain that has more than 460 stores in the United States, Canada and the UK. The acquisition amounted to 13.7 billion dollars (about 1.5 trillion yen), which isAmazon purchased in 2014 TwitchIt is the largest acquisition deals in Amazon history, which exceeds 970 million dollars (about 100 billion yen). According to Bloomberg Amazon's holdings of cash and cash equivalents are 21.5 billion dollars (about 2.38 trillion yen) as of March 2017, and that all of the acquisition of Whole Foods will be capped at this time . Also, The Washington Post reports Amazon's acquisition of Whole Foods will be the highest ever in the acquisition of retailers in the United States.

When Amazon purchases Whole Foods, the price of relatively expensive food such as organic foods may be lowered. In addition, by using the distribution network of Amazon, Whole Foods' services will be more fulfilling, including services that deliver organic foods faster and cheaper. In addition, because Whole Foods owns a low-cost brand discount store 365, supermarkets such as Wal-Mart and targets where price ranges of merchandise items overlap, competing with Whole Foods with Amazon backing is unlikely to be avoided . When Amazon reports on Whole Foods acquisition, the stock market instantly responded, while Amazon stocks rose by 3.1%, while food supermarket stocks such as Wal - Mart, Costco and Target were falling across the board.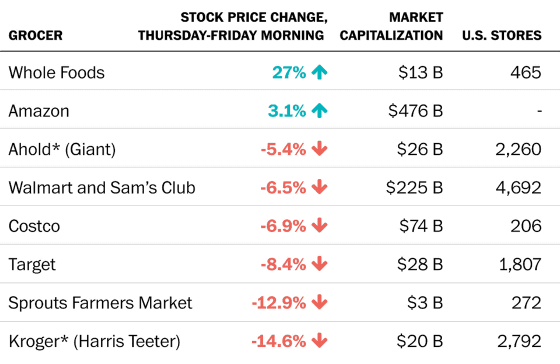 In recent years, Amazon has strengthened the movement of participating in the offline market, such as opening a bookshop in a real shop in the United States.

Amazon opened the first real bookstore in New York, the photo report in the store feels like this - GIGAZINE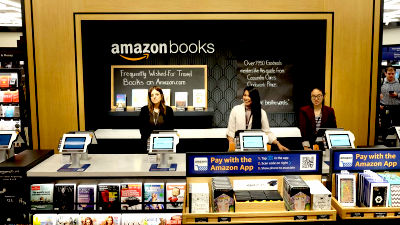 Breakthrough service that requires no payment at the cash register even in the food supermarket "Amazon GoWe announced that we have already announced the participation. By the way, Amazon GoBecause of technical problems the opening time is behind schedule.

A breakthrough store "Amazon Go" opened from the store without queuing and paying at the register opened in 2017 - GIGAZINE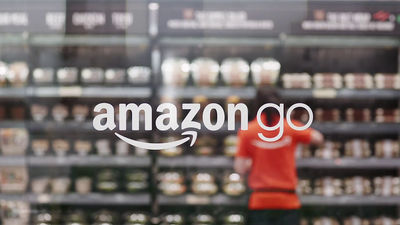 In addition, we are also devising a strategy to discount Prime membership fee to capture low-income earners such as food stamp recipients.

Amazon will discount Prime membership fee by 45% for low-income groups - GIGAZINE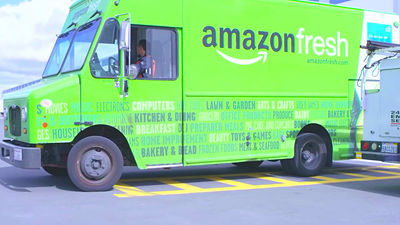 The introduction of new services that utilize IT technology by food supermarkets has begun one after another in response to the movement of these Amazons to enter the offline market. Wal-Mart not only launches on-line mail order but also self-registration service using smartphone application at some stores "Scan and Go"Under test. The 365 under Whole Foods, which Amazon acquired, also incorporates a service that enables you to search for wines using the iPad.

With the acquisition of Whole Foods, IT giants and Amazon have definitely entered full-scale participation not only in the online market but also in the offline market, but existing Wal-Mart and other existing supermarkets also use IT technology to provide quality of service We aim to improve. Fierce battle that goes beyond the boundaries of the online retail giant and offline retail giant, is finally going to be able to begin in earnest.