I tried "Chilling croissant waffle" supervised by "God of French" superficially packed with cold cream in a croissant-shaped waffle whose fabric was folded into 16 layers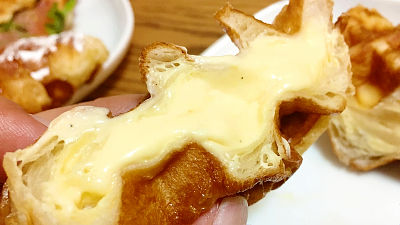 Bread store supervised by Mr. Joel Robuchon, the emperor of the French chef world, which is called "God of French"Le Pand du Joel Robushon"Hikarie ShinQs Shibuya shop baked popular No. 1 croissant immovable in the store to waffle type and Hikarie limited edition product that puts cold cream inside"Coolly croissant waffleIt is on sale. In the croissant waffle which folds the dough to 16 layers it is packed with cold cream of vanilla and pistachio, and it means that it is finished in a cozy article coolly in summer coolly. This time I decided to try two kinds of croissant waffle and sandwich, and colorful bread etc.

cool croissant waffle »Joel Robuchon
http://www.robuchon.jp/topics/12357.html

The shop is basement 2 floor of "Shibuya Hikarie ShinQs" in the middle of Shibuya. Because there is no eat-in space, taking home is basic, but it is possible to eat caked with the table prepared in the floor.


That's why I bought and brought back the vanilla (left: 368 yen in tax) and pistachio (right: 389 yen in tax) "cool cool caffeine waffle". Pistachio is covered with powder sugar.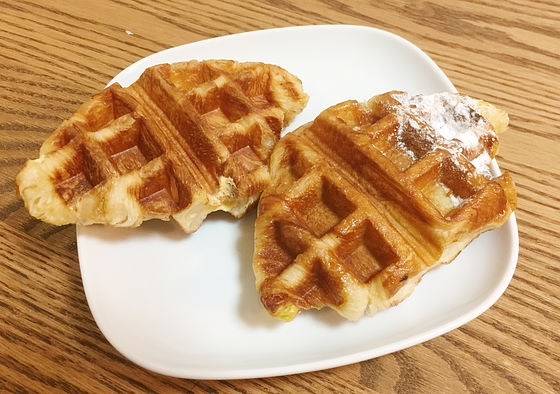 The waffles made of fluffy croissant dough have good surface texture, while the inside is moist and features a lighter texture than ordinary waffles. There are plenty of vanilla cream in it. The rich butter flavor is felt from the croissant dough and it shows the same firm presence as this rich vanilla-flavored cream.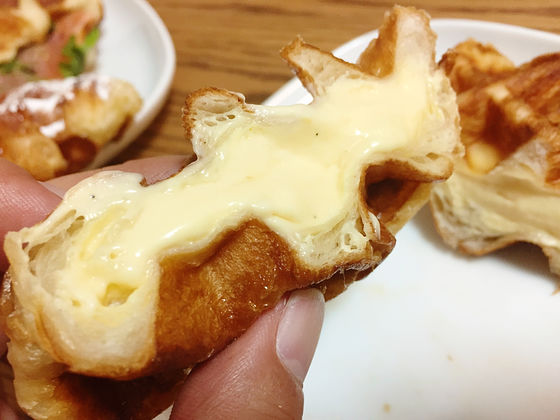 One pistachio cream was tasted like "Nutty" which is also written on the official website, that is, the taste of the nut flavor was tightly condensed, and we were able to taste the rich flavor as well.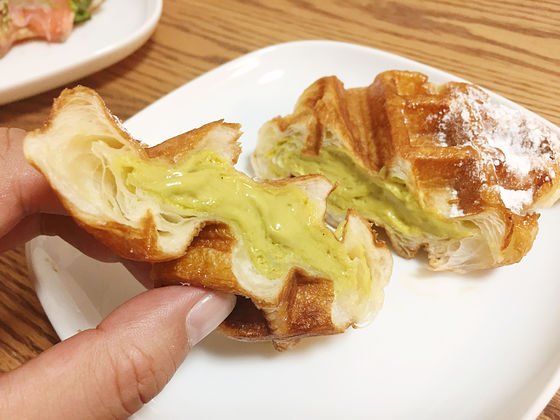 And here, also used a croissant waffle "broiled croissant waffle sand of Salmon" (including tax 540 yen). It is a dish that thick sweetness and cut salmon and onion, sweetness of dill sauce and honey compatible with salmon were added. Drawer to fully somewhat stronger of the salty taste of salmon flavor, together are not sterically highlight the taste of sand vegetables of flavor and dill source, with evidence even without that "...... this is the world of Robuchon" A word comes out with a mouth.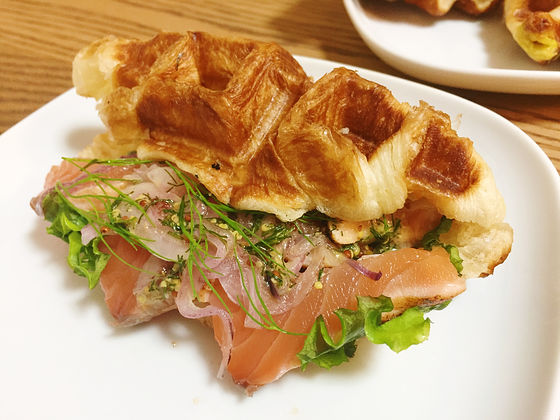 In addition, one item that can enjoy the colorful taste of "6 kinds of berry and pistachio brioche" (410 yen tax) and "summer vegetables and sausage's Focaccia" (442 yen including tax) which is the popular menu of the store. Especially summer vegetables and sausage Fokatcia were able to enjoy bread like puzzle that the seasonings given to each ingredient were combined into one.